Below are the May 2017 Sales & Marketing Highlights from various departments from the San Diego Tourism Authority.
SALES & MARKETING HIGHLIGHTS
Special events promoted for May focused on Cinco de Mayo, Memorial Day, and Summer.
CONSUMER MARKETING
Most Engaged Facebook Post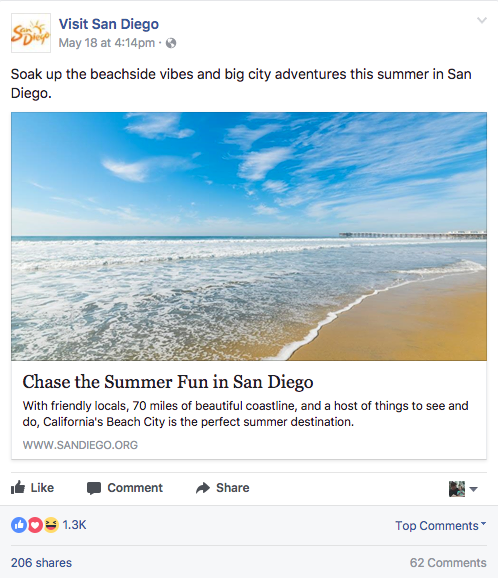 Most Engaged Twitter Post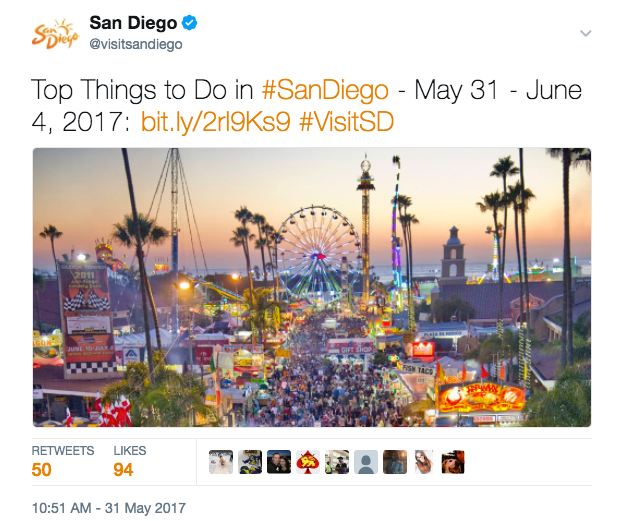 Most Engaged Instagram Post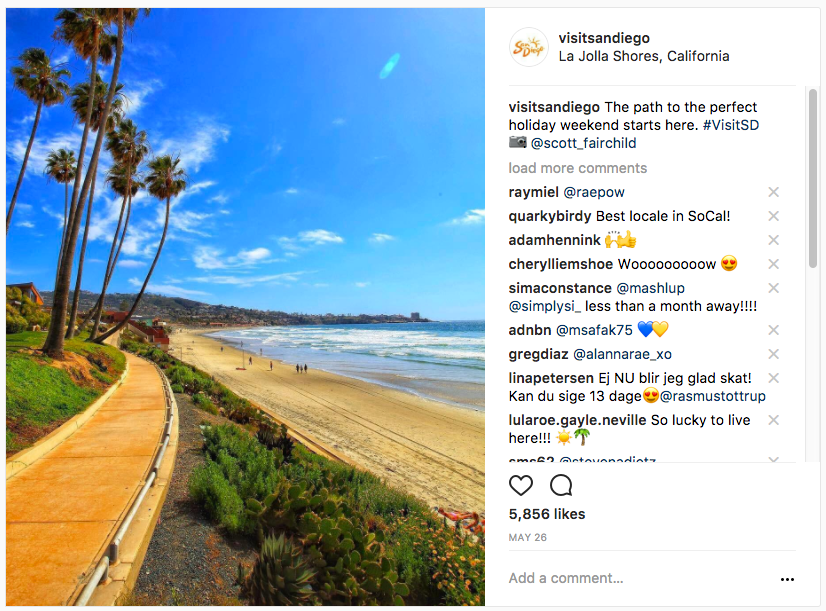 Web traffic for May included 577,874 user sessions and we posted a total of 169 Tweets, 129 Facebook posts (including 'Dark' advertising posts), 4 Google+ Posts (Based on trends and usage, Google+ will no longer be part of SDTA's social media efforts and recording efforts will cease) and 23 Instagram posts through our social channels, 5 blogs, and distributed 9 consumer emails.
Google PPC
Total domestic Google PPC for May totaled $21,725.34 generating 2.0 million impressions and 27,089 clicks for an average click-through rate of 1.3%.  SDTA did not run International Google PPC in April.
REGIONAL SALES & MARKETING
In May we ran Google PPC specifically directing traffic to the Luxury and Value pages for regional sales and marketing. Total spending in May dedicated to these regions was $7,963.24 generating 496,725 impressions and 4,467 clicks for an average click through rate of .9%.
Overall traffic to the Luxury and Value pages on sandiego.org was 5,293 site visitors in May.  The social media team, in partnership with Casual Fridays, launched the following campaigns: San Diego Cruising Sweepstakes (North County Coastal), North County Coastal Supplemental User Generated Content, Fan Foto Friday Instagram Stories, and Old Town San Diego Instagram Story (Mission Valley).
Most Engaged Regional Post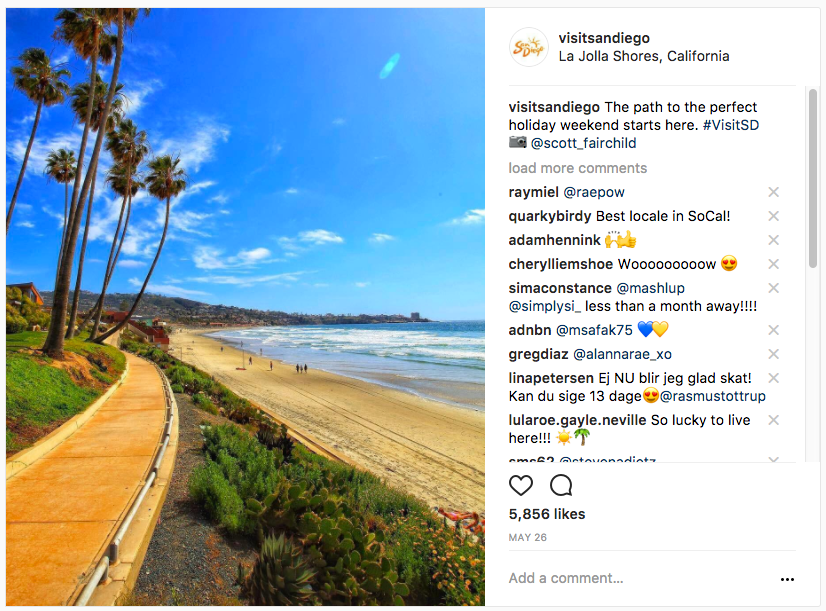 B2B DIGITAL MARKETING
EMAIL:  The May B2B Postcard was delivered to approximately 6,200 meeting planners and was the second in a year-long series of video emails. Each month a new video will showcase a group of venues for potential meeting and event planners to consider. The open rate for the May B2B Video Postcard was 22%, which represents over 1,300 meeting planners. This was the second highest open rate in over two years. The May video showcased unique beer venues and included all brewery members, and featured:
Karl Strauss
Stone Brewing Liberty Station
Bay City Brewing Company
Mike Hess Brewing of San Diego
Green Flash Brewing Co.
Abnormal Company INC
Ballast Point Brewing & Spirits
Thorn Street Brewery
WATCH THE BEER VENUES VIDEO HERE
LINKEDIN:
Nine unique posts during May included:
Promotion of National Travel & Tourism Week
New Video from San Diego Airport
Promotion of Edelweiss Launch Party in Zurich, Switzerland
Promotion of Beer Venues Video
CVent Top 50 List
Sharing BioCom Convention Success Video
North Coastal Region Video
VisitCalifornia All Dreams Welcome Event At CBX Terminal
Smart Meetings Magazine story on San Diego
LinkedIn grew by 1.7% from last month to 5,614 followers, earning nearly 36,855 impressions. Year-over-Year the LinkedIn Audience grew by 15%.
Where We Stand
LinkedIn followers compared to similar organizations: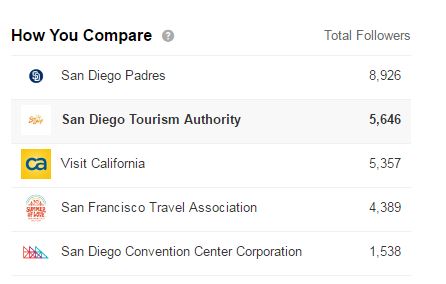 TWITTER:
@SDTAConnect Twitter base grew by 2% from last month to 3,283 followers. There were 109 tweets during the month.
This month, the tweet with the most exposure (2,007 impressions) was a promotion of National Travel and Tourism Week – and an infographic with travel/tourism numbers in San Diego.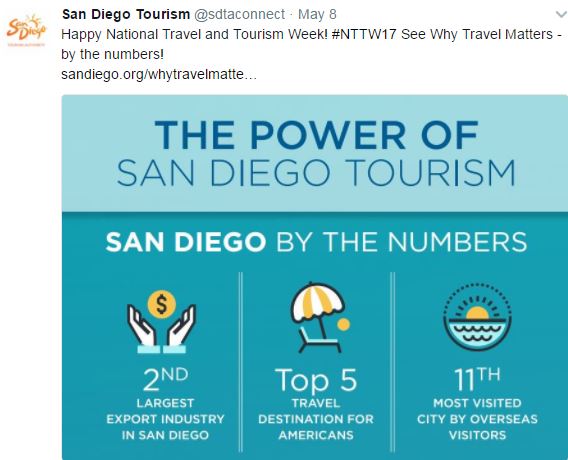 The tweet with the most engagement thanked Mayor Kevin Faulconer for speaking at our annual meeting.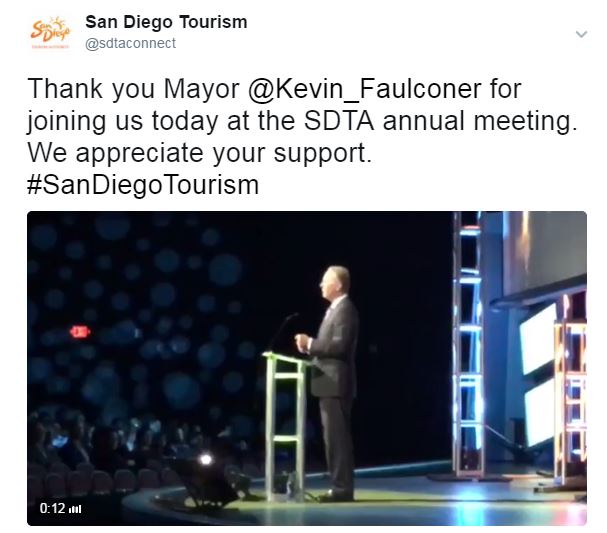 ADVERTISING
During May, as a continuation of the "Awesome All Year" campaign, spectacular out of home units were placed in Los Angeles, promoting upcoming major events. The high impact units included a hand-painted wall in Venice Beach and a barricade and wall package in Hollywood on Sunset Blvd.
MEMBERSHIP
8 New Members joined in May bringing in $12,250 in annual dues revenue. That included a pre-opening Membership for the new Intercontinental San Diego hotel.
30 Members attended the Open Office Hours on the May 19 to learn how to best maximize benefits.
The San Diego Brewer's Guild board of directors approved a new joint membership plan which would create a bundled membership for SDBG breweries to become SDTA Members. The new plan will be effective July 1, 2017 bringing in nearly 100 new brewery Members and doubling the SDTA's dues revenue in the brewery category.
Ad Sales
$26,000 in new ad contracts were signed.
Revenue Development
Bay City completed brewing the new collaboration with SDTA, which is called 72 and Hoppy, San Diego inspired session IPA.
The beer will be available in select bars and restaurants, as well as Bay City's tasting room, beginning mid-June.
Events
The 2017 SDTA Annual Meeting was held on May 10th at SeaWorld. Over 700 Members and stakeholders were in attendance. Mayor Faulconer, Chairman Ted Molter and COO Kerri Kapich addressed the state of the industry and future sales and marketing plans.
NEW MEMBERS
Brainy Actz Escape Room
Hilton Hotels & Resorts – AZ Field Office
Repro Magic
HOTEL SALES
Sr. Vice President of Sales, Margie Sitton, launched a new video series for San Diego meetings-industry sales managers. This series offers short, informational content that will help sales teams better connect with the SDTA and take advantage of SDTA initiatives. Margie also shares best practices in engaging with potential meeting clients through the exclusive iLead and MemberNet systems.
WATCH THE PREMIERE EPISODE BELOW
The Hotel Sales Team started the month off strong with the Midwest Roadshow in Minneapolis and Indianapolis from May 1st through May 4th. Andrea O'Hara, National Sales Director, along with five hotel partners began in Savage, MN hosting Altour Meetings & Incentives. SDTA hosted a successful collaboration with Northstar Meetings Group where attendees met for lunch and a presentation on San Diego and engaged in a pizza and dessert making activity. After lunch, the group made their way to Bloomington, MN to host a happy hour for HelmsBriscoe. The team traveled to Indianapolis to meet Michael Steffen, National Sales Manager to host M&I Worldwide for lunch and presentation, then hosted local clients to a happy hour also in Indianapolis. The team finished strong with another successful collaboration with Northstar Meetings Group for lunch and presentation while learning to make gnocchi. Over the four days, they met with close to 60 customers. Together Andrea and Michael received eight leads totaling 10,340 room nights for the destination.
Veronica Rivera, National Sales Director attended a new tradeshow, Destination California, in Los Angeles. Veronica received five new leads for 665 room nights, met with 22 planners, sourced two RFPs with five potential, for total 1,610 room nights.
Jennifer Hicks, National Sales Director attended the annual Retreats Resources Roadshow in Greenville, Atlanta, and Birmingham and met with 100 customers during four events. She received one lead for 1,296 room nights during the Roadshow.
The newest sales team member, Chirine Arbadji along with four hotel partners conducted several sales calls in the Dallas area and hosted GlobauxSource for lunch on May 23rd. The next day, we had our last successful collaboration for the year with Northstar Meetings Group for lunch and presentation in Plano, TX while learning to make "Beer-amisu" featuring Belching Beaver's Milk Stout. Chirine received six leads for 4,923 room nights.
Michelle Coombs and Debbie Jordan attended ASAE's Xperience Design Project (XDP), a new endeavor for ASAE. The duo received five leads for 3,757 room nights, 2 RFPs received, and 3 more potential RFPs coming in June.
National Sales Manager, Bri Mouton, attended the Fraternity Executives Association (FEA) Annual Conference in Tampa, FL with Humphrey's Half Moon Inn. Bri received one lead totaling 130 room nights for the destination, eight potential RFPs for 2,600 total room nights and met with 35 customers.
CITYWIDESALES
FY17:
Definite bookings: 2
Attendance: 12,000
Total Room Nights: 32,707
Fiscal Year 17-To-Date: 551,496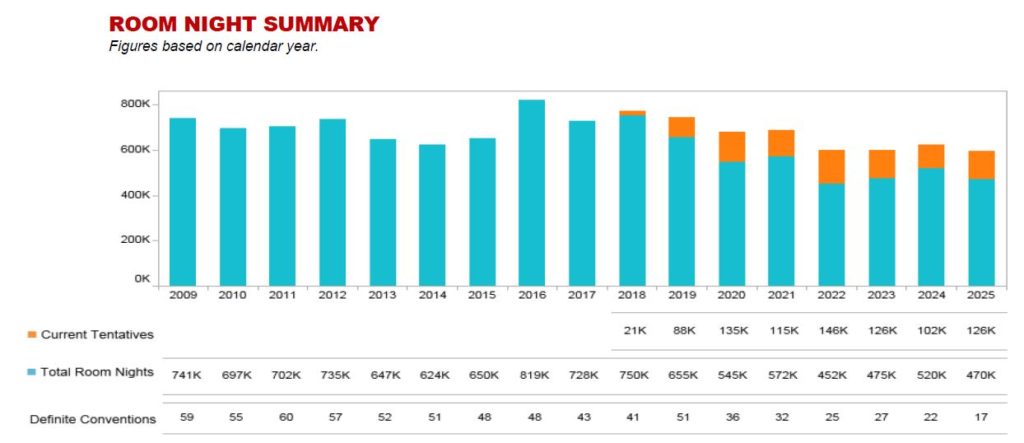 PUBLIC RELATIONS
Communications representatives were very busy traveling and hosting media in May. Team members traveled to the Visit California San Francisco Media Reception – attended by 80 media representatives – and met with 20+ travel writers and editors representing various publications, including the San Francisco Chronicle, AFAR Magazine, Via Magazine and Bay Area News Group. While in San Francisco, Communications also met with Sunset Magazine, a Travel + Leisure correspondent and travel writer for San Francisco Magazine.
Staff also attended the PRSA 2017 Travel & Tourism Conference in Palm Springs, networking with and gaining insight from leading PR practitioners, media, and thought leaders. While there, the team met with Samantha Brown, Travel Channel/PBS TV host, editors of Western Living and Phoenix Magazine, and travel journalist with The Morning Show/Global News.
International Communications staff organized a Cali-Baja-themed media tour with top-tier publications from the United Kingdom including British Airways Highlife, Woman Magazine, and About Time magazine, and also hosted travel media outlets from Australia and Germany, Canada and Mexico. The staff also participated in Visit California's "All Dreams are Welcome" mission held at the Tijuana International Airport and the Cross Border Xpress, providing 50 press kits to media from Canada and Mexico.
Communications coordinated the production of a series of promotional videos to be featured onboard 61 planes from the Mexican airline Interjet during July and August 2017. The videos will be seen by over 1 million travelers as part of an agreement with Cross Border Xpress.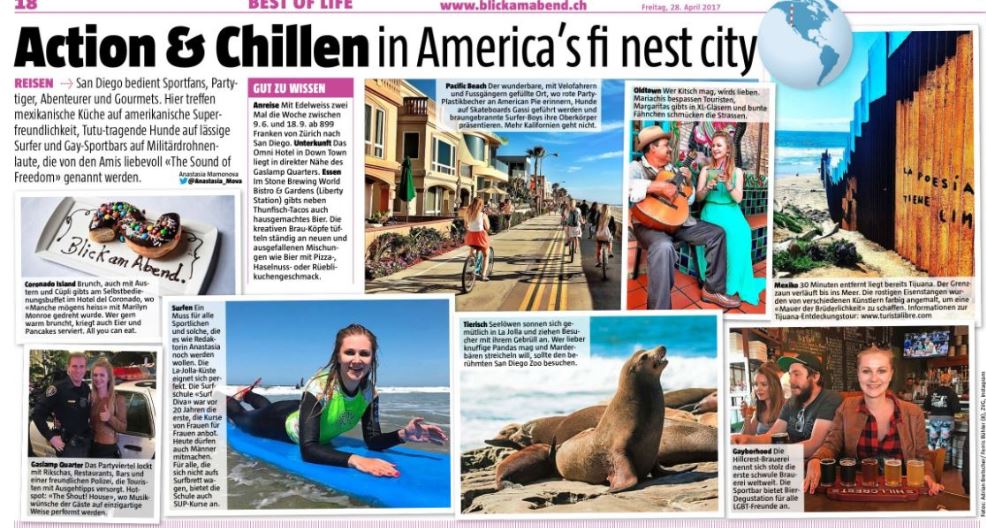 Key media coverage generated in May included the Arizona Republic, Lonely Planet Traveller (Germany), Phoenix Magazine, WestJet Magazine (Canada), Marie Claire (China), Yahoo! Travel (Australia), Esquire (Mexico) and more.
TRAVEL TRADE
The San Diego Tourism Authority, San Diego County Regional Airport Authority, and Visit California hosted a special event to promote the new non-stop service on Edelweiss Airlines. Direct service from Zurich begins on June 9, 2017. The special event, "One Night in San Diego," took place on May 5th at the dramatic AURA venue in Zurich, Switzerland. This exclusive event hosted more than 300 travel trade industry partners and media outlets, as well as nearly 200 consumers, and was a chance for guests to discover San Diego.
In early May, Riki Suzuki, Travel Trade Development Manager participated in the California Cup in Los Angeles/West Hollywood. He was able to network with over 40 international clients from all of San Diego's major markets during the course of the 3-day event.
Cherrie Yang, Travel Trade Representative in Shanghai, hosted a virtual travel and tourism presentation during the Discover America Committee's event in Taiwan. She introduced highlights of San Diego to nearly 60 attendees including tour operators, airlines representatives, and media members through the virtual presentation. The presentation was later posted on Discover America Taiwan's website and shared with the rest of its committee members in Taiwan.
Phil Hannes, Sr. Director of International Marketing attended the Naturleon Outlet de Viajes event in Leon, Mexico.  Over 18,000 consumers attended this 3-day event to purchase specially priced destination packages.  San Diego hotels and attractions were featured in several Southern California packages with Volaris airlines supporting special rates flying into Tijuana and using CBX to arrive into San Diego.
Tomoe Matsunaga, Travel Trade Representative in Tokyo, participated in the Club California Fukuoka event on May 19th. The event welcomed 26 travel trade professionals from the region, where Tomoe gave a presentation to promote San Diego and network with the attendees.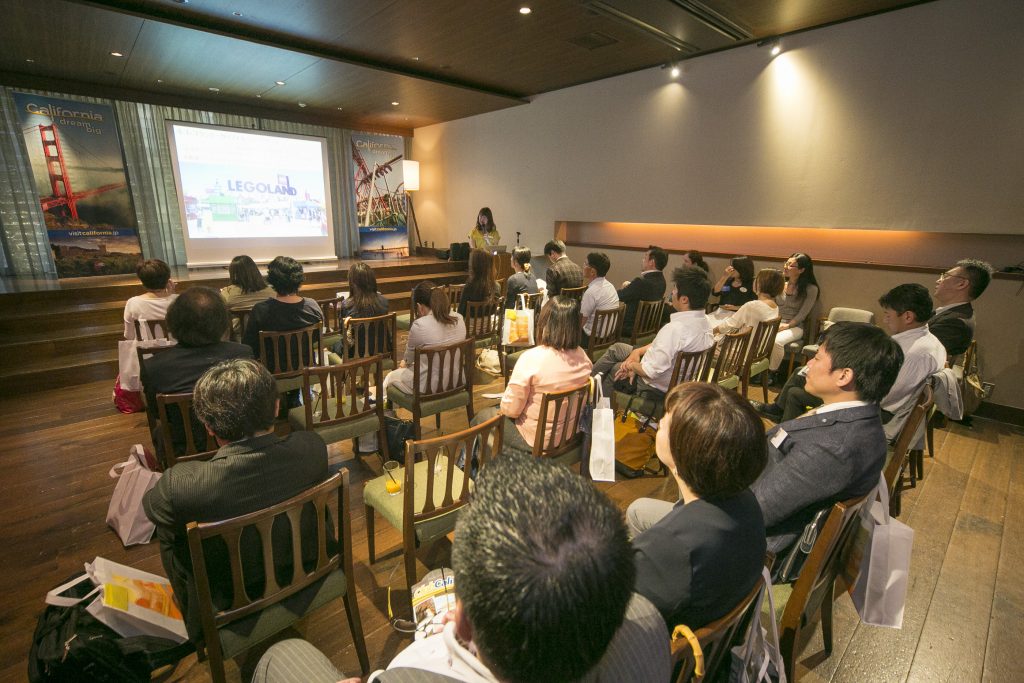 Tomoe also joined Brand USA Workshops in Nagoya and Osaka.  In each city, Tomoe had opportunities to meet one-on-one with 12 tour operators to discuss the development of San Diego tours and educate them.
Tomoe participated in the "KIX Tabihaku", the 2nd largest trade/consumer show in Japan.  Located in Osaka, the show welcomed over 42,000 attendees over 2 days where Tomoe promoted the destination in the San Diego booth.  Tomoe also hosted a San Diego seminar at the show for over 100 consumers.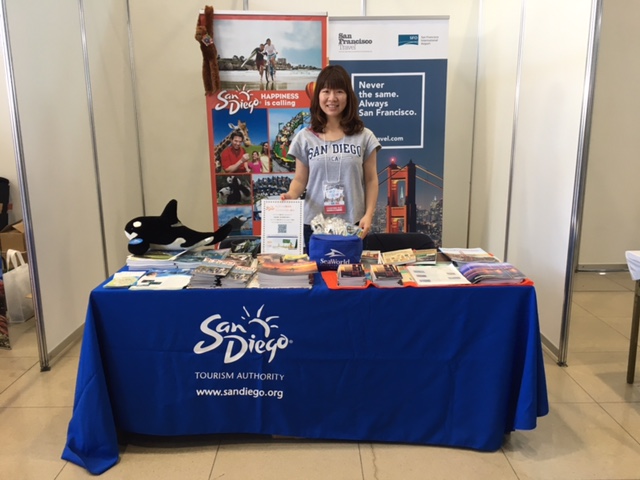 Cherrie Yang, Travel Trade Representative in Shanghai, participated in the Club California Product Development Series in Shanghai. She had an opportunity to give a destination presentation to educate and update top accounts in Shanghai.
Gate 7 Visit CA AU representatives (Jo Palmer, Rob Dempsey) met with SDTA reps to discuss expanded marketing opportunities as well as staying in San Diego to experience the destination.