Below are the April 2017 Sales & Marketing Highlights from various departments from the San Diego Tourism Authority.
SALES & MARKETING HIGHLIGHTS
Special events promoted for April focused on Red Bull Air Race, California Poppy Day (in conjunction with Visit California)­ and Spring Flowers/SuperBloom.
CONSUMER MARKETING
Most Engaged Facebook Post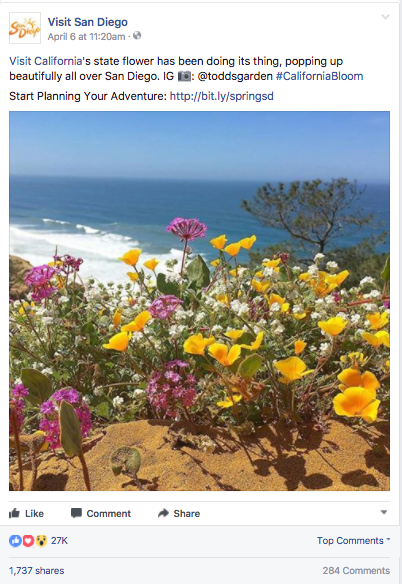 Most Engaged Twitter Post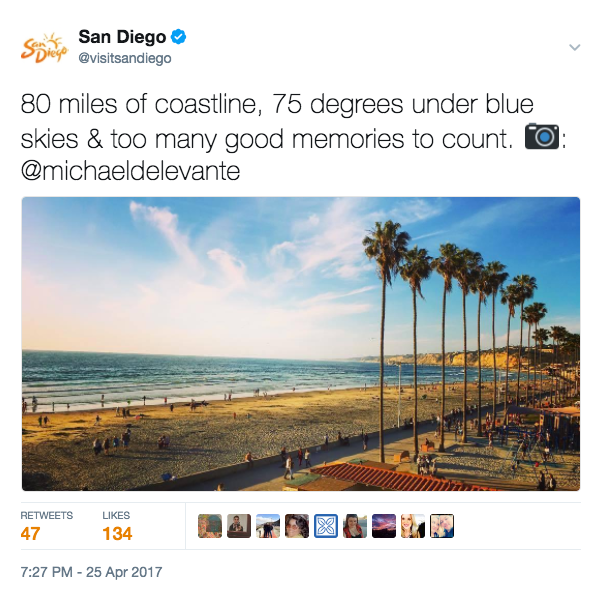 Most Engaged Instagram Post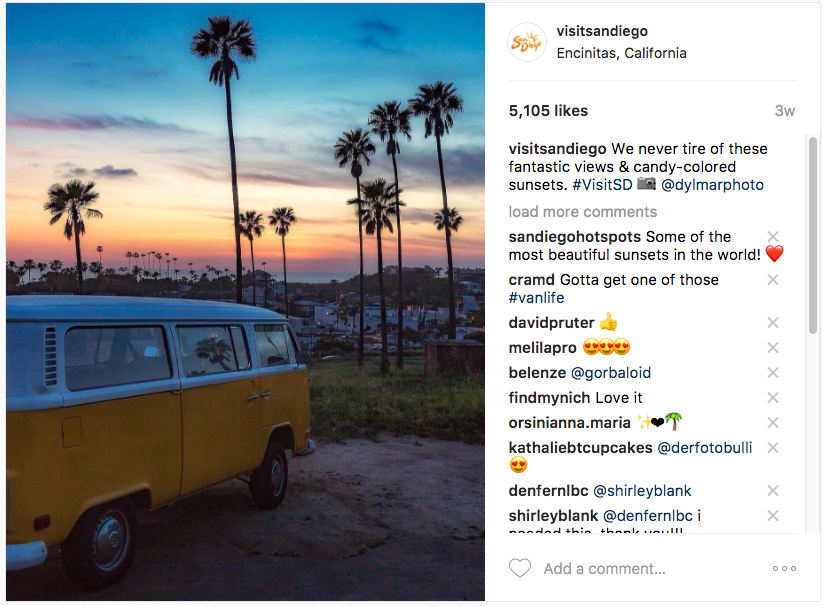 Google+ Update
Google Plus no longer provides tracking data. We have suspended our use of the Google+ platform after reviewing analytics data and determining the return on investment does not warrant the time invested in the platform.
Web traffic for April included 589,606 user sessions and we posted a total of 153 Tweets, 95 Facebook posts (including 'Dark' advertising posts), 35 Google+ Posts (Based on trends and usage, Google+ will no longer be part of SDTA's social media efforts and recording efforts will cease) and 20 Instagram posts through our social channels, 6 blogs, and distributed 8 consumer emails.
Google PPC
Total domestic Google PPC for April totaled $30,047.43 generating 2.6 million impressions and 27,742 clicks for an average click through rate of 1.23%.  SDTA did not run International Google PPC in April.
Sub Region Marketing
In April we ran Google PPC specifically directing traffic to the Luxury and Value pages for the sub regions. Total spending in April for the sub regions was $6,062.84 generating 97,407 impressions and 2,817 clicks for an average click through rate of 2.89%.
Overall traffic to the Luxury and Value pages on sandiego.org was 3,604 site visitors in April.  The social media team, in partnership with Casual Fridays, launched the following campaigns: Be a Kids Again User Generated Content for all sub regions, Fan Foto Friday Instagram Stories, and SeaWorld San Diego Seven Seas Craft Beer & Food Festival Facebook Live broadcast in the Mission Bay Region.
Most Engaged Sub-Region Post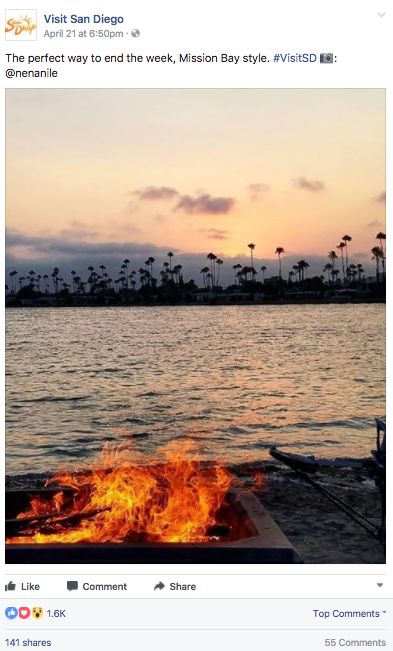 B2B DIGITAL MARKETING
EMAIL:
The April B2B Postcard was delivered to approximately 7,000 meeting planners and was the first in a year-long series of video emails. Each month a new video will showcase a group of venues for potential meeting and event planners to consider. The open rate for the first B2B Video Postcard was 21%, which represents over 1,430 meeting planners. This was the second highest open rate in over two years. Some highlights of the email included:
San Diego Zoo
San Diego Convention Center
Hilton San Diego Bayfront
Stone Brewing
Hilton La Jolla Torrey Pines
Balboa Park
Petco Park
Coronado Island Marriott Resort & Spa
LINKEDIN:
Four unique posts during April included:
A celebration of Gaslamp 150
Carte Hotel & Suites Update
City of San Diego Proclamation
SDTA Hospitality Golf Tournament
LinkedIn grew by .7% from last month to 5,520 followers, earning nearly 16,500 impressions. Year-over-Year the LinkedIn Audience grew by 14%.
Where We Stand
LinkedIn followers compared to similar organizations: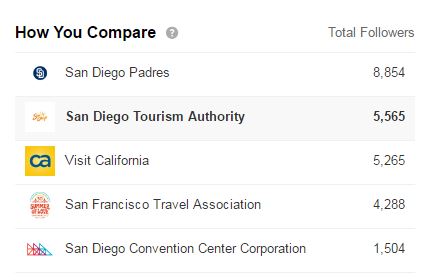 TWITTER:
@SDTAConnect Twitter base grew by 1% from last month to 3,214 followers. There were 83 tweets during the month.
This month, the tweet with the most exposure (2,394 impressions) was the new video created by San Diego County Regional Airport Authority promoting the value and impact of travel on the destination.
The tweet with the most engagement helped promote the Gaslamp Quarter 150 celebratory events.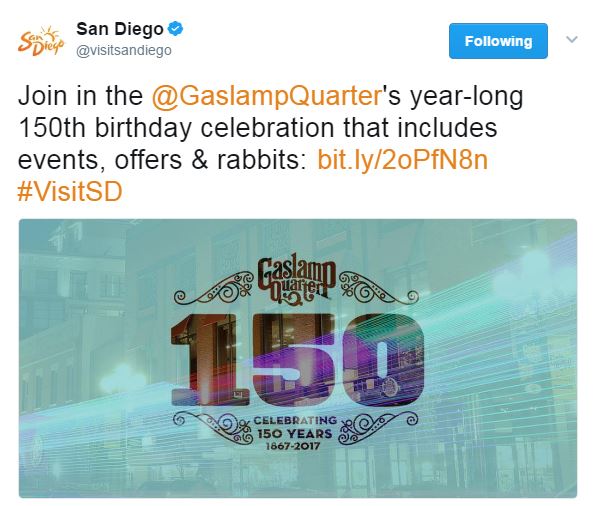 The B2B account earned over 33,400 impressions during the month of April.
ADVERTISING
During April, SDTA launched the "Awesome All Year" campaign promoting upcoming major events. The $1.4 million campaign, which runs through June, includes out-of-home in Los Angeles and Phoenix as well as national digital advertising. Paid social canvas and slideshow units are running on Facebook and Instagram and native content articles, listicles and infographics are running with Buzzfeed, Nativo and Thrillist.
April also marked the end of a majority of spring advertising program of work. Spot television in San Francisco and Sacramento continues in May, and PPC, OTA and paid social will continue through June.
MEMBERSHIP
4 New Members joined in April, $2,200 in annual dues revenue.
18 Members attended the Open Office Hours on the 28th to learn how to best maximize benefits, and engage with the SDTA's Communications team.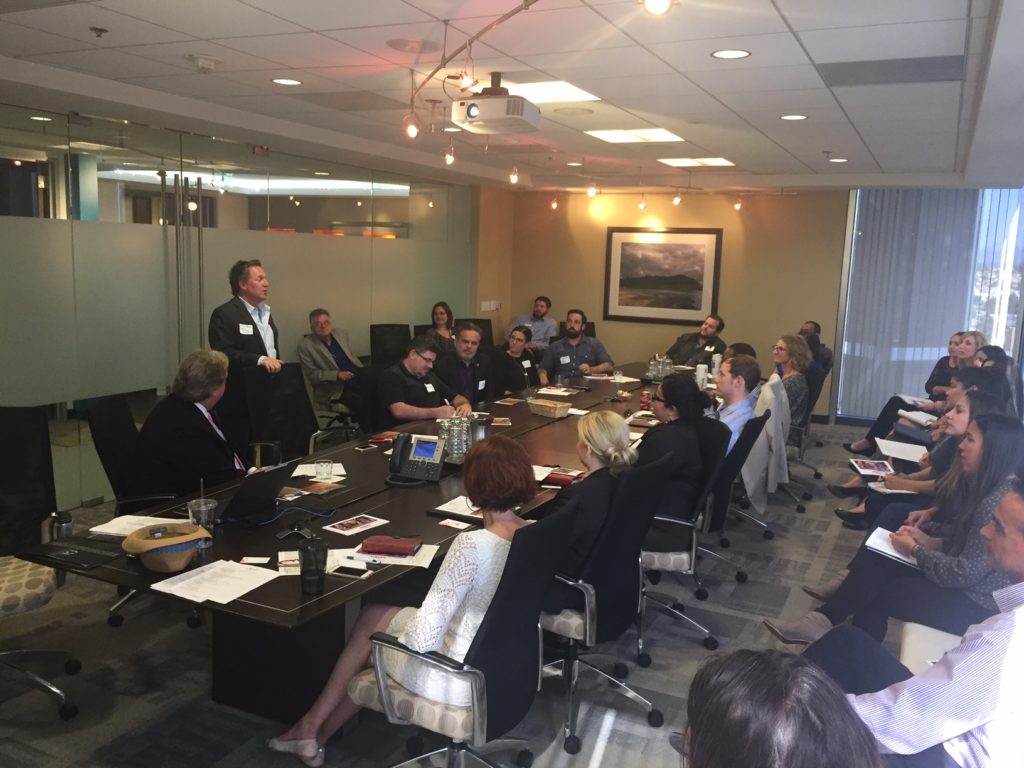 Ad Sales
$55,289 in new contracts.
The team surpassed their annual goal of $1 million in advertising sales across the SDTA's channels.
Revenue Development
Two new licensing deals were signed in April.The team signed a licensing agreement with San Diego company Tipsy Elves. They are a leader in the fun and seasonal clothing and accessories market. The company was featured and funded on Shark Tank and will work with the SDTA to develop fun and seasonal clothing.
The SDTA also entered into a licensing program with Bay City Brewing on a collaboration brew. The team is currently working on naming and branding the beer, which should be available in early summer.
Events
Over 138 golfers registered for the annual SDTA Hospitality Open presented by GES. The event was successfully hosted at Sycuan Resort, and the event raised $10,000 for our beneficiary Alpha Project.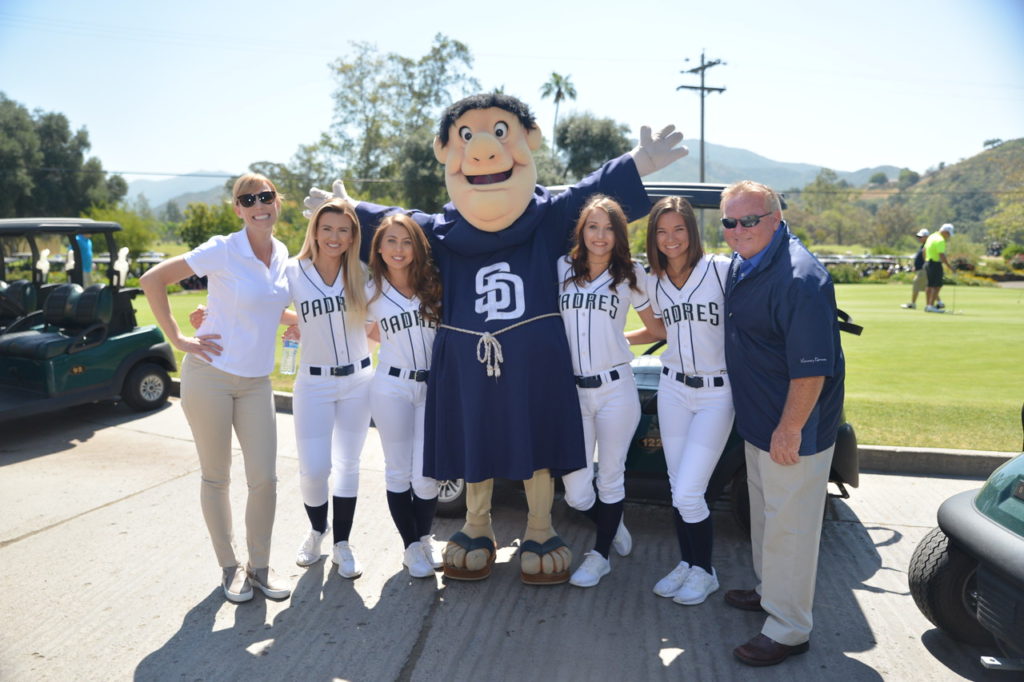 HOTEL SALES
The Hotel Meetings Sales Team converted 59 bookings, generating 54,360 Room Nights in the month of April, up 54% to the same time last year.
Gillian Ware, National Sales Director attended CalSAE's Elevate Conference in Newport Beach. Gillian met with several customers and received two leads totaling 883 room nights.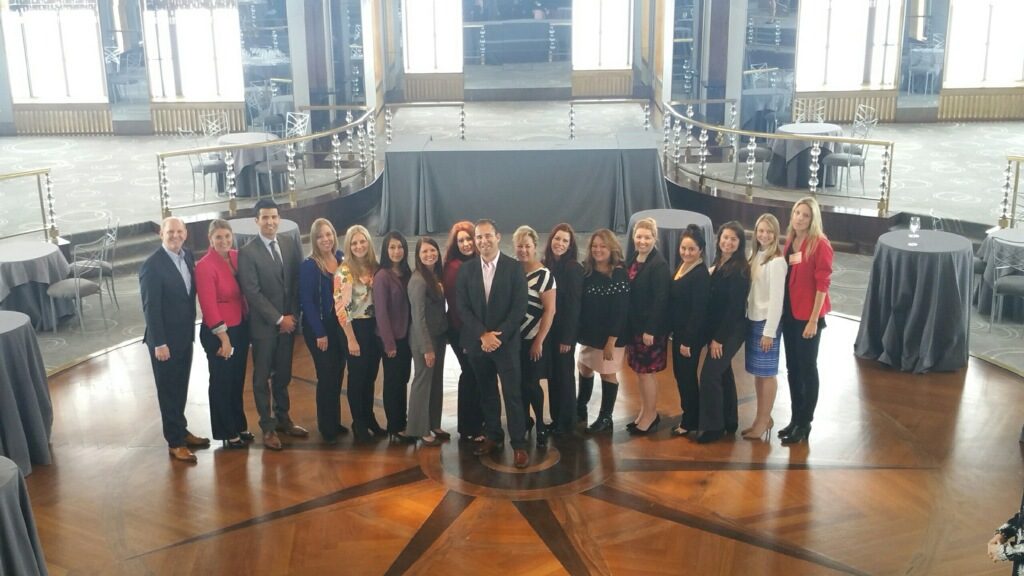 Matt Schechter, National Sales Director for the Northeast, hosted clients during the popular Northeast Roadshow. Matt was joined by 15 hotel partners for this three-day packed schedule from April 4-6 in New York City and Philadelphia. The Roadshow started in New York City with a VIP Luncheon and presentation with top-level decision makers at the exclusive Rainbow Room. The following day, Matt and the partners hosted a lunch and reception in Philadelphia. The roadshow finished strong back in New York City where partners and customers enjoyed a unique dining experience at the Todd English Food Hall in The Plaza Hotel when Chef Todd English himself made an appearance. This three-day, four-event tour attracted close to 150 individual clients. Matt collected seven leads totaling close to 6,000 room nights, with more to come.
Veronica Rivera, National Sales Director attended the annual ConferenceDirect Conference in Baltimore, Maryland. Veronica met with over 100 associates and received two leads totaling 2,954 room nights.
The Hotel Sales and Citywide Sales teams came together along with 33 member partners for the annual Chicago Cubs Hope Opener Client Event in the team's hometown of Chicago. 155 clients attended to cheer on their 2016 World Series Champions during this exclusive rooftop event.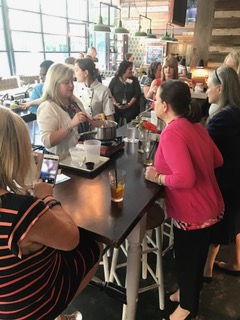 Ernie Rossow, National Sales Director, attended the HelmsBriscoe Annual Business Conference in Chicago, bringing back one lead for 505 room nights with more to come.
Jennifer Hicks, National Sales Director hosted 23 customers in Atlanta, Georgia. The two-day event started with client happy hour reception in Buckhead and finished with a successful collaboration with Northstar Meetings Group where attendees met for lunch and a presentation on San Diego, and were gathered into teams for a demonstration on how to make Ricotta toast with Avocados, a San Diego favorite. Jennifer received two leads totaling almost 300 room nights.
Members of the group and citywide hotel teams were presented a proclamation from the San Diego City Council for Global Meetings Industry Day – April 6, 2017.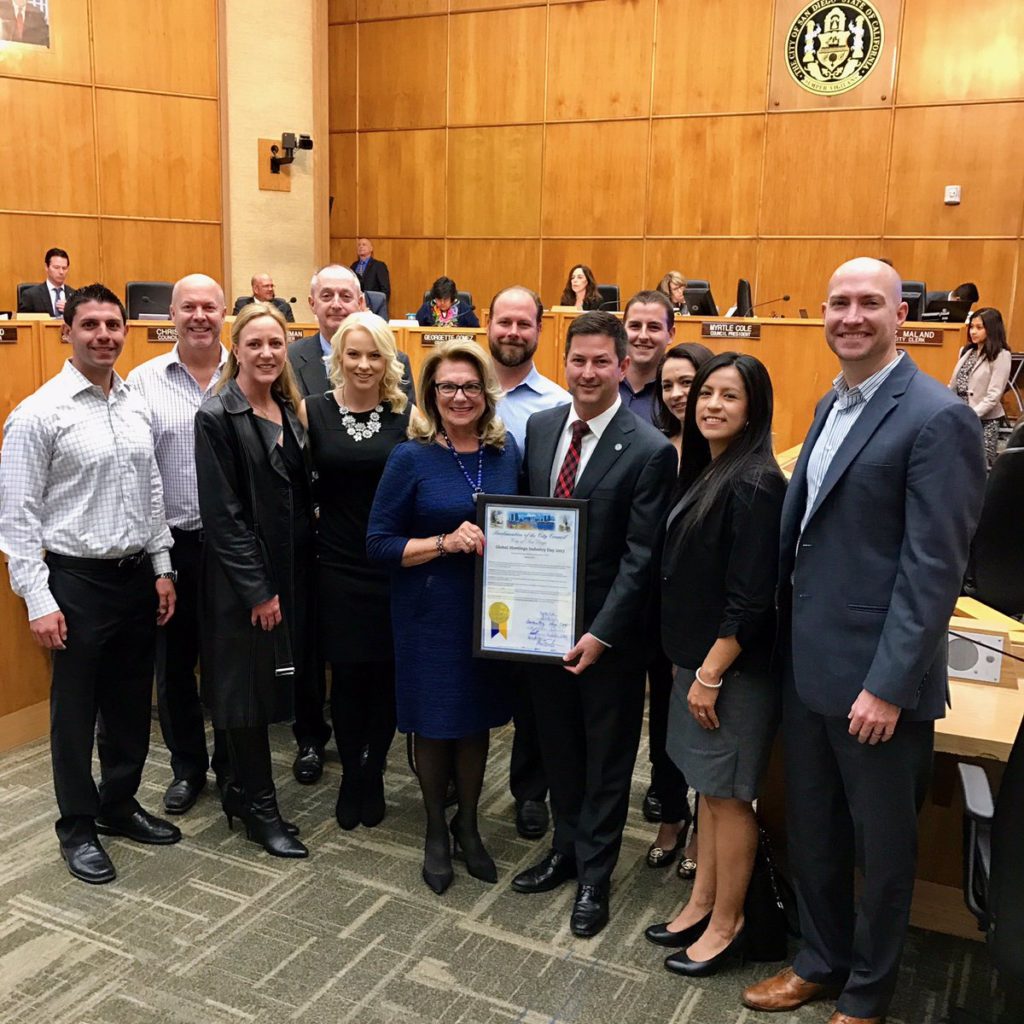 CITYWIDESALES
FY17:
Definite bookings: 3
Attendance: 46,500
Total Room Nights: 63,041
Fiscal Year 17-To-Date: 518,789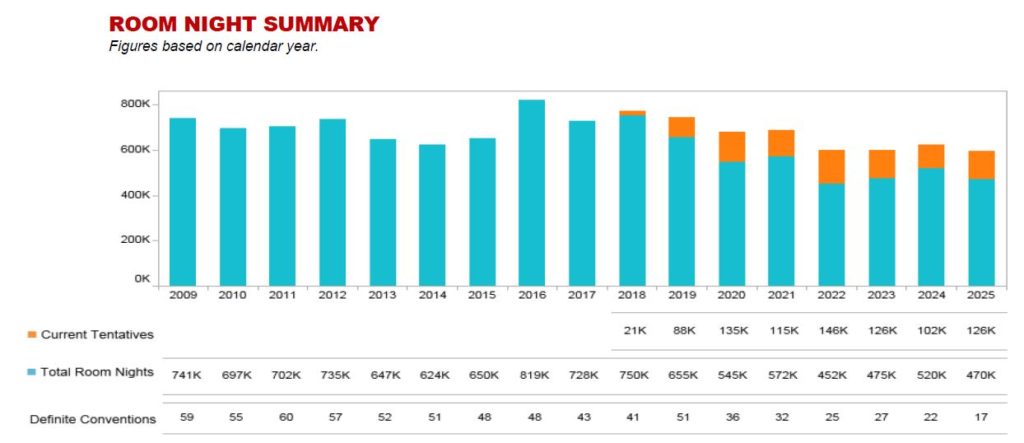 PUBLIC RELATIONS
International Public Relations participated in a Visit California media mission to China and discussed San Diego's tourism offerings with numerous travel media from Beijing, Chengdu, Guangzhou and Shanghai. Public Relations organized a FAM with five top-tier publications from Mexico including Food & Travel Mexico, Travesias and Forward Travel. The team partnered with Visit California for a Canadian Health & Wellness Media FAM including five attendees who provided social media coverage and print stories for Western Living Magazine, Vitamin Daily, Travel & Style, Health & Swellness, Le Cahier, and The Morning Show/Global News.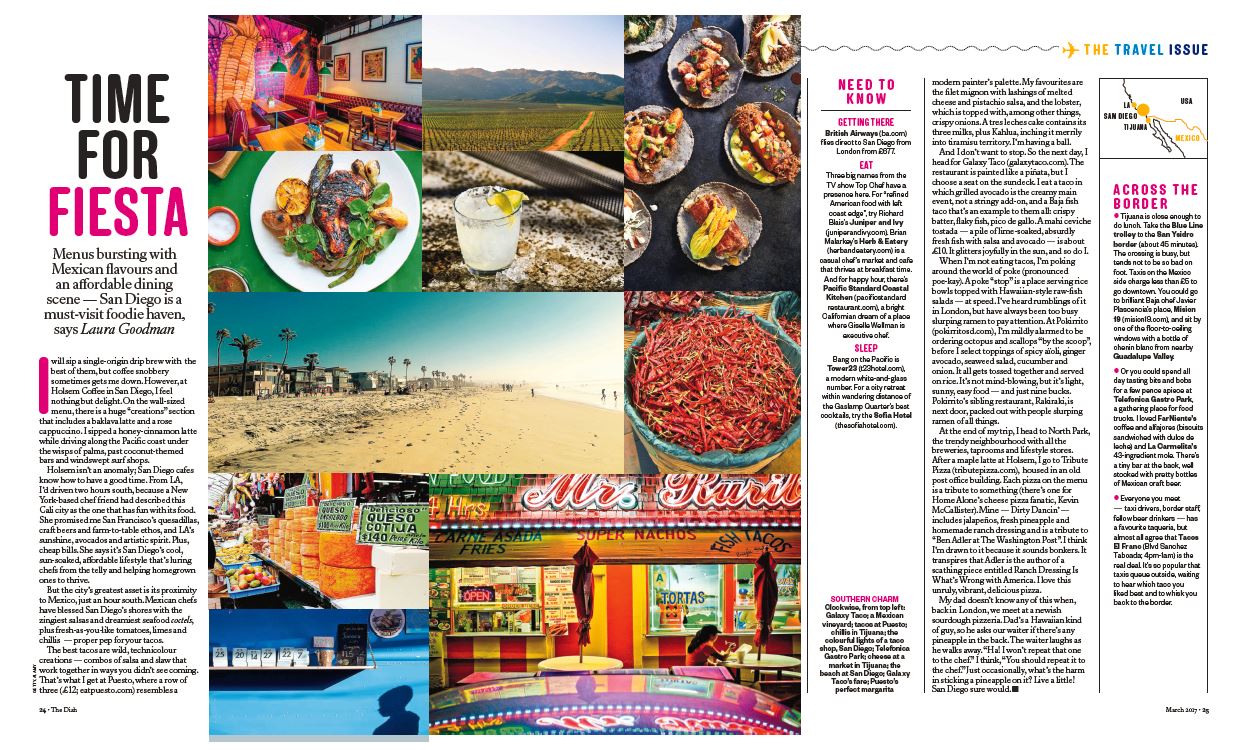 The Communications team worked with the Red Bull Air Races marketing group to provide 120 press kits to media visiting to cover the event on San Diego Bay.
The team also hosted travel media outlets from Australia and the United Kingdom in April.
Key media coverage generated in April included Alaska Beyond (Inflight magazine), California Meetings & Events, Luxury Las Vegas, Apasionado (Mexican magazine), and the Calgary Herald newspaper.
TRAVEL TRADE
In early April, Benjamin Eastman participated in the UNIGLOBE Western Conference in Vancouver along with a representative from the USS Midway.  During the conference the two were able to networking with and participate in a tradeshow for 100+ Canadian travel agents based in Western Canada. Immediate following the UNIGLOBE Conference, Benjamin participated in TravelBrands tradeshows in Edmonton (with 235 travel agent participants) and Vancouver (with 275 travel agent participants).
On April 7th, Yokohama City held a reception in San Diego to celebrate its 60-year anniversary of Sister City relationship with San Diego. Riki Suzuki, Travel Trade Development Manager attended the reception along with Ms. Kumiko Takeda, SDTA Japanese Travel and Friendship Ambassador. Ms. Takeda gave a speech about the attractiveness of San Diego and encouraged more travelers to visit San Diego from Yokohama City.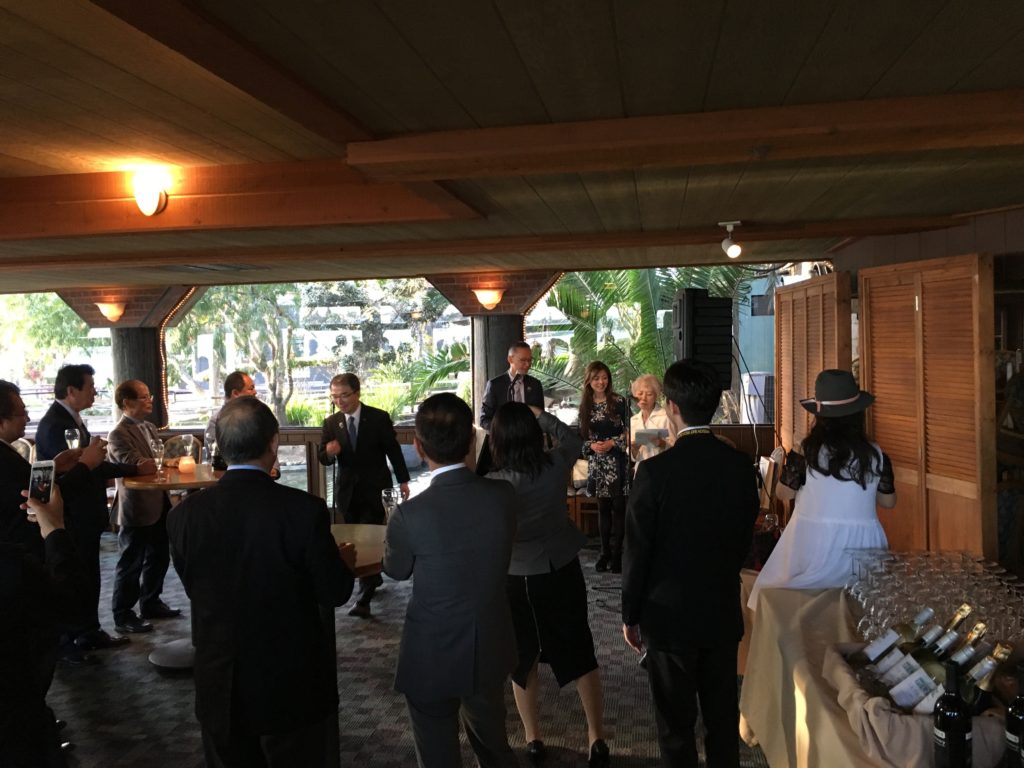 From April 8th to 14th, Riki participated in VCA China Sales Mission. During the mission, Riki visited Chengdu, Guangzhou and Hangzhou to meet one-on-one with 60 travel professionals in the region. Also he had opportunities to interact with more of the key contacts through the various events such as networking lunches, VIP dinners and agency take-overs. During the agency takeover at U-Tour office in Hangzhou, the San Diego promotion U-tour launched in late April was highlighted.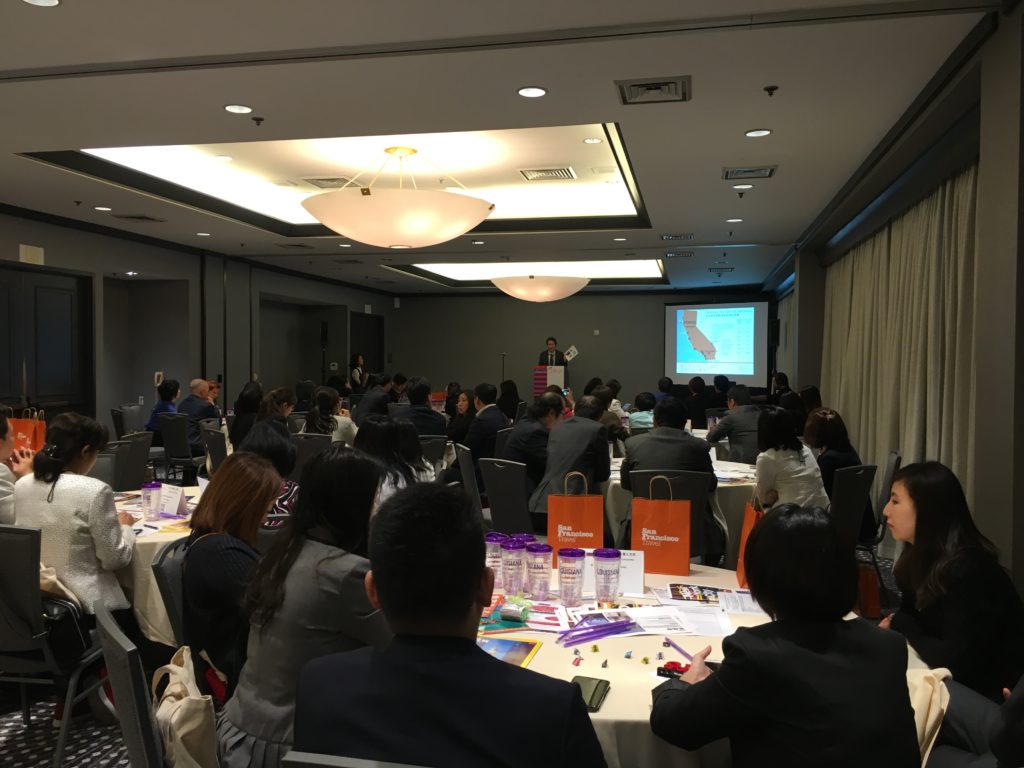 Riki also attended Active America China Summit in Portland on 24th and 25th of April. Riki had an opportunity to give a destination presentation to highlight San Diego's offerings to about 70 Chinese tour operators attended the summit. Also, Riki had over 20 one-on-one meetings with the operators to provide more information and discuss the ways to promote San Diego products.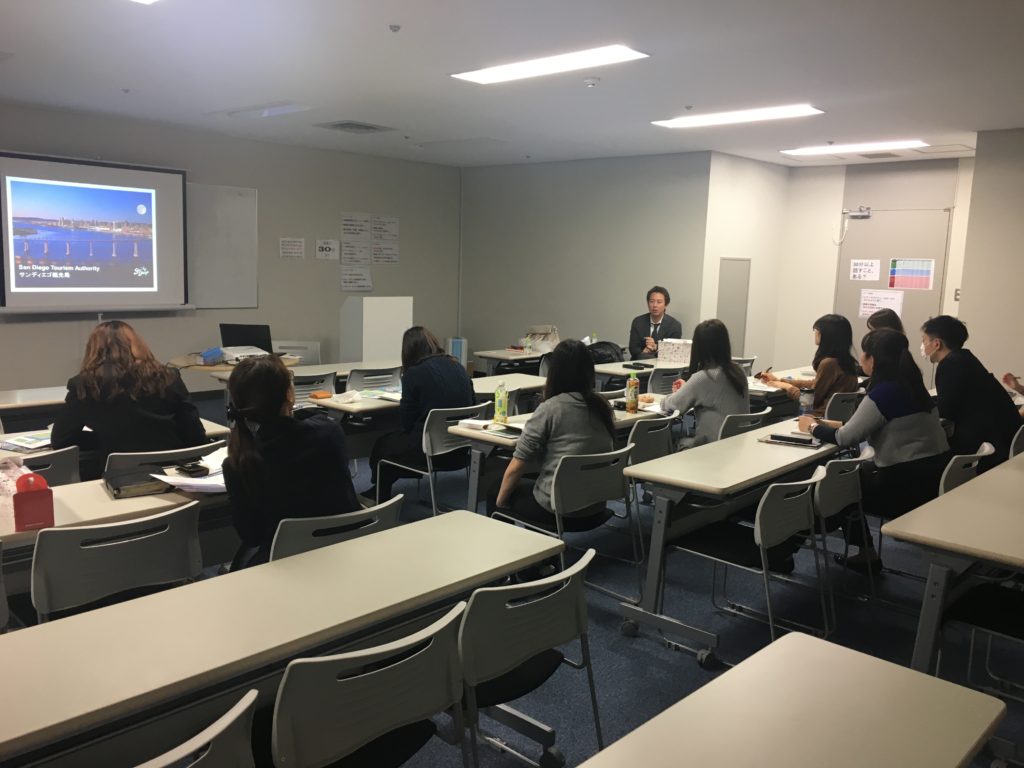 The SDTA Travel Trade team attended 3 tradeshows, three Travel Missions/Roadshows. The team also conducted six Travel Trade Familiarization tours showcasing San Diego to 107 clients. The number San Diego Specialists increased with the certification of 12 new specialists, and we are excited to proceed with a brand new platform and program for our Specialist Program.
Visit California China escorted 12 agents from the Guangzhou region to San Diego for a four day, three nights in San Diego. Their San Diego experience included a helicopter tour, and an evening reception with hosting members of San Diego Tourism Authority, complete with bocce ball.
San Diego Tourism Authority, in conjunction with the Port of San Diego attended Cruise3Sixty in Ft. Lauderdale Florida. San Diego is California's third busiest cruise port, with 100 cruise calls and approximately 254,000 passengers expected in the upcoming season.