Curated from San Diego Convention Center
San Diego Mayor Kevin Faulconer joined the staff of the San Diego Convention Center at a public celebration on Wednesday, April 19, 2017 to publicly celebrate the venue's certification as a LEED® GOLD facility.
Mayor Faulconer praised the venue's efforts in achieving the standards set by the U.S. Green Building Council (USGBC), the foremost program for buildings, homes and communities that are designed, constructed, maintained and operated for improved environmental and human health performance.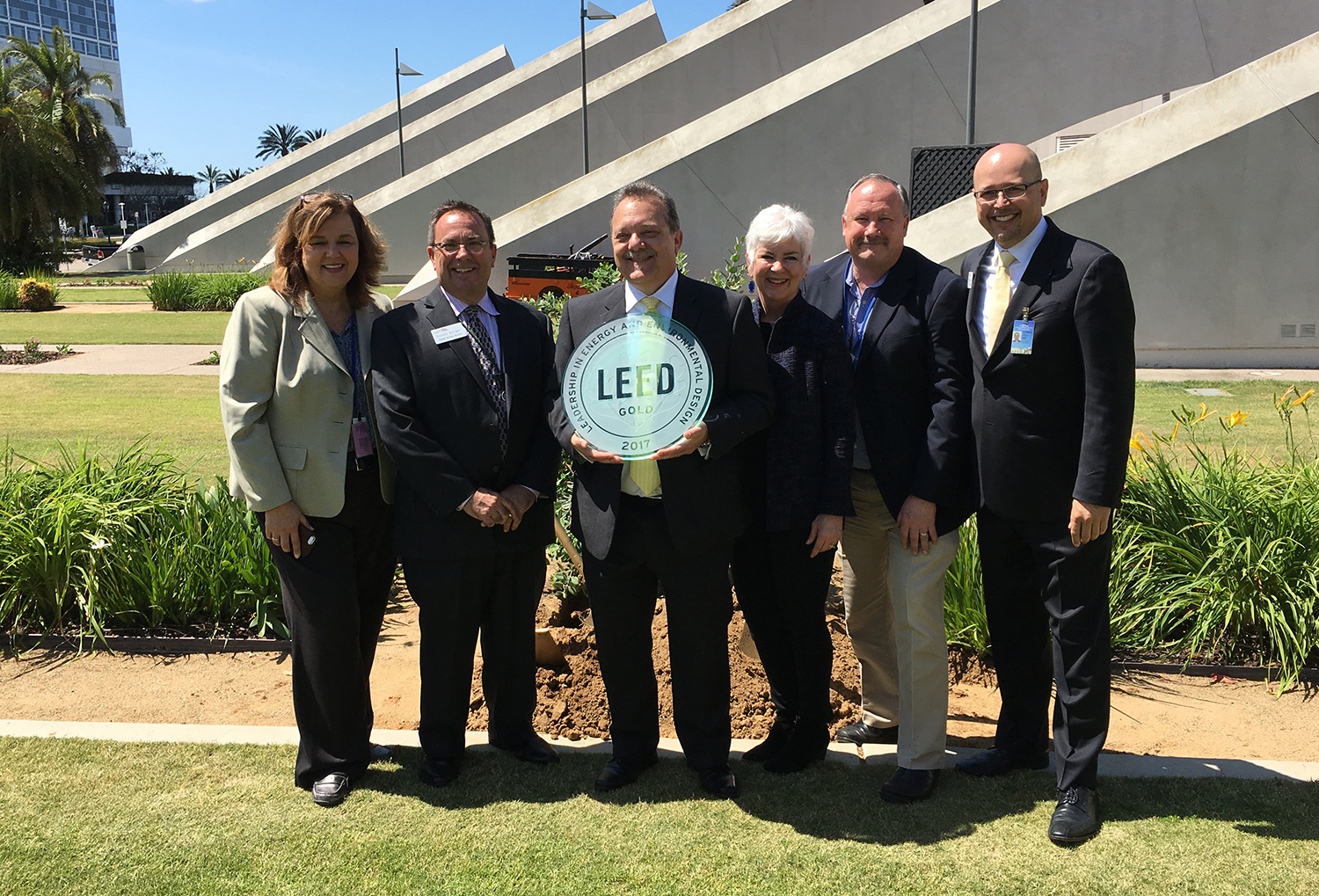 "San Diego is one of the greenest cities in the nation, so it makes sense that we are home to one of the greenest convention centers as well," Mayor Faulconer said. "As we move forward with plans to modernize and expand the San Diego Convention Center, this news shows how important it is to continually invest in this economic engine. With the support of organizations like the San Diego Convention Center, we can achieve the goals in our landmark Climate Action Plan to cut our city's carbon footprint in half by 2035 and build a better future for all San Diegans."
LEED Silver certified in 2011, the convention center staff has been working to reach the Gold standard and improve a sustainability business model that began when the venue first opened in 1989. Long before "green" was en-vogue, the San Diego Convention Center was the first to install recycling bins in 1990.
Here are some impressive stats that helped SDCCC earn the Gold certification:
In 2016, the convention center diverted a record 79 percent of materials or 3,162 tons. To put that into context, that's almost equal to the weight of 8 Boeing 747's.
The convention center replaced their old fluorescent lights with 11,650 energy-efficient LED's in the exhibit hall, meetings rooms and offices.
98 percent of all restrooms have been renovated to low-flow water usage, helping reduce indoor water usage by 32 percent.
The facility recycles 100 percent of all cardboard, thanks to two cardboard balers.
During Comic-Con alone, the convention center recycled 50 tons of cardboard. That's more than eight times the weight of the Gaslamp Quarter Archway sign that hangs above Fifth Avenue.
There are no garbage disposals in the convention center kitchens – food scraps are all composted and reused by local gardeners.
Untouched food that hasn't spoiled gets donated to the San Diego Rescue Mission.
91 tons of edible food leftover from events was donated last year by the San Diego Convention Center. That helped feed 145,000 hungry San Diegans.
Even more important is the fact that the convention center's in-house food and beverage team Centerplate has a sustainable food purchasing plan. As often as possible, they purchase produce, vegetables, and protein such as locally-caught fish, from within a 100-mile radius. Local farmers say this partnership is crucial to their business and helps boost the local economy.
"We at Moceri Produce believe that the convention center is a prime example of a way that local institutions and businesses can support local farms," said Robert Farmer, Purchasing Agent, Salesperson and Program Manager for Morceri Farms. "By supporting the local economy with food purchases, this helps regional farmers practice their trade. And it enables the stewardship of the land, water, labor, and environmental resources in order to create healthy, local food options for the guests the convention center."
By being green, the convention center continues to attract customers and generate more "green" to our economy. In 2017, the estimated regional impact of the conventions and meetings business in San Diego will be $1.1 billion.
"Sustainability is part of our DNA. It's who we are," said San Diego Convention Center President & CEO Clifford "Rip" Rippetoe, CFE. "When meeting planners are choosing a destination, this matters. We know our customers want the San Diego experience, and now they will know we are sustainability champions as well."
The San Diego Convention Center's Energy Star Rating of 84 demonstrates its performing more efficiently than 84 percent of all convention centers.
"Buildings are a prime example of how human systems integrate with natural systems," said Rick Fedrizzi, CEO and founding chair of the USGBC. "The San Diego Convention Center makes an immediate, positive impact on our planet, which will tremendously benefit us all."
In addition, the San Diego Convention Center is working to share best business practices, being part of the International Association of Venue Manager's brand new Energy Management Council, setting policy for green meetings all around the world.