Below are some of the sales & marketing highlights from various departments during the month of March 2017.
SALES & MARKETING HIGHLIGHTS
Special events promoted for March focused on Best Coast Beer Fest, St. Patrick's Day, World Baseball Classic and Spring.
CONSUMER MARKETING
Most Engaged Facebook Post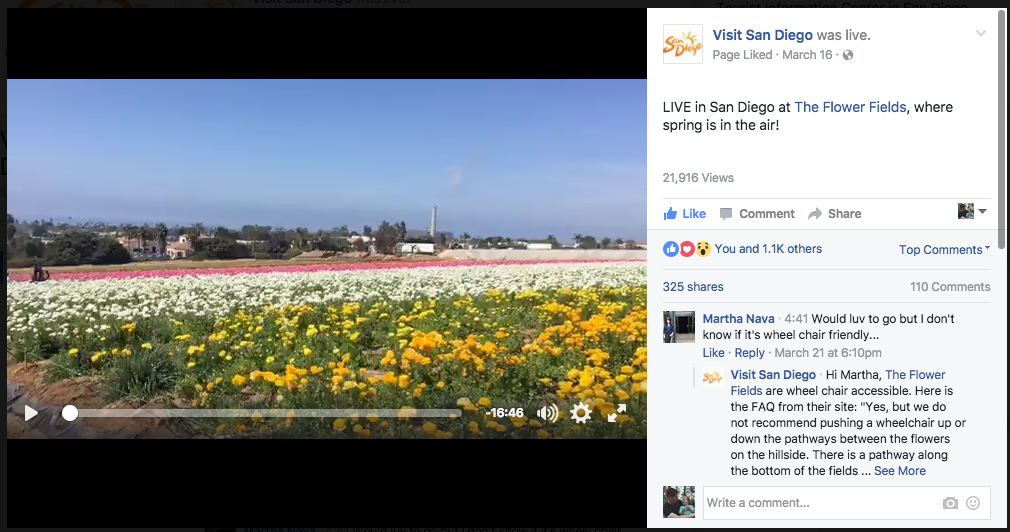 Most Engaged Twitter Post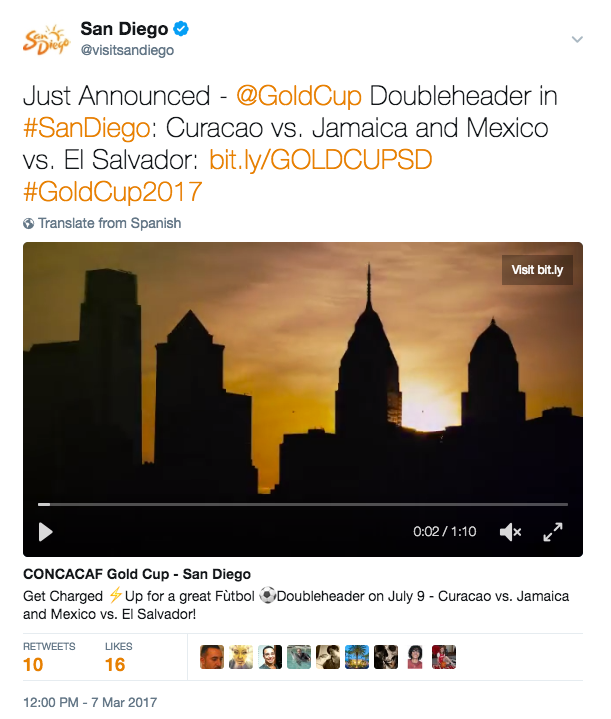 Most Engaged Instagram Post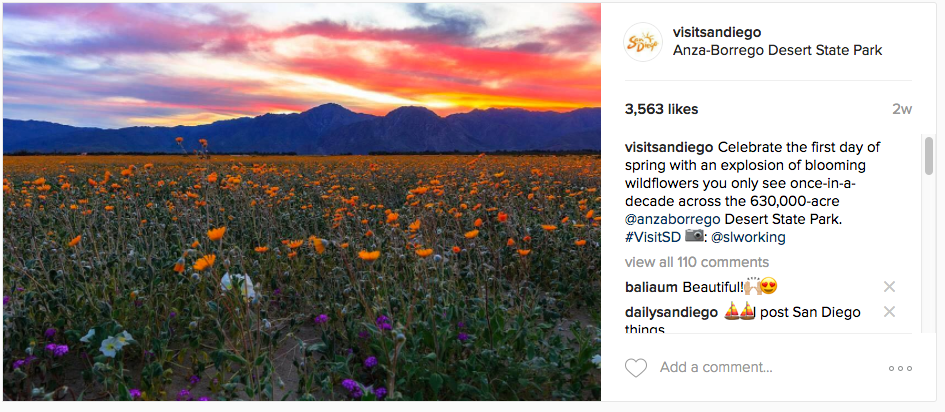 Most Engaged Google Post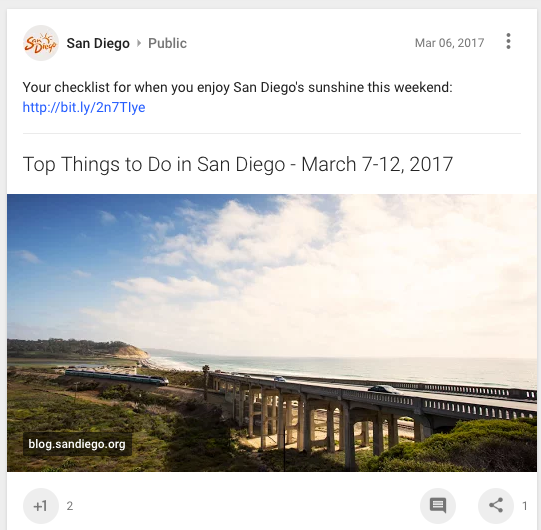 Web traffic for March included 790,188 user sessions and we posted a total of 138 Tweets, 55 Facebook posts (including 'Dark' advertising posts), 25 Google+ Posts and 23 Instagram posts through our social channels, 7 blogs, and distributed 9 consumer emails.
Google PPC
Total domestic Google PPC for March totaled $62,208.08 generating 16.9 million impressions and 87,389 clicks for an average click through rate of .51%.  International Google PPC in March focused on Canada and the UK with a total spend of $40,144.97 which generated 789,670 impressions and 23,669 clicks for an average click through rate of 2.9%.
Sub Region Marketing
In March we ran Google PPC directing to the Luxury and Value pages for the sub regions. Total spending in March for the sub regions was $6,996.09 generating 1.9 million impressions and 7,608 clicks for an average click through rate of .39%.
Overall traffic to the Luxury and Value pages on sandiego.org was 7,810 site visitors in March.  The social media team, in partnership with Casual Fridays, launched the following campaigns: Ahoy San Diego User Generated Content for Point Loma Peninsula, Belmont Park Instagram Story in Mission bay, and The Flower Fields of Carlsbad Facebook Live broadcast in the North Coastal Region.
Most Engaged Sub-Region Post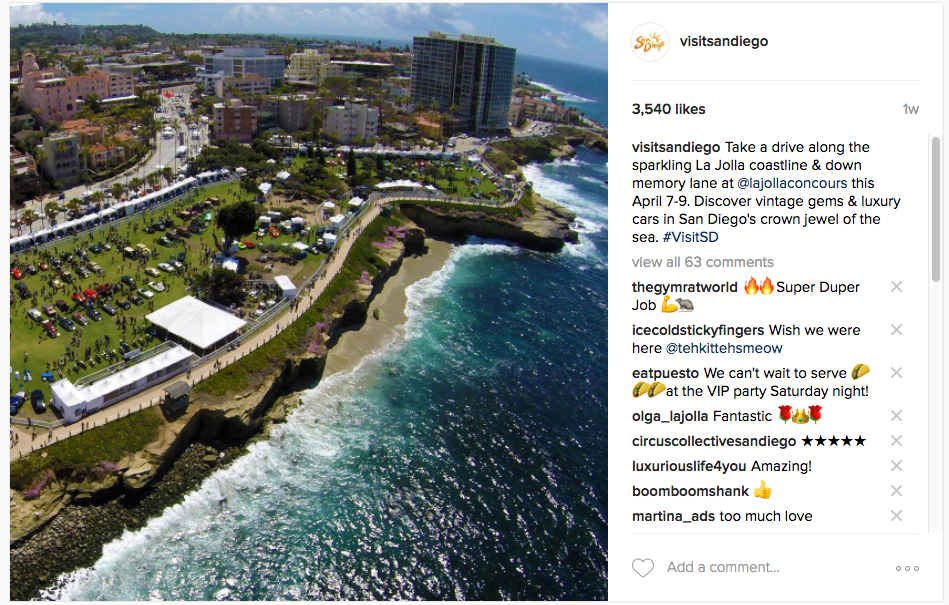 B2B DIGITAL MARKETING
EMAIL:
The March B2B Postcard was delivered to approximately 6,700 meeting planners and featured unique meeting opportunities in East County. The open rate for the B2B Postcard was 20.4%, which represents over 1360 meeting planners. Some highlights of the email included:
Sycuan Casino
Sky Falconry
Steele Canyon Golf Club
Pacific Southwest Railway
Anza-Borrego State Park
La Finquita Winery + Vineyard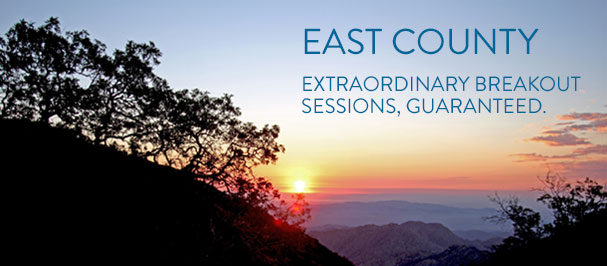 LINKEDIN:
Four unique posts during March included:
VIDEO: Best of California – San Diego earns 10 mentions
Six Unique Off-Site Venues for meeting in East County
Alaska Airlines Expands Big in San Diego
San Diego No. 8 on Trip Advisor List
LinkedIn grew by 1.3% from last month to 5,482 followers, earning over 20,749 impressions. Year-over-Year the LinkedIn Audience grew by 16%.
Where We Stand
LinkedIn followers compared to similar organizations: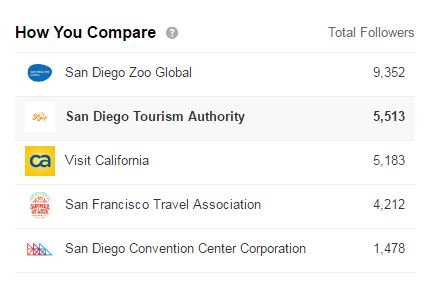 TWITTER:
@SDTAConnect Twitter base grew by 2% from last month to 3,171 followers. There were 55 tweets during the month.
This month, the tweet with the most exposure (3,357 impressions) was sharing Sunrise On 7 in Australia. They made an announcement of U.S. destinations to be broadcast live from on their telecast.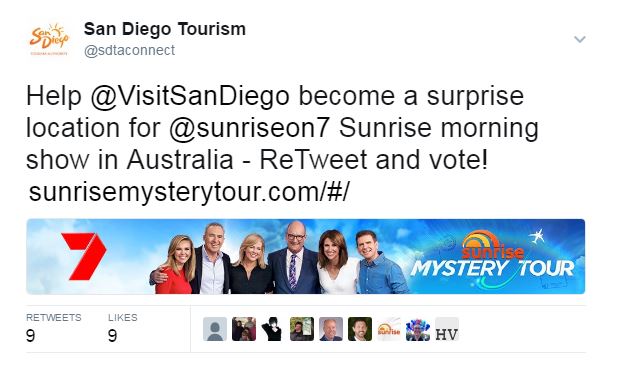 The tweet with the most engagement was the post sharing the news that Manchester Grand Hyatt earned a No. 8 spot on Cvent list.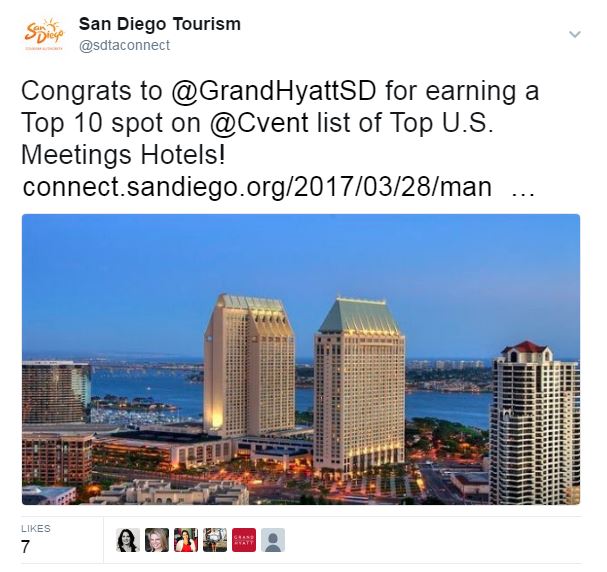 The B2B Account earned over 37,400 impressions during the month of March.
ADVERTISING
The San Diego Tourism Authority continued its Spring Spot TV rotation with :30 and :15 Brand and Family spots in Sacramento, San Francisco, Seattle, Chicago, Dallas and New York at a cost of $1,556,793.70 with 53,113,000 impressions delivered.
Print ads ran in United Hemispheres Dossier Magazine and Lonely Planet at a total cost of $23,715 with a minimum of 300,000 impressions delivered. Impressions for Dossier Magazine are TBD.
SDTA continued its digital video campaign in March featuring digital video and companion banners running on ABC, CBS, Hulu and Google/YouTube at a cost of $218,413.20 with 18,826,186 impressions delivered.
The Adult Spring Digital campaign continued with native content, digital banners, video, and social units (carousel/slideshows and canvas) running with Buzzfeed, Nativo, Sojern, and Facebook/Instagram for a total cost of $198,796.66 with 15,067,684 impressions delivered.
The Family Spring Digital campaign also continued with native, custom units, digital banners, video and social units (slideshow/carousels) running with the New York Times, Meredith Digital, Family Circle, Time Inc.  (T+L, People and Real Simple), Sojern, and Facebook/Instagram; total spend was $165,194.63 with 9,585,768 impressions delivered.
The Insight Spring Digital campaign continued in March with digital banners and native content running with Adara, TripAdvisor and TravelZoo. Total spend was $284,447.34 with 58,875,481 impressions delivered.
In March, the Foundational Social campaign continued on Facebook with paid promotion of organic posts for the Engage layer, carousels and single image ads for the Always On layer, carousels/canvas units running for the Adult/Millennial Impact layer, and carousels running for the Family Impact layer; total spend was $86,742.09 with 1,761,522 impressions delivered.
The total Leisure Advertising spend in March was $2,534,102.62 with 157,529,641 impressions delivered.
INTERNATIONAL ADVERTISING
In March, San Diego Tourism Authority continued its Canada digital campaign with digital video running across Google/YouTube and Facebook/Instagram; pre-roll video running on CTV and Global TV; standard and rich media banners running with Sojern and TripAdvisor; and social carousels/slideshows running on Facebook/Instagram. Media spend for Canada digital was $195,301.73 including a BUSA contribution of $22,206.98 with 15,503,477 impressions delivered.
SDTA continued its UK Spring Digital campaign in March with standard and rich media display banners, and video running on Sojern, TripAdvisor, Quantcast, Teads, Google/YouTube and Facebook/Instagram, and social carousels/slideshows running on Facebook/Instagram. Total spend in March for the UK campaign was $303,453.39 including a BUSA contribution of $34,511.96; 32,439,859 impressions were delivered.
The total International Advertising spend in March was $498,755.12 including a BUSA total contribution of $56,718.94 with 47,943,306 impressions delivered.
ARTS & CULTURE ADVERTISING
In March, San Diego Tourism Authority launched a national Cultural Tourism campaign with a native listicle and slideshow on Travel + Leisure. Total spend was $150,000 with 9,061,111 impressions delivered.
MEMBERSHIP
Ad Sales
$100,897 in new ad sales contracts.
Revenue Development
The SDTA began working on a licensing deal with Bay City Brewing on an official SDTA beer. The brew would be available in select locations in San Diego, starting this summer.
The SDTA entered into an agreement with the University of San Diego's school of Continuing and Professional Education. The annual agreement makes USD the official continuing education partner of the SDTA, presenting sponsor of our quarterly social media seminars, content in our monthly member communications, and other event sponsorships.
10 Members attended the Open Office Hours on March 24th to learn how to best maximize benefits. 4 New Members joined in March bringing in $2.200 in annual dues revenue. The SDTA welcomes our newest members:
HOTEL SALES
The Hotel Meetings Sales Team converted 71 bookings, generating 36,485 Room Nights in the month of March. These room nights are from "new" groups, that have not been to San Diego in the last 5 years.
Margie Sitton, Debbie Jordon and Michelle Coombs from the Hotel Sales Team, along with Lynn Whitehead attended Destination Showcase in Washington D.C.
National Sales Director, Nur Kitmitto attended MPI Cascadia in Pendleton Oregon then traveled to San Francisco to attend MPI Northern California's annual conference on March 9 with five hotel partners. Nur received five leads representing 2,100 room nights by attending these two MPI chapter events.
Ernie Rossow, National Sales Director attended MIC Colorado in Denver with four hotel partners. Ernie received four leads representing 2,390 room nights for the destination.
Gillian Ware, National Sales Director attended MPI Sacramento/Sierra Nevada Chapter's annual conference where she met with new and existing customers to discuss existing leads and future programs for San Diego.
Veronica Rivera, National Sales Director attended Connect California in San Jose and received one lead for 400 room nights.
Gillian Ware attended Connect Diversity in Las Vegas where she received five leads for 2,820 room nights and many promises for RFP's over next few months including two leads for the San Diego Convention Center and four for the Sports Alliance.
Debbie Jordan and Michelle Coombs, National Sales Directors hosted 14 customers at iFly, a San Diego member affiliate for an afternoon of adventure. Together they received two leads representing 3,032 room nights from a financial services company and an association.
CITYWIDESALES
FY17:
Definite bookings: 4
Attendance: 36,327
Total Room Nights: 72,184
Fiscal Year 17-To-Date: 472,548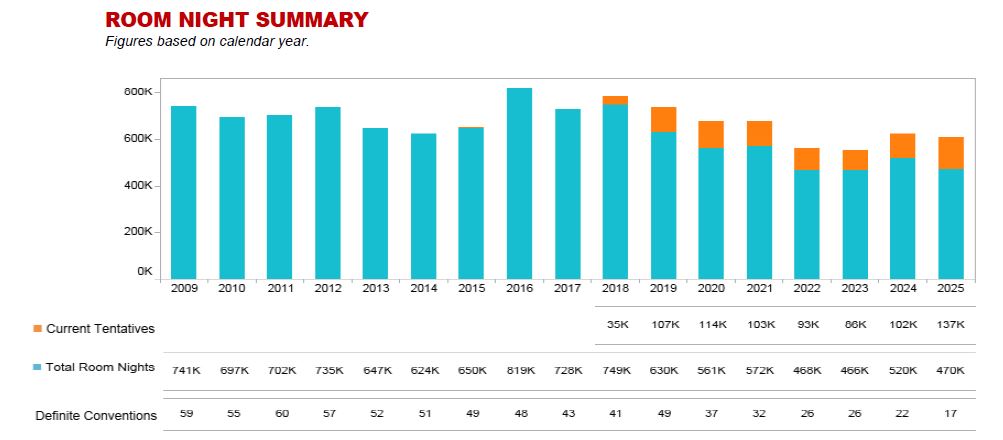 PUBLIC RELATIONS
Communications presented San Diego's marketing program of work at the Beer Tourism & Marketing Conference in Asheville, North Carolina. Candice Eley sat on a panel of leading tourism and beer experts to discuss Best Practices for Tourism Organizations and Brewers Guilds.
Communications participated in Visit California's New York Media Reception which had more than 90 media in attendance. Meetups included: "The Today Show," Thrillist.com and Epoch Times.  While in New York, Public Relations met individually with six media outlets which included; Latina Magazine, Worth Magazine, Revista Hola and Parents Magazine.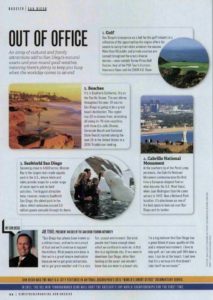 Communications hosted two media FAMs in March, including the "Spring to San Diego–Sun, Surf & Fun in California's Beach City"  Canadian FAM. Participating outlets included Vancouver Courier, Faze Magazine, CAA (Canadian Automobile Assoc.) magazine and London Free Press. In partnership with Edelweiss Airlines, Communications hosted five Swiss journalists writing for eight media outlets on a four-night San Diego visit highlighting our region's outdoor recreation, cool neighborhoods, unique culinary and dynamic craft beer scenes, and exciting nightlife.
Team members also hosted individual media outlets from Mexico, the UK, Australia, Argentina and more.
Key media coverage generated in March included Conde Nast Traveler, Midwest Living, Toronto Sun, USA Today, Hemispheres (United Airlines' magazine), Marie Clare (China) and more.
Clipping Total was $2,617,889
Impressions were 111,846,604
TRAVEL TRADE
Benjamin Eastman was joined by a representative of the USS Midway while participating in 2 shows in Copenhagen, Denmark. The first event was a Consumer Show held by FDM Travel where the San Diego team was able to visit with the 4,000 attendees to help educate and shape their California road trip itineraries to include San Diego. The team also had the opportunity to showcase the destination during a 15-minute Power Point presentation to a group of about 50 consumers.  The second event in Copenhagen provided the San Diego team with an opportunity to meet, educate and network with about 100 regional tour operators and travel agents during the USA Tradeshow.  Travelers from Scandinavia are currently the 3rd largest demographic using the British Airways flight and are prime candidates to utilize the new Condor & Edelweiss seasonal flights.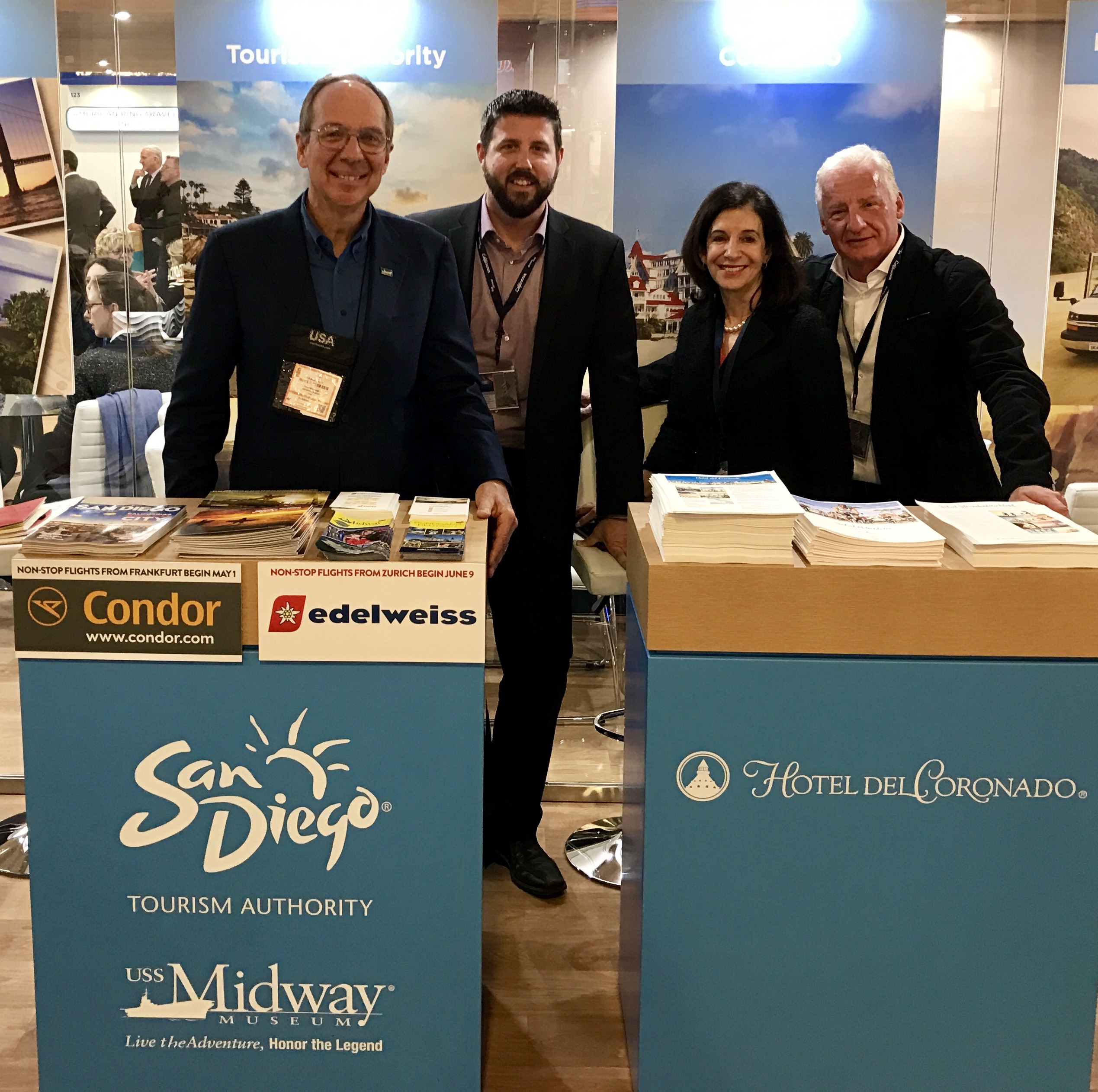 Benjamin was joined in Berlin by the USS Midway and the Hotel Del Coronado in the Visit California booth at the ITB Tradeshow – Germany's largest travel trade tourism show. During the 3 day trade show, Benjamin had 27 meetings with clients and vendors to promote the new Condor & Edelweiss non-stop flights from the region, follow up on promotional activities that have been running and begin discussing future opportunities. San Diego members also had a number of meetings and conversations with clients, media and vendors promoting their products. The region was also highlighted to clients during Visit California's Wine & Beer reception on two afternoons thanks to the generous donation of craft beer from Stone Brewery.
SDTA hosted the 4th Annual Asian Client Luncheon & Seminar in Arcadia. 16 of San Diego partners joined Riki Suzuki, Travel Trade Development Manager, to travel to Arcadia for the event and had opportunity to showcase their products in table top trade show style to about 40 Asian receptive operators attended the event. Riki was able to introduce new SDTA China Travel Trade Representatives, Cherrie Yang and Anita Yu, who were in town for training to both participated members and clients.
Riki joined Visit California's Asia Sales Mission in South Korea and Japan. During the mission, Riki visited Seoul, Osaka and Tokyo where he was able to engage with over 130 travel professionals in the region by one-on-one appointments, presentations, workshops, office visits and networking opportunities.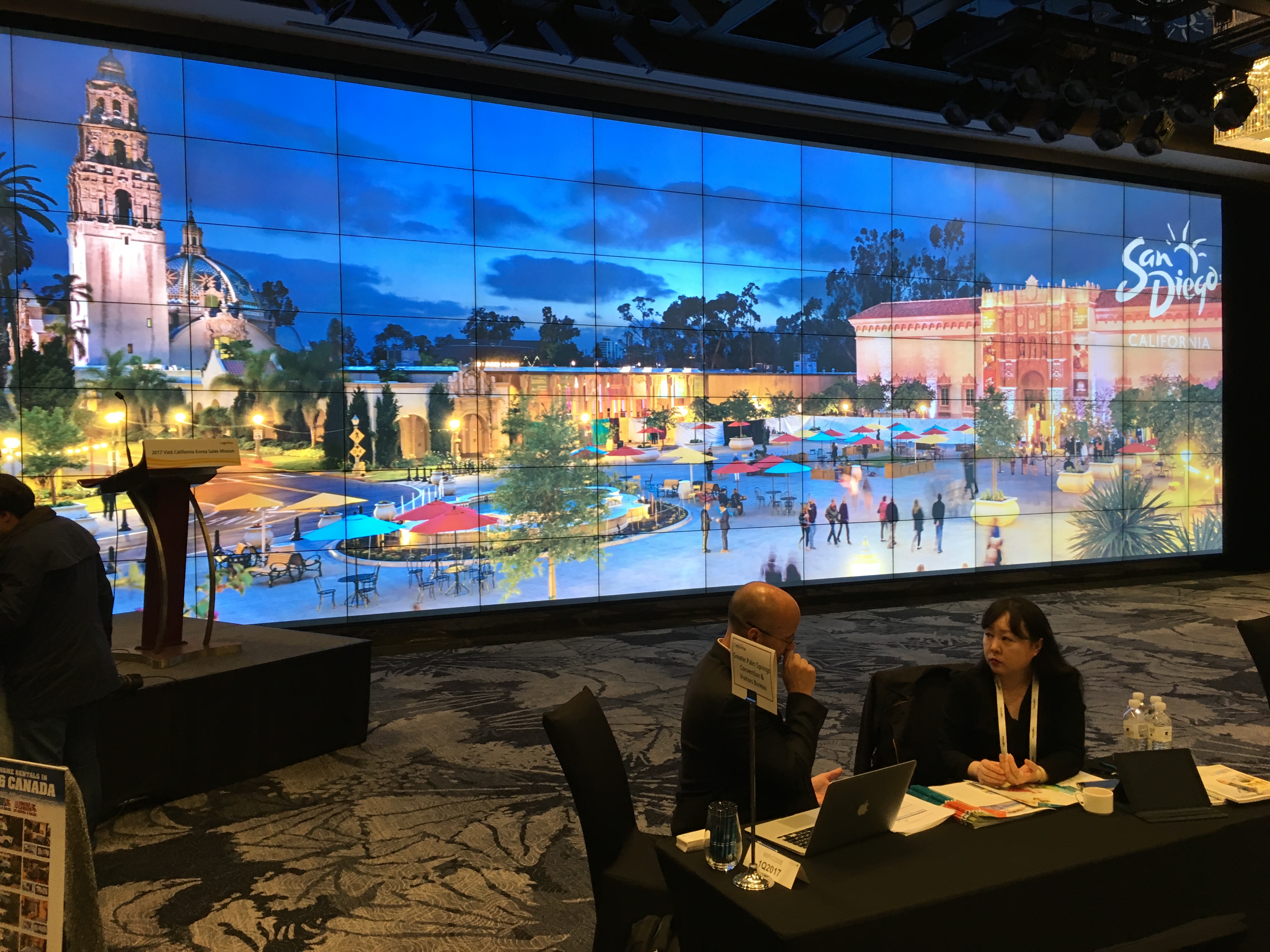 Immediately following the Visit California Mission, Riki organized in-house seminar for TABIKOBO America team at their head quarter in Tokyo. Riki and SDTA Travel Trade Representative Japan, Tomoe Matsunaga, were able to train 10 product managers during about an hour of presentation and a Q&A session.