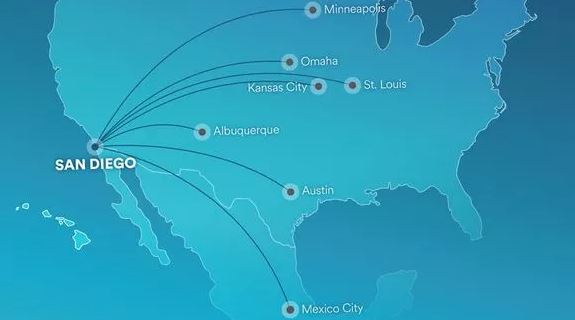 Alaska Airlines today announced increased investment in Southern California by adding service to six new destinations from San Diego International Airport. We are excited to see successes like this as a result of the strong partnership between the San Diego Tourism Authority and the San Diego County Regional Airport Authority.  
New nonstop service includes daily flights to Albuquerque, New Mexico; Austin, Texas; Kansas City, Missouri; Minneapolis/St. Paul; Omaha, Nebraska; and St. Louis. By late August, Alaska will fly 40 daily departures to 28 destinations from San Diego, including the most nonstop flights to Mexico and Hawaii.

Alaska is quickly establishing itself as the go-to airline for people on the West Coast. Today's news comes on the heels of Alaska's announcement last week adding 13 nonstop routes from the Bay Area – the single largest announcement in company history.
"Alaska Airlines has grown more than any other carrier in San Diego over the last five years, with the addition of 18 nonstop destinations and nearly twice as many departing seats," said John Kirby, vice president of capacity planning at Alaska Airlines. "We want to thank Airport Authority President and CEO Thella Bowens and her terrific team for their partnership. Without Thella's strong leadership and support over the years, our growth wouldn't have been possible."
The new flights build on previously announced routes, which include daily nonstop flights between San Diego and Baltimore starting today, three-times-daily service between San Diego and Sacramento starting tomorrow, and daily service between San Diego and Mexico City. Flight schedules for Mexico City will be announced in the coming months, pending government approval.
From San Diego, guests can make convenient connections to Tokyo and London, served by partner carriers Japan Airlines and British Airways, while enjoying the benefits of Alaska's award-winning customer service and loyalty program.
"We strive to make flying in and out of San Diego as convenient and enjoyable as possible," said Bowens. "We're delighted to see Alaska Airlines continue to grow its presence here at SAN, giving travelers more options to explore and connect than ever before."
Schedule of new service:
Start Date
City pair
Departs
Arrives
Frequency
Aircraft
Aug. 27
San Diego-Omaha
8:50 a.m.
2:25 p.m.
Daily
E175
Aug. 27
Omaha-San Diego
3:05 p.m.
5:05 p.m.
Daily
E175
Aug. 27
San Diego-Austin
6:55 p.m.
11:35 p.m.
Daily
E175
Aug. 28
Austin-San Diego
8:30 a.m.
9:30 a.m.
Daily
E175
Oct. 18
San Diego-Albuquerque
4:35 p.m.
7:15 p.m.
Daily
E175
Oct. 18
Albuquerque-San Diego
2:55 p.m.
3:53 p.m.
Daily
E175
Nov. 18
San Diego-Minneapolis
1:50 p.m.
7:50 p.m.
Daily
E175
Nov. 18
Minneapolis-San Diego
12:50 p.m.
3:20 p.m.
Daily
E175
Dec. 15
San Diego-Kansas City
6:40 p.m.
11:55 p.m.
Daily
E175
Dec. 15
Kansas City-San Diego
6:30 a.m.
7:50 a.m.
Daily
E175
Dec. 15
San Diego-St. Louis
8:30 a.m.
2:10 p.m.
Daily
E175
Dec. 15
St. Louis-San Diego
3:55 p.m.
6 p.m.
Daily
E175
Flight times based on local time zones.
Tickets for the new routes are available for purchase at www.alaskaair.com or by calling 1-800-ALASKAAIR (800-252-7522 for Hearing & Speech Impaired (TTY): Dial 711 for Relay Services).