Below are some of the sales & marketing highlights from various departments during the month of January 2017.
SALES & MARKETING HIGHLIGHTS
Special events in January focused on the whale watching season, Restaurant Week and Farmers Insurance Open.
CONSUMER MARKETING
Most Engaged Facebook Post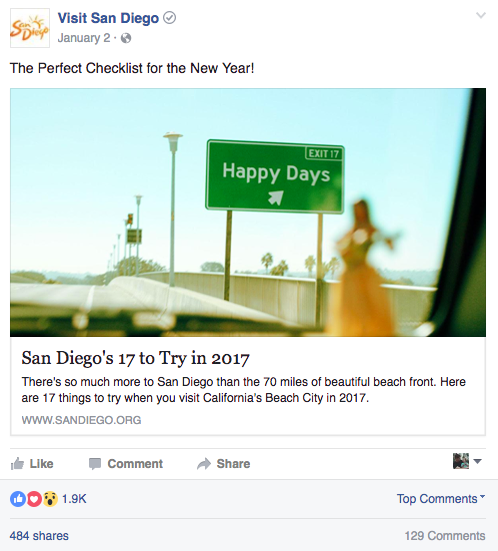 Most Engaged Twitter Post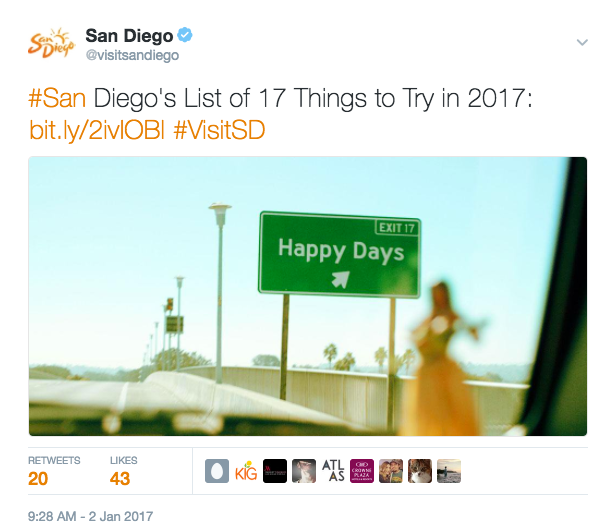 Most Engaged Instagram Post (this is also our most-engaged Sub-region post)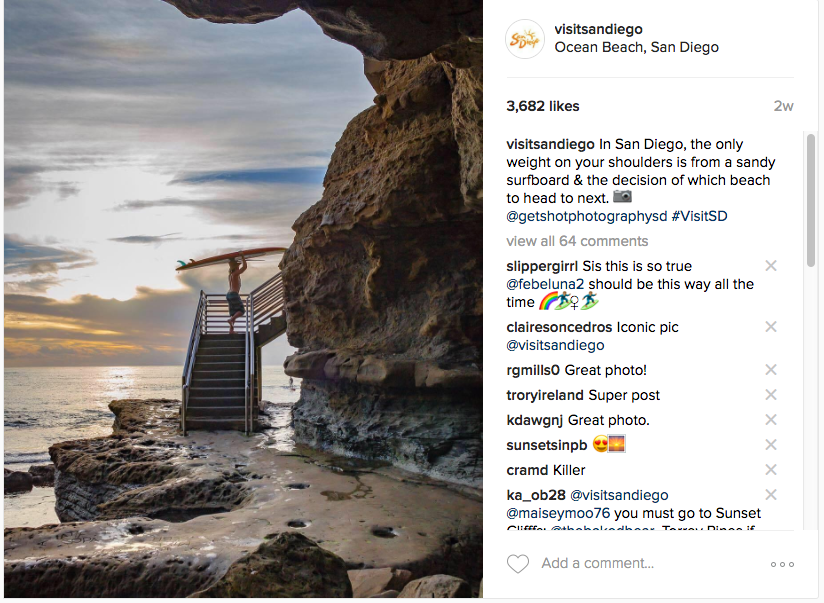 Most Engaged Google Post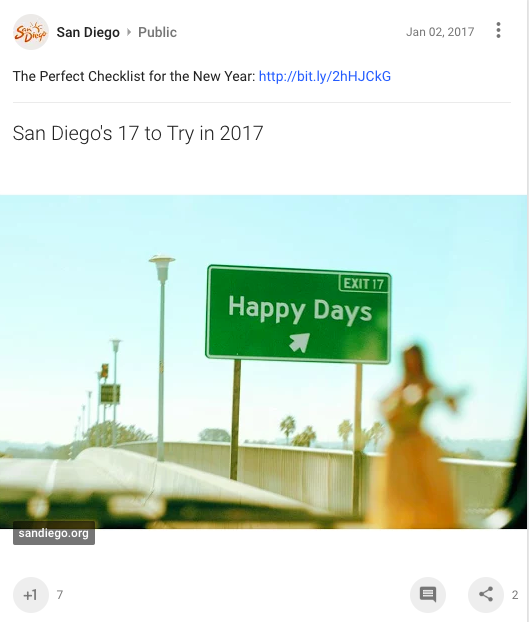 Web traffic for January included 530,470 user sessions and we posted a total of 80 Tweets, 178 Facebook posts (including 'Dark' advertising posts), 21 Google+ Posts and 19 Instagram posts through our social channels, 7 blogs, and distributed 7 consumer emails.
Google PPC
Total domestic Google PPC for January totaled $30,079.39 generating 12.1 million impressions and 48,374 clicks for an average click through rate of .40%.  International Google PPC in December focused on Canada and the UK with a total spend of $31,055.51 which generated 736,563 impressions and 19,666 clicks for an average click through rate of 2.6%.
Sub Region Marketing
In January we ran Google PPC directing to the Luxury and Value pages for the sub regions. Total spending in January for the sub regions was $1,771.13 generating 14,182 impressions and 667 clicks for an average click through rate of 4.7%.
Overall traffic to the Luxury and Value pages on sandiego.org was 8,480 site visitors in January.  The social media team, in partnership with Casual Fridays, launched the following campaigns: Opt Outside (All Regions), Farmers Insurance Open (Facebook Live), Oceana Coastal Kitchen/San Diego Restaurant Week (Instagram Story).
B2B DIGITAL MARKETING
EMAIL:  The January B2B Postcard was delivered to approximately 7,300 meeting planners and featured unique meeting opportunities in the Mission Valley/Old Town region. The open rate for the B2B Postcard was 20.5%, which represents over 1,480 meeting planners. Some highlights of the email included Strategic Ops Training, Casa Guadalajara, House of Hints, Epicurean San Diego, and Old Town, Presidio Park.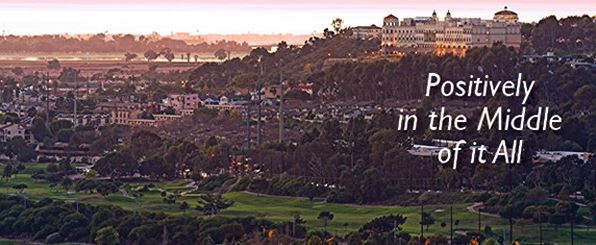 LINKEDIN:
LINKEDIN: There were five B2B LinkedIn posts reaching our professional audience. Top posts included:
Announcement of Phil Hannes, new senior director of international marketing
Spotlight on Mission Valley/Old town region of San Diego
Announcement of new career opportunity with SDTA – Travel Trade Manager position open
Story about new Southwest Airlines service to/from San Diego
TripAdvisor releases top hotels – Fairmont Grand Del Mar tops the list
LinkedIn grew by 1.1% from last month to 5,372 followers, earning over 14,500 impressions. Year-over-Year the LinkedIn Audience grew by 17%.
Where We Stand
LinkedIn followers compared to similar organizations: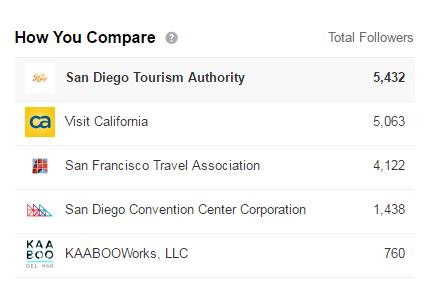 TWITTER:
TWITTER:  @SDTAConnect Twitter base grew by 2% from last month to 3,053 followers. There were 46 tweets during the month.
This month, the tweet with the most exposure (2,113 impressions) was a congratulatory post about the Fairmont Grand Del Mar Resort earning a No. 1 spot on TripAdvisors Readers Choice Awards.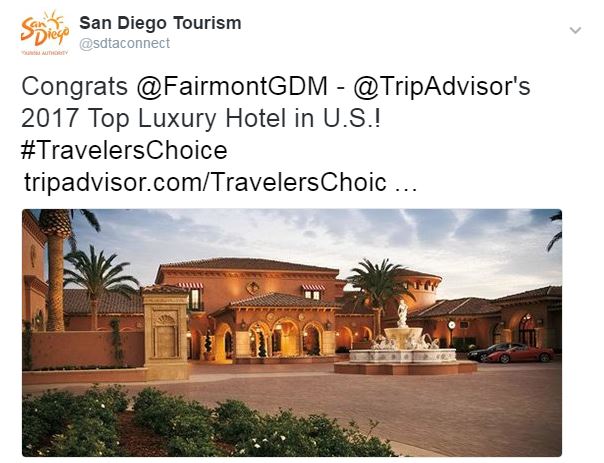 The tweet with the most engagement was the announcement of Soccer City plans aboard the USS Midway Museum.   This tweet earned 1,633 impressions and 86 engagements.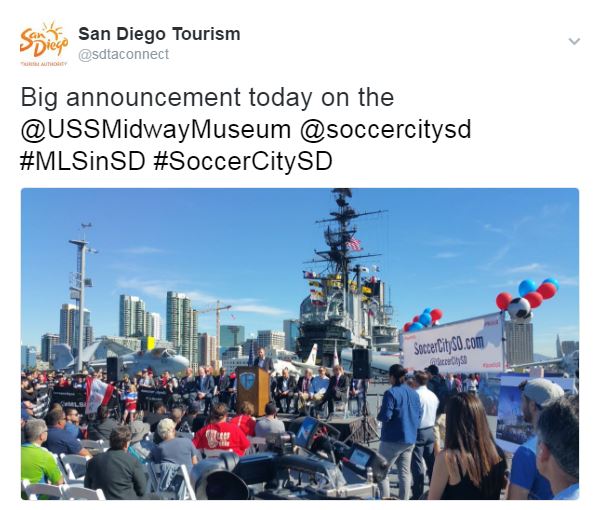 ADVERTISING
LEISURE ADVERTISING
In January 2017, the San Diego Tourism Authority began its Spring Spot TV rotation with :30 and :15 Brand and Family spots in Seattle, Chicago and New York at a cost of $681,421.20 with 27,628,000 impressions delivered.
The ABC Times Square Super Sign and Taxi Cab unit program concluded on January 1, 2017 in New York with 11,625,000 impressions delivered at a cost of $64,375.00.
SDTA ran a single insertion in San Diego Magazine for a total spend of $3,495.00 with 47,130 impressions delivered.
SDTA continued its digital video campaign in January featuring digital video and companion banners running on ABC, CBS, Hulu and Google/YouTube at a cost of $256,768.21 with 15,039,993 impressions delivered.
The Adult Spring Digital campaign launched with native content, digital banners, video, and social units (carousel/slideshows and canvas) running with Buzzfeed, Nativo, Sojern, and Facebook/Instagram for a total cost of $94,432.00 with 7,533,841 impressions delivered.
The Family Spring Digital campaign also launched with native, custom units, digital banners, video and social units (slideshow/carousels) running with the New York Times, Meredith Digital, Family Circle, Time Inc.  (T+L, People and Real Simple), Sojern, and Facebook/Instagram; total spend was $94,432.00 with 4,792,883 impressions delivered.
Finally, the Foundational Social campaign kicked off on Facebook with paid promotion of organic posts for the Engage layer, and carousels and single image ads for the Always On layer; total spend was $41,600 with 1,152,000 impressions delivered. The total Leisure Advertising spend in January was $1,236,523.41 with 67,818,847 impressions delivered.
SUB-REGION VALUE AFFLUENT ADVERTISING
In January, SDTA ran affluent ads and advertorials in Bon Appetit and Conde Nast Traveler magazines at a media cost of $50,000 with 814,833 impressions delivered. Value ads ran in Family Fun and Sunset magazines at a media cost of $48,087.98 with 1,033,042 impressions delivered. The total Sub-Region Advertising spend in January was $98,087.98 with 1,847,875 impressions delivered.
INTERNATIONAL ADVERTISING
In January, San Diego Tourism Authority continued its Canada digital campaign with digital video running across Google/YouTube and Facebook/Instagram; standard and rich media banners running with Sojern and TripAdvisor; and social carousels/slideshows running on Facebook/Instagram. Media spend for Canada digital was $272,151.21 including a BUSA contribution of $28,636.86 with 14,429,271 impressions delivered.
SDTA launched the UK Spring Digital campaign in January with standard and rich media display banners, and video running on Sojern, TripAdvisor, Quantcast, Teads, Google/YouTube and Facebook/Instagram, and social carousels/slideshows running on Facebook/Instagram. Total spend in January for the UK campaign was $184,565.45 including a BUSA contribution of $21,513.30; 16,849,229 impressions were delivered.
SDTA ran an insertion in the BUSA Travel Inspiration Guide in January at a media cost of $22,100.00 with 575,000 impressions delivered.
Finally, SDTA launched an OOH campaign in the UK featuring digital video running on Transvision Screens at a media cost of $200,000, including a BUSA contribution of $100,000 with 3,753,000 impressions delivered. The total International Advertising spend in January was $678,816.66 including a BUSA total contribution of $150,150.15 with 35,606,500 impressions delivered.
MEMBERSHIP
The SDTA welcomes our newest members:
HOTEL SALES
The Hotel Meetings Sales Team converted 11 bookings, generating 14,019 Room Nights in the month of January.  These room nights are from "new" groups which have not been to San Diego in the last 5 years.
National Sales team members, Michael Steffen, Debbie Jordan, Bri Mouton, and Jenn Hicks attended PCMA Convening Leaders conference in Austin, TX. The team met with many existing customers and new customers for the destination.
Michelle Coombs and Debbie Jordan, National Sales Directors in the Washington, D.C. and Virginia markets, hosted 12 customers to a unique San Diego inspired event with indoor flying at iFly and dinner at Uncle Julio's in Edgewater, MD. This unique event brought in one lead for 1,895 room nights to the destination.
Andrea O'Hara, National Sales Director for the Midwest, attended Incentive Live. Incentive Live provides networking activities and one-to-one appointments. Andrea received two leads for 1,200 room nights and 26 additional new contacts for future prospecting.
Veronica Rivera, National Sales Director for Southern California, attended Luxury Connexxion Summit at the La Valencia Hotel in La Jolla. Veronica made 10 new customer connections.
Throughout the month of February, members of the Hotel Sales Meetings team attended Luxury Meetings Summit in Jacksonville, Tampa and Orlando, FL, Denver, CO, and Salt Lake City, UT.
PUBLIC RELATIONS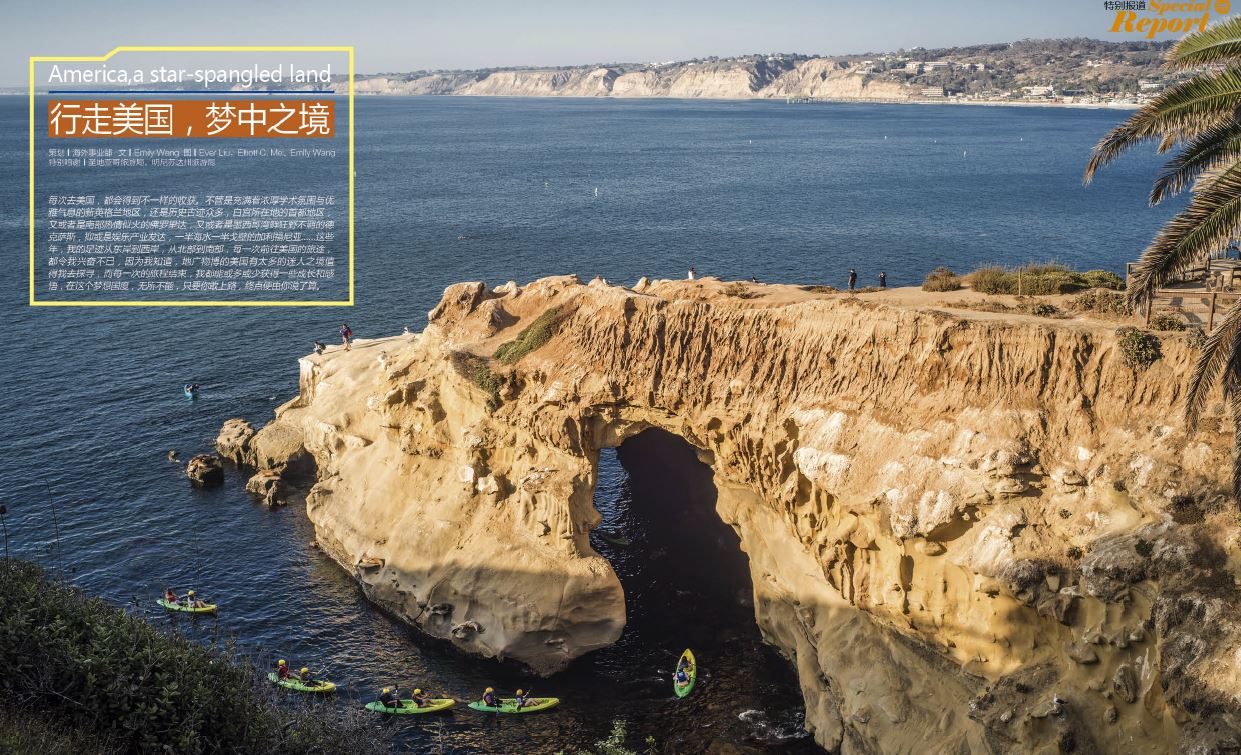 Communications hosted key travel media outlets from China, France and the United Kingdom during January including The Sunday Times (UK) and National Geographic Traveler.
Communications traveled with Visit California on a mission to Mexico including stops to meet with media in Guadalajara and Mexico City. While in Mexico City, our PR manager stayed on for one on one desk-side meetings with key media including El Gourmet, Forward Travel, Apasionado, Open and more.
Key media coverage generated in January included features in Midwest Living magazine,  VIA (AAA's travel magazine), El Economista (Mexico), The Daily Mail (UK), Montreal Gazette and Vancouver Sun (Canada), and Japanese TV show "Nijiiro Jean."
Clipping Total was $3,143,096
Impressions were 1,137,161,368
International subtotals from this grand total are:
International Value: $2,266,770 (includes Canada and Mexico)
International Impressions: 890,357,363
TRAVEL TRADE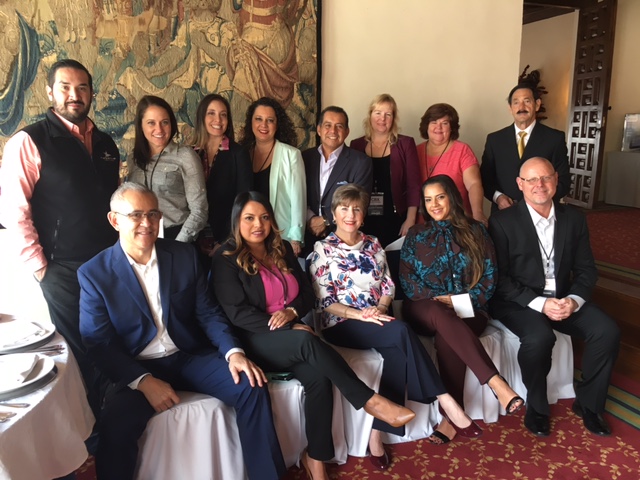 Phil Hannes, Sr. Director of International Marketing participated in the annual California Alliance Sales Mission along with 8 San Diego members presenting to 73 retail agents in Mexico City.  He met one-on-one with 12 top wholesalers and OTA's, and with staff from Aeroméxico to discuss CBX and collaborative opportunities with incoming Tijuana flights.
Tomoe Matusnaga, Travel Trade Representative in Tokyo, participated in the Club California Nagoya event on January 27th. The event welcomed about 50 travel trade professionals from the region, where Tomoe gave a presentation to promote San Diego and network with the attendees.