The San Diego Tourism Authority provides marketing initiatives, promotions, and advertising to help support the San Diego Sub-Region areas of the destination. Through both value and luxury campaigns, digital promotions, and key partnerships, the sub-region gains exposure to a wide-ranging segment of potential visitors.  Below is a re-cap of various programs initiated during the 2016 calendar year.
MediaSilo Creative Assets Library Created
Each MediaSilo library has sub-region specific logos and taglines, rights-free photography, b-roll footage and a sizzle video to market the sub-region.
Created positioning taglines:
North Inland: Wide Open Wonderful
North Coastal: A Vibrant Kind of Chill
La Jolla: The Jewel by the Sea
Mission Bay: Good Vibes on the Water
Mission Valley: Positively in the Middle of it All
Point Loma Peninsula: Where Inspiration Sets Sail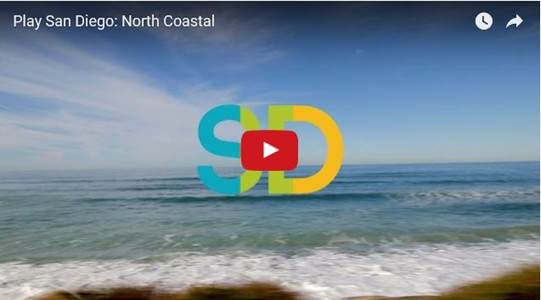 2016 Dedicated Sub-Region Sweepstakes
Dedicated Sub-Region sweepstakes were hosted quarterly on the Visit San Diego social media channels and distributed through the SDTA e-blast database  and blog with over 66.1K entries to win a trip to the Point Loma Peninsula, Mission Bay, La Jolla and Mission Valley regions.
Point Loma Peninsula sweepstakes featured Humphreys Half Moon Inn & Suites, San Diego Sailing Tours, Coasterra Restaurant & Cabrillo National Monument
Mission Bay sweepstakes featured The Dana on Mission Bay, Belmont Park, Cannonball, Seaforth Boat Rental & the Bahia Belle Boat Cruise
La Jolla sweepstakes featured La Valencia Hotel, George's at the Cove, The Spa at Torrey Pines, Surf Divas Surf School & the La Jolla Playhouse
Mission Valley sweepstakes featured the Handlery Hotel San Diego, Bazaar del Mundo's Specialty Shops, Casa Guadalajara, Riverwalk Golf Club & the Old Town Trolley Tours

2016 Sales & Marketing Digital Support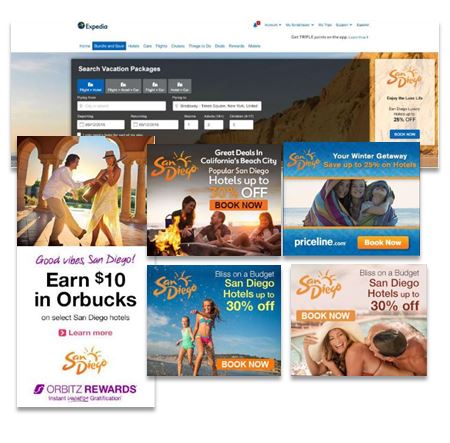 Online Travel Agency Campaigns
SDTA creatives showcased the Sub-Region hotel offers on the Home Page and Flight, Hotel, and Vacation Package pages with the support of marque placements to drive inspiration and consideration during peak search periods for travel by dates in need periods.
OTA Campaigns:
Winter Saving Message (November – February)
Early Summer Savings Message (April – June)
Late Summer Savings Message (July – August)
Winter Saving Message (November – February)*
TOTAL IMPRESSIONS DELIVERED:
Over 27.3 million served through OTAs
*Campaign is still in progress and does not include Winter 2016 impressions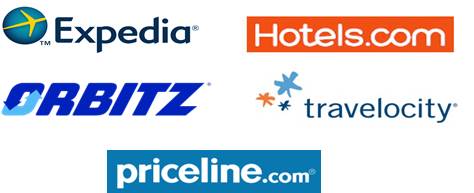 SDTA Generated Content
SDTA generated content covering all six Sub-Regions were published to the SanDiego.org website, through organic social media posts, amplified Facebook posts and the SDTA e-blast database.
Social Media Collaboration
Sub-Region activities were featured on the SDTA Instagram Story and Facebook live to include:
Music Festivals: KAABOO Del Mar
Halloween: The Whaley House Museum
Holidays: Liberty Public Market, Winter Wonderland Holiday Market and Fantasy on Ice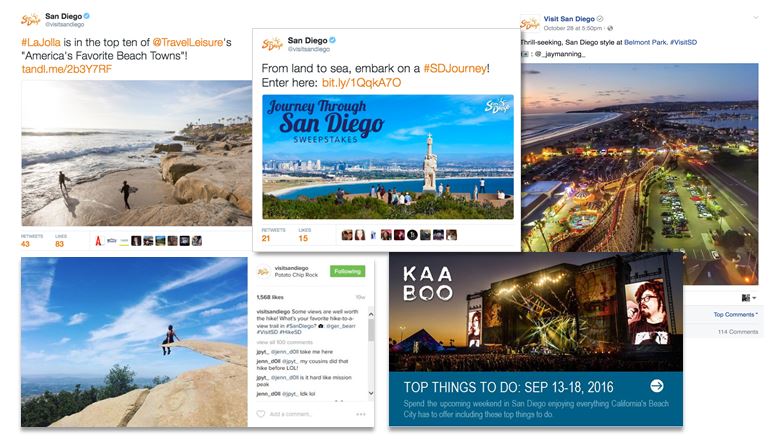 2016 Sub-Region Print Advertorials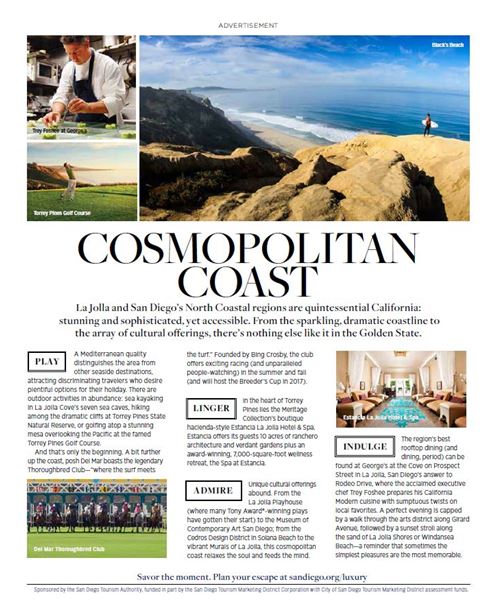 Departures
October Issue
Affluent
Sub-Region: North Coastal, La Jolla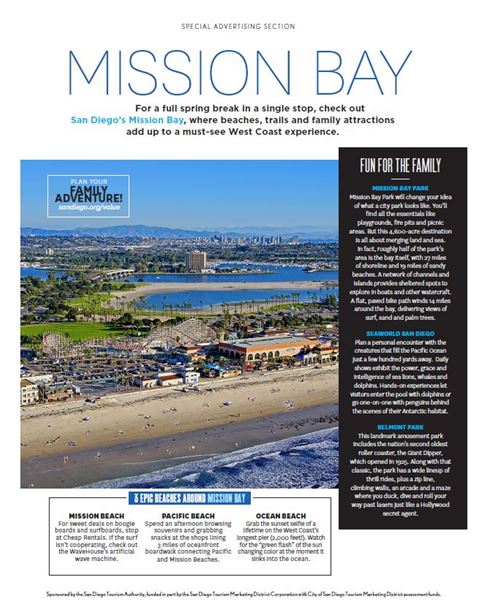 Family Fun
November Issue
Value
Sub-Region: Mission Bay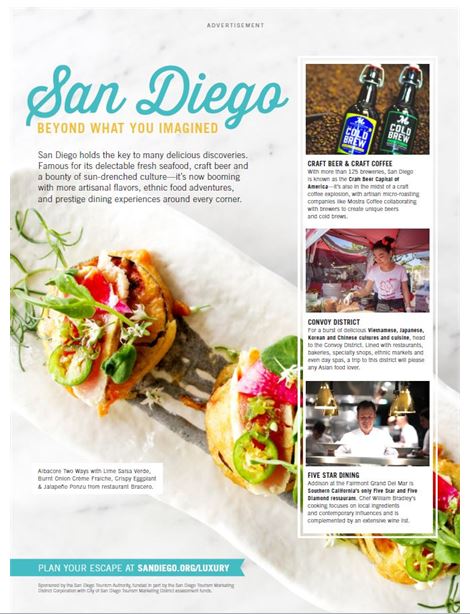 Bon Appetit
November Issue
Luxury
Sub-Region: North Inland, North Coastal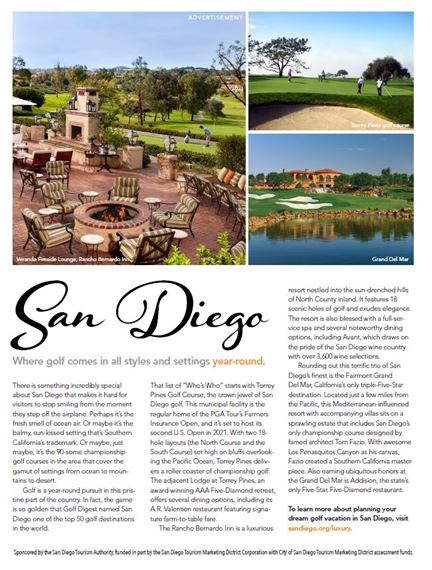 Golf Digest
November Issue
Sub-Region: North Inland, North Coastal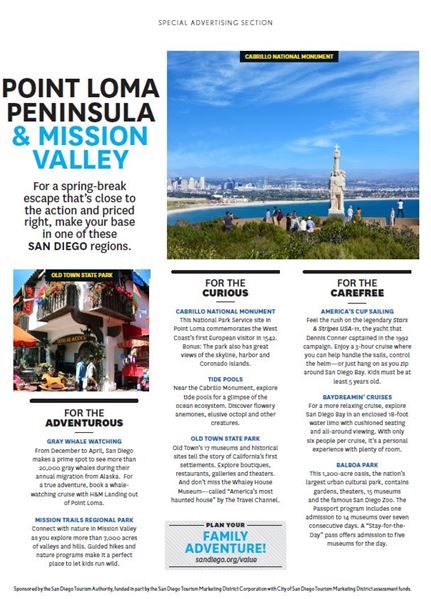 Family Fun
December Issue
Value
Sub-Region: Point Loma Peninsula, Mission Valley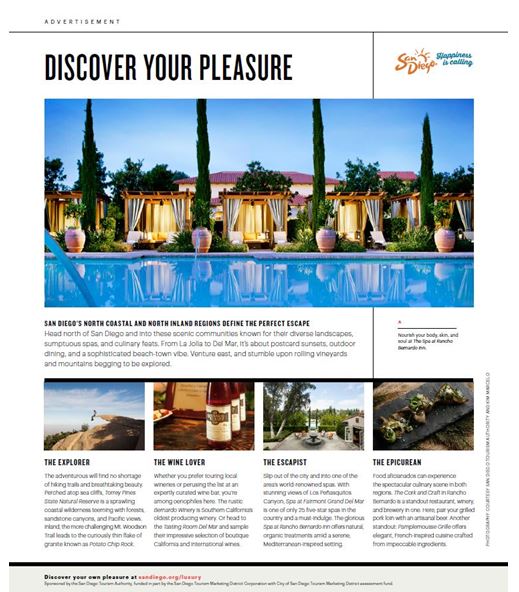 Conde Nast Traveler
December Issue
Luxury
Sub-Region: North Inland, North Coastal
2016 Sub-Region Affluent Print Ads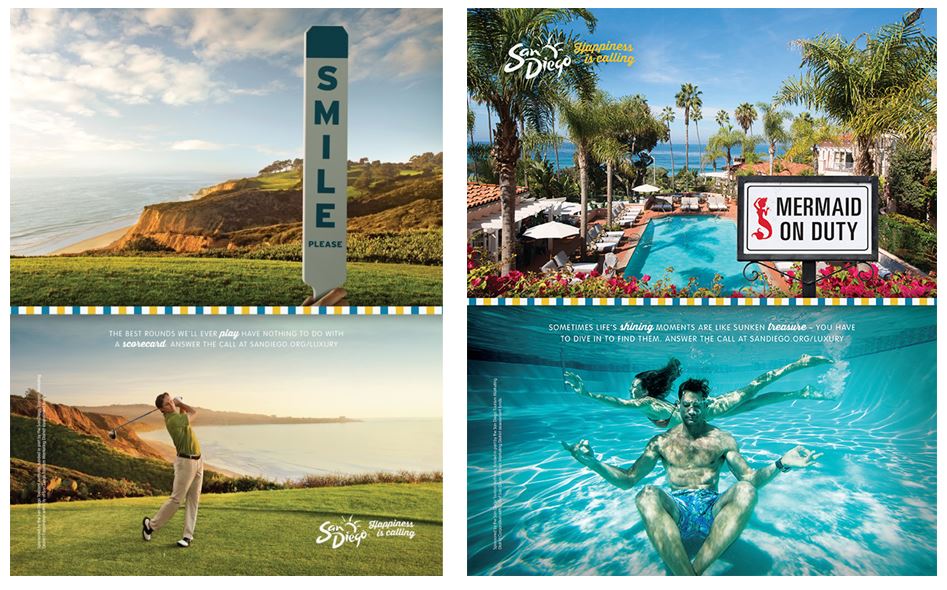 2016 Sub-Region Value Print Ads