Below are some of the sales & marketing highlights from various departments during the month of December 2016.
SALES & MARKETING HIGHLIGHTS
Special events in December focused on the holidays, Bowl Games and the start of whale watching season.
CONSUMER MARKETING
Most Engaged Facebook Post
Most Engaged Twitter Post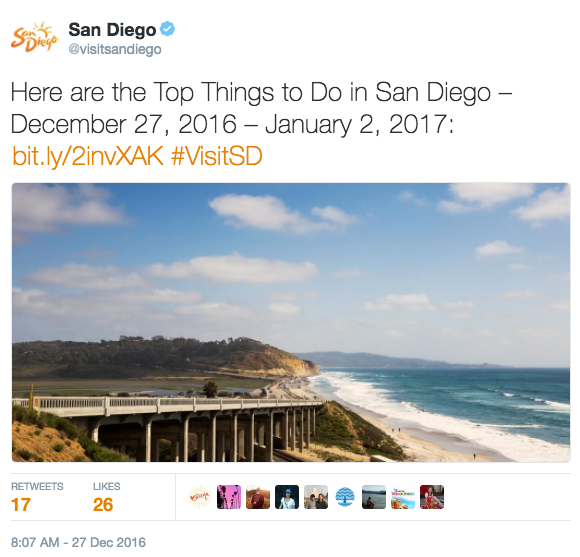 Most Engaged Instagram Post (this is also our most-engaged Sub-region post)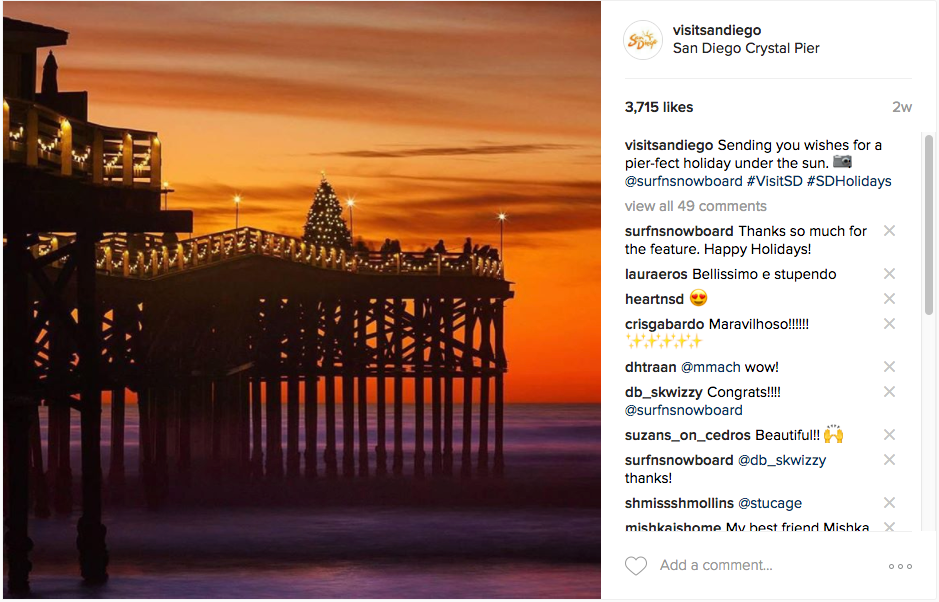 Most Engaged Google Post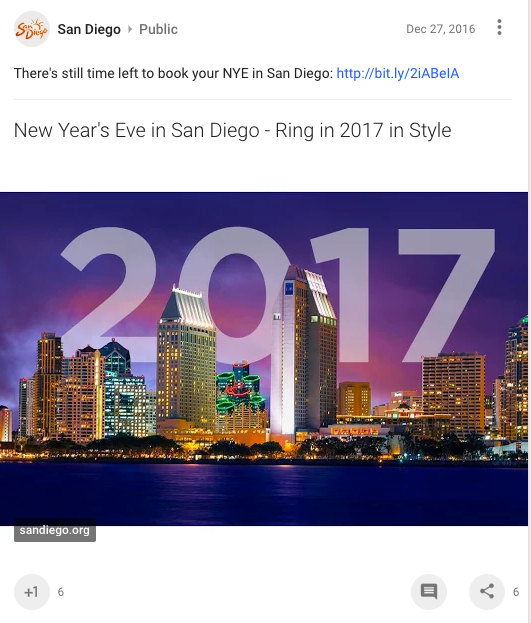 Google PPC
Total domestic Google PPC for December totaled $45,520.68 generating 12.3 million impressions and 59,945 clicks for an average click through rate of .48%.  International Google PPC in December focused on Canada with a total spend of $17,467.84 which generated 915,341 impressions and 7,701 clicks for an average click through rate of .84%.
Sub Region Marketing
In December, we ran Google PPC directing to the Luxury and Value pages for the sub regions. Total spending in December for the sub regions was $5,601.66 generating 48,664 impressions and 1,818 clicks for an average click through rate of 3.73%.
Overall traffic to the Luxury and Value pages on sandiego.org was 8,480 site visitors in December.  The social media team, in partnership with Casual Fridays, launched the following campaign: Holiday Happenings.
B2B DIGITAL MARKETING
LINKEDIN:
There were several B2B LinkedIn posts reaching our professional audience. Top posts included:
San Diego's GIVE BACK holiday message
Top Stories of 2016 Recap
LinkedIn grew by .8% from last month to 5,312 followers, earning nearly 5,5000 impressions. Year-over-Year the LinkedIn Audience grew by 18%.
Where We Stand
LinkedIn followers compared to similar organizations: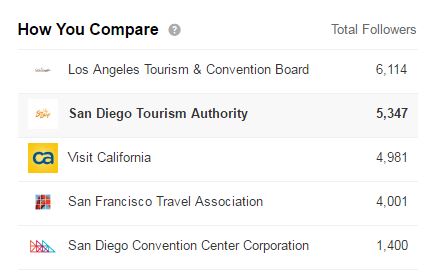 TWITTER:
@SDTAConnect Twitter base grew by 1% from last month to 2,980 followers. There were 32 tweets during the month.
This month, the tweet with the most exposure (1,396 impressions) was a congratulatory tweet about Fairmont Grand Del Mar earning a spot on Open Table's Best Restaurants in America List for 2016.
Two tweets share this month's top spot for engagement, each with 36.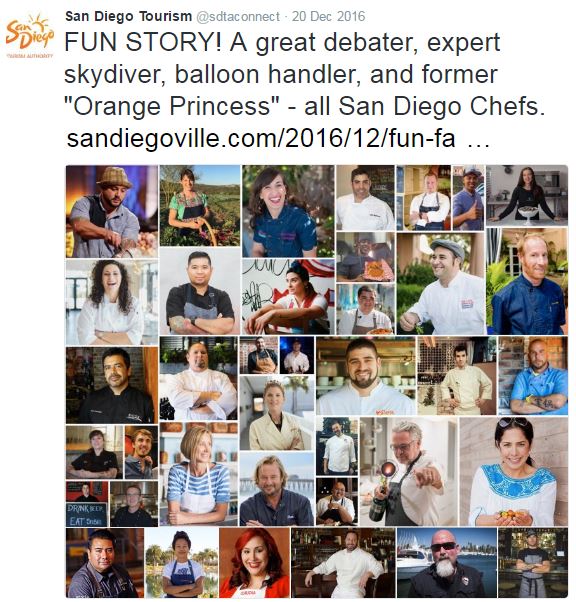 The B2B Account earned over 14,000 impressions during the month of December.
ADVERTISING
LEISURE ADVERTISING
In December 2016, the San Diego Tourism Authority ran a single insertion in the California Visitor's Guide for a total spend of $27,667 with 500,000 impressions delivered.
SUB-REGION VALUE AFFLUENT ADVERTSING
In December, SDTA's ran affluent ads and advertorials in Bon Appetit and Conde Nast Traveler magazines at a media cost of $100,000 with 2,333,455 impressions delivered. A value ad ran in Family Fun magazine at a media cost of $42,120 with 511,200 impressions delivered. The total Sub-Region Advertising spend in December was $142,120 with 2,844,655 impressions delivered.
INTERNATIONAL ADVERTSING
In December, San Diego Tourism Authority continued the Canada digital campaign with digital video running across CTV, Global TV and Facebook/Instagram; standard and rich media banners running with Sojern and TripAdvisor; and social carousels/slideshows running on Facebook/Instagram. Media spend for Canada digital was $162,698.15 including a BUSA contribution of $18,912.94 with 11,474,416 impressions delivered.
MEMBERSHIP
2 New Members joined in December totaling $1,050 in annual dues revenue.
Ad Sales
$79,472 in new contracts.
HOTEL SALES
The Hotel Meetings Sales Team converted 79 bookings, generating 51,936 Room Nights in the month of December, achieving 106% to goal.  These room nights are from "new" groups, that have not been to San Diego in the last 5 years.
Gillian Ware, National Sales Director along with six partners attended CalSAE's Seasonal Spectacular. This one day show in Sacramento, gained eight new leads for the destination representing 3,687 potential room nights with more to come.
Nur Kitmitto representing single property hotel sales and Anne Hartley representing citywide convention sales, along with five member partners participated in the Bay Area Roadshow. The team met with 44 customers in San Jose and San Francisco. The two-day show started with a successful collaboration with Northstar Meetings Group in San Francisco where attendees were gathered into teams for a friendly Guacamole making competition and San Diego presentation. The next day, the group hosted customers in San Jose for a Sharks hockey game. Nur received four leads totaling 3,002 room nights.
Citywide sales and single property sales joined partners for the annual Association Forum of Chicagoland's Holiday Showcase. Prior to the start of the Showcase, the team also hosted its Annual San Diego Holiday Breakfast where 80 customers attended. Michael Steffen, National Sales Manager received two leads for 1,040 potential room nights to the destination.
CITYWIDE SALES
FY16:
Definite bookings: 7
Attendance: 57,900
Total Room Nights: 124,606

Fiscal Year 16-To-Date: 369,929
PUBLIC RELATIONS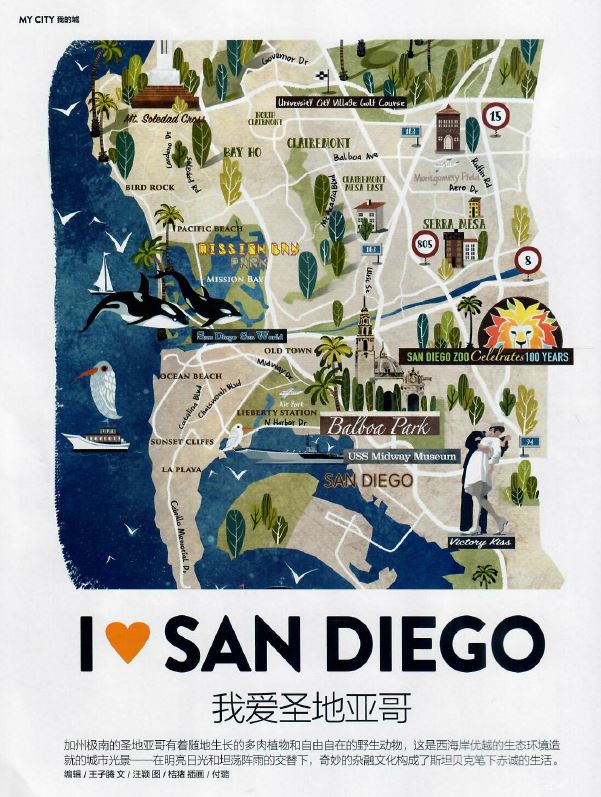 In December, Communications worked with Hemispheres, the in-flight magazine of United Airlines, to create a San Diego-focused edition of "Dossier," the magazine's series on economic development. The SDTA and Economic Development Corporation met with magazine editors to discuss content and help select companies and areas of San Diego to highlight in the multi-page feature, which will appear in the magazine's March issue.
Communications hosted a variety of media from the U.S., Canada, Italy and the U.K. in December including the Chicago Tribune, Hello Vancity (Canada), and the Orange County-based family magazine Marmalade.
Key press articles generated in December included U.S. News and World Report, the Seattle Times, Travel Weekly, National Geographic Traveler (China), Golf Features (UK), Global Travler (China) and more.
Press Clipping Total Value: $1,822,398
Total Impressions: 49,787,381
International subtotals:
Press Clipping Value: $1,198,236
Impressions: 11,096,710
TRAVEL TRADE
In mid-December, San Diego hosted the Travel Industry Exchange which brought over 500 top travel agents from around the globe to meet with suppliers and also to visit San Diego. Albert Navarro, Travel Trade Manager, represented San Diego at the show and met with 25 top travel agents to discuss future business opportunities. Agents also had time to explore San Diego.