Curated from San Diego International Airport (December 19, 2016):
Nearly 100 elected officials, Airport Authority Board members, business and community leaders and members of the construction team celebrated the ground breaking of the highly anticipated Terminal 2 Parking Plaza at San Diego International Airport (SAN) on September 14. The cutting-edge Parking Plaza will be in front of Terminal 2 and will have three floors with approximately 3,000 parking stalls. It will replace the existing surface parking lot for Terminal 2. Because of the small airport footprint (661 acres), in order to add sufficient close-in parking it necessitates building up, rather than out.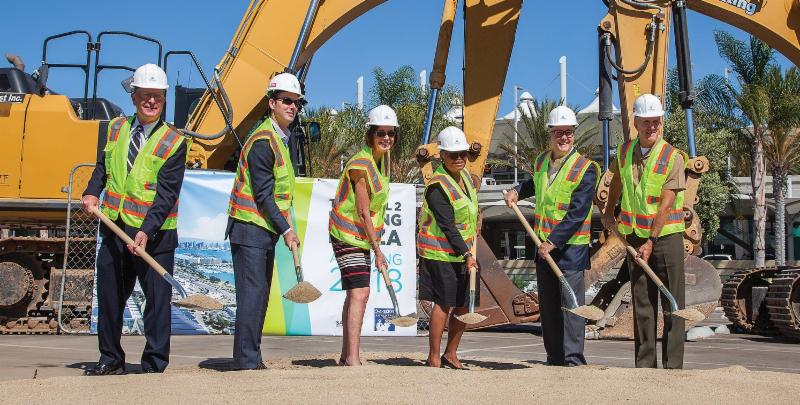 "San Diego International Airport travelers spoke and we listened," said Thella F. Bowens, President/CEO, San Diego County Regional Airport Authority. "There is great demand for more close-in parking at the airport. The new Parking Plaza will help improve the short-term parking customer experience."
The Parking Plaza will enhance customer service by integrating state-of-the-art parking technology that will allow motorists to reserve spaces in advance, find available parking spaces, and streamline payment.
The Parking Plaza is also expected to have environmental benefits by reducing air emissions caused by vehicles that are circulating and idling while searching for an available parking space. Additionally, it will have an aesthetically pleasing design with open light wells, glass-front elevators and public art.
Parking Plaza construction will take approximately 20 months to complete and is expected to be open for summer travel in 2018.
The Airport Authority is committed to keeping the public informed about construction. Travelers can visit UpgradeYourParking.com for any and all parking needs while the Parking Plaza is under construction.
The website provides:
The ability to find the best parking lot based on the airline you'll be flying.
Links to SAN's parking reservation system for valet, long-term and economy parking.
A$5 per day discount on the drive-up valet parking rate when pre-paid online.
Updates on construction progress.