Below are some of the sales & marketing highlights from various departments during the month of November 2016.
SALES & MARKETING HIGHLIGHTS
Special events in November focused on San Diego Beer Week, San Diego Bay Food & Wine Festival, and Holiday Happenings.
Web traffic for November included 374,450 user sessions and we posted a total of 93 Tweets, 59 Facebook posts, 28 Google+ Posts and 18 Instagram posts through our social channels, 6 blogs, and distributed 11 consumer emails.
CONSUMER MARKETING
Most Engaged Facebook Post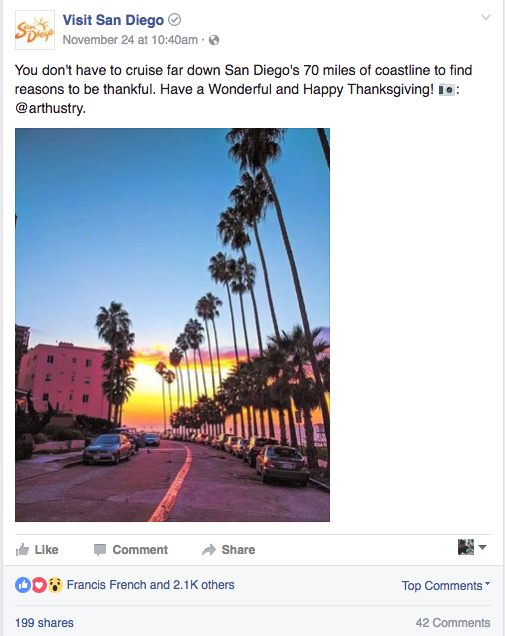 Most Engaged Twitter Post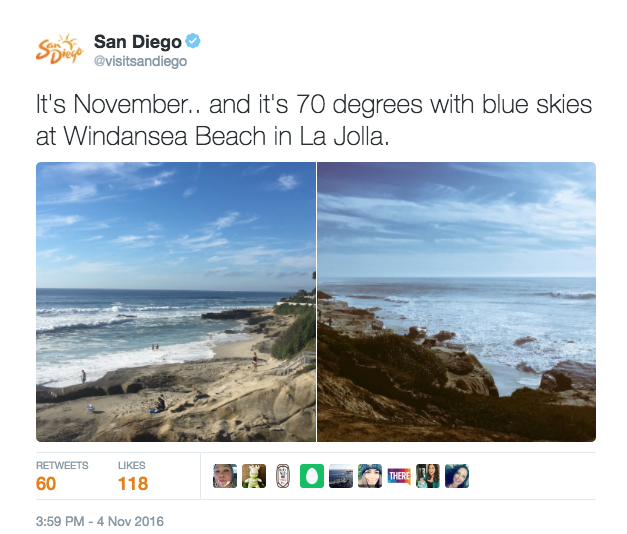 Most Engaged Instagram Post (this is also our most-engaged Sub-region post)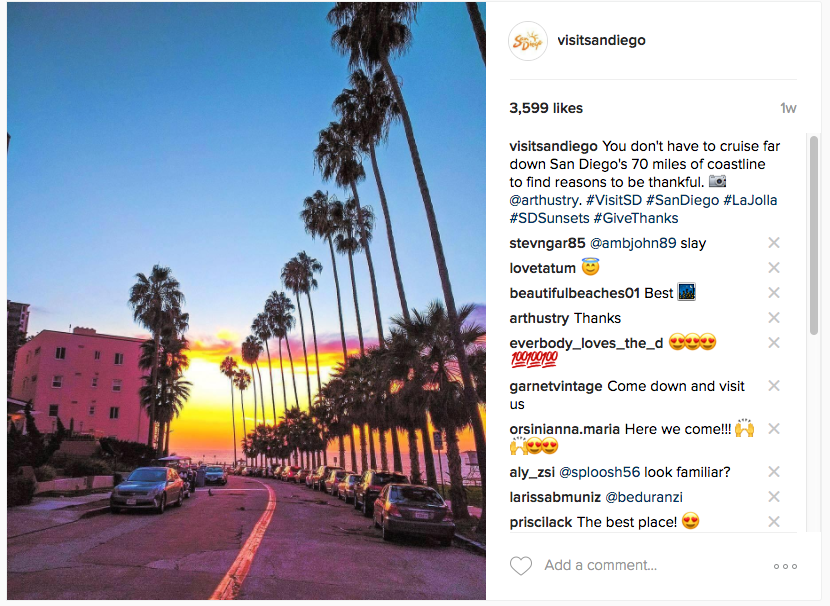 Most Engaged Google Post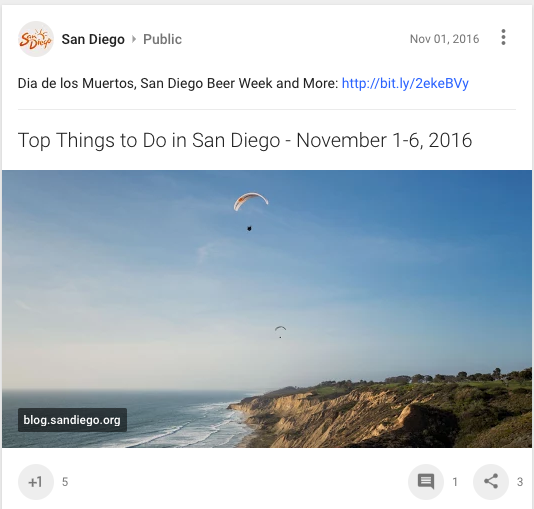 Google PPC
Total domestic Google PPC for November totaled $18,563.42 generating 4.3 million impressions and 21,330 clicks for an average click through rate of .49%.  International Google PPC for November focused on Canada with a total spend of $15,012.80 which generated 1.1 million impressions and 7,950 clicks for an average click through rate of .70%.
Sub Region Marketing
In November, we ran Google PPC directing to the Luxury and Value pages for the sub regions. Total spending in November was $8,691.08 generating 1.1 million impressions and 5,490 clicks for an average click through rate of .47%.
Overall traffic to the Luxury and Value pages on sandiego.org was 5,306 site visitors in November.  The social media team, in partnership with Casual Fridays, launched the following campaign: Mission Valley Sweepstakes (Center of San Diego Sweepstakes) and supplemental sweepstakes content – Top Trolley Stops (Sub Region – Mission Valley).
B2B DIGITAL MARKETING
EMAIL:  The November B2B Postcard was delivered to approximately 6,100 meeting planners and featured unique meeting opportunities in the Point Loma Peninsula Region. The open rate for the B2B Postcard was 17.54%, which represents over 1,045 meeting planners. Some highlights of the email included the Arts District Liberty Station, Bay City Brewing Company, Liberty Public Market, Cabrillo National Monument, and Adventuress Luxury Catamaran.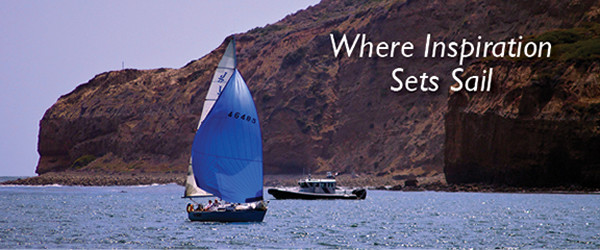 LINKEDIN: There were several B2B LinkedIn posts reaching our professional audience. Top posts included:
San Diego earns No. 9 spot on Top City Brands for Place
Best Big Cities Also Among Best Meeting Cities
LinkedIn grew by .6% from last month to 5,268 followers, earning nearly 7,000 impressions. Year-over-Year the LinkedIn Audience grew by 18%.
Where We Stand
LinkedIn followers compared to similar organizations: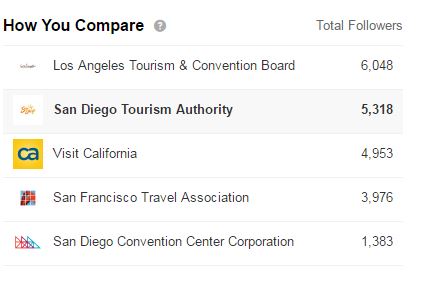 TWITTER:
@SDTAConnect Twitter base grew by 2% from last month to 2,954 followers. There were 27 tweets during the month.
This month, the tweet with the most exposure (119,599 impressions) was a congratulatory post about the Fairmont Grand Del Mar Resort earning a No. 3 spot on Best 5-Star hotels in USA by Trivago. This tweet also earned the most amount of engagements with 176.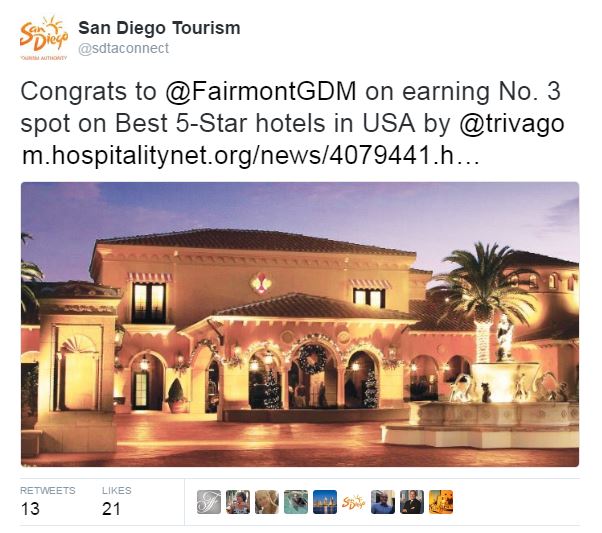 The B2B Account earned over 140,000 impressions during the month of November.
ADVERTISING
SUB-REGION VALUE & AFFLUENT ADVERTISING
SDTA ran affluent ads and advertorials in Bon Appetit and Conde Nast magazines at a media cost of $100,000 with 2,333,455 impressions delivered. A value ad ran in Family Fun magazine at a media cost of $42,120 with 511,200 impressions delivered. Additionally, the Mission Valley sub-region sweepstakes ran on Facebook/Instagram at a media cost of $13,268.95 with 565,120 impressions delivered. The total Sub-Region Advertising spend in November was $155,388.95 with 3,409,775 impressions delivered.
INTERNATIONAL ADVERTISING
San Diego Tourism Authority continued a Brand TV campaign with Carat Canada at a total cost of $280,000 including a BUSA contribution of $36,521.74 with 47,890,666 impressions delivered. The Canada digital campaign launched with digital video running across CTV, Global TV and Facebook/Instagram; standard and rich media banners running with Sojern and TripAdvisor; and social carousels/slideshows running on Facebook/Instagram. Media spend for Canada digital was $184,733 (BUSA contribution TBD) with 11,832,749 impressions delivered. A print ad ran in BUSA Dreamscapes magazine at no cost with 105,000 impressions delivered. The total International Advertising spend in November was $464,733 with 59,828,415 impressions delivered.
ARTS & CULTURE ADVERTISING
San Diego Tourism Authority launched a cultural tourism print and digital campaign that included print ads, digital units, an e-blast and e-newsletter, and social posts via Twitter, Facebook and Instagram with San Diego Magazine; e-newsletters and social posts via Twitter, Facebook and Instagram with Voice of San Diego; e-blasts with City Beat; and paid social posts on Facebook/Instagram. Total arts & culture advertising spend for November totaled $50,000 and delivered 1,812,040 gross impressions.
MEMBERSHIP
4 New Members joined in November, $2,880 in annual dues revenue. 8 Members attended the Open Office Hours to learn how to get the most out of their Membership.
Ad Sales closed $208,363 in new contracts.
NEW MEMBERS
HOTEL SALES
The Hotel Meetings Sales Team converted 54 bookings, generating 33,047 Room Nights in the month of November.
The Washington DC SDTA office held their annual client event. The team, together with 15 partners, held their event at Serenity Day Spa and met with 65 clients.  Michelle Coombs and Debbie Jordan, National Sales Directors, brought in one lead for 880 room nights at the event with many more to come.
Gillian Ware, National Sales Director, along with nine hotel partners, hosted Sacramento customers for a Sacramento Kings basketball game at the new Golden One Center on November 16. Gillian met with 40 customers and received three new leads representing close to 1,500 room nights with more to come.
CITYWIDE SALES
FY16 – October:
Definite bookings: 4
Attendance: 30,000
Total Room Nights: 65,253

Fiscal Year 16-To-Date: 245,323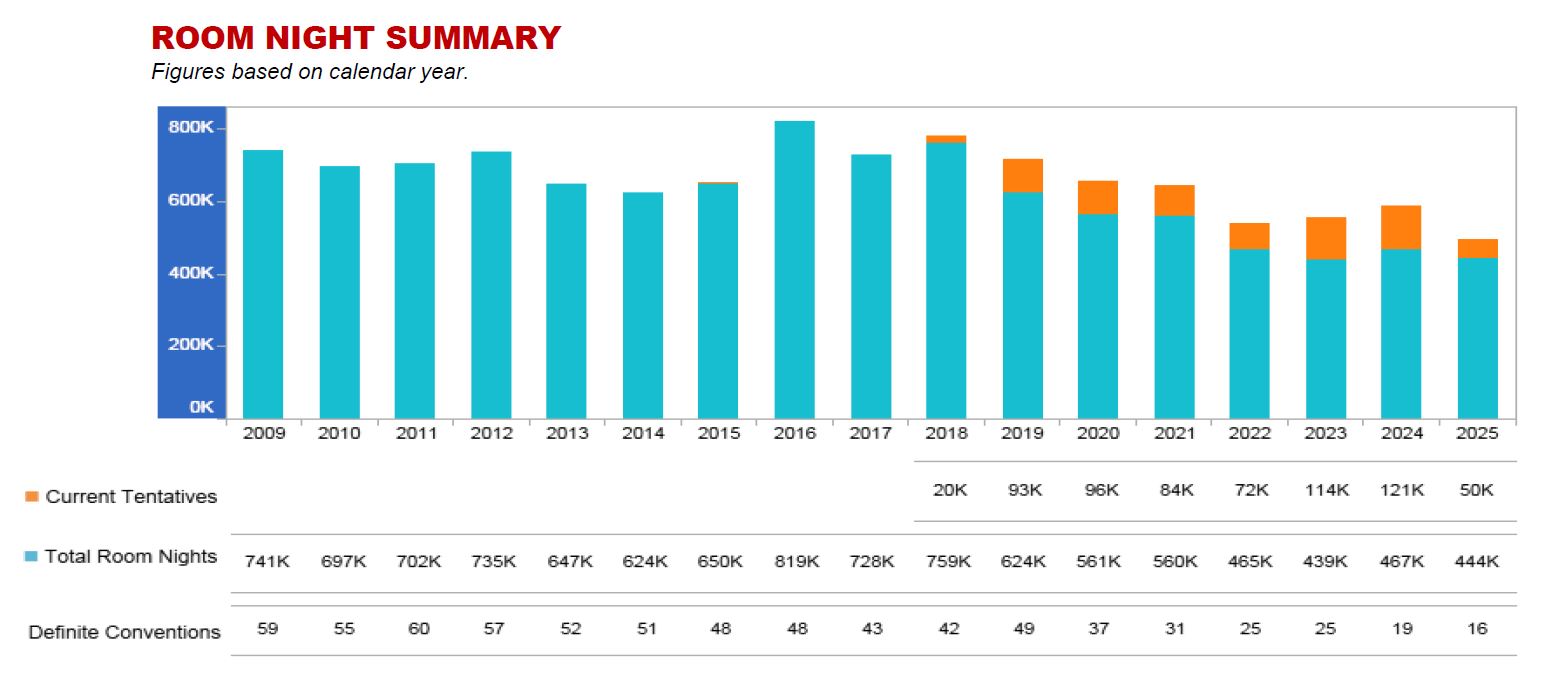 PUBLIC RELATIONS
In November, the SDTA Communications department traveled extensively to meet with media outlets in key domestic markets.  Robert Arends attended Visit California's Media Boot Camp in Chicago, pitching San Diego story ideas to 23 travel journalists and social media influencers. Robert also traveled to Nashville, pitching San Diego story ideas to prominent media outlets headquartered there including Lonely Planet Magazine, Parade Magazine, and The Tennessean (Gannett Newspapers). Edna Guiterrez traveled to Houston, Dallas and Fort Worth for media calls with an emphasis on reaching out to Hispanic media.
The Communications team hosted top media from around the world in November.  Univision's national morning show Despierta Amercia aired several segments live from Coasterra Restaurant for two mornings. The team hosted influential media outlets from Mexico, including El Economista, Radio Formula and Publimetro, in partnership with Visit California Mexico.
In partnership with Visit California and Heidi Klein swimwear, Candice Eley hosted five top fashion digital influencers from the U.K. publicizing San Diego's beaches, outdoor recreation, food and shopping. Joe Timko hosted four top media outlets from Australia including the Associated Press and Virgin Airlines' in-flight magazine Voyeur for a five-day, four-night "Eat, Drink and Play Through San Diego Media Tour," highlighting San Diego's diverse outdoor recreation, unique culinary offerings, dynamic craft beer scene and colorful neighborhoods, including a day trip to Tijuana and Puerto Nuevo, Mexico. Other top travel media outlets from Australia, Austria/Germany and the United Kingdom were also hosted on individual media visits.
Key coverage received in November included The Montreal Gazette, Nexos (Spanish language in-flight magazine for American Airlines), Travel + Leisure (Mexico), The Sunday Herald (Australia), enRoute Magazine (Air Canada), American Journal (Germany) and Andrew Zimmern's Bizarre Foods: Delicious Destinations.
Press Clipping Total Value: $7,077,263
Impressions: 309,935,689
International subtotals
Press Clipping Value: $2,007,403
Impressions: 264,835,513
TRAVEL TRADE
Benjamin Eastman, Director of Travel Trade, attend the World Travel Market trade show in London. During his time in London he attend the Visit California VIP Client Event, attended 3-days of the WTM trade show (meeting with 20+ tour operator partners) and then hosted two days of training at London-area travel agencies and tour operators.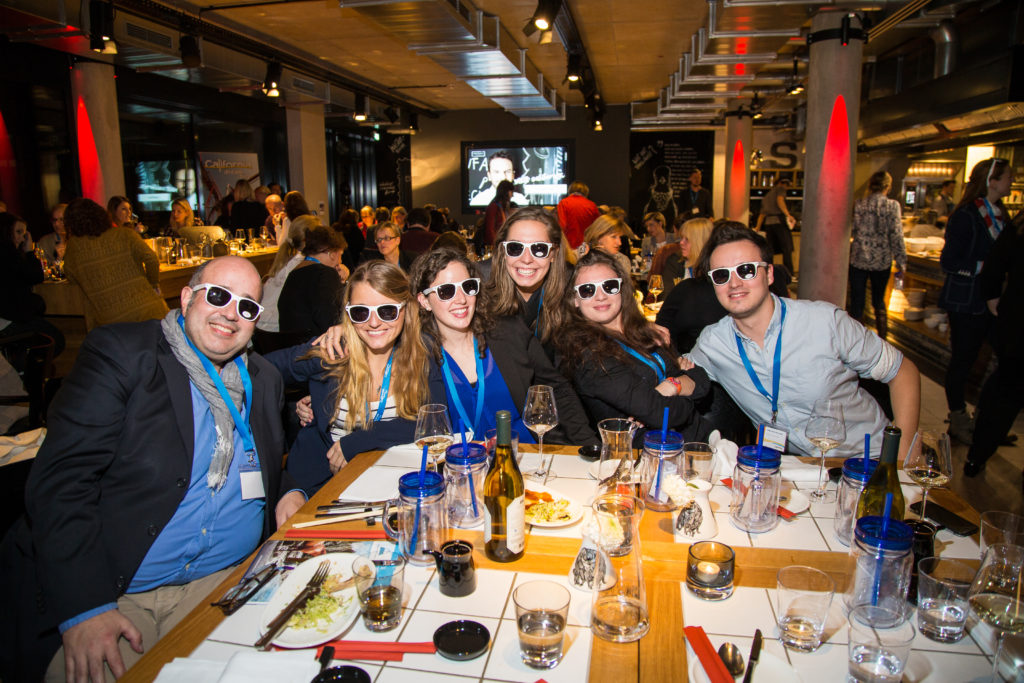 Benjamin attended Visit California's Germany Sales Days in Frankfurt & Hamburg. News of the 2017 launch of our Frankfurt & Zurich flights is being well received in the region and the SDTA is coordinating a number of promotions with local tour operators to promote them to consumers throughout Germany & Switzerland.
Albert Navarro, Travel Trade Manager, attended the RTO Summit Orlando where he met one-on-one with nearly 20 receptive tour operators primarily focusing on Latin America as origin markets.
Albert and four San Diego partners visited the Walt Disney Travel Call Center in Anaheim for a training and lunch in early November. Over 200 agents and training managers were on-hand to learn about the latest and greatest San Diego has to offer. Agents were quizzed on their San Diego product knowledge with a chance to win SD prizes.
Travel Trade Development Manager, Riki Suzuki, joined East West Marketing China Sales Mission during the month of November. Riki visited Shanghai, Suzhou, Hangzhou and Guangzhou for one-on-one meetings, client events, TV interviews and office visits interacting with over 70 travel professionals in the market. While Riki was in Shanghai, he also attended China International Travel Mart (CITM), the largest professional travel mart in Asia, to promote the destination.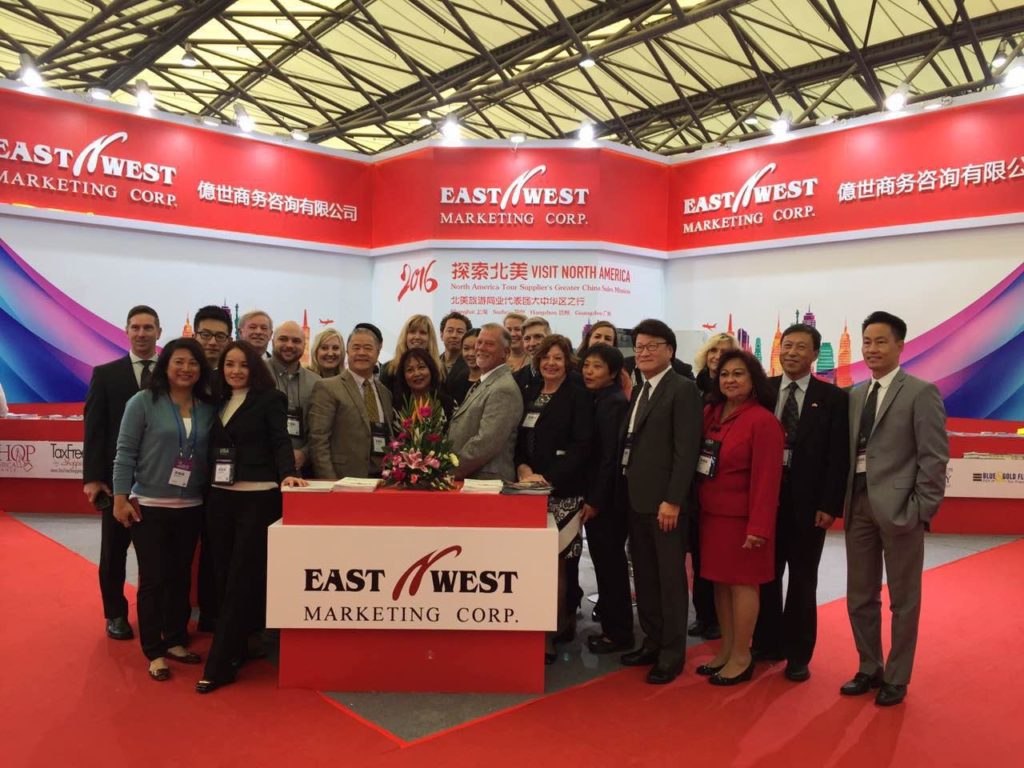 Jayce Guo, SDTA's Travel Trade Representative in Beijing, participated in the Club California Product Development Series. She had an opportunity to give a destination presentation to educate and update 11 top accounts in Beijing. Also she was able to farther network with them during the team building activities at the event.
Tomoe Matusnaga, SDTA's Travel Trade Representative in Tokyo, participated in the Club California Osaka event on November 25th. The event welcomed over 60 travel trade professionals from the region, where Tomoe gave a presentation to promote San Diego and network with the attendees.