Below are some of the sales & marketing highlights from various departments during the month of September 2016.
If you missed our annual Sales & Marketing Workshop, here's a quick photo recap: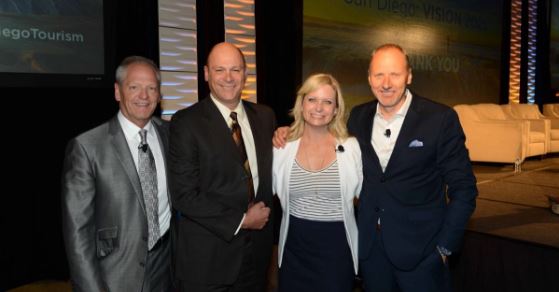 SALES & MARKETING HIGHLIGHTS
Special events in September focused on Labor Day, KAABOO, Fleet Week, Beer Week, Restaurant Week, Fashion Week, International Film Festival, Sand Sculpting Challenge, Mira Mar Air Show and promotion of October Kids Free.
Web traffic for September included 569,965 user sessions between the desktop and mobile websites and we posted a total of 202 Tweets, 71 Facebook posts, 31 Google+ Posts and 21 Instagram posts through our social channels, 6 blogs, and distributed 10 consumer emails
CONSUMER MARKETING
Most Engaged Facebook Post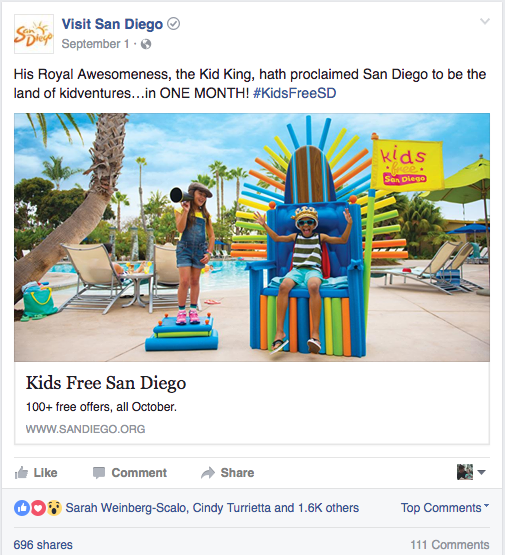 Most Engaged Twitter Post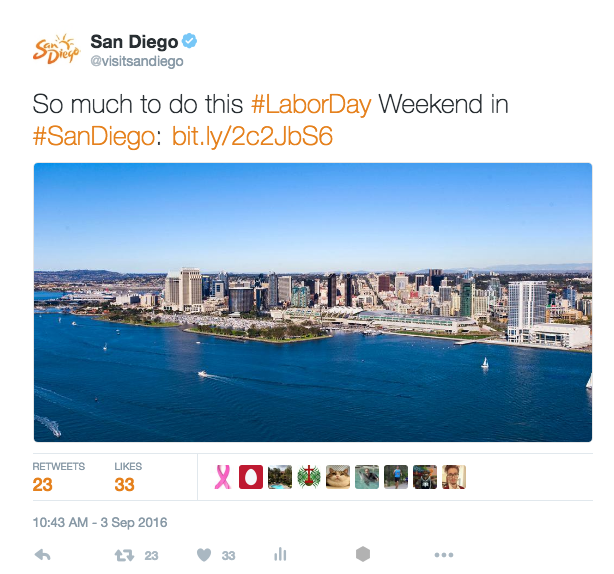 Most Engaged Instagram Post (this is also our most-engaged Sub-region post)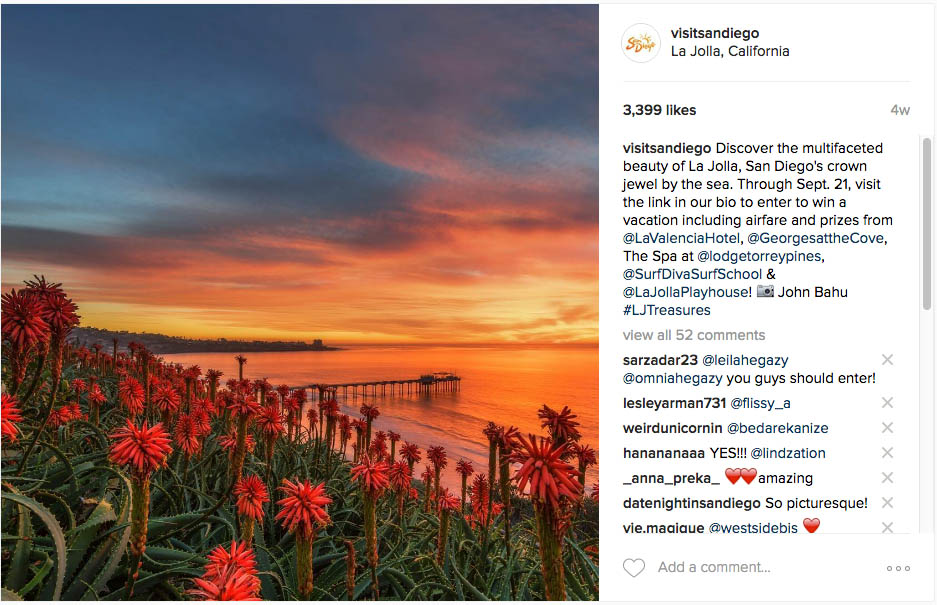 Most Engaged Google Post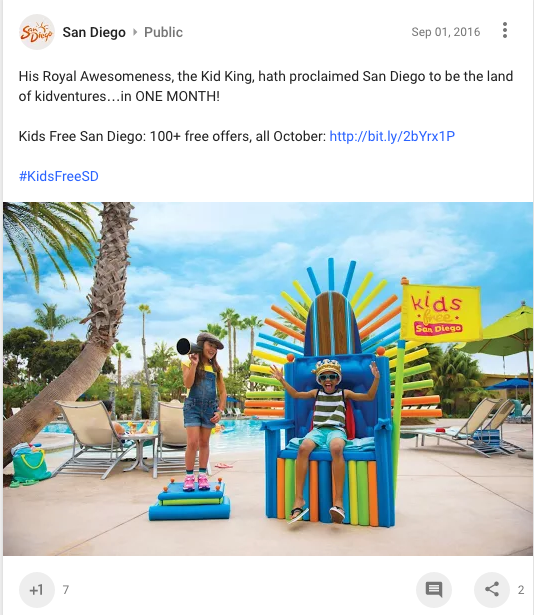 Google PPC
We ran only domestic Google PPC in September.  Domestic Google PPC for September totaled $7,204.79 generating 82,836 impressions and 7,066 clicks for an average click through rate of 8.35%.
Sub Region Marketing
In September, we ran Google PPC directing to the Luxury and Value pages for the sub regions. Total spending for September was $3,519.12 generating 29,889 impressions and 1,335 click for an average click through rate of 4.46%.
Overall traffic to the Luxury and Value pages on sandiego.org was 356 site visitors. The social media team, in partnership with Casual Fridays, launched the following campaigns: La Jolla Sweepstakes, La Jolla Hidden Gems UGC, KAABOO Del Mar Facebook Live, and a Restaurant Week blog post.
B2B DIGITAL MARKETING
EMAIL:
The September B2B Postcard was delivered to approximately 7,600 meeting planners and featured unique meeting opportunities in Mission Bay & Beaches. The open rate for the B2B Postcard was 18.4%, which represents over 1,300 meeting planners. Some highlights of the email included Belmont Park, Marina Village Conference Center, SeaWorld San Diego, Mission Bay Parks, and the Sternwheelers of Evans Hotels.

LINKEDIN:
There were four B2B LinkedIn posts reaching our professional audience. Posts included articles about:
San Diego's support of World Accessible Tourism Day
San Diego Beer Week Summit
USS Midway – Top US Attraction List
San Diego Destiny Council Award Announcement
LinkedIn grew by .9% from last month to 5,194 followers, earning more than 11,400 impressions. Year-over-Year the LinkedIn Audience grew by 22%.
Where We Stand
LinkedIn followers compared to similar organizations: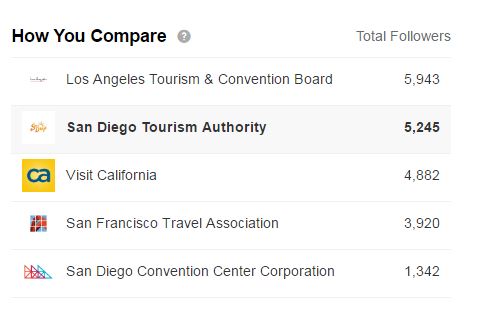 TWITTER:
@SDTAConnect Twitter base grew by 2% from last month to 2,830 followers. There were 60 tweets during the month.
This month, the tweet with the most exposure (3,041 impressions) was the SDTA/HMA joint announcement on our position on the stadium ballot measures.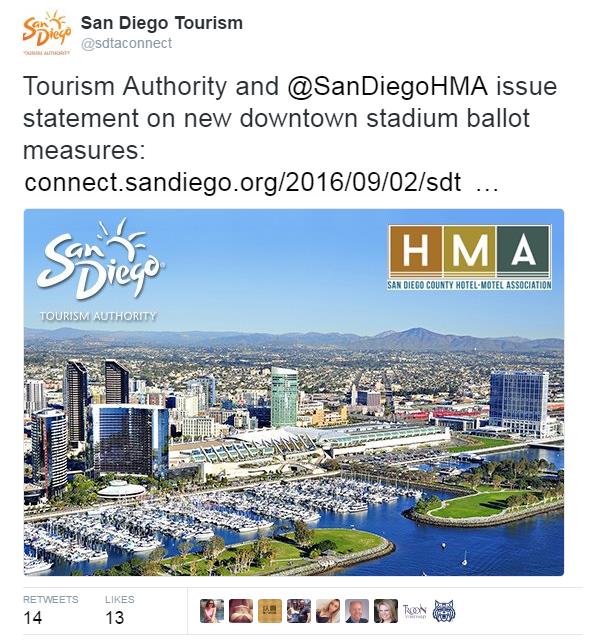 This was also the tweet with the most engagement of 960 views.
The B2B Account earned over 23,000 impressions during the month of August.
ADVERTISING
LEISURE ADVERTISING
San Diego Tourism Authority's Kids Free San Diego promotion continued with TV spots running in Los Angeles and Phoenix at a cost of $594,478.95 with 36,777,000 impressions delivered, and Kids Free radio spots running in Los Angeles and Phoenix at a media cost of $50,070 with 3,249,000 impressions delivered. Kids Free also included digital video and display on Radiumone, Facebook and Instagram; and organic Facebook and Instagram posts delivering a total of 15,366,591 impressions at a cost of $73,426.00. SDTA's digital video campaign including digital video and companion banners ran on ABC, CBS and Google/YouTube at a cost of $151,042.33 with 10,071,655 impressions delivered. The total Leisure Advertising spend in September was $869,017.28 with 65,464,246 impressions delivered.
SUB-REGION VALUE AFFLUENT ADVERTISING
In September, SDTA's Sub-Region La Jolla Sweeps ran on Facebook/Instagram with a media spend of $13,271.25 and 511,200 impressions delivered. There was no other sub-region activity in September.
INTERNATIONAL ADVERTISING
In September, San Diego Tourism Authority ran a print ad in the BUSA Discover America 2017 Inspiration Guide at a cost of $19,000 with 238,000 impressions delivered. Additionally, SDTA participated in the BUSA-VCA Outdoors Co-op which included two digital content pieces; the media cost was $17,981 with 1,600,000 impressions delivered. The total International Advertising spend in September was $36,981.00 with 1,838,000 impressions delivered.
MEMBERSHIP
Membership
50 Members attended our Celebrate the End of Summer mixer at the Padres Red Sox game on September 6.
New Members
Electriquette Motor Cart Company
Feast on This Catering & Memorable Events
Green Motion – Car Rental
Injury Trial Lawyers, APC
Law Office of Vikas Bajaj, APC
McFarlane Promotions, Inc.
Next Stop: San Diego
North Park Main Street
Pacific Standard Coastal Kitchen
RBM & Associates
Striders
Ulkutekin Event Group
HOTEL SALES
The Hotel Meetings Sales Team converted 56 bookings, generating 29,128 Room Nights in the month of September, up 2% from the same time last year.
Ernie Rossow, National Sales Director attended HPN Global Partner's annual meeting in Los Cabos Mexico. Ernie also attended Luxury Meetings Summits in Scottsdale, AZ on September 23, and Denver on September 21, where he received one lead with more to come.
CITYWIDE SALES
FY16 – September:
Definite bookings: 1
Attendance: 2,200
Total Room Nights: 7,573

Fiscal Year 16-To-Date: 165,087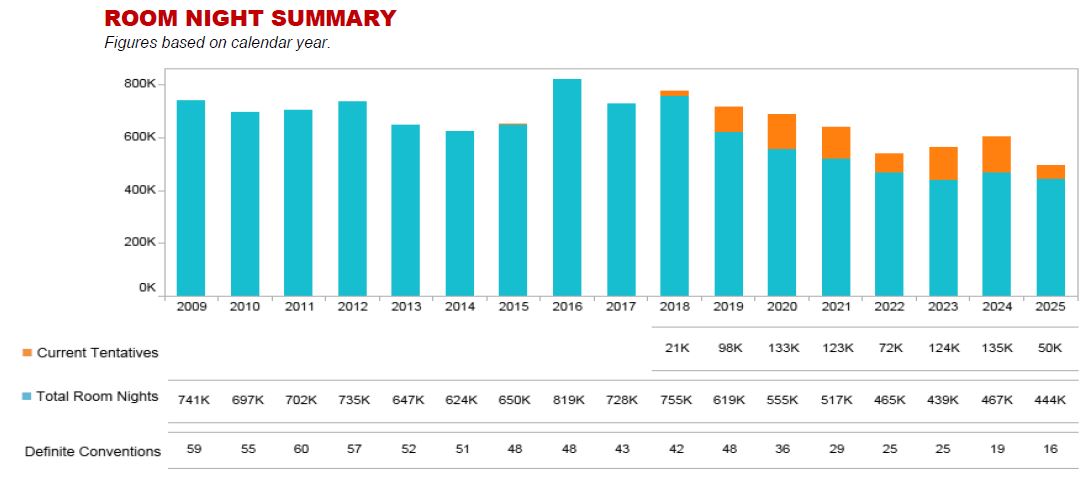 PUBLIC RELATIONS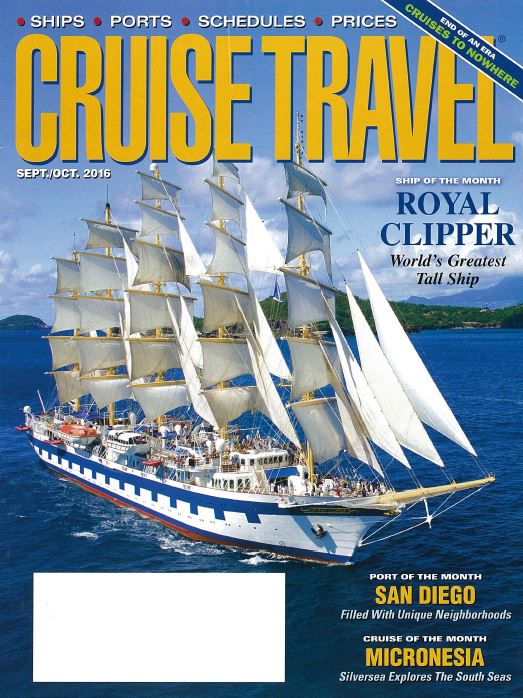 In September, the SDTA Communications team went to Berlin to attend the opening of Stone Brewing Company, which included a VIP reception for German media and travel trade clients. The SDTA met with editorial representatives from Looping Magazine, Spartacus Traveler, America Journal, Numero Homme, Frauline, and other Berlin-based media outlets while there.  Communications staff also went to Mexico to attend COTUCO's (Tijuana's CVB) 50th year anniversary event in representation of SDTA.
International and domestic media hosted during September included the Manhattan Digest, Toronto Star, Fort Worth Star-Telegram, Lusso magazine (UK), City A.M. (UK) and others. Top media coverage received in September included Lonely Planet, the Orange County Register, Woman's World, the Montreal Gazette, Phoenix magazine, FamilyFun (Canada), Revista Travesias (Mexico), Elle (Mexico), the Sunday Times Perth (Australia), Good Morning Arizona and more.
Press Clipping Total Value: $2,768,927
Total Impressions: 622,945,895
International subtotals:
Press Clipping Value: $1,122,684
Impressions: 509,883,131
TRAVEL TRADE
In late September, Benjamin Eastman traveled to Vancouver, Canada with 3 members to attend the 1st Annual Vancouver International Travel Expo. The Expo featured time specifically for Trade training and also had a day dedicated to a Consumer tradeshow.  While in Vancouver the group also trained at GOGO Canada, Uniglobe One, Uniglobe Specialty, Travelbrands, The Travel Group and hosted a Client Lunch and Dinner.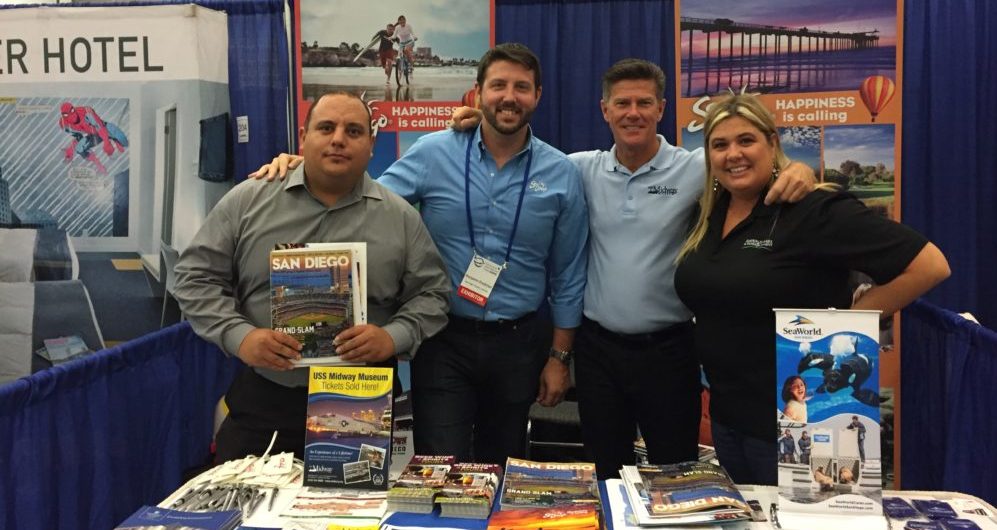 Travel Trade Manager, Albert Navarro, attended La Cita de las Americas in Miami, FL in early September where he was able to meet one-on-one with nearly 25 tour operators and media partners from all over Latin America, including Mexico, Brazil and Central America.
Albert Navarro, Travel Trade Manager, along with three member partners, conducted sales calls in Mexico City and Cancun to visit top tour operators and discuss promotion of San Diego as well as promotional opportunities for the destination.  During the mission, Albert and the San Diego team were able to train nearly 300 travel agents in Mexico City and Cancun on selling San Diego.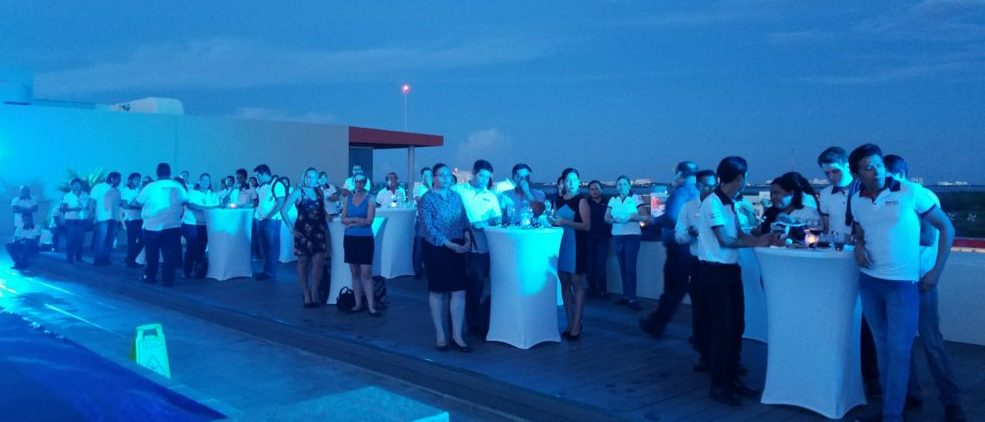 SDTA Japan Travel Trade Representative, Tomoe Matsunaga, participated in JATA Tourism Expo in Tokyo, which is one of the largest tourism events in Asia, on September 24th and 25th.  This year, the event welcomed the record number of 185,800 attendees and Tomoe has promoted San Diego at the Brand USA pavilion and the Visit California booth.  Also, SDTA Japan obtained an opportunity to hold a 20-minute presentation event at Japan Airline's booth on the 25th. Tomoe introduced JAL's direct NRT -San Diego flight and made a general presentation with an interactive quiz with consumers.