Below are some of the sales & marketing highlights from various departments during the month of August 2016.
SALES & MARKETING HIGHLIGHTS
Special events in August focused on Summer, Labor Day and Kids Free.
Web traffic for August included 462,652 user sessions between the desktop and mobile websites and the team posted a total of 230 Tweets, 92 Facebook posts, 26 Google+ Posts and 23 Instagram posts, created six blogs, and distributed six consumer emails.
CONSUMER MARKETING
Most Engaged Facebook Post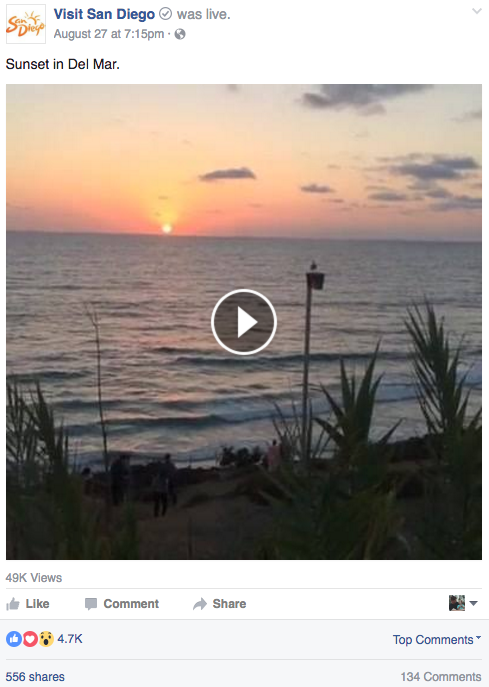 Most Engaged Twitter Post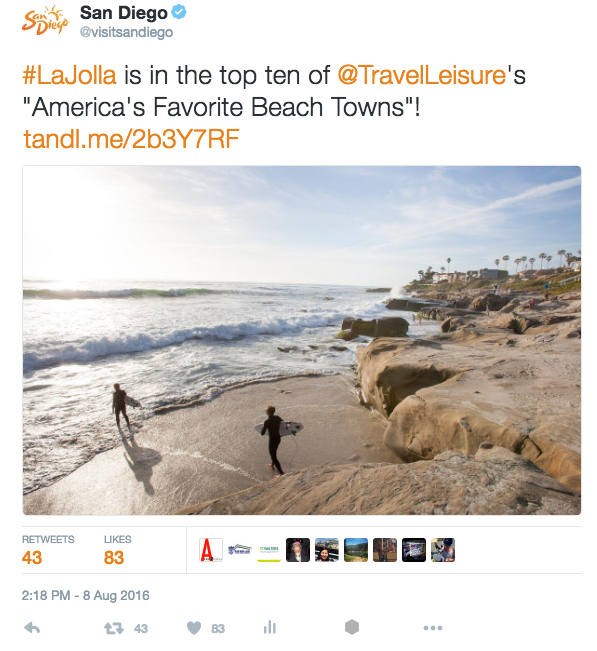 Most Engaged Instagram Post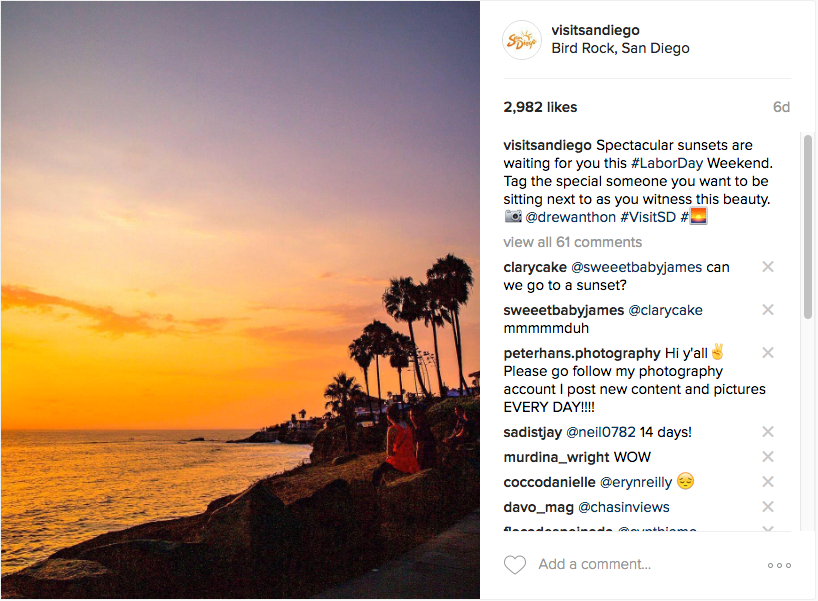 Most Engaged Google Post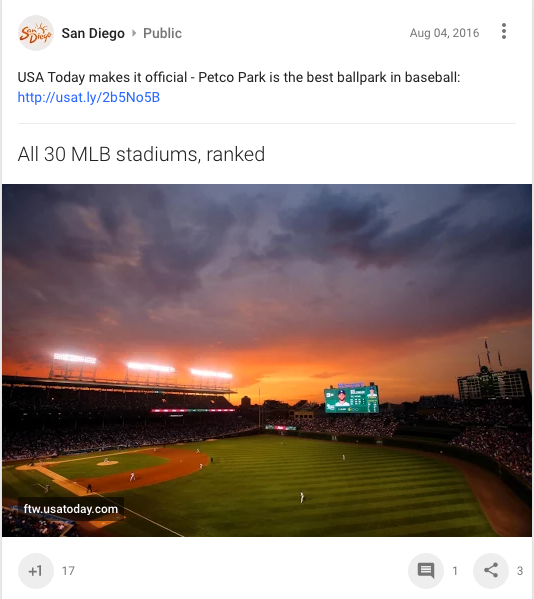 Google PPC
We ran only domestic Google PPC in August.  Domestic Google PPC for August totaled $17,968.18 generating 6.8 million impressions and 39,457 clicks for an average click through rate of .58%.
Sub Region Marketing
In July, we did not run Luxury and Value pay-per-click on Google for the sub regions.
The social media team, in partnership with Casual Fridays, spent August analyzing the FY16 program of work and planning for FY17 along with planning for a September La Jolla Sweepstakes.
B2B DIGITAL MARKETING
EMAIL: The August B2B Postcard was delivered to approximately 7,600 meeting planners and featured unique meeting opportunities in the North Coastal region. The open rate for the B2B Postcard was 19%, which represents over 1,380 meeting planners. Some highlights of the email included the Flower Fields at Carlsbad Ranch, Cedros Design District in Solana Beach, the Fairmont Grand Del Mar Resort, San Diego Botanic Garden, and McClellan-Palomar Airport.

LINKEDIN:
There were six B2B LinkedIn posts reaching our professional audience. Posts included articles about:
Promotion of our newest B2B marketing video
Sharing our thank you message for local first responders during our busy July month
North County Coastal custom article
Sharing Golf.com's story on Torrey Pines #20 ranking
Launch of Kids Free promotion announcement
Sales & Marketing Workshop Invitation
LinkedIn grew by 1.6% from last month to 5,149 followers, earning more than 20,384 impressions. Year-over-Year the LinkedIn Audience grew by 23.7%.
Where We Stand
LinkedIn followers compared to similar organizations: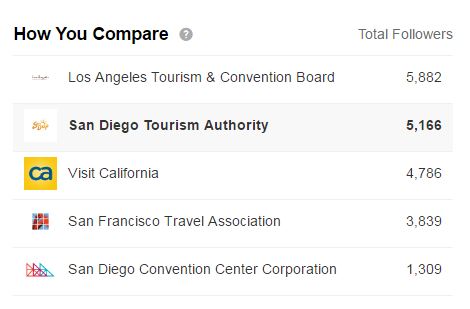 TWITTER: @SDTAConnect Twitter base grew by 3% from last month to 2,784 followers. There were 45 tweets during the month.
This month, the tweet with the most exposure (5,274 impressions) was congratulatory message about Torrey Pines Golf Course earning a No. 20 ranking on Golf.com list of best US Courses.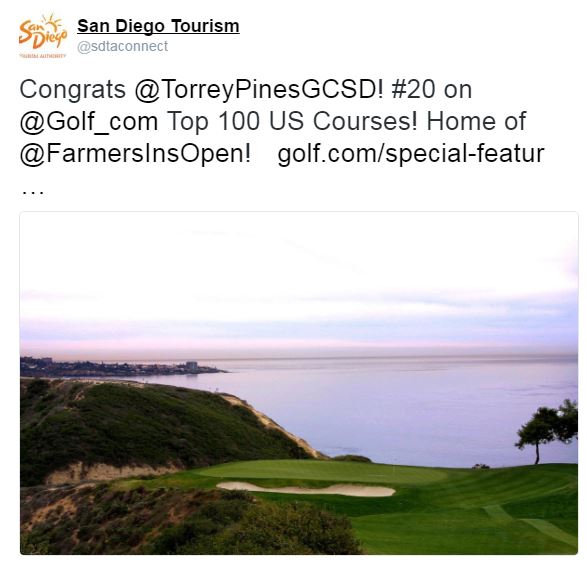 The tweet with the most engagement (4,287 impressions, 170 engagments) was a video of SeaWorld president Marilyn Hannes announcing the new Ocean Explorer expansion.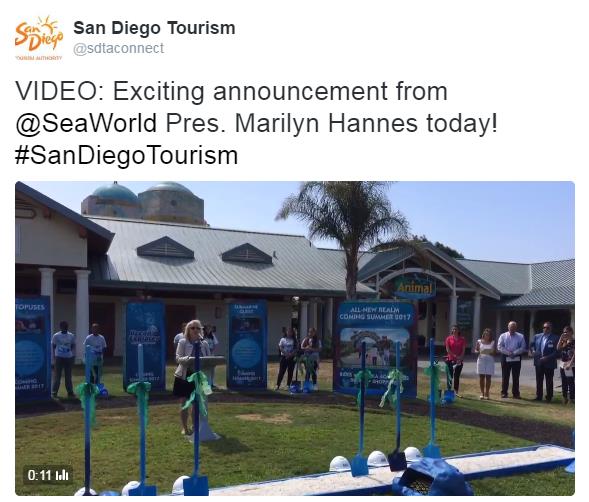 VIDEO LINK: https://twitter.com/sdtaconnect/status/771048665855033344/video/1
The B2B Account earned nearly 27,500 impressions during the month of August.
ADVERTISING
LEISURE ADVERTISING
In August 2016, the San Diego Tourism Authority ran a single insertion in the San Diego Union Tribune for a total spend of $8,385 with 167,158 impressions delivered. The Kids Free San Diego promotion continued with TV spots running in Los Angeles and Phoenix at a cost of $135,142.50 with 9,043,000 impressions delivered. Kids Free also included digital video and display on Radiumone, Facebook and Instagram; organic posts on Facebook and Instagram; and the Linqia social influencer program delivering a total of 3,853,166 impressions at a cost of $31,092.58. The total Leisure Advertising spend in August was $174,619.93 with 13,063,324 impressions delivered.
LEISURE CO-OP
The San Diego Tourism Authority ran a Free Standing Insert (FSI) in the following newspapers in August 2016: Los Angeles Times, Arizona Republic, San Francisco Chronicle, OC Register, Seattle Times and the Sacramento Bee. The total media spend was $37,373.31 with 493,514 impressions delivered.
MEMBERSHIP
Membership
8 New Members joined in July, $3,850 in annual dues revenue.
22 Members attended the Open Office Hours on the 26th to learn how to best maximize benefits and interact with the Hotel Sales team.
Ad Sales
The ad sales team jumped off to a great start to the new fiscal year booking $42,990 in new business.
Revenue Development
The licensing program took another big step, entering into an agreement with local company Knockaround sunglasses. The sunglasses will be a unique addition to our growing line of officially licensed products.
The event promotion partnership with TicketSauce signed an agreement with McFarlane Promotions. McFarlane is a homegrown company, and produces major events including ShamROCK, Gaslamp Mardi Gras, Monster Bash and the La Jolla Concours d'Elegance. This partnership alone has potential for new six-figure net revenue for the SDTA.
New Members
HOTEL SALES
In the month of August, the Hotel Meetings Sales Team converted 52 bookings, generating 26,765 Room Nights, more than double to last August's production.
CITYWIDE SALES
FY16 – August:
Definite bookings: 5
Attendance: 37,000
Total Room Nights: 51,688

Fiscal Year 16-To-Date: 157,514

PUBLIC RELATIONS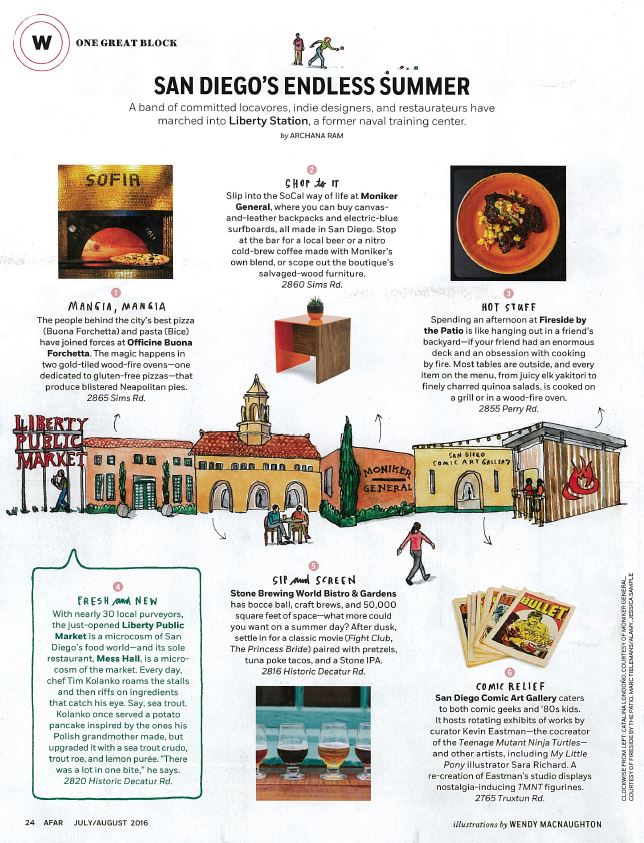 The SDTA Communications team participated in a Visit California Media Mission to Australia and met with and pitched San Diego story ideas to numerous travel journalists representing key daily newspapers, travel trade and consumer magazines, radio, TV, online and social influencers from Sydney, Melbourne, Brisbane and Tasmania.
Communications also hosted a variety of international media from China, France, Denmark and the UK and assisted regional publications such as Arizona Republic, The Las Vegas Sun, and the Orange County Register with San Diego stories.
Communications attended a Tijuana Inovadora meeting on behalf of Joe Terzi representing the San Diego Tourism Authority at this biannual event that takes place in Tijuana to promote arts and culture.
Top media coverage received in August included the AFAR Magazine, Esquire Mexico, Huffington Post (Canada outlet), Skyward Magazine (Japan Airlines inflight), GolfDigest.com and Travel + Leisure Mexico and more.
Clipping Total was $2,156,528
Impressions were 633,823,414
International subtotals from this grand total are:
International Value: $1,666,706
International Impressions: 530,821,507
TRAVEL TRADE
Riki Suzuki, Travel Trade Development Manager, attended the Visit California Sales & Media Mission in Australia and New Zealand from August 21st to 27th. Riki visited 4 cities (Auckland, Melbourne, Brisbane and Sydney) and had opportunities to promote the destination on stage in front of many travel professionals. In Sydney, product managers from major companies flew in to have a day of meetings and networking with the delegations. Riki met one-on-one with 17 product managers to discuss promotions and product developments for San Diego.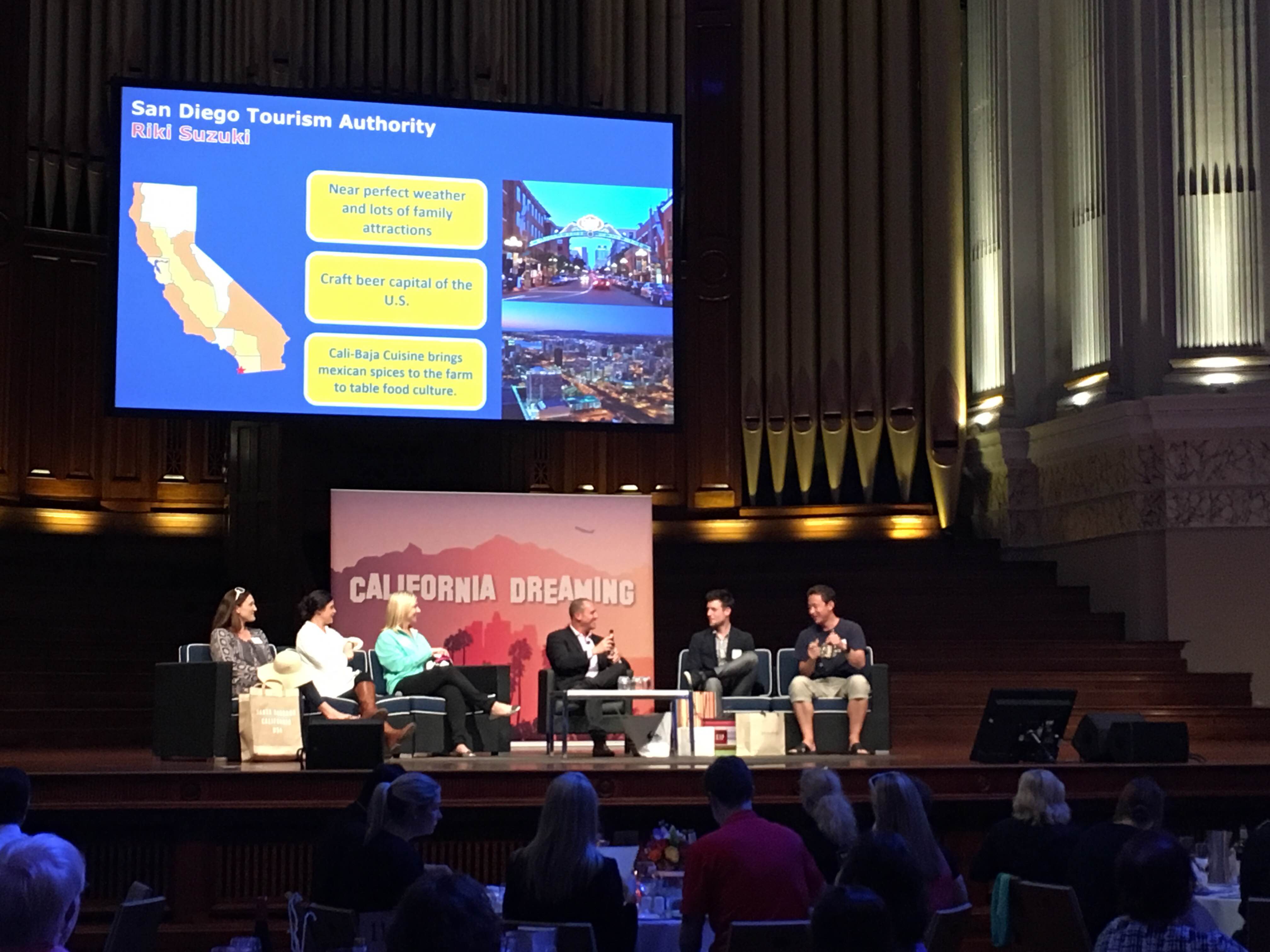 Albert Navarro, Travel Trade Manager, attended Student & Youth Travel Association Annual Conference  in Orlando where he had nearly 30 one-on-one appointments with student & youth travel tour operators.  He was also able to support four SDTA members in increasing their appointments with tour operators at the show.