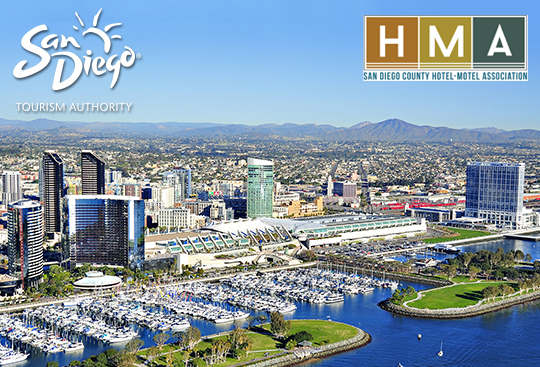 The San Diego Tourism Authority (SDTA) and the San Diego County Hotel-Motel Association (HMA) are unable to support either the Chargers' Initiative (Measure C) or the Cory Briggs Citizens' Plan for San Diego (Measure D). The two organizations agree that both ballot measures present a substantial threat to San Diego's tourism industry, which is the region's second largest traded economy.
The SDTA and HMA oppose both measures due to the following issues:
They would eliminate the Tourism Marketing District (TMD), a proven source of revenue for marketing San Diego as a visitor destination.
They would prohibit expansion of the San Diego Convention Center, which is needed to retain the region's largest convention clients including Comic-Con International.
Raising the Transient Occupancy Tax (TOT) level to either 15.5 percent or 16.5 percent would put San Diego at a competitive disadvantage compared to other destinations around the U.S.
Revenue and expense forecasts for both initiatives are unreliable and could negatively impact the City's General Fund, thus impacting essential city services.
These concerns are supported by multiple independent analyses, including those by thePublic Resources Advisory Group, the San Diego County Taxpayers Association, theConventions Sports and Leisure, HVS Consulting and the City of San Diego Independent Budget Analyst.
"The Tourism Marketing District structure has proven to be effective and necessary for marketing the destination without having to use the city's TOT or general funds," states Joe Eustice, HMA chairman. "The industry knows exactly what will happen if it is eliminated. In 2013, then-Mayor Bob Filner froze all funds from the TMD, leaving the destination unable to market itself. Hotel room night growth subsequently dropped 50 percent; the city lost $560 million in visitor spending revenue, and TOT growth dropped by half."*
"While these ballot initiatives claim that a downtown stadium would meet the needs of conventions, our convention and meetings clients have repeatedly told us that a 'convadium' is no substitute for an expanded convention center," said Ted Molter, Board Chairman of the San Diego Tourism Authority. "The SDTA has received letters from leading convention clients, including the National Association of Realtors, American Urological Association,American Society of Heath-Systems Pharmacists and more, stating that a stadium annex would not work for them and that they may seek other cities to host their conventions." Comic-Con International has been among the major convention clients to state that these ballot initiatives would not meet their needs.
An increase of the current TOT levels also poses a substantial threat to retaining large conventions and meetings, which are critical to the tourism industry. With the current TOT rate at 10.5 percent and TMD assessment at 2 percent, Measure D would effectively increase costs to the customer by 24 percent and Measure C would increase it by 32 percent. For meetings and conventions that book thousands of hotel room nights at once, this represents a substantial cost increase to do business in San Diego.
As a tourism infrastructure investment, the value of a stadium is limited. While one study sponsored by the Chargers suggests a new stadium could generate 225,000 hotel room nights, numerous other studies contradict these claims. The study by HVS estimates that the proposed 'convadium,' which would require at least $1.8 billion to build, would bring in 69,000 new room nights per year, generating $2.3 million for the TOT. By comparison, the top five conventions into the San Diego Convention Center will generate more than 270,000 room nights and more than $9 million in tax revenue in 2016.** The Manchester Grand Hyatt hotel generates more than 500,000 room nights in an average year which in turn contributes $8 million in TOT dollars annually.
"As a nonprofit organization committed to growing the visitor industry for the benefit of the local community, we must oppose both of these measures," notes Joe Terzi, President and CEO of the San Diego Tourism Authority. "Not only does the tourism economy support more than 180,000 jobs in San Diego, it also helps bolster the City's general fund to pay for vital neighborhood services, fund arts and culture programs, repair infrastructure and much more. Supporting either initiative puts all of this and more at risk."
Both the SDTA and HMA support the Chargers and want to see them stay in San Diego. Unfortunately, the SDTA and HMA cannot support either of these ballot measures, but look forward to bringing the community together to solve these problems in a way that works for all San Diegans.
About the San Diego Tourism Authority
The San Diego Tourism Authority, formerly the San Diego Convention and Visitors Bureau, was established in 1954 to foster the growth of the tourism economy in San Diego through aggressive sales and marketing efforts.  It is a private, non-profit entity that is funded primarily through the San Diego Tourism Marketing District. The SDTA includes 906 member organizations.
About the Hotel-Motel Association
The San Diego County Hotel-Motel Association is a federation of hotel and motel owners and operators representing approximately 22,000 rooms in lodging establishments throughout the county. Members range from small family-owned properties to major convention hotels.  The Association also represents allied member businesses that are affiliated with the San Diego visitor industry.
* Tourism Economics: The Impact of Reducing Funding for the San Diego Tourism Marketing District, 2013
** San Diego Convention Center Corporation 2016 Forecast
# # #