Below are some of the sales & marketing highlights from various departments during the month of July 2016.
SALES & MARKETING HIGHLIGHTS
Special events in July focused on Summer, 4th of July/Big Bay Boom, MLB All-Star Week, San Diego Pride Weekend, and Comic-Con.
Web traffic for June included 678,319 user sessions between the desktop and mobile websites and we posted a total of 195 Tweets, 94 Facebook posts, 47 Google+ Posts and 22 Instagram posts through our social channels, 9 blogs, and distributed 6 consumer emails.
Google PPC
We ran two Google Brand campaigns in June – domestic and International.  Google domestic PPC advertising for June totaled $59,963.41 generating 16.8 million impressions and 117,321 clicks for an average click through rate of .70%.
CONSUMER MARKETING
Most Engaged Facebook Post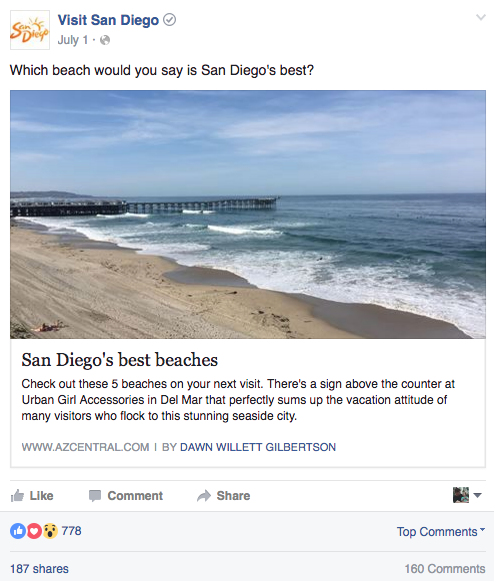 Most Engaged Twitter Post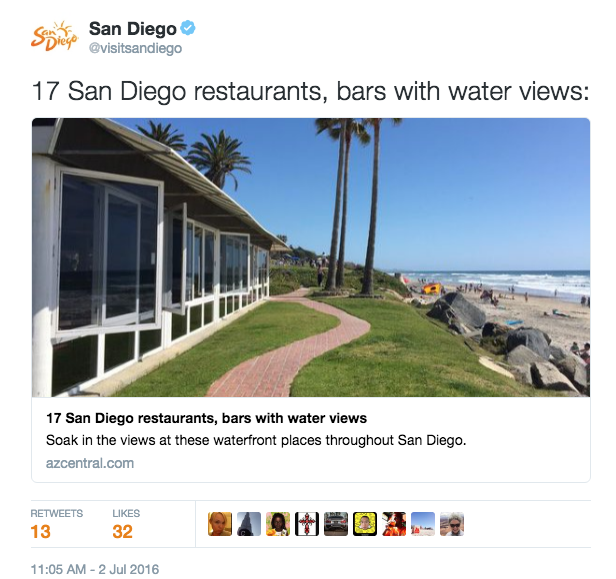 Most Engaged Instagram Post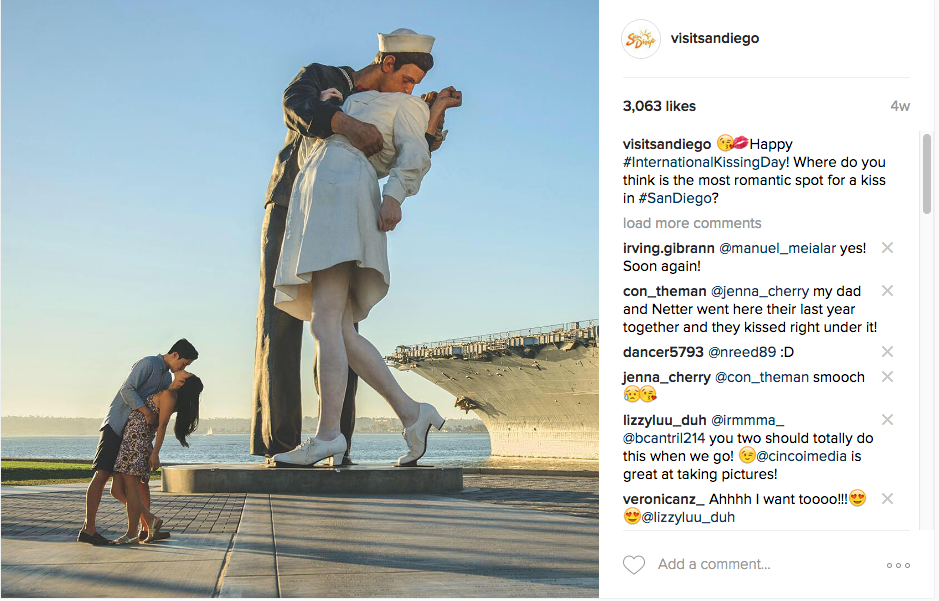 Most Engaged Google Post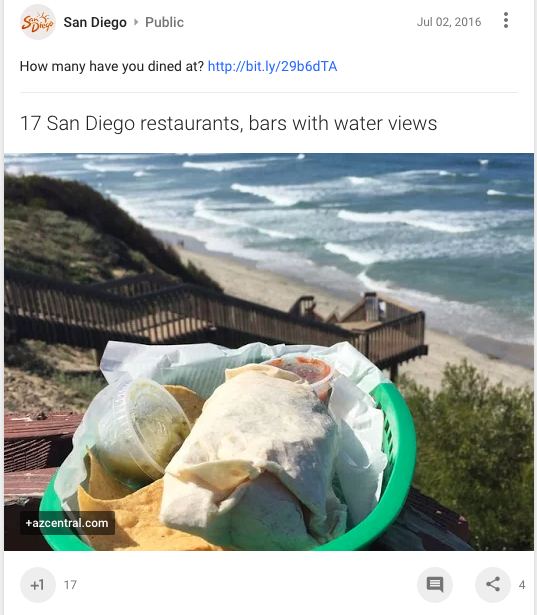 Sub-Region Marketing
In July, we ran Luxury and Value pay-per-click on Google for the sub regions totaling $2,446.94 which generated 22,199 impressions and 762 clicks for a total click through rate of 3.4%.
Overall traffic to the Luxury and Value pages on sandiego.org was 356 site visitors.  The social media team, in partnership with Casual Fridays, spent July analyzing the FY16 program of work and planning for FY17.
B2B DIGITAL MARKETING
EMAIL:
The July B2B Postcard was delivered to approximately 7,600 meeting planners and featured unique meeting opportunities in the North County Inland region. The open rate for the B2B Postcard was 18%,  which represents over 1,350 meeting planners. Some highlights of the email included Mt. Woodson, Wineries & Breweries, La Jolla Zipline, Rancho Bernarndo Inn, and San Diego Zoo Safari Park.
LINKEDIN:
The July B2B Postcard was delivered to approximately 7,600 meeting planners and featured unique meeting opportunities in the North County Inland region. The open rate for the B2B Postcard was 18%,  which represents over 1,350 meeting planners. Some highlights of the email included Mt. Woodson, Wineries & Breweries, La Jolla Zipline, Rancho Bernarndo Inn, and San Diego Zoo Safari Park.
Where We Stand
LinkedIn followers compared to similar organizations: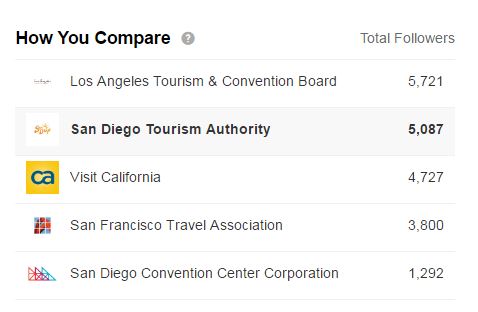 TWITTER:
@SDTAConnect Twitter base grew by 3% from last month to 2,709 followers. There were 87 tweets during the month.
This month, the tweet with the most exposure (33,845 impressions) was a sarcastic Thank You message to Conan O'Brien in response to him posting a photo of the sunscreen we sent to him during Comic_Con week.  This tweet also saw the largest engagement with more than 604 interactions.
ADVERTISING
In July 2016, the San Diego Tourism Authority ran TV spots on the Conan O'Brien show on TBS to align with Comic Con San Diego.  Total impressions from this buy were 2,032,000 with a cost of $61,050.  Additionally, the Kids Free San Diego influencer campaign launched on July 27th with a series of blogs on Linqia. Total impressions in July for the Linqia buy were 1,350 at a cost of $3,750.
MEMBERSHIP
15 New Members joined in July earning $7,700 in annual dues revenue. 25 Members attended the Open Office Hours on the 29th to learn how to best maximize benefits and interact with Hotel Sales.
Ad Sales
The ad sales team jumped off to a great start to the new fiscal year booking $47,000 in new business. Sandiego.org advertising continues to run at capacity through the summer months.
NEW MEMBERS
HOTEL SALES
The Hotel Meetings Sales Team converted 47 bookings, generating 14,815 Room Nights in the month of July, up 54% to July of last year.
The San Diego Tourism Authority along with the San Diego Convention Center Corp hosted 40 customers and guests during Major League Baseball's All-Star Festivities beginning between July 9 through July 13. Attendees were met by our Site Experience Team as they arrived at San Diego International Airport. From there, they were taken to one of four host hotels, the Grand Hyatt San Diego, San Diego Marriott Marquis Marina, Hilton Bayfront or Omni Hotel where they received customized baseball cookies as welcome snacks for the short drive.
The Marriott hosted a beautiful evening reception on their Marina Kitchen Patio where the sounds of Eve and Gwen Stefani could be heard from Embarcadero Park South. The following day, guests enjoyed a breakfast at leisure at their host hotel or met with their Sales Director for breakfast and site visits of neighboring San Diego regions and hotels. Guests were also able to enjoy Fan Fest at the San Diego Convention Center, the All-Star Block Party or various other offerings during this busy day. Petco Park Events/The Padres were equally special partners with helping us to create the perfect setting at the private area, Pacific Porch, where guests enjoyed plenty of food and the best seats in the house. The evening was filled with two games at Petco Park – Futures Game and Legends/Celebrity Softball. When guests returned to their rooms they were greeted by a personalized San Diego Padres All-star Game jersey.
National Sales Director Jenn Hicks covering the Southeast territories was invited to EMC Venues/Meet USA Annual Education Event. EMC is a third-party that produces this annual event for local meeting planners in Atlanta, GA. Jenn expects to receive one RFP totaling 240 room nights with more to come.
Michelle Coombs and Debbie Jordan, National Sales Directors in the Washington, D.C. and Virginia markets, hosted 4 customers to a unique San Diego inspired event with Paddle Boarding and Yoga. Customers had a chance to experience what some San Diego locals do for exercise and fun by going out on the water in Edgewater, MD and paddle boarding and doing yoga simultaneously on long boards. This unique event is sure to bring leads to the destination!
CITYWIDE SALES
FY16 – July:
Definite bookings: 8
Attendance: 53,700
Total Room Nights: 105,826

Fiscal Year 16-To-Date: 105,826

PUBLIC RELATIONS
In July, the SDTA Communications department collaborated with the web and interactive team, creative services and SDTA member businesses for a social media-based PR stunt, presenting a San Diego "welcome basket" to Conan O'Brien, who was in San Diego for live shows from Comic Con. The effort resulted in extensive social media engagement, garnering tens of thousands of likes, shares and comments.
A representative from the Communications team joined the Citywide Sales team to attend a sales and marketing tour of Tijuana organized by the Tijuana CVB including cultural, dining, shopping and winery partners.
The Communications team hosted top international print and online media from Australia, Germany, and the UK, and TV crews from Italy and the UK. The North American outlets pitched, assisted and hosted in July included The Toronto Sun and Family Fun Canada, along with Travel Agent, Paste and Valley Lifestyle magazines.
Top media coverage received in July included the Los Angeles Times, Arizona Republic, Phoenix Magazine, La Opinion, Life & Style (Mexico), Sunday Telegraph (Australia), Conde Nast Traveler (China), LA Weekly and more.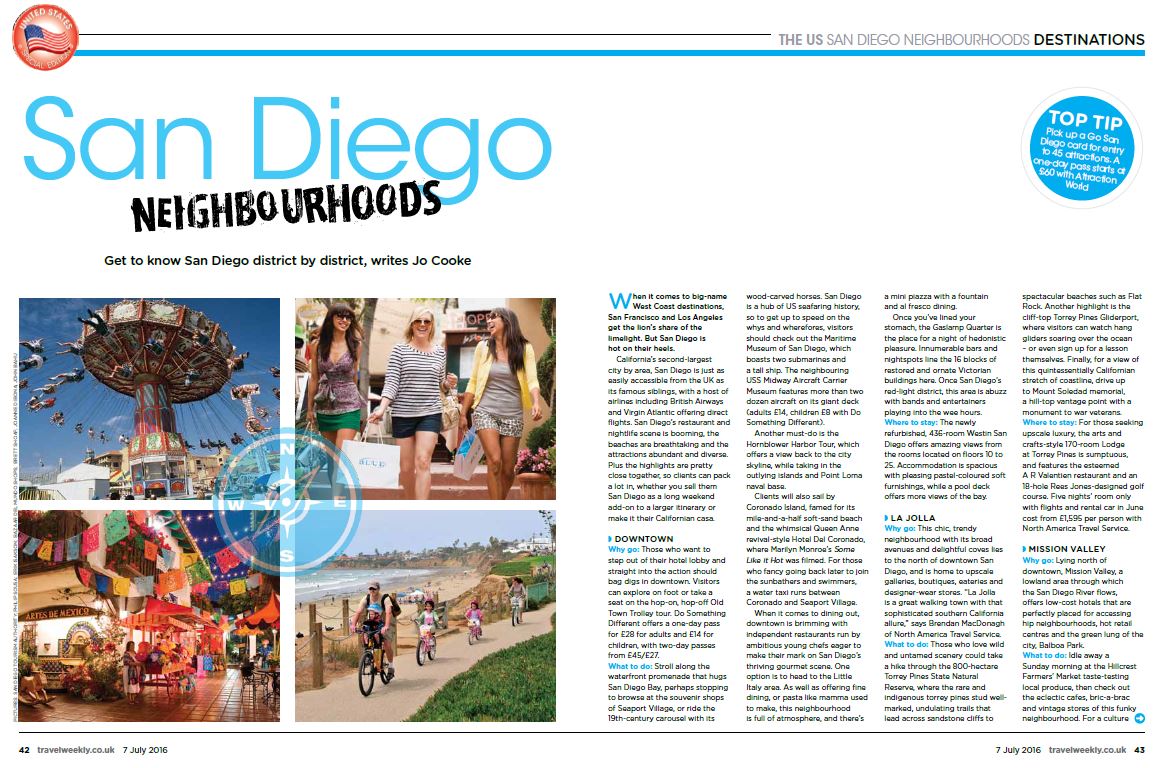 Press Clipping
Total Value: $2,301,372
Impressions: 347,545,838
International subtotals
Press Clipping Value: $878,991
Impressions: 267,900,726
TRAVEL TRADE
In early July, the UK branch of Air New Zealand Airline hosted a client event for 130+ top London-based tour operators & travel agents.  The event entailed a special screening of the movie Top Gun and featured shout outs to San Diego throughout the evening. SDTA's UK office attended the event to network with clients and present a grand prize San Diego visit to one lucky client.
On July 13th, SDTA Japan office, in cooperation with the MLB Café Ebisu hosted a Public Viewing Party of the MLB All Star game in Tokyo.  Tomoe Matsunaga, Travel Trade Representative Japan, had an opportunity to do a presentation about San Diego during the event and had an informational booth for the attendees to get more information about the destination. Also SDTA invited Kumiko Takeda, a popular Japanese actress who resides in San Diego to share the attractiveness of the city with the audience.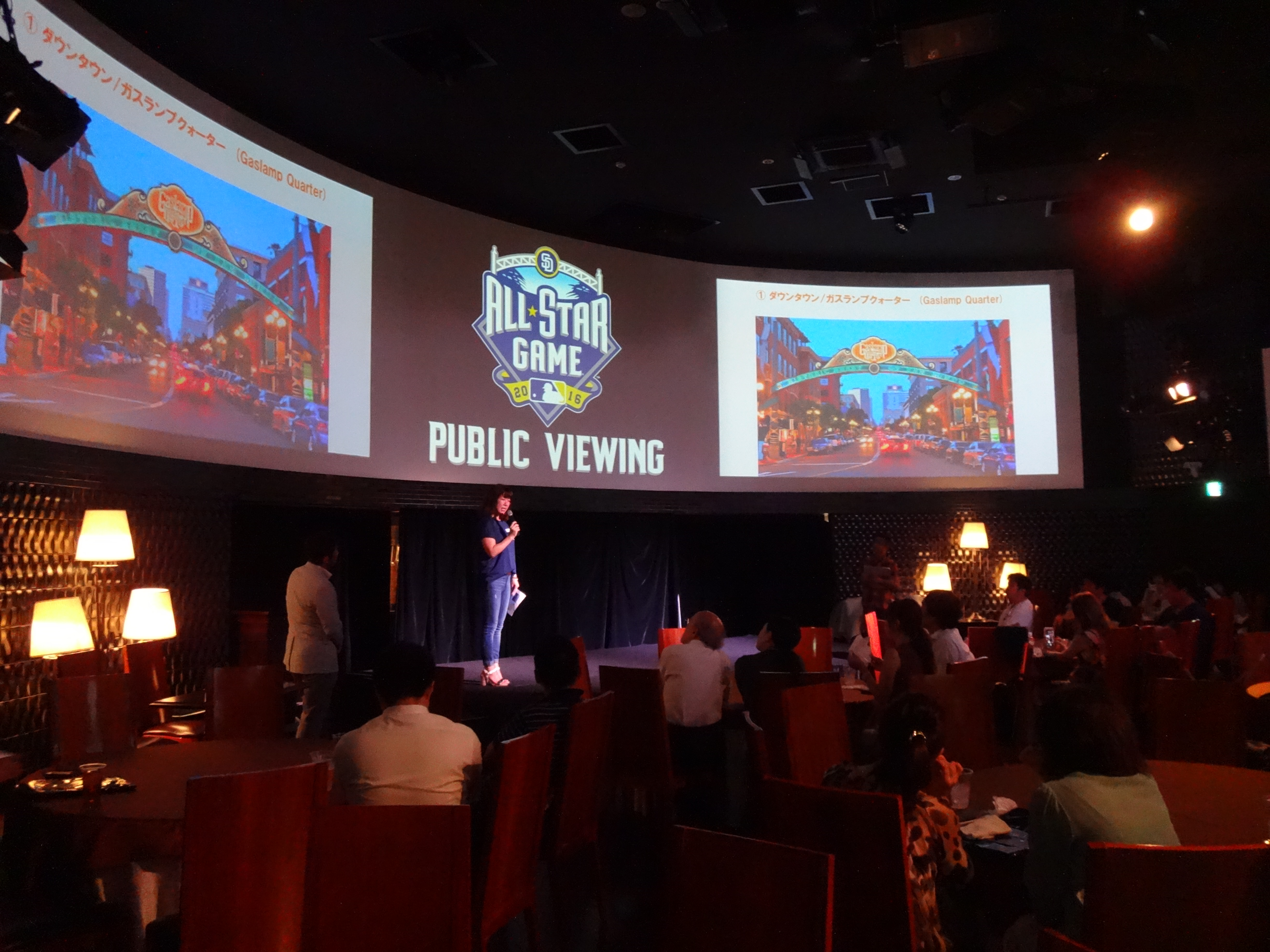 Jayce Guo, Travel Trade Representative in Beijing, participated in Club California Product Development Series in Beijing on July 22nd. She had an opportunity to give a destination presentation to educate and update 11 top accounts in Beijing. Also, she was able to network with them during the team building activities at the event.
The SDTA has appointed Ms. Kumiko Takeda as the official San Diego Travel and Friendship Ambassador for Japan. Ms. Takeda is a famous actress / model in Japan and she has lived in San Diego for the past 16 years. The announcement was made at her book signing event on July 23rd and the news has been picked up by several media outlets.