Below are some of the sales & marketing highlights from various departments during the month of June 2016.
SALES & MARKETING HIGHLIGHTS
Special events in June focused on Summer, San Diego County Fair, Mexico v. Chile Soccer Game, and All-Star Week.
Web traffic for June included 678,319 user sessions between the desktop and mobile websites, and we posted a total of 195 Tweets, 94 Facebook posts, 47 Google+ Posts and 22 Instagram posts through our social channels, 9 blogs, and distributed 6 consumer emails.
Google PPC
We ran two Google Brand campaigns in June – domestic and International.  Google domestic PPC adverting for June totaled $59,963.41 generating 16.8 million impressions and 117,321 clicks for an average click through rate of .70%.  Google International (Canada) brand PPC advertising for June totaled $8,058.68 generating 1.8 million impressions and 3,044 clicks for an average click through rate of .16%.
CONSUMER MARKETING
Most Engaged Facebook Post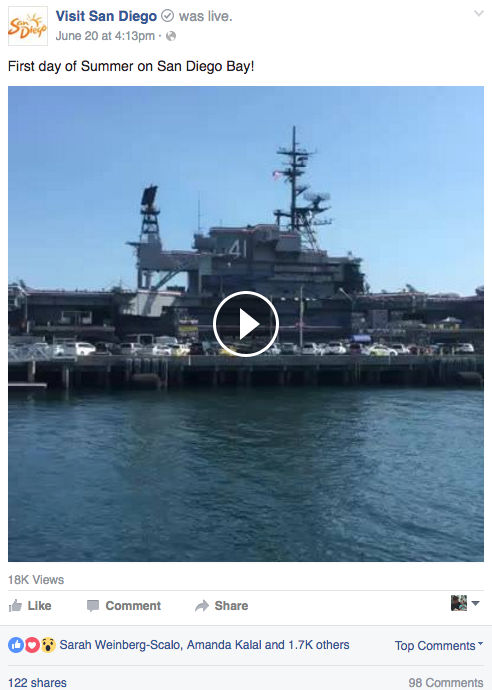 Most Engaged Twitter Post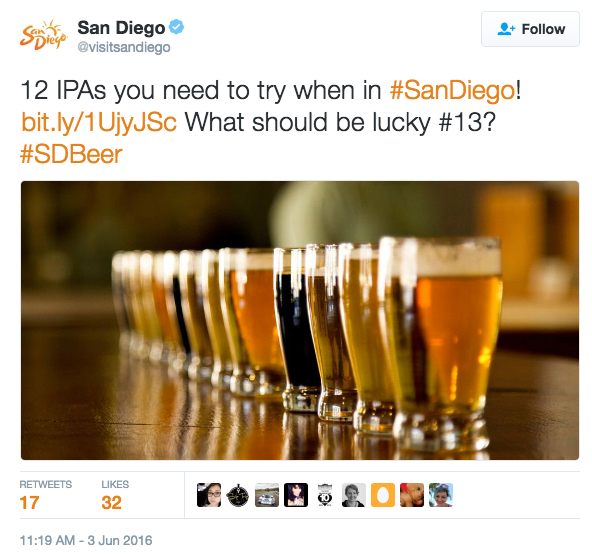 Most Engaged Instagram Post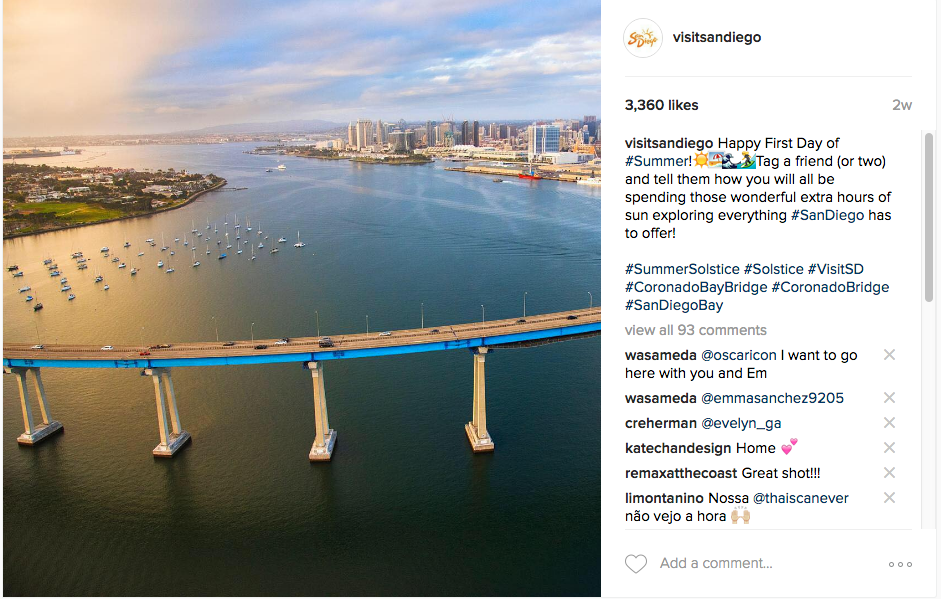 Most Engaged Google Post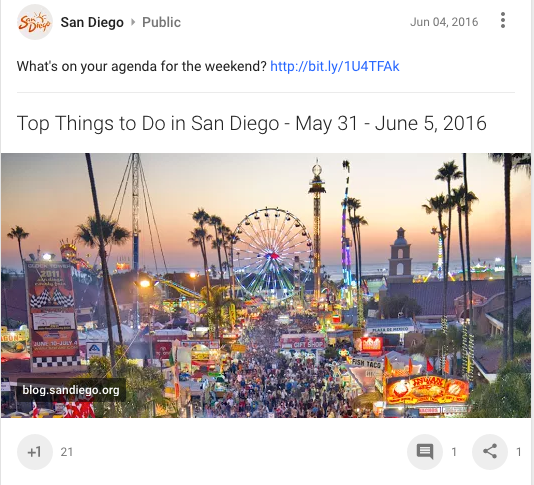 Sub-Region Marketing
In June, we ran Luxury and Value pay-per-click on Google for the sub-regions totaling $2,446.94 which generated 22,199 impressions and 762 clicks, for a total click-through rate of 3.4%.
Overall traffic to the Luxury and Value pages on SanDiego.org was 356 site visitors. The social media team, in partnership with Casual Fridays, shared 74 pieces of content for the sub regions on Facebook, Twitter and Google+ highlighting Summer Things to Do, Mission Bay Sweepstakes and Things to Do around Mission Bay (Good Vibes on the Water).
Most popular sub-region social media post: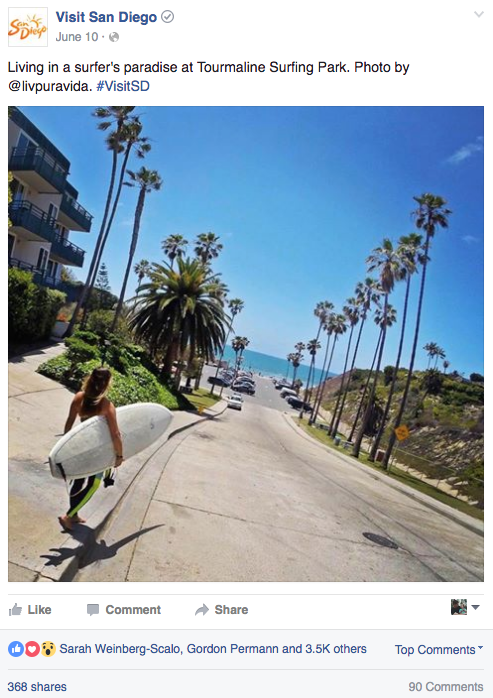 B2B DIGITAL MARKETING
EMAIL
The June B2B Postcard was delivered to approximately 7,600 meeting planners and featured unique meeting opportunities in La Jolla. The open rate for the B2B Postcard was 21% – the highest open rate in 18 months – which represents over 1,350 meeting planners.
LINKEDIN:
There were five B2B LinkedIn posts reaching our professional audience. Posts included articles about:
Travelocity Names The Best Destinations in its 2016 Travelocity Summer Vacation Index
San Diego named to 2016 Worth Magazine "Most Dynamic Cities in America" List
SDTA Job Opening Announcement
Edelweiss San Diego flights to begin June 2017
Marriott Marquis San Diego Marina Expands Convention Space
LinkedIn grew by 1% from last month to 4951 followers, earning more than 15,291 impressions. Year-over-Year, the LinkedIn audience grew by 25%.
Where We Stand
LinkedIn followers compared to similar organizations: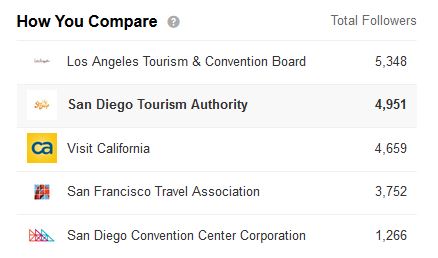 TWITTER:
@SDTAConnect Twitter base grew by 3.4% from last month to 2,636 followers. There were 81 tweets during the month.
This month, the tweet with the most exposure (2,559 impressions) was a photo collection of the grand opening of the Marriott Marquis San Diego Marina Convention Space Expansion. This tweet also saw the largest engagement with more than 250 interactions – a 10% engagement rate.
The B2B Account earned nearly 23,400 impressions during the month of June.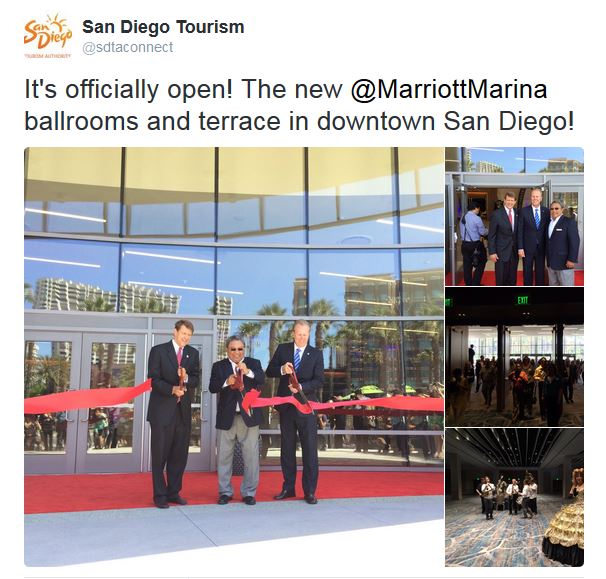 ADVERTISING
LEISURE ADVERTISING
In June 2015, :15 and :30 spots ran in San Francisco and Sacramento as make goods for SDTA's Spring Spot TV rotation. The Spring brand out-of-home campaign concluded with digital boards running in Los Angeles. Also, branded content promoting Guides to the Good Stuff continued to run on Facebook. Brand advertising spend for June totaled $ 109,553 and delivered 13,638,876 impressions.
SUBREGION AFFLUENT AND VALUE ADVERTISING
In June, promotion of the Mission Bay sub-region sweepstakes ran on Facebook. Total Sub-region spend for June totaled $13,705.91 and delivered 1,900,000 impressions.
INTERNATIONAL ADVERTISING
In June, SDTA continued its Canadian digital campaign with SEM running on Google. Total spend for the month of June was $8,042.82 including a BUSA net contribution of $1,340.74. Total impressions were 1,872,071.
MEMBERSHIP
Revenue Development – The new ticketing and event management software was introduced to the full Membership as a new added benefit. This enables Members to protect customer data, drive more revenue, and support the SDTA's overall mission.
Historic New Member Numbers – The team had great success in June, adding 16 new Members, with a value of $7,700 in new dues revenue.
The year-end total of 121 new Members is the 2nd highest single year total ever, only behind 2010, which was inflated by the addition of the East Visitors Bureau Membership conversion.
Ad sales – The Ad Sales Team booked $59,000 in new advertising contracts, primarily for our online products. The Ad Sales team completed a record-setting total of online revenue, now totaling $438,102 in revenue, a 25% increase YOY.
Overall the team added $1,080,000 in ad sales contracts for the fiscal year, 108% of the goal of $995,000.
NEW MEMBERS
HOTEL SALES
Members of the Hotel Sales Meetings team attended Luxury Meetings Summit in four cities. Together they received nine leads totaling 1,250 potential room nights for the destination.
Sub-regional National Sales Manager, Bri Mouton, attended the Fraternity Executives Association (FEA) Annual Conference in Kansas City, MO on June 1-4. Bri received four leads totaling 1,100 room nights for the destination.
From June 1-4, Michelle Coombs and Matt Schechter attended MPI's World Education Congress (WEC) in Atlantic City and received 22 leads totaling over 10,000 potential room nights for the destination.
CITYWIDE SALES
FY16 – June:
Definite bookings: 21
Attendance: 188,650
Total Room Nights: 347,615

Fiscal Year 16-To-Date: 1,092,889

PUBLIC RELATIONS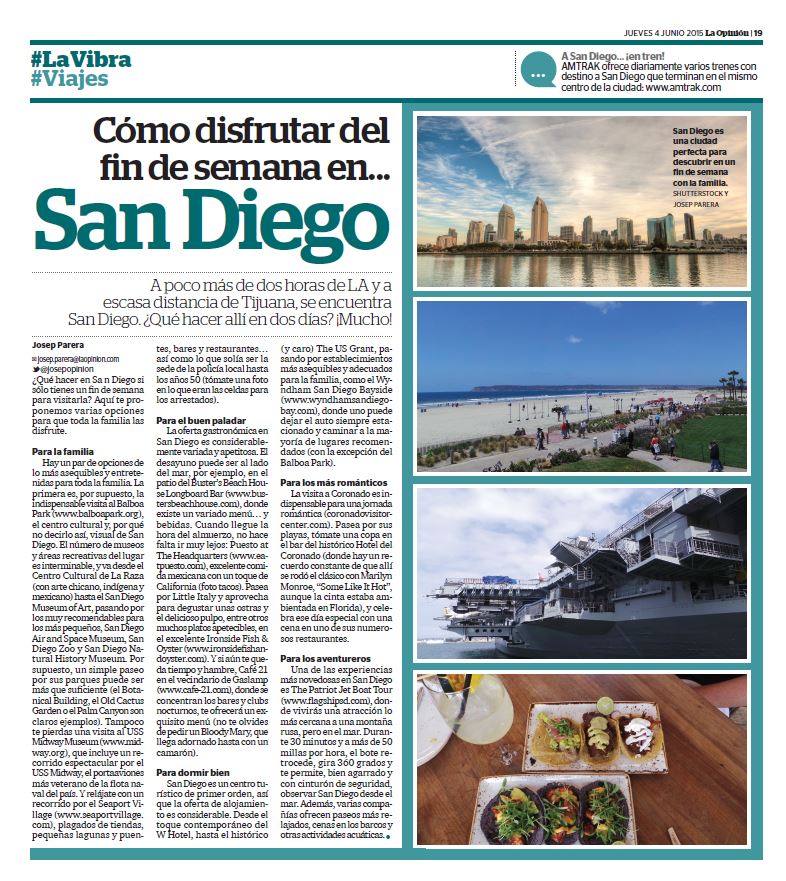 PR representatives traveled to New Orleans for IPW and met with 25 media outlets including representatives from Mexico, USA, Australia, China, Canada, Brazil and France.
The team hosted domestic media including Endless Vacation, the Newport Beach Independent, Palm Springs Life, Food Republic and more.
The International team hosted media from overseas including Cosmopolitan (UK), L'Officiel (Brazil), L'Echo Touristique (France), Voyager (France), and more. In partnership with Visit California, International Marketing also hosted a group of 7 top travel media from France, 5 top travel media from Brazil and a TV crew from Australia as part of a culinary promotion with the state.
Key domestic coverage received included AFAR, The Arizona Republic, Phoenix Magazine, the Los Angeles Times and more.
Key international coverage received included the Viajar Pelo Mundo (Brazil), Manchester Evening News, Syndey Morning Herald, Couch (Germany), GRAZIA (Australia) and more.
The media relations team also held a press availability for the local media to discuss the kick off to the summer tourism season with City Councilmember Chris Cate. Media in attendance included San Diego 6 (CW), NBC 7, KUSI TV, KPBS and more.
Press Clipping Total Value: $2,183,985
Impressions: 807,103,857
International subtotals
Press Clipping Value: $1,205,147
Impressions: 681,914,470
TRAVEL TRADE
Travel Trade Director Benjamin Eastman, traveled to Vancouver. During that week, Benjamin took part in the Inaugural Flight celebration of the new Air Canada Rouge non-stop flight from Vancouver to San Diego. Additionally, he spent a day participating in sales calls with the local Air Canada representative to promote the flight and destination. At the end of the week, Benjamin joined the Port of San Diego at the cruise3sixty tradeshow – where they met and spoke with many travel agents from across the US and Canada about the fantastic cruise offerings available from – and through – San Diego in the upcoming cruise season.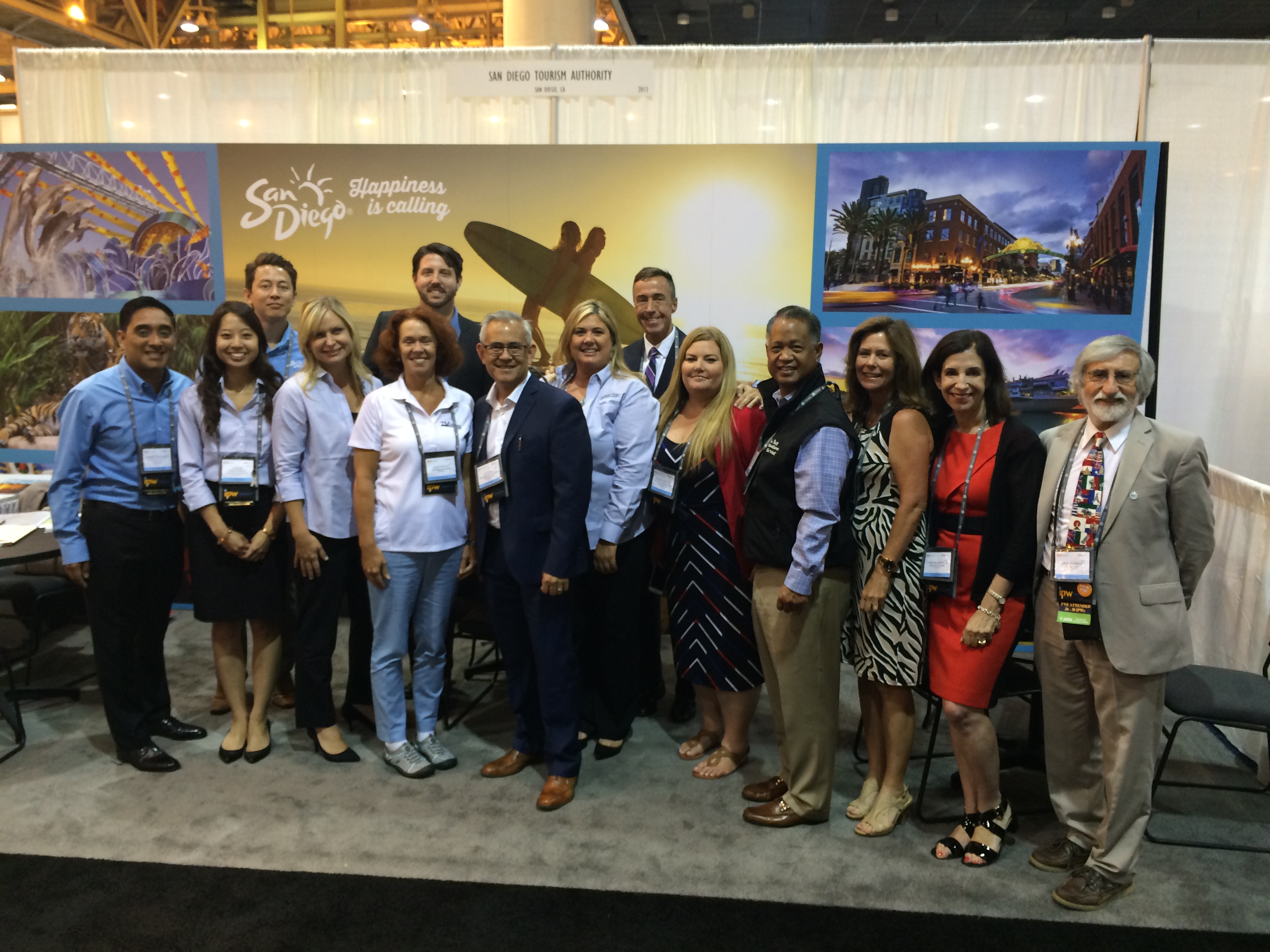 Benjamin Eastman, Riki Suzuki & Albert Navarro all traveled to New Orleans in mid-June to attend the Travel Trade's biggest tradeshow of the year – IPW. At the tradeshow, the team had 100+ one-on-one meetings with Tour Operators, Receptives, MICE Operators and more from around the world. European & Canadian clients were particularly excited about the new non-stop flight offerings into San Diego and Mexican clients continue to buzz about the Cross Border Xpress opportunity via the Tijuana Airport.
Tomoe Matsunaga, Travel Trade Representative in Japan, participated in America Workshop organized by Brand USA in Nagoya and Osaka. She met one-on-one with 12 key Tour Operators in the region to provide updated information and propose tour ideas. Also she was able to meet more of the 128 participating travel professionals during the free session time.
Following the workshops, Tomoe participated in KIX Tabihaku, the largest tourism event in Western Japan, in Osaka. The event welcomed approx. 41,000 attendees in two days. Tomoe presented at a destination seminar in front of over 120 consumers who registered to learn about San Diego.
SDTA hosted a luncheon in Torrance and invited the members of Japanese Tour Operator Association known as "Agent Kai". Riki Suzuki, Travel Trade Development Manager, had an opportunity to give a presentation during the lunch to update 24 participating agents from LA based Japanese tour operators. Also 12 San Diego partners joined Riki to have a networking opportunity before, during and after the lunch with the Agent Kai members.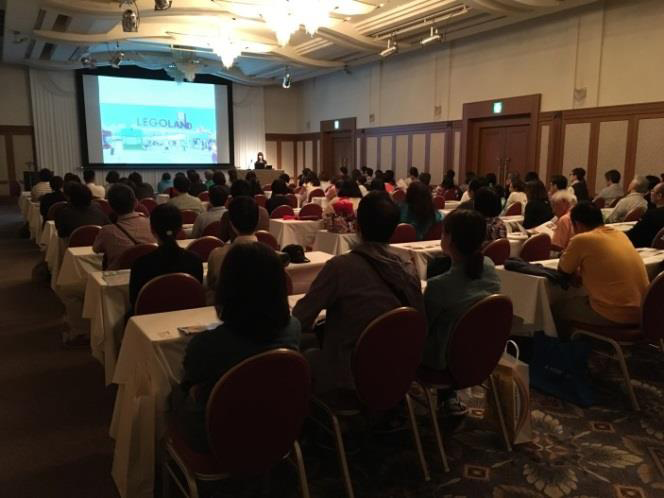 Charles Sun, Travel Trade Representative in Shanghai, participated in Club California Product Development Series in Shanghai on June 30th. He had an opportunity to give a destination presentation to educate and update 18 top accounts in Shanghai.
Travel Trade Development coordinated familiarization trips for Aeromexico and Air Canada. Aeromexico hosted airfare for 13 agents to visit San Diego from Hermosillo and Chihuahua using Tijuana Airport and the Cross Border Xpress. Air Canada celebrated the inaugural flight from Vancouver to San Diego by hosting 9 key travel agent clients to an overnight in San Diego.
In summary for fiscal year 2016, Travel Trade Development hosted 41 International FAMs with 395 participants and 11 domestic FAMs with 111 participants, for a total of 52 FAMs/506 agents experiencing San Diego's hospitality.  In-kind service value of approx. $225,500 was generated.