Below are some of the sales & marketing highlights from various departments during the month of May 2016. The SDTA held its annual meeting at SeaWorld on May 5, 2016. if you missed it, here's a quick video recap.
SALES & MARKETING HIGHLIGHTS
Special events in May focused on AMGEN Tour of California and Mexico vs Chile Soccer Game.
Web traffic for April included 542,467 user sessions between the desktop and mobile websites and we posted a total of 144 Tweets, 90 Facebook posts, 45 Google+ Posts and 23 Instagram posts through our social channels, 10 blogs, and distributed 6 consumer emails.
Google PPC
We ran two Google Brand campaigns in May – domestic and International.  Google domestic PPC adverting for April totaled $78,089.51 generating 742,826 impressions and 36,613 clicks for an average click through rate of 4.93%.  Google International (Canada) brand PPC advertising for May totaled $19,768.33 generating 5.1 million impressions and 6,659 clicks for an average click through rate of .13%.
CONSUMER MARKETING
Most Engaged Facebook Post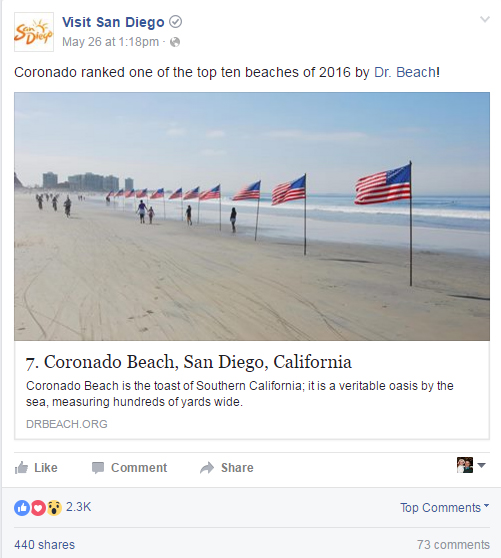 Most Engaged Twitter Post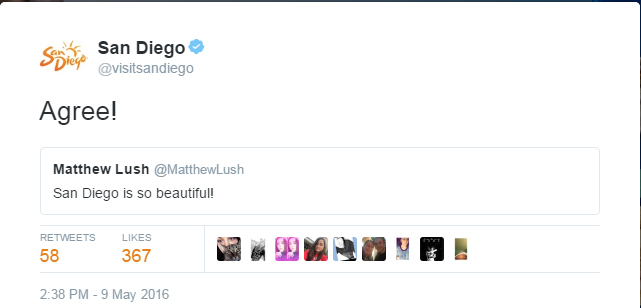 Most Engaged Instagram Post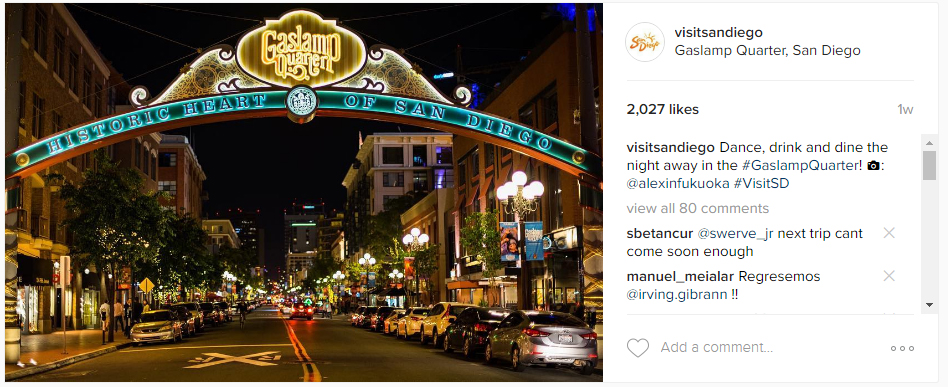 Most Engaged Google Post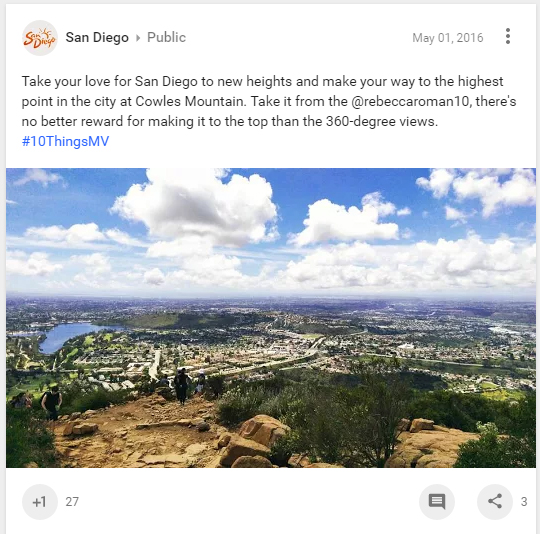 Sub-Region Marketing
In May, we ran Luxury and Value pay-per-click on Google for the sub regions totaling $14,987.97 which generated 108,025 impressions and 4,377 clicks for a total click through rate of 4%.
Overall traffic to the Luxury and Value pages on sandiego.org was 2,407 site visitors.  The social media team, in partnership with Casual Fridays, shared 38 pieces of content for the sub regions on Facebook, Twitter and Google+ highlighting Summer Things to Do, Scenic Drive up the 101, and re-purposing of Point Loma History content.
Most Engaged Sub-Region Post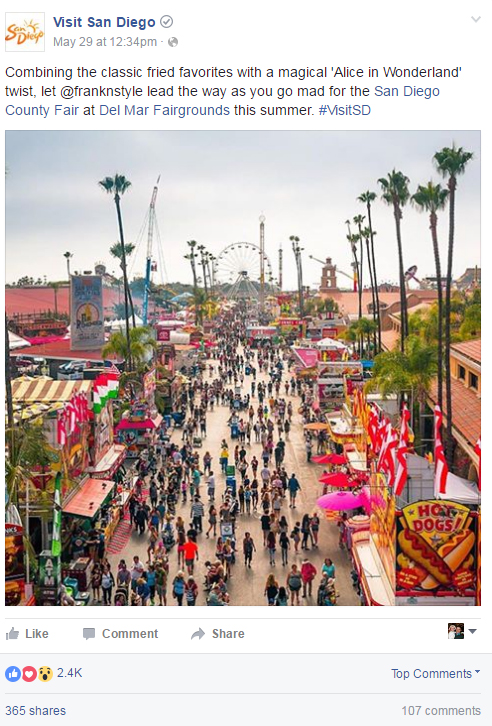 B2B DIGITAL MARKETING
EMAIL
The May B2B Postcard was delivered to approximately 7,600 meeting planners and listed unique concert venues in San Diego. The open rate for the B2B Postcard was 18.5%, which represents over 1,350 meeting planners.
LINKEDIN: 
There were three B2B LinkedIn posts reaching our professional audience. Posts included articles about:
San Diego earning a Top 5 Spot on Cvent List of Top US Meeting Destinations
SDTA President Joe Terzi joins VisitCA CEO Mission to China
Smart Meetings Coverage of San Diego on Top Rooftop Meeting Venues
LinkedIn grew by 1% from last month to 4890 followers, earning more than 7,700 impressions.
Where We Stand
LinkedIn followers compared to similar companies: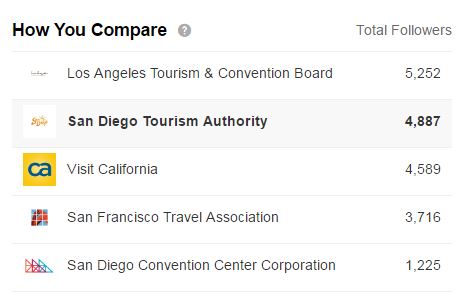 TWITTER: 
The B2B Account earned nearly 52,000 impressions during the month of May. @SDTAConnect Twitter base grew by 4.2% from last month to 2,548 followers. There were 134 tweets during the month.
This month, the tweet with the most exposure (3,289 impressions) was a photo of San Diego County Supervisor Ron Roberts presenting Joe Terzi and Kerri Kapich with a tourism day proclamation.
The tweet with the most engagement (35) was a photo and thank you to San Diego Downtown Partnership for including SDTA and Joe Terzi in panel discussion about convention center.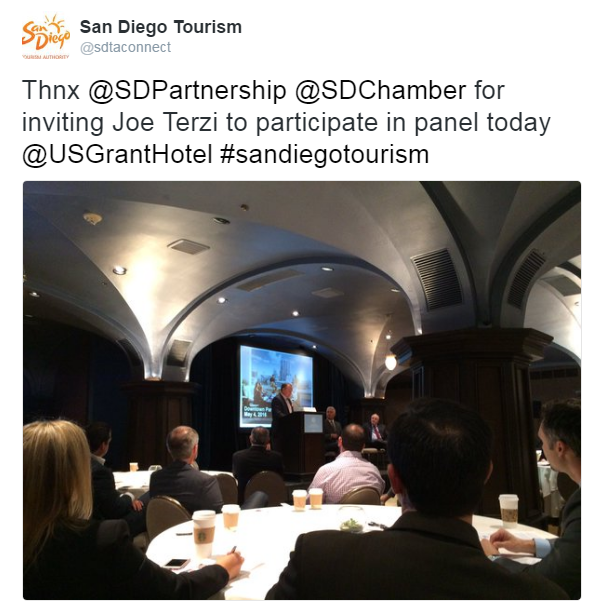 ADVERTISING
LEISURE ADVERTISING
SDTA's Spring Spot TV rotation concluded in May 2016 with :30 and :15 spots in San Francisco and Sacramento. The brand print campaign concluded with print ads in the California Visitors Guide, Sunset and Bon Appetit. The Spring brand out-of-home campaign continued with digital boards running in Los Angeles and Phoenix. Additionally, branded content promoting Guides to the Good Stuff continued to run on Eater, Outbrain, Thrillest, YouTube, Facebook and Instagram. Brand advertising spend for May totaled $ 788,553 and delivered 208,128,645 impressions.
INTERNATIONAL ADVERTISING
In April, SDTA continued its Canada digital campaign with SEM running on Google. Total spend for the month of April was $15,131.57 including a BUSA net contribution of $3,122.83. Total impressions were 5,056,819.
MEMBERSHIP
New Members
HOTEL SALES
The Hotel Meetings Sales Team converted 65 bookings, which is 17 more than this same time last year, while generating 29,054 Room Nights for the month of May.
Gillian Ware, National Sales Director, attended the SGMP National Education Conference in San Diego at the Town and Country Resort & Convention Center. Close to 200 customers attended and Gillian received several leads.
Jennifer Hicks attended the annual Retreats Resources Roadshow in Atlanta, and met with 18 potential clients one-on-one.
Ernie Rossow, along with five Member partners hosted HelmsBriscoe associates for lunch and HPN Associates for happy hour to share many new developments in San Diego. Together, the group met with 30 clients and received several leads.
Nur Kitmitto, National Sales Director, along with nine hotel partners hosted the Pacific Northwest Client Events from May 24-25. The team started in Seattle by hosting meeting planners for the Padres vs. Mariners baseball game. The following morning, the team caravan-ed to Portland to host planners for an interactive cooking demonstration at the well-known Park Kitchen. Together, the group met with close to 40 clients.
CITYWIDE SALES
FY16 – April:
Definite bookings: 5
Attendance: 24,000
Total Room Nights: 82,220

Fiscal Year 16-To-Date: 745,274


PUBLIC RELATIONS
International Marketing hosted a U.K. media group for a 4-night visit highlighting our region's unique neighborhoods, exciting culinary and craft beer scenes, and outdoor recreational offerings; they also participated in a half-day visit to Tijuana, Mexico. International Marketing also hosted key travel media from Australia, France, Germany, Japan and the U.K. on individual media trips.
North American PR attended two Visit California Canadian Media Receptions in Vancouver and Calgary and met with more than 40 media including WestJet Magazine, Breakfast Television, Vancouver Sun/The Province, Impact Magazine, Vancouver Courier and Western Living.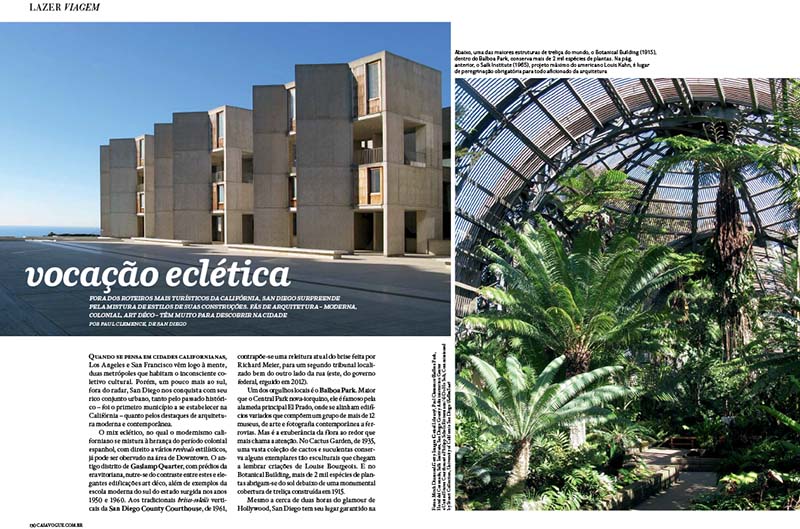 In partnership with Brand USA, International Marketing hosted a Chinese TV crew filming San Diego segments for a future western U.S. travel program.  PR assisted Visit California with accommodations for the TV show "Movable Feast" in San Diego to record a food segment with Javier Plascencia at the USS Midway.
Key domestic coverage received in March included Travel + Leisure, Smart Meetings, the San Francisco Chronicle, La Opinion and more. Key international coverage received included OK! Magazine (UK), ABZ Turistico (Mexico), Casa Vogue (Brazil), Vitamin Daily (Canada) and more.
The PR team worked with contractor Darren Pudgil to get local media coverage of the SDTA annual meeting on May 5 and coverage of the Commission for Arts and Culture's annual Economic Impact Report, released on May 27.
Press Clipping Total Value: $2,858,364
Impressions: 771,310,206
International subtotals
Press Clipping Value: $1,706,089
Impressions: 663,831,866
TRAVEL TRADE
Travel Trade Development Manager, Albert Navarro, and six San Diego members visited seven AAA Arizona offices.  Over 60 agents and travel managers met with our members to learn about the latest and greatest San Diego has to offer. The group also met with the AAA Arizona Headquarters team and call center staff to educate them on San Diego and to launch a San Diego booking contest among the Arizona branches.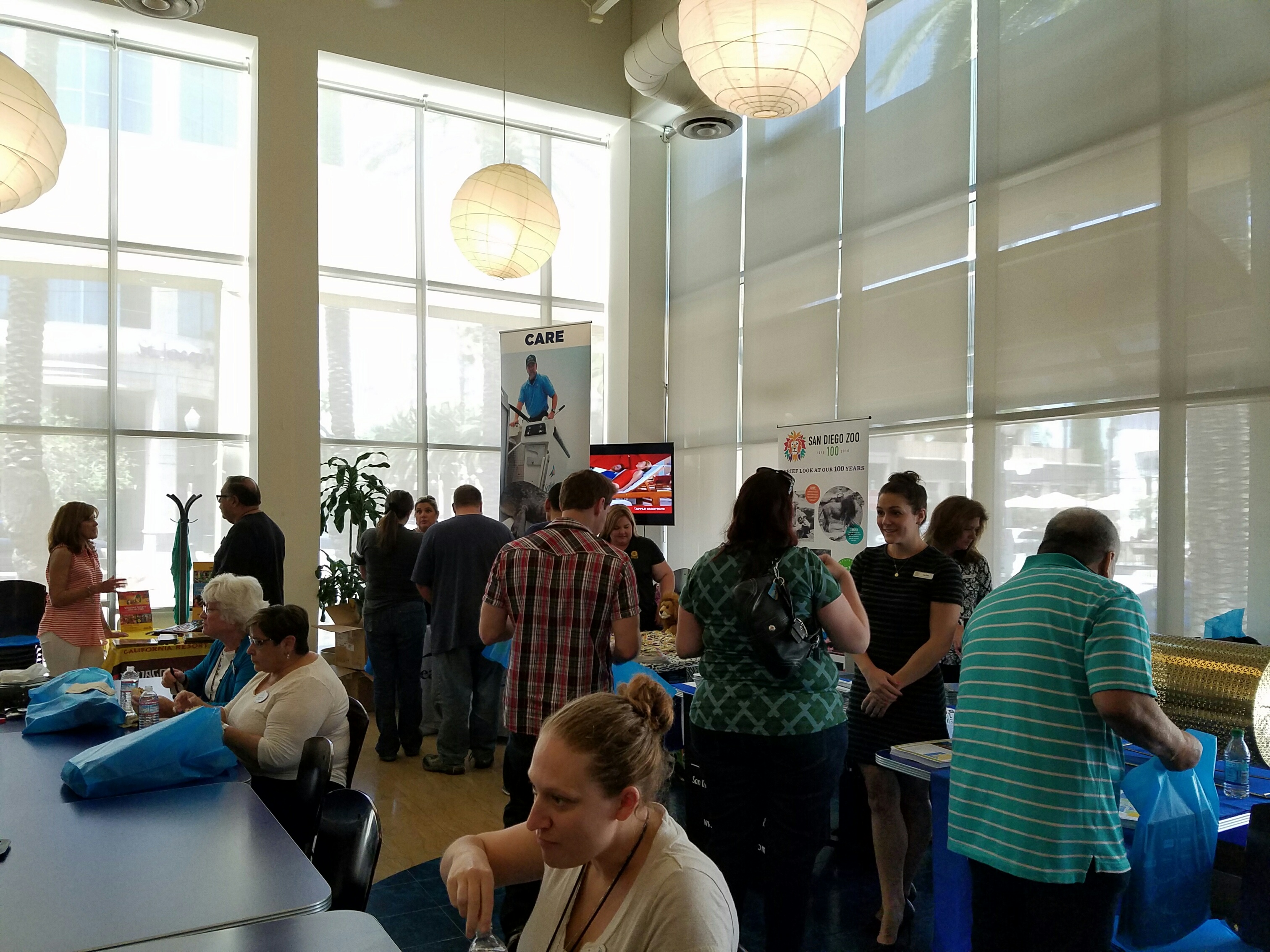 Albert Navarro, Travel Trade Development Manager, and five San Diego partners visited the Walt Disney Travel Call Center in Anaheim for a training and lunch in early May.  Over 250 agents and training managers were on-hand to learn about the latest and greatest San Diego has to offer.   Agents were quizzed on their San Diego product knowledge with a chance to win SD prizes.
SDTA Tokyo office representative, Tomoe Matsunaga, participated in Visit California's trade event "Club California" in Fukuoka, Japan on May 27th. She had opportunities to give a presentation to educate about 40 key travel professionals in the region and to network with them throughout the event.