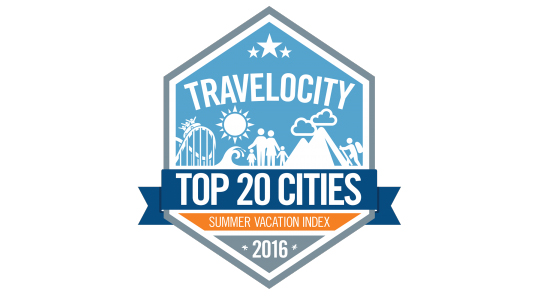 Happiness is Calling on the newest Travelocity Summer Vacation Index. Travelocity data shows that interest in summer destinations rises as people start dreaming of a "fun in the sun" summer getaway. But what makes for a perfect summer vacation? A recent survey of 1,025 Americans conducted by Wakefield Research on behalf of Travelocity shows that the top four most-wanted attractions in a summer vacation destination includes beaches, national or state parks, amusement and theme parks and historical city landmarks.
"We wanted to look at data to help travelers find the best summer vacation destinations. That's why we created the Travelocity Summer Vacation Index," said Alan Cunningham, director of marketing analytics for Travelocity. "Our team analyzed which of the 50 largest cities in the U.S. can deliver the most important factors for a good summer vacation – availability of the most-wanted attractions, probability of good weather and affordability of lodging for the summer months – and we were pleased to see that both traditionally popular and lesser-known summer destinations made the list."
San Diego came in just behind LA with a slightly lower Attraction Score owing to less choice in nearby amusement parks and fewer local historical landmarks. But for travelers looking for a smaller city with slightly warmer weather, San Diego might be just the ticket for a perfect summer vacation.
Here's the complete list:
| | |
| --- | --- |
| Travelocity Summer Vacation Index                                | Total Score |
| 1 – Los Angeles | 7.26 |
| 2 – San Diego | 6.6 |
| 3 – Las Vegas (Tie) | 6.435 |
| 3 – Phoenix (Tie) | 6.435 |
| 5 – Oakland, Calif. | 6.27 |
| 6 – Fresno, Calif. | 5.94 |
| 7 – Portland, Ore. | 5.775 |
| 8 – Jacksonville, Fla. | 5.61 |
| 9 – Seattle (Tie) | 5.445 |
| 9 – Denver (Tie) | 5.445 |
| 9 – Tuscon, Ariz. (Tie) | 5.445 |