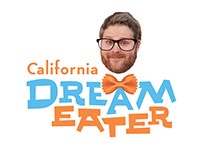 This is a great opportunity for San Diego businesses to get featured in an upcoming promotion through our partners at Visit California. Don't miss out on this Dream Eater San Diego Opportunity. California Dream Eater is an 'eatertainment' video series featuring Chase Ramsey, who proudly, passionately and hilariously eats the best things in California on behalf of foodies everywhere.
Dream Eater has generated 1.8 million organic impressions on Instagram with nearly 130,000 engagements resulting in 1,400 crowdsourced restaurant recommendations. Now Dream Eater needs your help with his next journey around the Golden State:
Help crowdsource – @CaliforniaDreamEater is looking for ideas from consumers on Instagram. Activate your fan-base to rally around your destination June 1-30, share original Dream Eater posts, or create new ones using unique food or regional imagery. Don't forget to use #DreamEats!
Submit photos – Seeking photos to showcase food from around the state -submit your image suggestions for California Dream Eater to share. When you're ready, submit photos here.
Follow along – Instagram is the primary channel for Dream Eater, but you can follow him on YouTube and Dream365TV as well.
Crowdsourcing will take place in two state-wide, month-long activations; June 1-30, 2016 and March 1-31, 2017. Post early to assure that your submissions are counted.