Below are some of the sales & marketing highlights from various departments during the month of April 2016.
SALES & MARKETING HIGHLIGHTS
Special events in April focused on Padres 2016 season and Crew Classic.
Web traffic for April included 537,274 user sessions between the desktop and mobile websites and we posted a total of 174 Tweets, 96 Facebook posts, 48 Google+ Posts and 20 Instagram posts through our social channels, 8 blogs, and distributed 5 consumer emails.
Google PPC
We ran two Google Brand campaigns in January – domestic and International.  Google domestic brand PPC advertising for April totaled $55,342.28 generating 638,748 impressions and 30,835 clicks for an average click through rate of 4.8%.  Google International (United Kingdom) brand PPC advertising for April totaled $19,931.89 generating 6 million impressions and 7,496 clicks for an average click through rate of .12%.
CONSUMER MARKETING
Most Engaged Facebook Post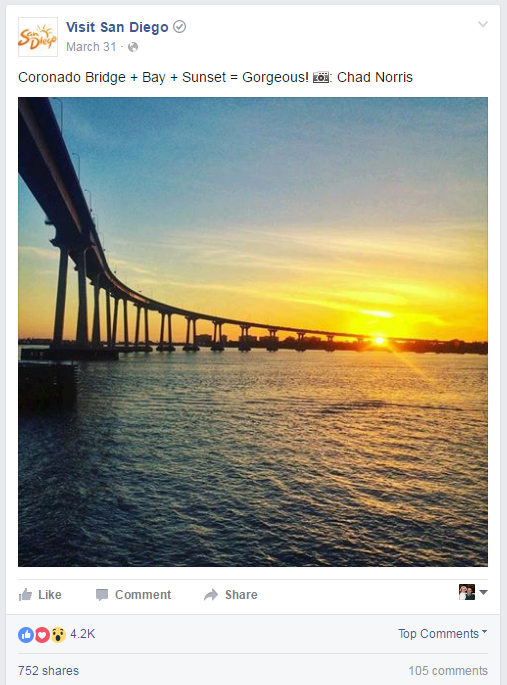 Most Engaged Twitter Post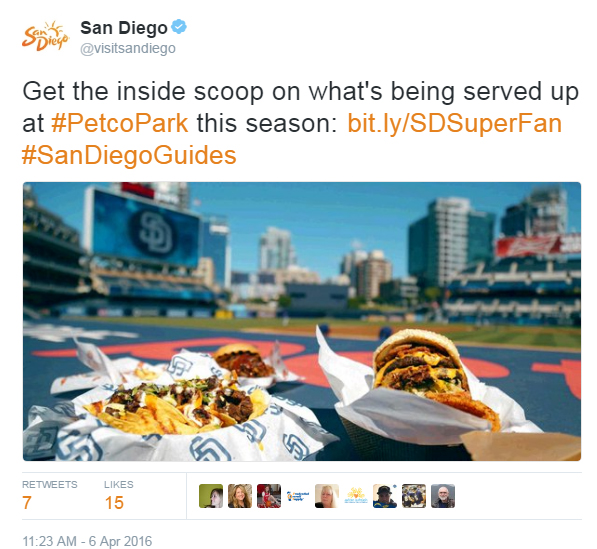 Most Engaged Instagram Post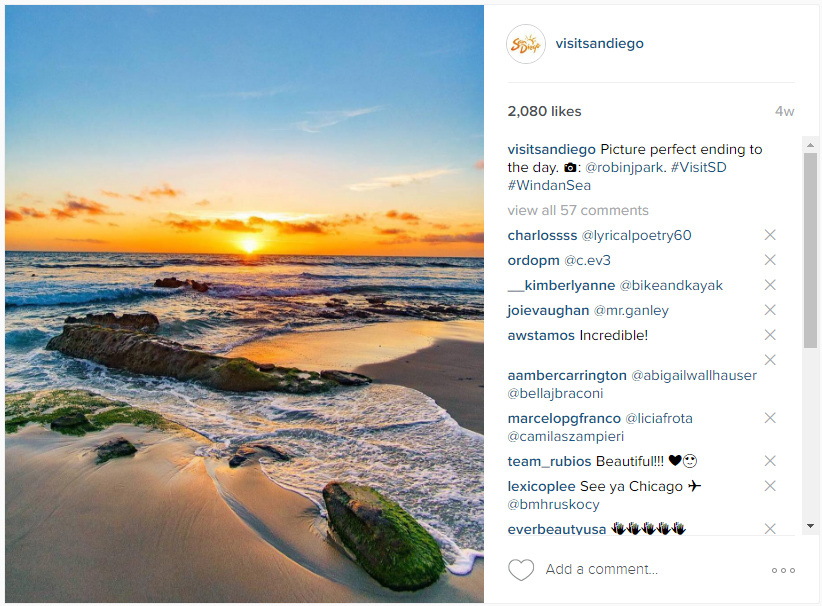 Most Engaged Google Post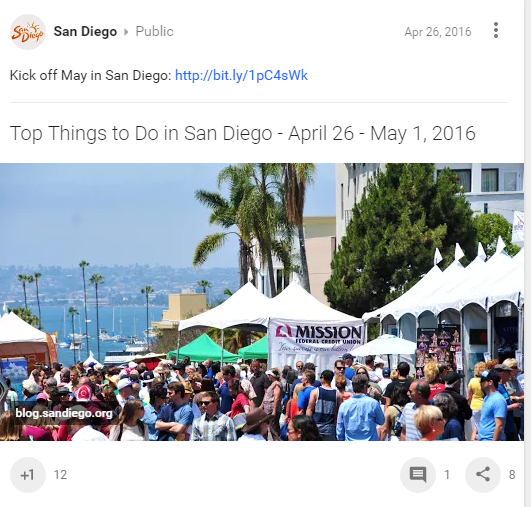 Sub Region Marketing
In April, we ran Luxury and Value pay-per-click on Google for the sub regions totaling $6,378.41 which generated 42,828 impressions and 1,874 clicks for a total click through rate of 4.3%.
Overall traffic to the Luxury and Value pages on sandiego.org was 1,101 visitors.  The social media team, in partnership with Casual Fridays, shared 66 pieces of content on Facebook, Instagram, Twitter and Google+ highlighting restaurants in Petco Park and the Sub Regions, 10 Things Within 10 Miles of Mission Valley, and Getting Around Mission Bay.
Our most popular sub-region post: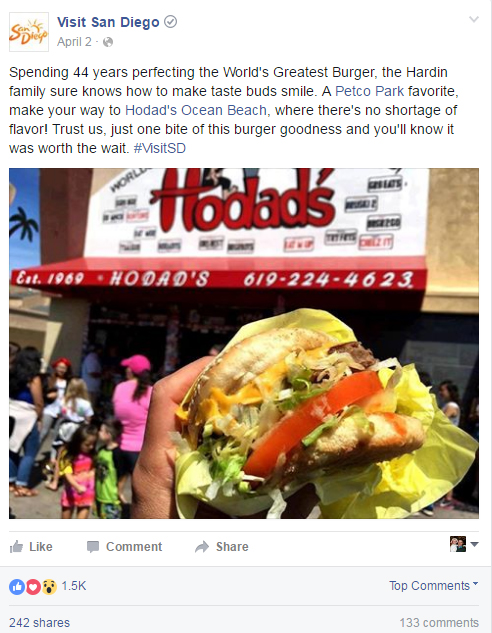 B2B DIGITAL MARKETING
EMAIL:
The April B2B Postcard was delivered to approximately 7,500 meeting planners and provided a look into rooftop venues in San Diego. The open rate for the B2B Postcard was 20%, which represents over 1,500 meeting planners. We've seen a 1% increase in click rate after switching to a format which encourages clicking thru to read the full article.
LINKEDIN: 
There were seven B2B LinkedIn posts reaching the professional audience. Posts included articles about:
Margie Sitton on DMAI's EmpowerMINT Blog about San Diego Site Inspections
Invitation to our Annual Meeting
SpringHill Suites & Marriott Residence Inn Hotel Opening
Global Meetings Industry Day Infographic
Convention Center Recycler of the Year Post
Brian Hughes new TMD Executive Director Announcement
LinkedIn grew by 2% from last month to 4836 followers.
Where We Stand
LinkedIn followers compared to similar companies: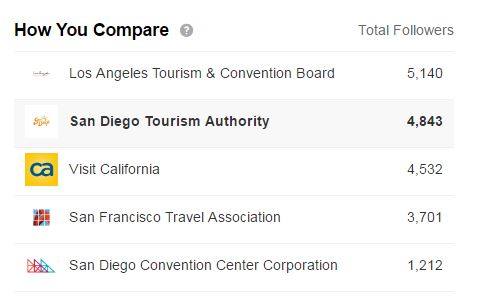 TWITTER: 
@SDTAConnect Twitter base grew by 3.1% from last month to 2,444 followers. There were 104 tweets during the month.
This month, the tweet with the most exposure (3,539 impressions) was a promotion of Amgen Tour of California cycling race, with a video link:
The tweet with the most engagement (72) was a photo and announcement of the ribbon cutting for two new hotels in San Diego.

ADVERTISING
LEISURE ADVERTISING
In April 2016, SDTA's Spring Spot TV rotation continued with :30 and :15 spots in San Francisco, Sacramento, Seattle, Dallas, Chicago and New York. The brand advertising campaign continued with a print ad in the California Visitors Guide, and the Spring brand out-of-home campaign kicked off with digital boards running in Los Angeles and Phoenix. The Spring brand digital campaign continued with a combination of digital video, display and native running on ABC.com, Fox Digital Media, Hulu.com, Lonely Planet, TripAdvisor, Travel + Leisure, USA Today and  YuMe. Branded content promoting Guides to the Good Stuff continued to run on Eater, Outbrain, Thrillist, YouTube, Facebook and Instagram. Brand advertising spend for April totaled $1,837,374 and delivered 146,291,282 impressions.
INTERNATIONAL ADVERTISING
In April, SDTA continued its Canada digital campaign with digital video and display running on Sojern, TripAdvisor, Yahoo, CTV and BrightRoll. SEM continued to run with Google. SDTA's UK digital campaign continued with digital video and display running on Sojern, Yahoo, the Telegraph, TripAdvisor, Sky and YuMe. SEM continued to run with Google. Total spend for the month of April was $72,576.45 including a BUSA net contribution of $14,978.23. Total impressions: 11,329,521.
MEMBERSHIP
Revenue Development – The SDTA entered into an event partnership with the San Diego Film Festival as part of the venture with ticket software partner TicketSauce. The Festival attracts over 20,000 annual attendees.
SDTA Golf Tournament – The Marketing Partnerships team, along with Event Management, produced the SDTA Hospitality Open. The event drew 130 golfers to Steele Canyon Golf Club. Highlights included a putt by a Member for $10,000 (which was not made), and appearances by the Pad Squad and Swinging Friar to entertain guests. This year we also introduced a new logo and identity for the event and a perpetual cup which will bear the names of winners.
As a result of the event, a donation of $10,000 will be made to our beneficiary, the Alpha Project.
Ad Sales – The Ad Sales Team booked $50,000 in new online business and pushed the team over the FY sales goal of $965,000, to over $1 million of ad sales booked.
Revenue from online ad sales surpassed the previous high-water mark of $346,000, to nearly $400,000 in sales generated.
New Members – Eight new Members joined, valued at over $6,000 in Member dues. We're happy to welcome these new members in the month of April.
Abnormal Company INC
Catania
Cousins Maine Lobster
Highline Charter
Homewood Suites San Diego Mission Valley/Zoo
Kitchens for Good
La Jolla Cove Suites
Spiritivity, a Paint and Sip Studioa
HOTEL SALES
The Hotel Meetings Sales Team converted 73 bookings, +19% to April of last year, generating a total of 25,458 Room Nights for the month.
The Hotel Sales and Citywide Sales teams came together along with 24 member partners for the annual Chicago Cubs Client Event in Chicago. 176 clients attended to cheer on their favorite team during this exclusive rooftop event during the Cubs Opening Day.
Matt Schechter, National Sales Director for the Northeast, hosted clients during the Northeast Roadshow. Matt was joined by 11 hotel partners for this three-day packed schedule from April 12-14 in New York City, Jersey City and Philadelphia. The Roadshow started in New York City with a VIP Luncheon with top-level decision makers followed by a dinner reception and presentation at Rue 57. The following day, Matt and the partners headed over to Jersey City to host customers at a third event for dinner and presentation at Liberty Prime. The roadshow finished strong in Philadelphia where partners and customers enjoyed watching the San Diego Padres at the Philadelphia Phillies for a day game and in the evening, the final event of the week was hosted at The Olde Bar for a dinner reception and presentation. This three-day, five-event tour attracted over 120 individual clients. Matt collected 26 leads totaling over 21,000 room nights, with more to come.
Gillian Ware, National Sales Director, partnered with four member partners to host Party with the Partners at CalSAE's Elevate Conference held in San Diego at the Loews Coronado Resort. There were 177 clients who attended this meeting and Gillian received several leads.
The Hotel Sales and Citywide Sales teams came together along with nine member partners for the annual ASAE Springtime Expo in Washington DC. Michelle Coombs, National Sales Director received eight RFPs totaling 2,450 room nights for the destination.
CITYWIDE SALES
FY16 – April:
Definite bookings: 2
Attendance: 12,000
Total Room Nights: 14,193

Fiscal Year 16-To-Date: 663,054

PUBLIC RELATIONS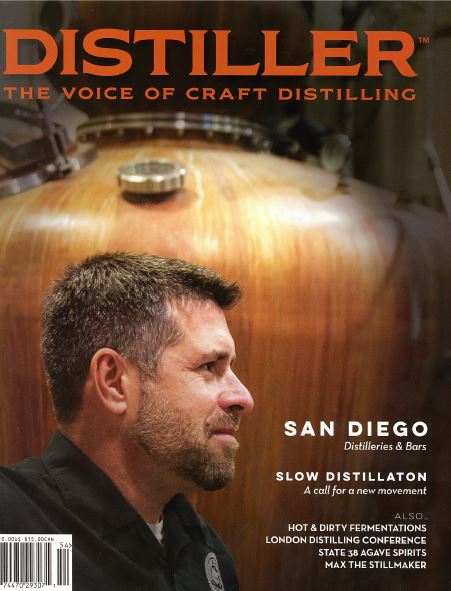 PR representatives from the International Marketing team participated in a Visit California mission to Shanghai and Beijing, where they pitched San Diego story ideas to nearly 40 media outlets including leading Chinese travel publications like Conde Nast Traveler, Travel + Leisure and National Geographic Traveler. The International Marketing team also hosted two groups of key social media influencers, one group from China with notable hip hop artist J-Fever and a second group from France.
In April, PR spoke to a group of travel media at the North American Travel Journalist Association annual conference in Oxnard on how the media can work with DMOs. The domestic/North American PR team also hosted six top tier print publications from Mexico for a luxury media tour highlighting sub-region offerings. The group included Travel + Leisure, Elle, Rolling Stone, National Geographic Traveler, Life & Style and AD (Architectural Digest).
Key domestic coverage received in March included Alaska Airline Magazine, Money Magazine, Lonely Planet Magazine, the Arizona Republic, and more.
Key international coverage received included the Winnipeg Free Press, Volaris Magazine, Yahoo! Travel Australia, The Weekend Australian, Elle (Italy), The Daily Mail (UK) and more.
Press Clipping Total Value: $ 2,684,734
Impressions: 2,183,726,319
International subtotals
Press Clipping Value: $1,545,203
Impressions: 2,070,828,375
TRAVEL TRADE
Travel Trade Manager, Albert Navarro, and one other member visited top clients Mark Travel & Hotelbeds in Orlando. The two had the chance to train nearly 90 agents at multiple call centers over a period of two days. Albert also coordinated a group effort where eight San Diego members visited nearly 70 AAA offices all over Southern California.
SDTA conducted a Sales Mission in Australia from April 4th to 8th. Riki Suzuki, Travel Trade Development Manager, and Penny Brand, Travel Trade Representative Australia, had 20 meetings and trainings with key accounts in Sydney and Brisbane to discuss new product development and to educate the front line agents about the destination.
Charles Sun and Jayce Guo, Travel Trade Representatives in Shanghai and Beijing, participated in Visit California China Sales mission in Shanghai and Beijing during April 11th to 15th. At the Shanghai session, Charles had opportunities to meet one-on-one with 44 representatives from key travel agencies, tour operators, wholesalers from Shanghai, Jiangsu, Zhejiang and other China provinces attended this event.
Travel Trade Director, Benjamin Eastman attended the TravelBrands Agent Appreciation Roadshow events in Calgary & Vancouver, Canada in early April.  At each event, he – along with 3 SDTA members – was able to educate and network with several hundred regional travel agents. The new seasonal non-stop Vancouver flights were of particular interest to the agents during these shows.
RESEARCH