Below are some of the sales & marketing highlights from various departments during the month of March 2016.
SALES & MARKETING HIGHLIGHTS
Special events in March focused on CRRSD, St. Patrick's Day and Best Coast Beer Fest.  We also launched the new Guides to the Good Stuff campaign – featuring Super Fan Matt and the Padres Trevor Hoffman in March.
Web traffic for March included 603,994 user sessions between the desktop and mobile websites and we posted a total of 138 Tweets, 94 Facebook posts, 43 Google+ Posts and 22 Instagram posts, 9 blogs, and distributed five consumer emails.
Google PPC
We ran two Google brand campaigns in March – domestic and International.  Google domestic brand PPC adverting for March totaled $18,139.21 generating 271,927 impressions and 12,553 clicks for an average click through rate of 4.62%.  Google International (United Kingdom and Canada) brand PPC advertising for March totaled $32,746.63 generating 6.4 million impressions and 14,019 clicks for an average click through rate of .21%.
CONSUMER MARKETING
Most Engaged Facebook Post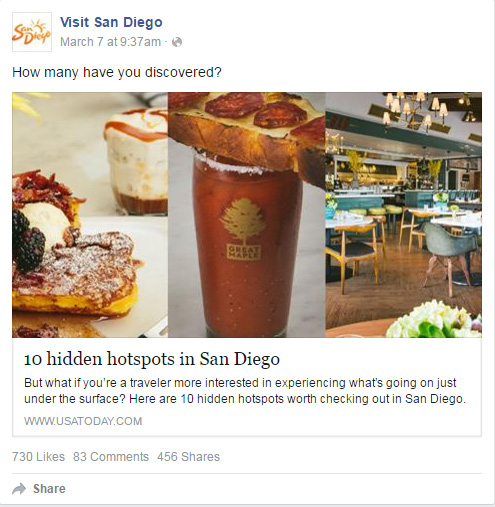 Most Engaged Twitter Post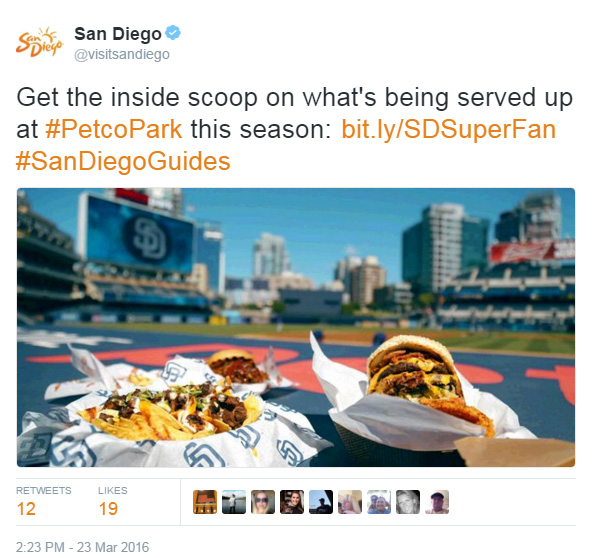 Most Engaged Instagram Post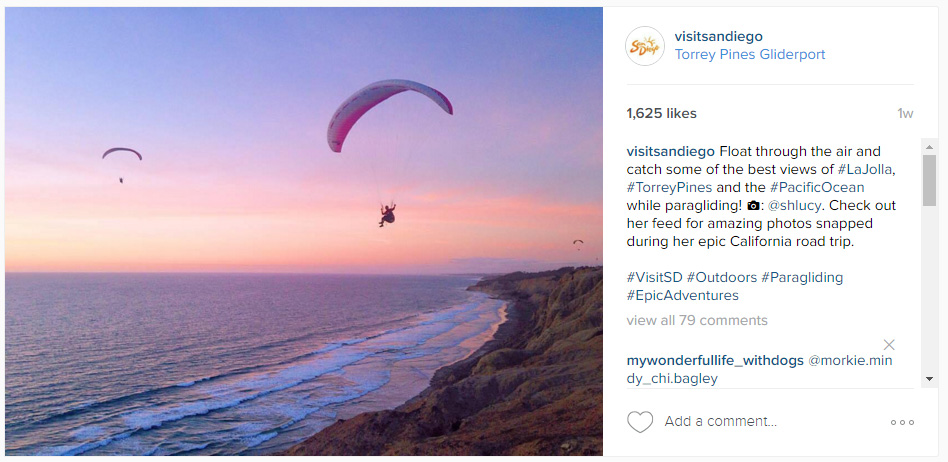 Most Engaged Google Post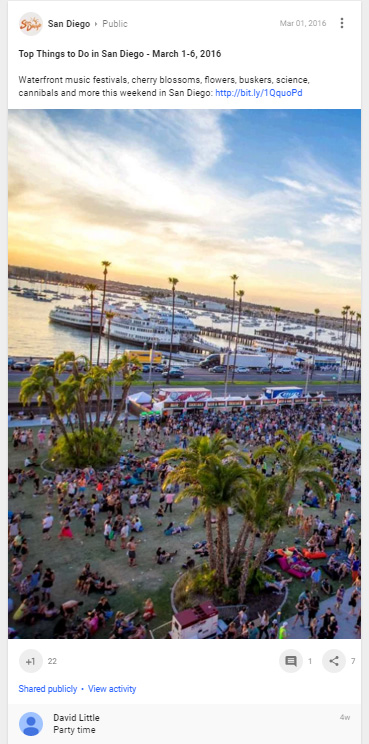 Sub Region Marketing
In March, we ran Luxury and Value pay-per-click advertising on Google for the sub regions totaling $3,040.28 which generated 33,163 impressions and 1,515 clicks for a total click through rate of 4.6%.
Overall traffic to the Luxury and Value pages on sandiego.org was 444 visitors.  The social media team, in partnership with Casual Fridays, shared 66 pieces of content on Facebook, Instagram, Twitter and Google+ highlighting the Journey to San Diego Sweepstakes, Point Loma Heritage, and Timeless Views.  The sweepstakes reached over 3 million people, generated over 17 thousand engagements and over 26 thousand entries for an estimated promotional value of over $24 thousand.
Our most popular sub-region post: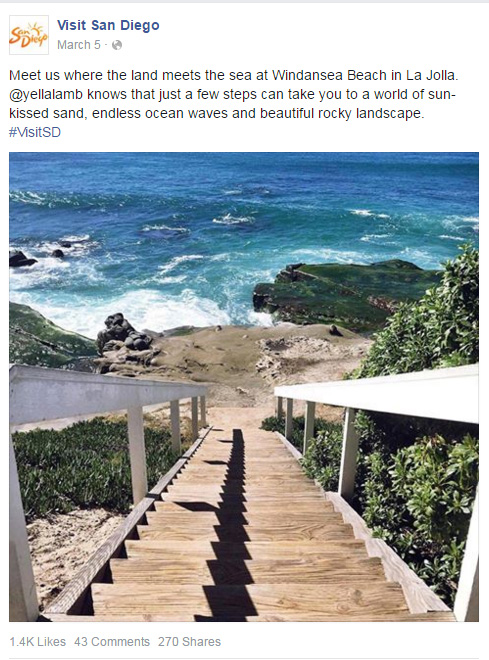 B2B DIGITAL MARKETING
EMAIL:
The March B2B Postcard was delivered to approximately 7,600 meeting planners and provided an overview of new and updated Green Initiatives implemented by hotel and attraction partners in the destination. The open rate for the B2B Postcard was 18.6%, which represents over 1,377 meeting planners. We've seen a 3% increase in open rate after switching the format of the newsletter for the new year.
LINKEDIN: 
There were six B2B LinkedIn posts reaching the professional audience. Posts included articles about:
San Diego's bio tech industry leader Craig Venter
Announcement of our newest Guides To the Good Stuff videos
Money Magazine announcement for San Diego as the Best Place To Travel
Welcome message to Marilyn Hannes joining the Board
Golf Tournament Invitiation
Travel + Leisure feature on San Diego
Where We Stand
LinkedIn followers compared to similar companies: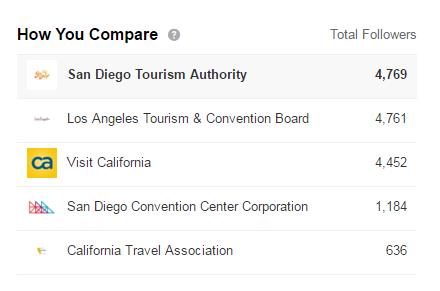 TWITTER: 
@SDTAConnect Twitter base grew by 3.8% from last month to 2,370 followers. There were 46 tweets during the month.
This month, the tweet with the most exposure (1,145 impressions) was a link to the Money Magazine article naming San Diego as the top spot on "Best in Travel Awards"
ADVERTISING
LEISURE ADVERTISING
SDTA's Spring Spot TV rotation continued in March 2016 with :30 and :15 spots in San Francisco, Sacramento, Seattle, Chicago, Dallas and New York.  The Fall brand advertising campaign continued with brand print ads in Real Simple, Outside magazine and Runners World. The Spring Brand Digital Campaign continued with a combination of digital video, display and native ads running on ABC.com, Fox Digital Media, Hulu.com, Lonely Planet, TripAdvisor, Travel + Leisure, USA Today and YuMe. Paid social promotion of Mr. Positivity continued to run on Facebook and YouTube with social amplification on Twitter. Branded content promoting Guides to the Good Stuff began to run on Eater, Outbrain, Thrillest, YouTube, Facebook and Instagram. Brand advertising spend for March totaled $ 2,455,688 and delivered 105,939,089 impressions.
SUBREGION AFFLUENT AND VALUE ADVERTISING
The Sub-Region Affluent and Value print campaign continued in March with a print ad in Coastal Living. Promotion of the Point Loma Peninsula sub-region sweepstakes ran on Facebook. Total Sub-region spend for March totaled $36,631 and delivered 3,419,050 impressions.
INTERNATIONAL ADVERTISING
SDTA continued its Canada Digital Campaign in March with digital video and display running on Sojern, TripAdvisor, Yahoo, CTV and BrightRoll. SDTA's UK Digital Campaign continued with digital video and display running on Sojern, Yahoo, the Telegraph, TripAdvisor, Sky, YuMe and Facebook. It should be noted that the UK Digital Campaign was paused from March 22 – March 28 due to the terrorist attacks in Belgium. Total spend for the month of March was $271,696.63 including a BUSA net contribution of $26,853.68. Total impressions were 25,981,323.
MEMBERSHIP
Revenue Development – The SDTA entered into event partnership with the San Diego Film Festival as part of the venture with ticket software partner TicketSauce.
We're happy to welcome these new members in the month of March.
HOTEL SALES
The Hotel Meetings Sales Team converted 75 bookings, generating 48,953 Room Nights in the month of March, achieving 139.9% of our goal.
Throughout the month of March, members of the Hotel Sales Meetings team attended Luxury Meetings Summit in seven cities. Together they received nine leads totaling 3,000 potential room nights for the destination.
Matt Schechter, National Sales Director attended Meet NYC with Associate Director of Sales, Rachel Strong from the Hard Rock Hotel. The two also did pre and post shows together and met with over 75 customers. Matt received four leads totaling 1,500 potential room nights for the destination. Later in the month, from March 20-26, Matt attended the Pharma Forum in New York City where he connected with over 50 customers and received five leads totaling 1,500 potential room nights.
Lee Ann Hoshaw, National Sales Director attended the annual ConferenceDirect Conference in San Antonio, Texas. Lee Ann met with over 100 associates and received four leads totaling 2,500 room nights.
National Sales Director, Andrea O'Hara, along with three hotel partners, hosted a client event in Dallas at the Iron Cactus restaurant where attendees learned about San Diego: A Smart City.
Nur Kitmitto, National Sales Director collaborated with Bryan Solomko from Rancho Bernardo Inn to exhibit during MPI Cascadia in Sunriver, Oregon.
National Sales Director, Ernie Rossow attended MIC Colorado in Denver along with two hotel partners, Hilton San Diego Resort and Humphreys Half Moon Inn & Suites.
CITYWIDE SALES
FY16 – March:
Definite bookings:7
Attendance: 81,500
Total Room Nights: 146,664

Fiscal Year 16-To-Date: 648,861

PUBLIC RELATIONS
In March, International PR hosted a media group from China with 6 top media outlets and a media group from Japan with 4 top media outlets.  International PR team members also hosted numerous individual media visits for various print, radio and TV journalists from Italy, Ireland, England and Germany.   Domestic media hosted Colorado Parent, Westways, Money Magazine, and more.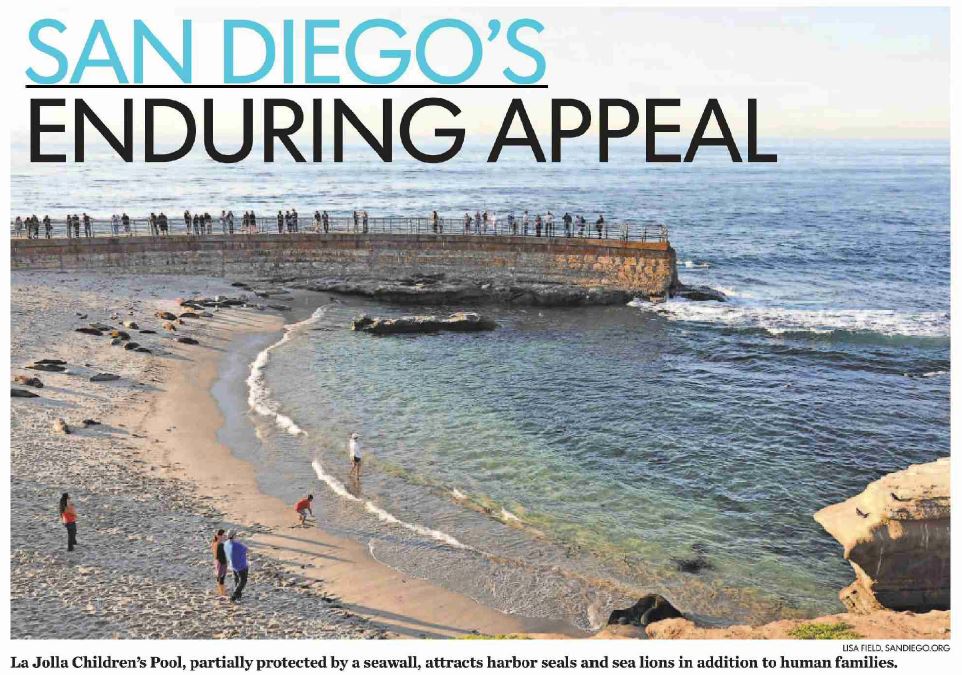 The domestic/North American PR team traveled to New York to attended the Visit California Media Reception in New York and met with two dozen prominent travel media, including Parents Magazine, Passport Magazine, Shermans Travel  and the "Today" show (NBC). PR also had individual deskside meetings with Redbook, "The Rachael Ray Show," Worth Magazine and Indagare Magazine.
The PR team also joined Travel Trade to staff a San Diego booth on Avenida Revolución for  a Tijuana CVB (COTUCO) event to launch the start of tourism season in Baja.
Key domestic coverage received in March included USA Today, Smart Meetings, Money Magazine, and more.
Key international coverage received included Aire (in-flight magazine for AeroMexico), Club Reforma (Mexico), WestJet Magazine (Canada) and more.
Press Clipping Total Value: $2,545,891
Impressions: 1,437,356,327
International subtotals
Press Clipping Value: $1,656,099
Impressions: 1,362,060,100
TRAVEL TRADE
SDTA welcomed 106 agents from California Alliance Mexico.
SDTA conducted the SDTA Japan Sales Mission in Tokyo and Osaka from March 7th to 11th. Riki Suzuki, Travel Trade Development Manager, and 4 member organizations participated in the mission. Also, San Diego was featured as the regional showcase partner at a Visit California's event, Club California.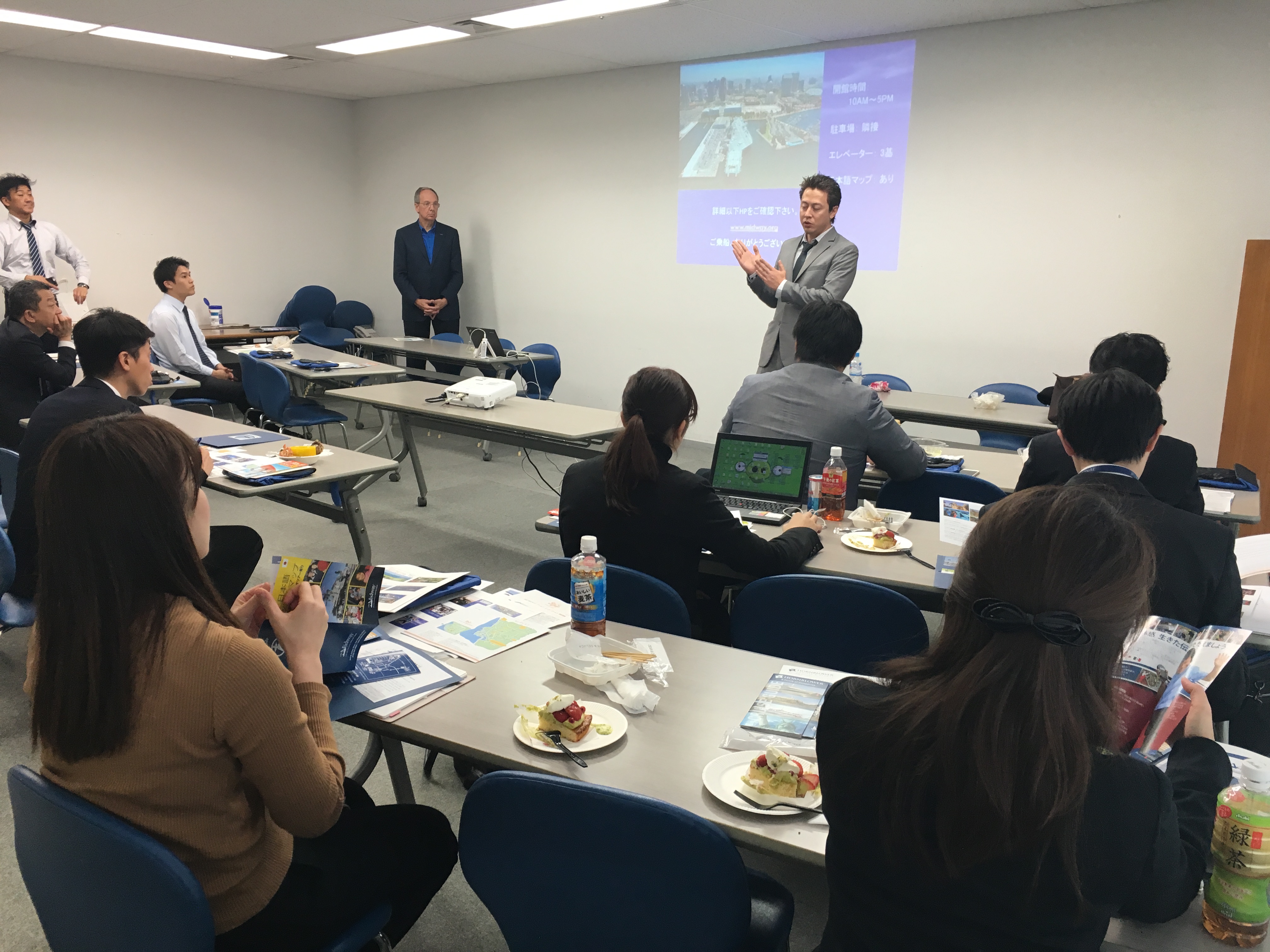 Before the sales mission in Japan, two members joined Riki Suzuki, in Seoul, South Korea for add-on Sales Calls on March 3rd and 4th. The team met with 21 key travel trade contacts from South Korea. Also a round table media interview was organized with 5 Travel Trade Media resulted with a San Diego articles from each of them.
Riki Suzuki attended the Active America China Summit in Fort Worth, Texas where he had 14 one-to-one meetings with tour operators based in all over China.
Travel Trade Director, Benjamin Eastman, attended 3 shows in Scandinavia prior to the ITB Tradeshow.  The Swanson's Travel and FDM Consumer Days were both great opportunities to meet and speak with thousands of residents of Denmark and Sweden to encourage them to include San Diego in their California vacation plans.
In mid-March, Benjamin Eastman attended the ITB Tradeshow in Berlin, Germany. As a participating DMO partner in the Visit California booth he was able to meet one-on-one with some of the region's top tour operators, airlines and media partners.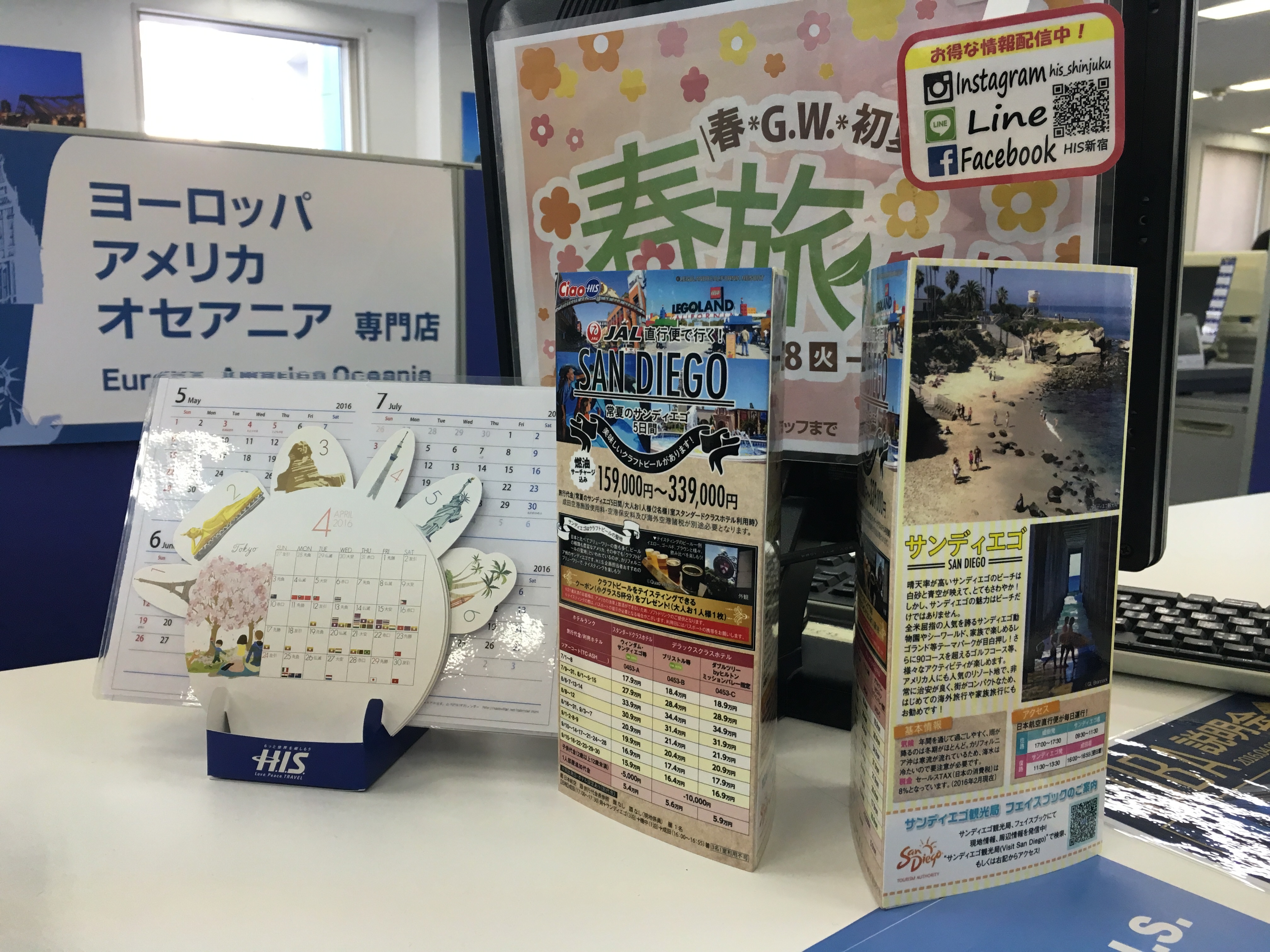 Following the ITB Tradeshow, Benjamin Eastman participated in Visit California's France Sales Days with events in both Lyon and Paris. In total Benjamin saw several hundred French Product Managers and travel agents over the 2-day program and work to educate and
Travel Trade Development Manager, Albert Navarro, and six San Diego members visited the AAA Las Vegas Call Center for training in late March.  Nearly 30 agents and training managers were on-hand to learn about the latest and greatest San Diego has to offer.    The group also visited five AAA Las Vegas offices and met with agents in the travel department.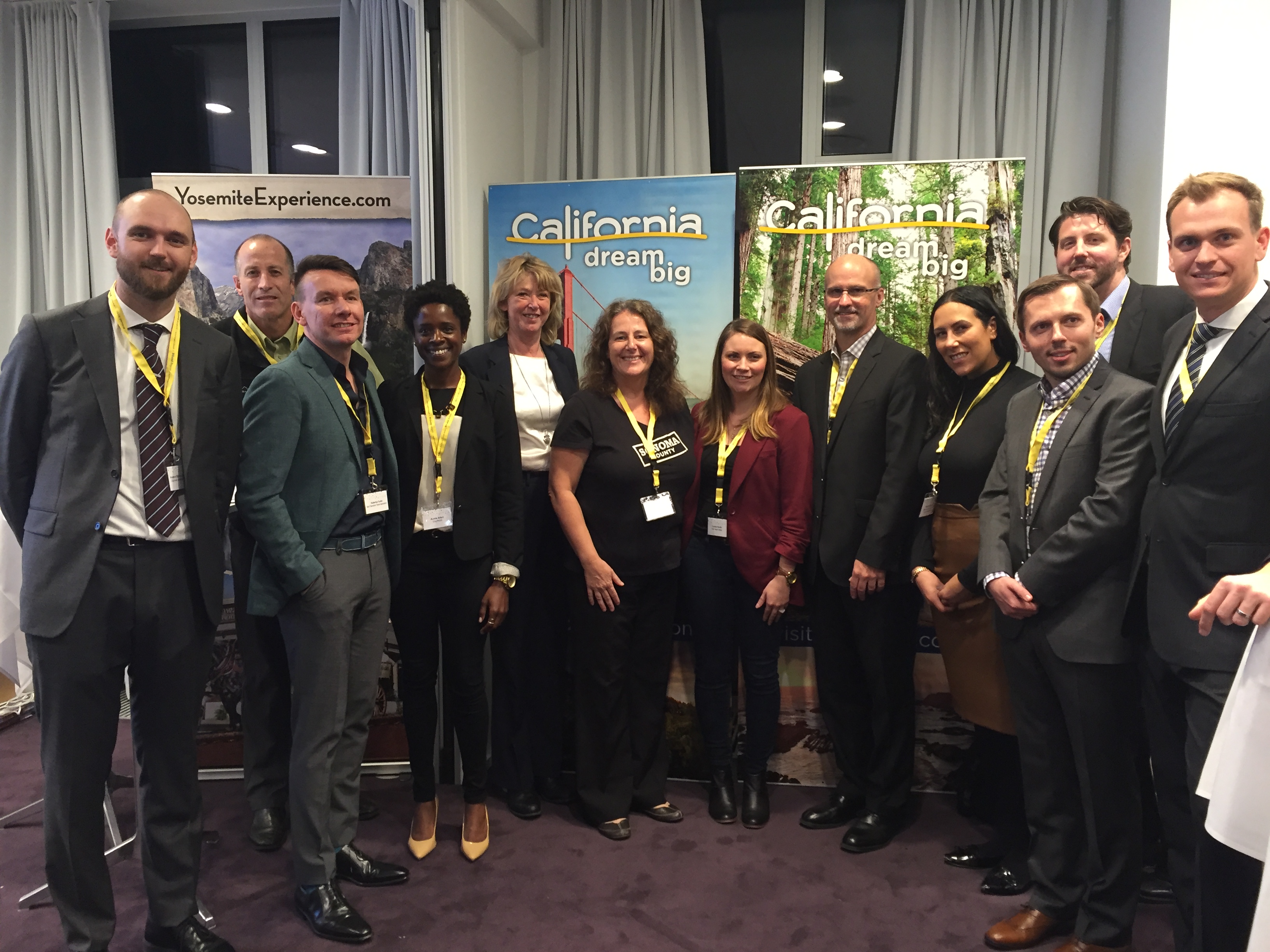 Albert Navarro joined Visit California at the World Travel Market Latin America in Sao Paulo, Brazil to promote San Diego. Held in conjunction with the Brazilian Tour Operator Association Business Event, Albert was able to meet with major tour operators from Brazil and also various other parts of Latin America.  Over 1,200 buyers were in attendance and he had the chance to share the latest on San Diego and with this key market.
RESEARCH