The SDTA offers several key benefits to our Sub-Region members that highlight Mission Valley, La Jolla, Mission Bay, Point Loma Peninsula, North Coastal and North Inland. A portal has been created for each Sub-Region where logos, taglines, videos and rights-free photography are available. Digital assets are located in the Members-only MediaSilo library.
In April, a Sub-Region Expedia Campaign will focus on Spring and late Summer need periods.
Each sub-region is represented with a modification of the San Diego region logo, incorporating the sub-region name into a new official logo.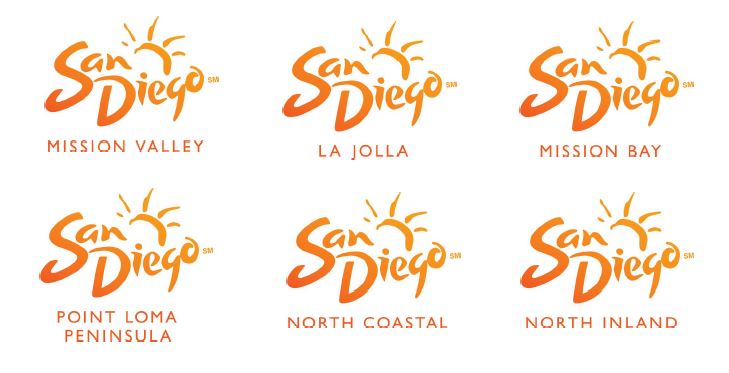 SAN DIEGO POSITIONING TAGLINE
San Diego
Positioning: The people + the place + the climate inspire optimism. San Diego owns a Sunny Outlook.
Tagline: Happiness is Calling
SUB-REGION POSITIONING TAGLINES
Positioning: Connects San Diego, joins people and places, easy access, convenient activities, easy-going, comfortable
Tagline: Positively in the Middle of it All
Positioning: World-class, sophisticated setting, unparalleled physical beauty, upscale charm, casual elegance
Tagline: The Jewel by the Sea
Positioning: Energizes and recharges, active relaxation, outdoor recreation, friendly, welcoming, vibrant
Tagline: Good Vibes on the Water
Positioning: Tranquil bayside retreat, nautical heritage, serene, authentic
Tagline: Where Inspiration Sets Sail
Positioning: Epicenter of innovation and ideation, work-play lifestyle, creative
Tagline: A Vibrant Kind Of Chill
Positioning: Country setting, open, relaxed, rustic, welcoming
Tagline: Wide Open Wonderful
Each sub-region has access to an easy-to-use dedicated webpage with collateral created specifically for marketing their region. Below is a screenshot of the MediaSilo page, showing images with pre-defined descriptions and title tags.