Below are some of the sales & marketing highlights from various departments during the month of February 2016.
SALES & MARKETING HIGHLIGHTS
Special events in February focused on Valentine's Day & Mardi Gras.
Web traffic for January included 455,826 user sessions between the desktop and mobile websites and we posted a total of 109 Tweets, 87 Facebook posts, 48 Google+ Posts and 19 Instagram posts through our social channels, 9 blogs, and distributed 5 consumer emails.
CONSUMER MARKETING
Most Engaged Facebook Post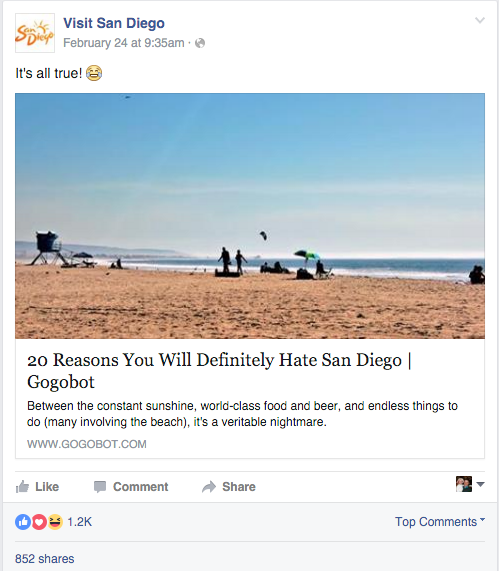 Most Engaged Twitter Post
Most Engaged Instagram Post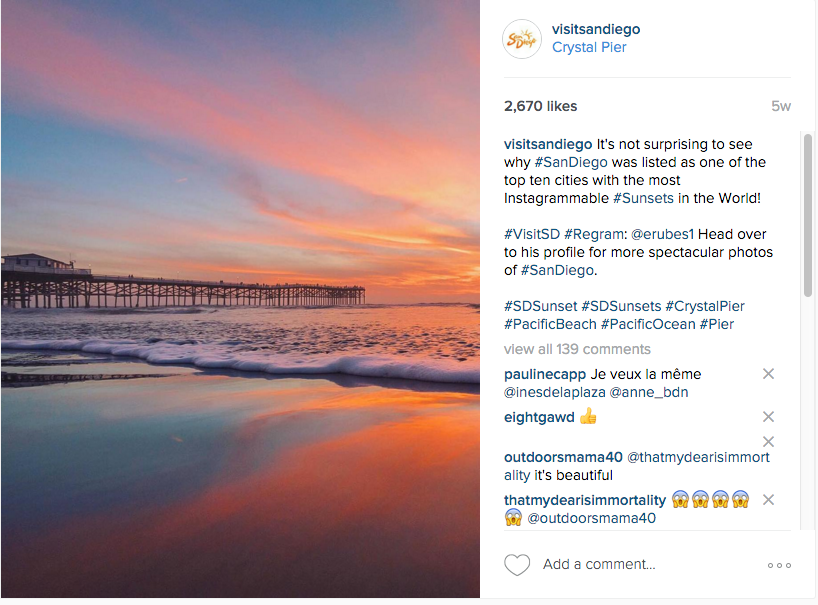 Most Engaged Google Post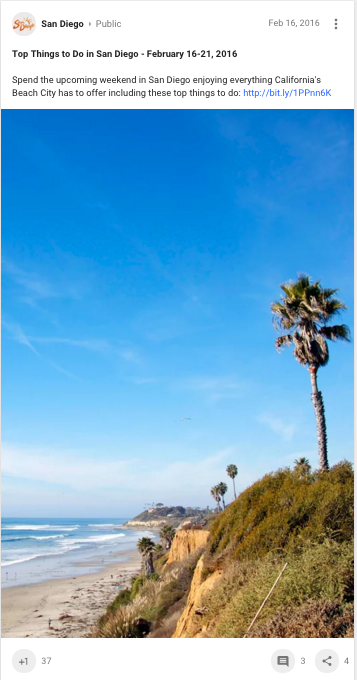 Our most popular sub-region post: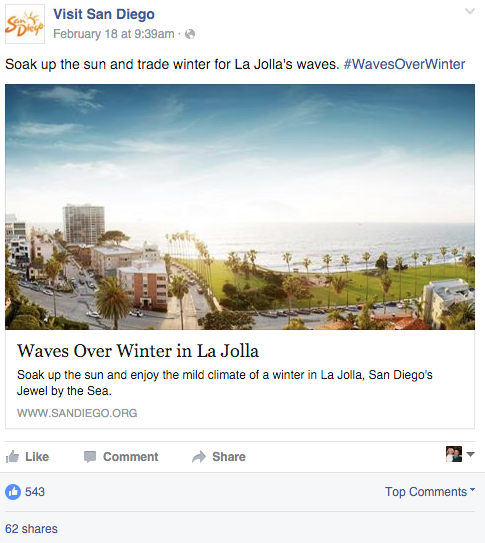 B2B DIGITAL MARKETING
LINKEDIN: 
There were five B2B LinkedIn posts reaching our professional audience. Posts included articles about our big win at VisitCalifornia's Poppy Awards, an congratulations announcement to our Member/Partners who achieved ranking on the Forbes 5-star list, a link to Smart Meetings article including San Diego as a hot city for meetings and more. LinkedIn grew by 1.5% from last month to 4,661 followers.
Where We Stand
LinkedIn followers compared to similar companies: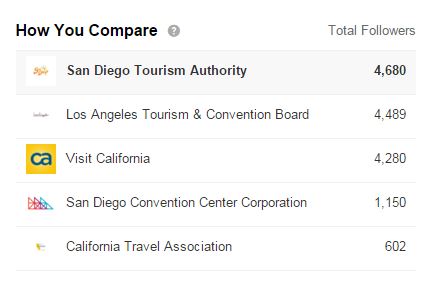 TWITTER: 
@SDTAConnect Twitter base grew by 2.2% from last month to 2,296 followers. There were 45 tweets during the month.
This month, the tweet with the most exposure (3,519 impressions) was a promotion of a new Amgen TOC bike race video showcasing the San Diego route. This tweet also received the most engagement.
ADVERTISING
LEISURE ADVERTISING
SDTA continued its Spring Spot TV rotation in February 2016 with :30 and :15 spots in Seattle, Chicago, Dallas and New York.  The Fall brand advertising campaign continued with brand print ads in Golf Digest, Sunset magazine, Outside magazine and Runners World. An advertorial also ran in Golf Digest. The Spring Digital Campaign continued with a combination of digital video, display and native running on ABC.com, Hulu.com, Fox Digital Media, YuMe, TripAdvisor, Travel + Leisure, USA Today and Facebook. Paid social promotion of Mr. Positivity continued to run on Facebook and YouTube with social amplification on Twitter. Brand advertising spend for February totaled $ 1,659,520 and delivered 66,050,763 impressions.
SUB-REGION AFFLUENT AND VALUE ADVERTISING
The Sub-Region Affluent and Value print campaign continued in February with print ads in Conde Nast Traveler, Real Simple, Self and Coastal Living. Advertorials ran in Conde Nast Traveler, Self and Coastal Living. Total Sub-region spend for February totaled $70,609 and delivered 3,264,335 impressions.
INTERNATIONAL ADVERTISING
In February, San Diego Tourism Authority rolled out its Canada Digital Campaign. Digital video and display ran on Sojern, Yahoo, TripAdvisor, CTV, BrightRoll and Facebook. SEM ran with Google.  San Diego Tourism Authority also continued its UK Digital Campaign. Digital video and display ran on Sojern, Yahoo, the Telegraph, TripAdvisor, Sky, YuMe and Facebook. SEM ran with Google. Total spend for the month of February was $266,995.96 including a BUSA net contribution of $30,769. Total impressions were 29,787,255.
MEMBERSHIP
REVENUE DEVELOPMENT
The SDTA signed Coastal Limited to represent the organization to potential licensing and merchandise partners. Coastal has a track record of helping brands and celebrities capitalize on their assets through licensing programs. Coastal recently worked with Member Everyday California on a lucrative deal in 2015 to license their brand. Coastal has also worked out deals for celebrities like NBA star Dwight Howard on licensed product lines.
The SDTA entered into event partnership agreements with Will Ferrell's Best Coast Beer Festival and the Sabor Latin Food Festival as part of the venture with ticket software partner TicketSauce. More major partners are currently being courted, with contracts coming in March.
AD SALES
The team had a very busy month, booking over $300,000 in advertising sales contracts. Ad sales is 89% to goal, and on track to finish ahead of the $1 million goal.
We're happy to welcome these new members in the month of January.
HOTEL SALES
The Hotel Meetings Sales Team converted 45 bookings, generating 16,441 Room Nights in the month of February, up 3% to February of last year.
Andrea O'Hara, National Sales Director, attended Luxury Meetings Summit (LMS) in Oklahoma City, Dallas and Houston. In Oklahoma City, Andrea met with 19 potential customers and received one lead totaling 1,000 room nights. While at the Dallas LMS, Andrea met with 69 potential customers and established new contacts for future prospecting, while also receiving three leads totaling 3,000 room nights.
Michelle Coombs and Debbie Jordan, National Sales Directors with the Hotel Meetings team, and Damara Gomez, National Sales Director from the Citywide Meetings team, attended Destination Showcase in Washington D.C.. Michelle and Debbie received five leads totaling 3,412 room nights and Damara received a lead for a group with 1,500 rooms on peak and 7,000 total room nights.
Jennifer Hicks, National Sales Director, and three hotel partners hosted a client event in Raleigh at the Bridge Club where attendees learned about San Diego: A Smart City, and received continuing education credits through a presentation on leadership.
Nur Kitmitto, National Sales Director, along with five hotel member partners attended MPI's Northern California Chapter Annual Conference & Expo in San Francisco. The team received 13 leads while onsite, and received two additional RFPs after the show.
Ernie Rossow, National Sales Director, attended Luxury Meetings Summit (LMS) in Boulder. Ernie received two RFPs for 920 potential room nights for the destination.
Michelle Coombs, National Sales Director, attended MPI Potomac Chapter's Mid-Atlantic Conference and Expo (MACE) in Washington D.C. Michelle met with meeting planners during one-on-one appointments, which produced two leads for 1,710 room nights.
CITYWIDE SALES
FY16 – February:
Definite bookings: 4
Attendance: 122,300
Total Room Nights:86,900

Fiscal Year 16-To-Date: 239,870

PUBLIC RELATIONS
PR traveled extensively to pitch San Diego stories. Representatives traveled to Toronto to hold deskside meetings with a dozen leading Canadian media outlets; PR also made visits to The Chicago Tribune and Windy City Times in Chicago. Additionally, PR traveled to New York for deskside meetings with top-tier national publications, including Travel + Leisure, Conde Nast Traveler, Prevention, Redbook, Town & Country and more.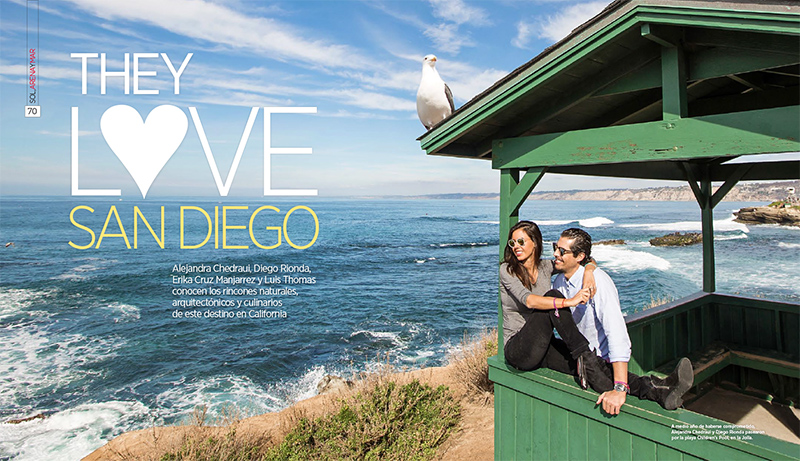 International Marketing hosted a group of key Chinese social influencers in travel and travel journalists from Italy and Germany, the latter on assignment for five different daily German newspapers. Domestic PR hosted media from Bizarre Foods: Delicious Destinations with Andrew Zimmern, Mother Earth News, Metropolis magazine and more.
Key domestic coverage generated included Ser Padres, Meetings Today, Fox News, Men's Journal and more. International media coverage included Alberta Venture, Korea Daily, ABZ Turismo, GQ (China) and more.
Press Clipping Total Value: $1,442,915
Impressions: 2,020,432,467
International subtotals
Press Clipping Value: $991,189
Impressions: 1,985,220764
TRAVEL TRADE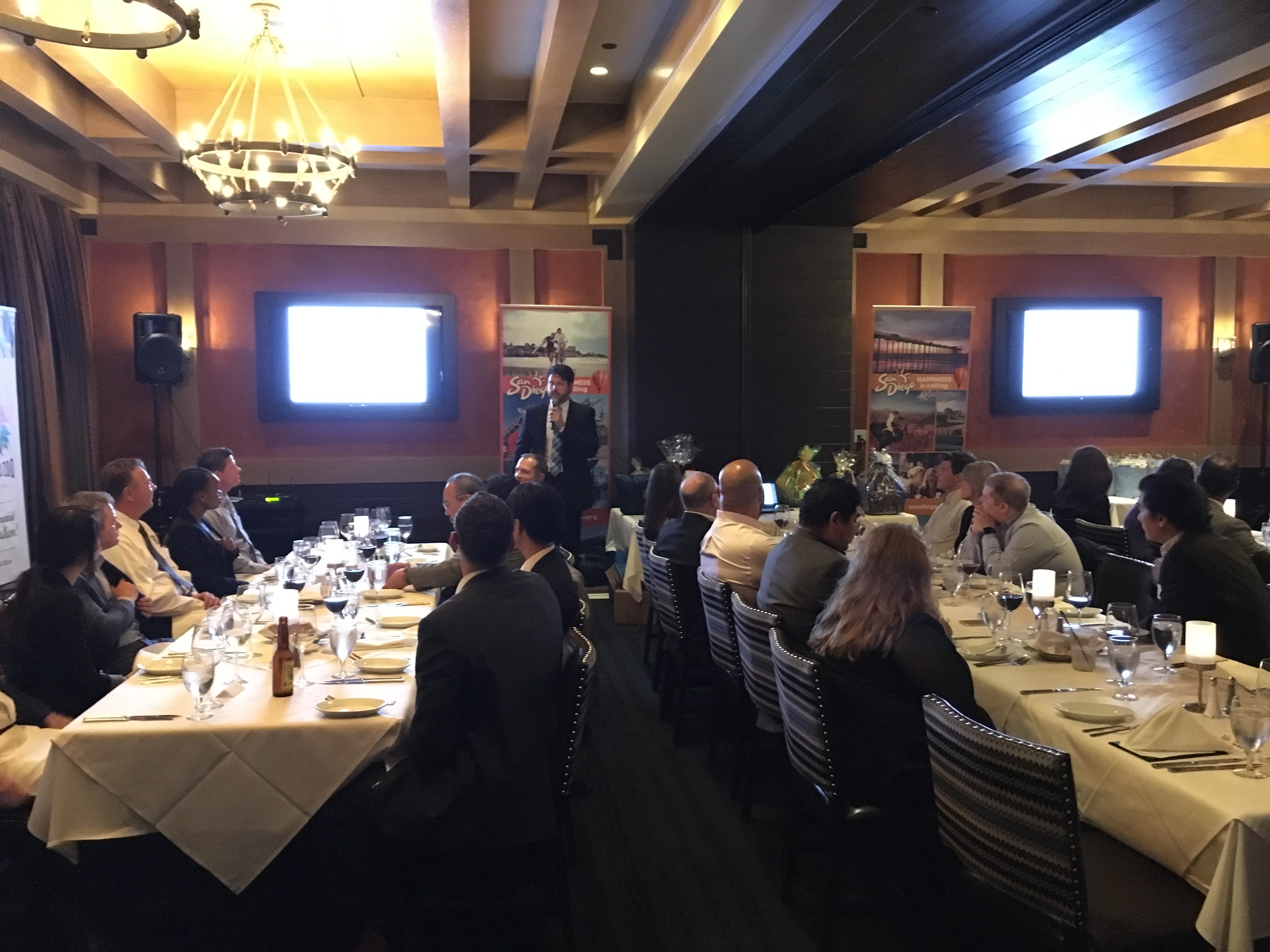 The Travel Trade team hosted their annual LA VIP Client Dinner in Marina del Rey on February 17th. In total, 16 top receptive and tour operator clients attended and 19 members participated. The evening was an excellent opportunity to network with these top producing clients and discuss up-and-coming events and projects slated to occur in San Diego in the coming year.
Albert Navarro, Travel Trade Manager, attended NTA Travel Exchange in Atlanta where he had over 40 one-on-one appointments with tour operators, both domestic and international.  He was also able to support 5 SDTA members in increasing their appointments with tour operators at the show.
SDTA hosted the 3rd annual Asian Client Luncheon & Seminar in Arcadia in February 17th. Over 40 Chinese and Japanese clients based in Los Angeles area attended the event. 22 SDTA members had an opportuni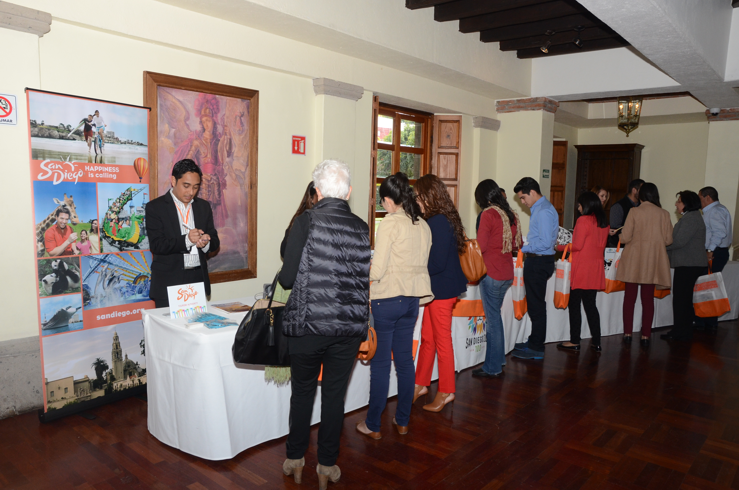 ty to showcase their products in trade show format and network with the clients during the luncheon. Also, Riki Suzuki, Travel Trade Development Manager gave a destination presentation during the luncheon to update the operators with the new information of San Diego.
Riki Suzuki, Travel Trade Development Manager, attended the Go West Summit in Anchorage, Alaska from 23rd to 25th of February. Riki met one-on-one with over 45 trade partners from all over the world and discuss how to promote San Diego and also provide the information of the destination.
RESEARCH