When it comes to booking an event in San Diego, meeting planners have plenty of amazing options—from 5-star ocean-side hotels and bay-front resorts, to charming B&B's and spectacular golf-course villas. But when it's time to elevate the attendee experience, there's nothing more memorable than the highly desirable presidential hotel suites. With luxurious amenities, superior service, and panoramic views from private balconies, guests will feel like the "Commander-In-Chief"!
If a picture is worth a thousand words, then this photo collection speaks volumes about some of the best 'presidential-style' suites in San Diego.
The US GRANT Hotel is a Presidential landmark, built by the son of 18th U.S. President Ulysses S. Grant, in his father's honor. Since the hotel's opening in 1910, THE US GRANT has hosted 14 U.S. Presidents within its storied walls, including Woodrow Wilson, Franklin Delano Roosevelt, Dwight Eisenhower, John F. Kennedy, Jimmy Carter, and George W. Bush.
The Presidential Suite presents guests with unrivaled panoramic views of downtown San Diego, the Harbor and Coronado Bridge. Masterfully decorated with rich brocades, antique lamps and the finest French furniture, the Presidential Suite offers 1,500 square feet of open, elegant space, including a full kitchen and an Italian marble bath.
Enjoy the view from the Manchester Grand Hyatt's newly renovated Presidential Suites located on the top floors of the Harbor Tower. With 1,050 square feet of space, the Presidential Suites offer a service bar in parlor, spacious seating area, separate bathroom in parlor, separate kitchen with refrigerator, separate service entrance, hardwood floors, plus an open living and dining room floor plan with a wet bar for entertaining.  The hotel has hosted some of our country's finest including Bill Clinton, Jimmy Carter, John McCain, Al Gore, Bob Dole, George Bush Sr. (Bush 41).
In addition to the Presidential and Penthouse suites, Grand Hyatt San Diego offers 32 Bayview. Originally built and utilized as a private residence, Bayview, the tower's most unique event space located on the 32nd floor of the Seaport Tower, features an expansive balcony boasting panoramic views of the San Diego Bay, Coronado Island, Point Loma and the city skyline. Bayview can accommodate groups of up to 150 for a reception and 90 people for dinner – ideal for receptions, board meetings and social functions. The 32nd floor allows groups the added benefit of exclusivity by granting hosts the ability to contain meetings and events to their own private floor.
The Penthouse Presidential Suite is the entire top floor of the tower building, the only room that has two incredible views, one looking over the Pacific and one looking on Downtown, SeaWorld and Mission Bay. This 3,000 square foot suite has two bed rooms, a king and two queens, full kitchen, entertainment room, and two balcony's that wrap around the entire suite.
The Courtyard by Marriott – San Diego Downtown boasts one of the most breathtaking views of the beautiful San Diego skyline from its unique Presidential Suite. The only one of its kind in the hotel, it was once the office and library of the building's architect, William Templeton Johnson. Located on the 14th floor, the Presidential Suite boasts a ceiling in the same impressive style as the Lobby along with the same Italian Romanesque Revival style showcased throughout the hotel. With 1,000 square feet, including the sleeping room, balcony and living space, the room can be utilized as an intimate reception space for corporate events up to 25 people.
Being presidential can also include having the rock star treatment. The Hard Rock Hotel's two-bedroom/two-and-a-half bath suite covers all the bases. Aside from a well-equipped living room, dining room and conference area, there's a green-room inspired m-bar for refreshments too. But only this suite gets to enjoy the private patio surrounding the suite with a personal outdoor, rooftop Jacuzzi with unparalleled views of downtown!
This luxurious Presidential Suite at the Hilton San Diego Bayfront features panoramic views of the San Diego Bay and Coronado Island. The suite has a separate living area and parlor, as well as a connecting two queen bedroom. The private one king bedroom has a separate shower and bathtub, sofa bed, two TVs, nightly turn down service, wet bar, refrigerator, microwave and high-end amenities.
Location. Location. Location. With a panoramic view of the San Diego skyline, the Loews Coronado Bay Hotel provides the exclusivity often required of a presidential visit.
Between May 2015 and August 2015, La Valencia re-imagined the Presidential Suite experience with the launch of its Icon Collection. The La Valencia Hotel new luxury room category, the Icon –includes the brand new, stunning, sky-high penthouse suite known as the Sky Suite, with sweeping views of La Jolla Cove and the Pacific. Iconic, culturally refined and globally appealing, the new room category also includes the expansive, La Valencia Villa Suite and the apartment style, Pacific Suite, each with stunning ocean views.
Booking a meeting or event in North County allows attendees to enjoy classic Southern California seaside villages including Del Mar, Solana Beach and Encinitas. But after a long day of meetings, there's nothing like a rejuvenating retreat in this spectacular suite at the Hilton San Diego Del Mar! And the on-premise ballroom makes getting to the event simple and quick.
One of the top resorts in the country, the Fairmont Grand Del Mar offers luxury beyond expectations. Check out their exclusive Mizner & Manchester Suites. Located on the 2nd and 3rd floor, these presidential suites offer a living room with fireplace, study, four 40-inch LCD TVs, spacious balcony overlooking San Diego's only Tom Fazio-designed golf course complete with stone fireplace and ample seating, dining table for eight with adjacent butler's pantry, powder room and dual master bedrooms.
The Villa Brisa at Fairmont Grand Del Mar has unparalleled beauty and craftsmanship. This majestic 4,500-square-foot villa features three bedrooms, 4 ½ marble bathrooms, living and entertaining areas, full kitchen and media room with 60-inch Plasma TV. This palatial residence combines the privacy of a home with the conveniences and amenities of a world-class hotel. Outside, enjoy San Diego's renowned weather on secluded terraces and climate-controlled patios.
The Grande Colonial offers an exclusive wing called the "Little Hotel by the Sea" and is a fully restored historic landmark building. The wing houses 8 suites, all with full kitchens and fireplaces. It also features a private lobby and ocean-view rooftop deck, both available exclusively for those staying in these suites. In addition, there is an 8-person board room (The Loft) adjacent to the rooftop deck that is ideal for small, corporate, executive retreats and meetings. For the executive retreat, host a board of directors meeting by renting out the entire wing and meet in The Loft!
The Hilton San Diego Resort & Spa's 2,011  sq. ft. bi-level waterfront suite has breathtaking views of Mission Bay. The Presidential Suite features a master bedroom with a deluxe king bed, walk-in closet, master bathroom with whirlpool tub and separate walk-in shower, living room, half bathroom, dining area with wet bar including microwave and two extended private patios overlooking the bay.  Additional features include an upstairs seating loft area and cathedral ceiling with full views of Mission Bay and a private balcony.
Estancia La Jolla's 10-acre hotel and conference center were mindfully positioned and designed to foster learning in San Diego's Torrey Pines area, home to a world-class university and some of the country's most innovative biotech and healthcare companies. The largest of Estancia's 210 rooms, a 1250-square-foot Presidential Suite frequently houses internationally known academics and scientists, and has even played host to a former US President and first family while in town to meet with these thought leaders.
This luxurious suite offers sweeping views of the Pacific Ocean and the 18th green of the world-famous Torrey Pines Golf Course which President Obama recently played during his visit in San Diego.  The one-bedroom suite can be expanded into a two-bedroom suite and is well over 2,500 sq. ft., including a central parlor, two and three quarter baths, full kitchen and three fireplaces. Groups like to use The Gamble Suite as hospitality suite during their programs. The large patio offers expansive views and makes for an intimate, unique event space.
The Presidential Suite features a California King bed, lush silk linens, black-out curtains, bamboo flooring, two sets of french doors facing the ocean, a two-person Jacuzzi spa tub, flat-screen television, fine leather furniture, a two faced shower with granite finish, and of course, million dollar views of the ocean. Enjoy waves crashing every night and fall asleep to the sound of the waves just outside the suite.
The most spacious and grand suite atop the hotel delivers magnificent sweeping views of La Jolla. This three-room presidential suite offers two bedrooms, each with one king-sized bed and en-suite bathroom as well as a separate living room, which offers fabulous space for your entire family or business meeting. Enjoy a spacious living area with ample work space and a dining area for eight. Customary amenities throughout the suite provide comfort, confidence and convenience for your stay.
The Omni San Diego Hotel's finest accommodation, the President Jimmy Carter Suite is a one-of-a-kind suite occupying most of the hotel's top floor. Residential in design, the 2,200 square foot suite features a service entrance, full kitchenette & wet bar, dining room, living room and marble foyer entryway.  Views of Coronado, the San Diego Bay and city skyline can be enjoyed from virtually any location in the suite, and either of two private balconies.
In the heart of downtown, The Andaz San Diego hotel offers exclusive accomodations with modern design, amenities, and spectacular views of the city. Guests also enjoy acess to the shared rooftop lounge and fire pit. For meetings, the executive studio is perfect for high-level meetings and client events.
Andaz San Diego has three spectacular suites, each individually designed for a very unique experience. The Sweet Suite is a beautiful loft style room with a living room area as well as a dining room table for six people and beautiful mosaic work in the master bathroom. The Cabana Suite features a private staircase up to your own spacious pool side cabana, and the Star Suite has a river rock wet room in the master bath, King sized bunk beds in the living room, an entertainment pole, six person shower, and full bar for entertaining.
Hotel Del Coronado, the iconic resort on Coronado Island, played host to presidents including Richard Nixon and Benjamin Harrison. Treat guests to the ultimate in presidential-style accommodations and service in this legendary beachfront resort.
Stylish where it matters and affordable where it counts, The Lafayette Hotel, Swim Club & Bungalows is an adaptation of an earlier era. These two-story, two or three bedroom luxury vacation rentals have recently undergone a major redesign, revealing captivating character and playing off charm inherited in the 1940's. Reclaimed floors, original moldings, and impeccable craftsmanship are juxtaposed with vibrant colors and modern accessories, striking a perfect balance of retro allure and contemporary style. For a bygone era experience, check out these suites. Executives and even presidents could enjoy modern amenities with a retro flair.
The Presidential Suite at Marriott Gaslamp Quarter includes an array of chic extras including comforting touches such as Gilchrist & Soames bath products.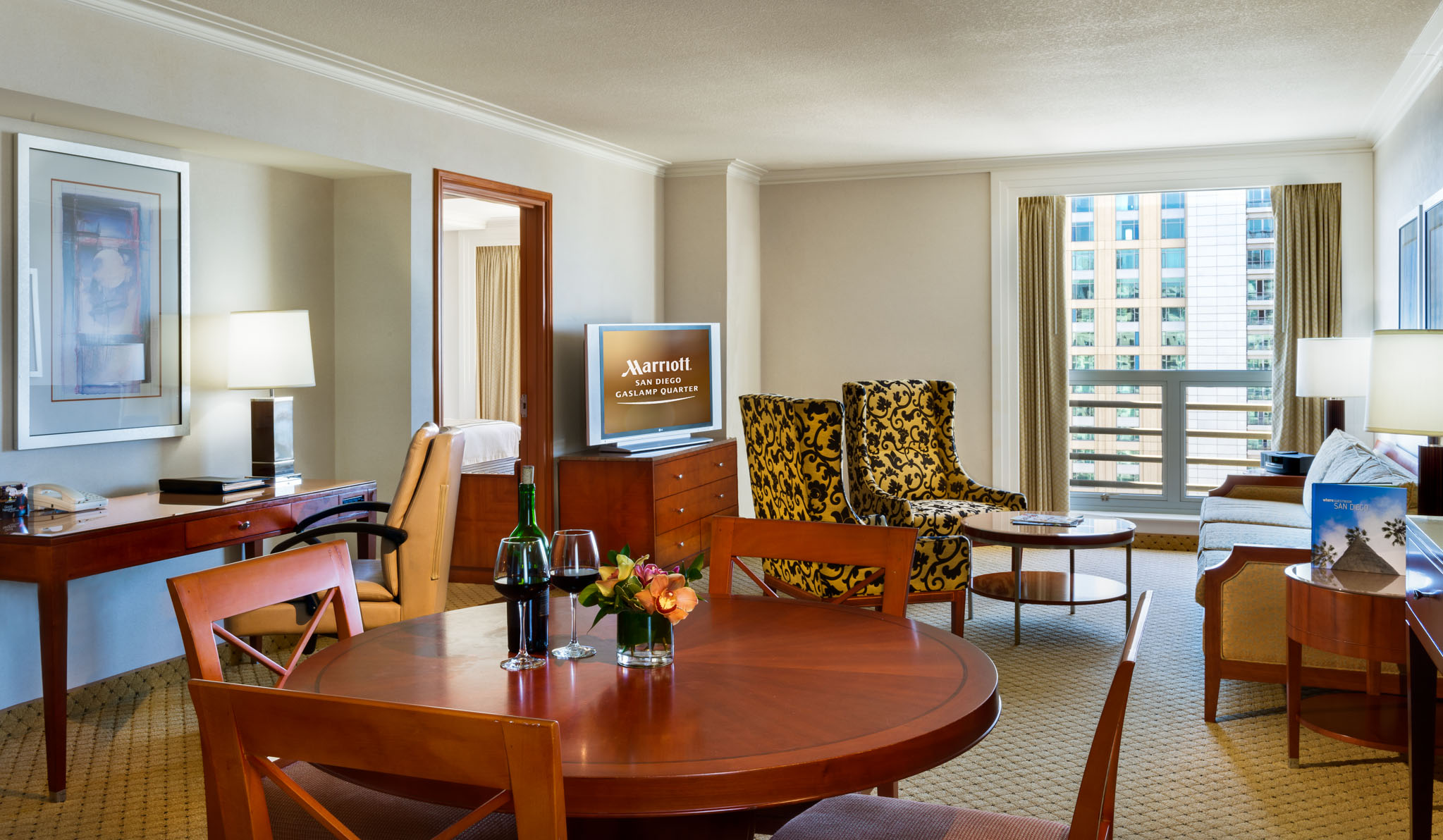 CATAMARAN RESORT, HOTEL & SPA
Enjoy luxury as close as you can get to the beach at Mission Bay.  The Hibiscus Executive Suite is a one-bedroom, corporate bayfront suite with deluxe bathroom featuring a rain shower showerhead and Jacuzzi tub. With a connected living/conference space, lounge seating, private patio and one-of-a-kind over-sized banquet patio, the suite is perfect for private events. Enjoy the best of San Diego weather with an enclosed, glass fence showcasing the pristine view of Mission Bay!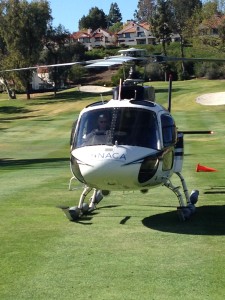 When it comes to the presidential experience, Rancho Bernardo Inn takes care of their meeting and event clients. Aside from luxurious rooms in this North County Inland resort, transportation can be a highlight of an event. As close as you'll get to the President's Marine 1 helicopter, the team at Rancho Bernardo Inn has lifted expectations with custom tailored site inspections and on-site group experiences.
Ready to research your next meeting or event? Read more about hotels, resorts, venues, attractions, restaurants and more at SanDiego.org/meetings. Contact one of our National Sales Directors to help you plan a presidential event in San Diego.