$10 million program includes TV, print, online and billboard advertising
Coming off a year that saw more visitors traveling to San Diego than ever before, the San Diego Tourism Authority is gearing up for another strong year as it launches its annual spring-summer 2016 advertising campaign this week in several major U.S. cities, Canada and the United Kingdom. The $10 million multimedia initiative features television, print, digital and billboard advertising.
"In the highly competitive world of tourism, advertising and marketing are vitally important," said Joe Terzi, President and CEO of the San Diego Tourism Authority. "During the next several months, we will be promoting the destination extensively through multiple platforms to attract visitors to our region, in turn maximizing tax revenue for local governments."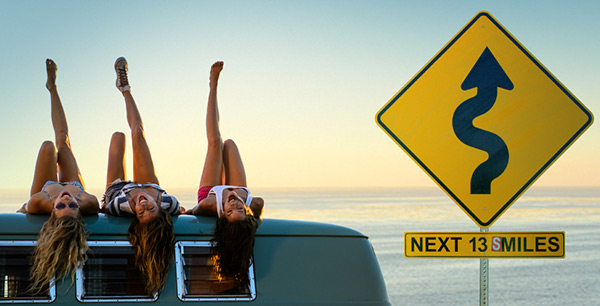 Last year, tourism in San Diego County generated a record $266 million in hotel tax revenue, which local governments use for services such as police, fire, parks and libraries. This year, the SDTA will focus on several new markets, including New York, Chicago and Dallas. The SDTA's Happiness is Calling "Signs" commercial, which debuted last year, will air on television stations in these cities, as well as in Seattle, San Francisco and Sacramento, which are considered important feeder markets for San Diego. During the last two weeks of December, the television spot ran in 6,000 New York City cabs and was displayed on a large digital billboard in Times Square.
The campaign, which runs through June, also includes print advertising in several popular magazines including Travel + Leisure, Conde Nast Traveler, Golf Digest, Sunset, Bon Appetit, Runner's World and Real Simple. Digital advertisements will run on HULU, ABC, FOX, TripAdvisor, and USA Today, among other outlets, as well as on digital billboards in Los Angeles and Phoenix.
With a growing international travel market, the SDTA is also partnering with Brand USA, the organization that markets the United States as a visitor destination, to run digital programs in Canada and the United Kingdom.
Though these and other initiatives, the SDTA is hoping to build on last year's success, in which 34.2 million visitors came to San Diego and spent $9.9 billion at local attractions, shops and restaurants.