Below are some of the sales & marketing highlights from various departments during the month of October 2015.
CONSUMER MARKETING
Special events in October focused on Kids Free, which drove 184,330 page views to related content and Halloween activities which drove close to 50,000 page views in our digital portfolio.
In October, we posted a total of 139 Tweets, 51 Facebook posts, 39 Google+ posts and 15 Instagram posts through our social channels, 15 blogs, distributed 6 consumer emails.
Most Engaged Facebook Post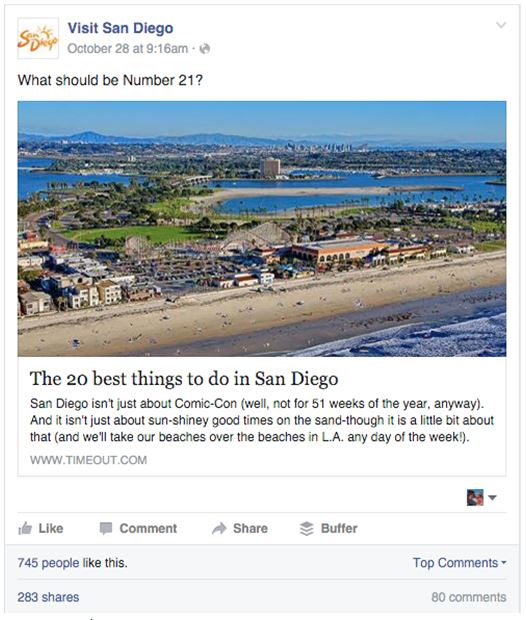 Most Engaged Twitter Post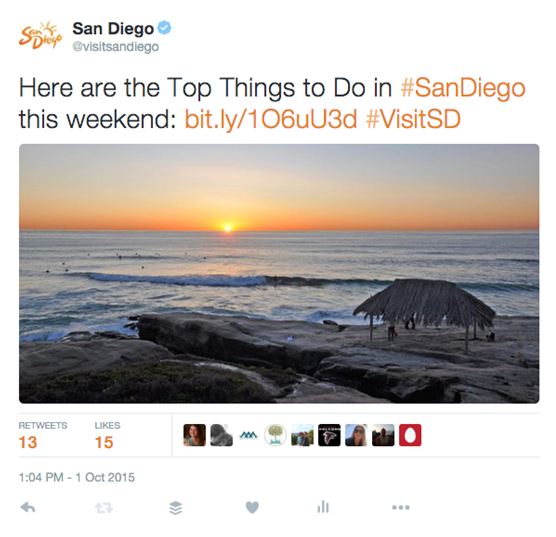 Most Engaged Instagram Post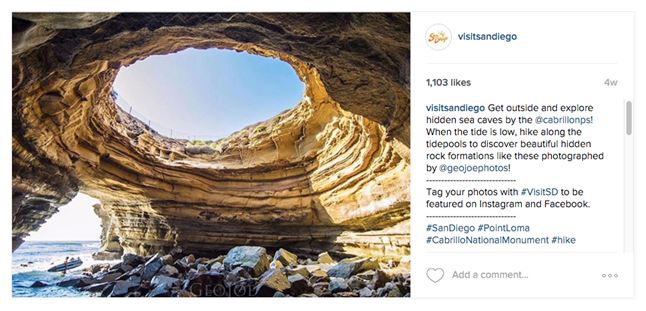 Most Engaged Google+ Post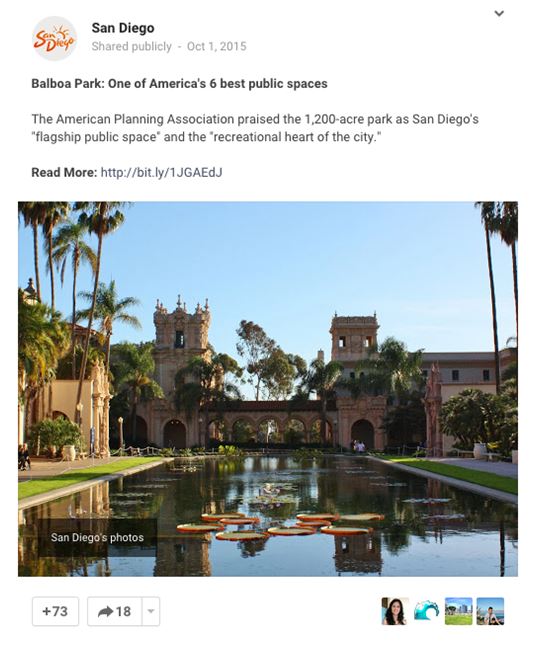 Web traffic for October included 507,054 user sessions between the desktop and mobile sites.
Sub Region Marketing
In October, we ran luxury and value pay-per-click on Google generating 95,081 impressions and 989 clicks for a total spend of $5,687. Overall traffic to the luxury and value pages on Sandiego.org was 924 visitors. The social media team, in partnership with Casual Fridays, shared 12 pieces of User Generated Content on Facebook & Instagram, and published a series of posts in the La Jolla Playground series through Facebook, Google+, Twitter and Instagram.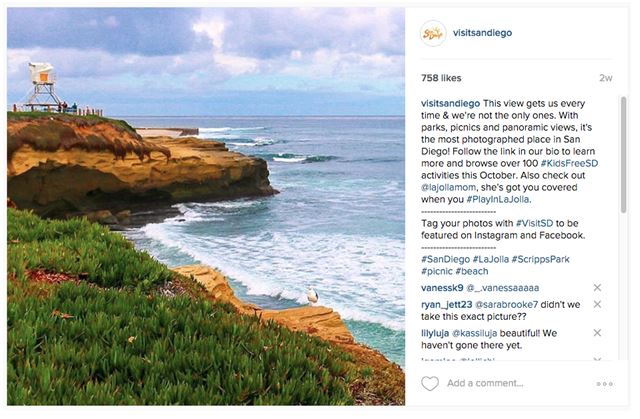 B2B DIGITAL MARKETING
EMAIL: The September B2B Postcard was delivered to approximately 6,400 meeting planners and highlighted an audio podcast between SDTA Site Manager Nur Kitmitto and DMAI host Terri Roberts. The open rate for the B2B Postcard was 16.6%, which represents over 1042 meeting planners. This newsletter was a different format than the standard monthly newsletter and earned a 3% higher click through rate.
LINKEDIN: There were five B2B LinkedIn posts reaching our professional audience. Posts included articles on San Diego being included in Smart21 City search by the Intelligent Community Network, Balboa Park on the Greatest Public Spaces List, JetPurple's new flights to San Diego, Visit California's Global Ready China event, and our quarterly What's New newsletter. LinkedIn grew by 2.4% from last month to 4,370 followers.
Where We Stand
LinkedIn followers compared to similar companies: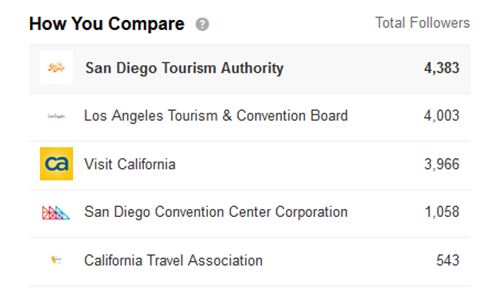 TWITTER: @SDTAConnect Twitter base grew by 6.3% from last month to 2,049 followers. There were 81 tweets during the month.
The tweet with the most exposure (4,376 impressions) was an exclusive video of NBA legend Bill Walton bicycling along Harbor Drive with a view of the San Diego skyline with a group of cyclists after the Amgen Tour of California announcement. https://twitter.com/sdtaconnect/status/657272320302514176/video/1
The tweet with the most engagement (137) was a birthday wish to the US Navy tagging SDTA Member USS Midway.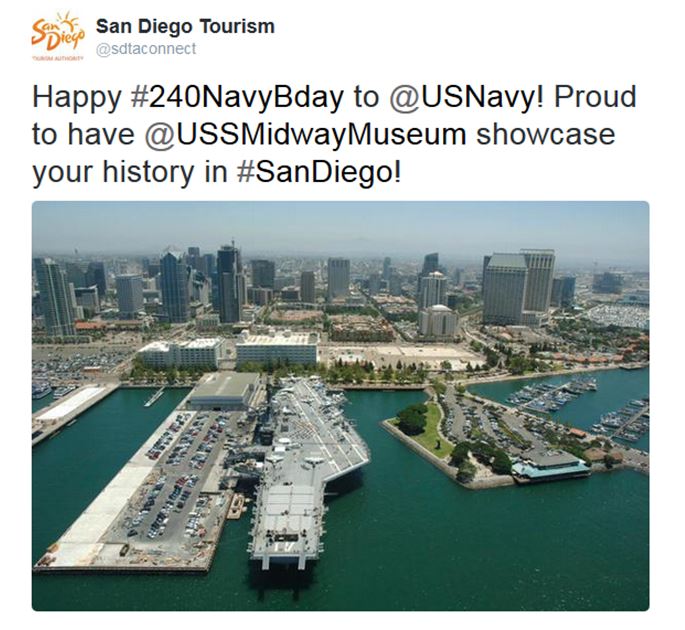 ADVERTISING
LEISURE ADVERTISING
SDTA completed its destination-wide Kids Free October promotion. The campaign, which began August 24 in the Los Angeles and Phoenix markets, included a television station partnership with NBC and Univision in Los Angeles; and CBS, CH3 and Univision in Phoenix; as well as display advertising on Conversant, Viacom, Facebook, and Twitter. Kids Free spend for October totaled $21,166.66 and delivered 3,130,644 gross impressions.
SDTA continued its fall brand advertising campaign in October. Brand print ads included Conde Naste Traveler. Western region digital video will run with ABC, USA Today, FOX, and Hulu. Digital display will run with About.com, USA Today, Collective, Sojern, Specific Media, TripAdvisor and Yahoo. Native campaigns ran with Buzzfeed and USA Today. Brand advertising spend for October totaled $426,667.31 and delivered 43,314,197 gross impressions.
ARTS PARTNERSHIP ADVERTISING
The cultural tourism digital campaign that began in September concluded on October 5. The campaign included digital video on BrightRoll and YuMe targeting LA, SF and Phoenix; on AZCentral targeting Phoenix; and on LATimes.com targeting LA. Total arts advertising spend for October totaled $41,600 and delivered 2,609,742 gross impressions.
SUB-REGION AFFLUENT AND VALUE ADVERTISING
The Sub-region Affluent and Value print campaign continued in October with print ads in Departures, Self and Coastal Living. Total sub-region spend for October totaled $118,921 and delivered 5,915,305 impressions.
INTERNATIONAL ADVERTISING
San Diego Tourism Authority launched its international brand campaign in Canada with TV spots running on CARAT; digital video running on CTV and BrightRoll; digital display units running on Sojern, Yahoo, and TripAdvisor; a social media campaign with video ads on Facebook; and SEM through Google. Total spend for the month of September was $282,743.76 (including serving costs of $1,357.24) and total impressions was 47,443,027.
MEMBERSHIP
The Marketing Partnerships Ad Sales Team was hard at work on early renewals for the 2016-17 Official Meeting Planner Guide and contracted $182,000 for the next edition.
The SDTA signed a contract with TicketSauce, a local company that offers a white-label event ticketing solution. The event ticketing platform is an opportunity to add new private source revenue though a ticket fee-revenue share model.
The SDTA is currently working with several event owners to explore utilizing the SDTA's white-label ticketing platform and booking engine solutions in exchange for the SDTA's marketing support for deeper collaboration and revenue growth.
We're happy to welcome the following new members in October.
HOTEL SALES
The Hotel Meetings Sales Team converted 68 bookings, generating 36,635 Room Nights in the month of October.
CITYWIDE SALES
FY16 – October:
Definite bookings: 3
Attendance:12,000
Total Room Nights: 30,660
PUBLIC RELATIONS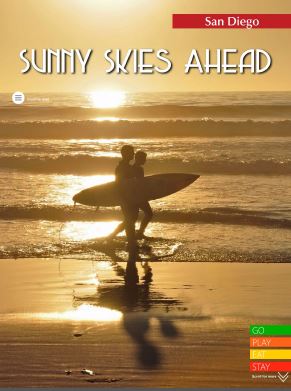 PR hosted a "Passport to Sun, Fun and Value" media FAM, utilizing the annual "Kids Free" promotion to highlight sub-region offerings. Media in attendance included the Vancouver Sun, Today's Parent (Canada), and M Magazine (San Francisco).
International PR hosted six top travel journalists on story assignment for 10 different media outlets in Australia, China, France and Germany. Key international coverage received in October included The Sun Herald (Australia), Canadian Traveller, Agora Magazine (Japan), the New Zealand Herald and more.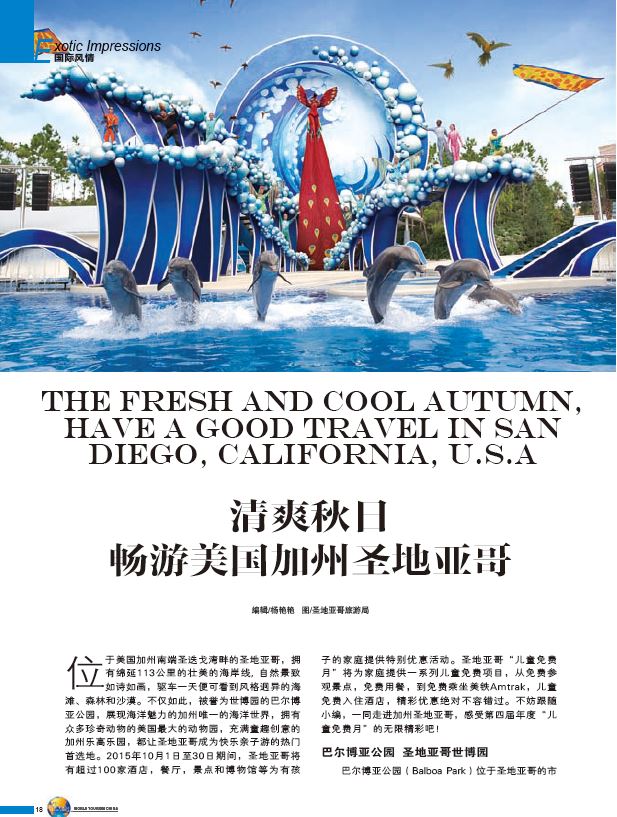 Domestic PR hosted media from Siempre Mujer, U.S. News and World Report, Las Vegas Sun and more. Key domestic media coverage in October included the Arizona Republic, Hawaii Bride & Groom, Los Angeles Times, Orange County Register, Cooking Light, Good Morning Arizona and more.
Press Clipping Total Value: $3,737,436
Impressions: 6,334,263,336
International subtotals
Press Clipping Value: $1,160,711
Impressions: 6,130,421,442
TRAVEL TRADE
Riki Suzuki, Travel Trade Development Manager, attended the East West Marketing's Visit North America Sales Mission in China & Taiwan. Riki met over 50 tour operators on one-on-one appointments and attended several client & media events to promote the destination in 4 cities: Shanghai, Chengdu, Xi'an and Taipei.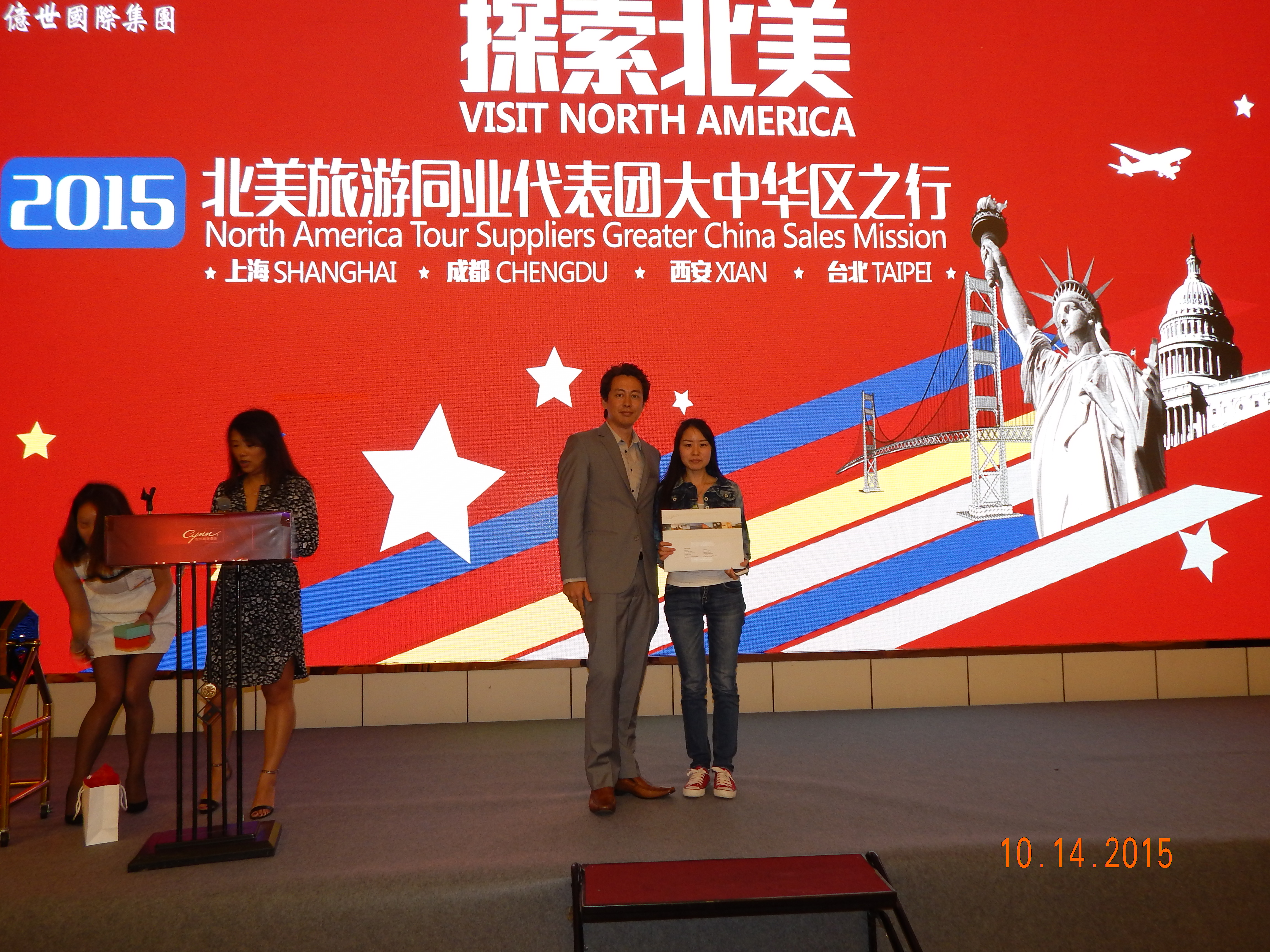 RESEARCH