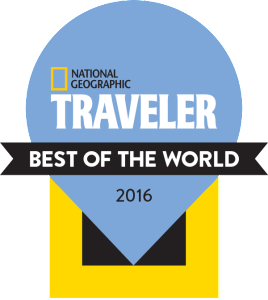 National Geographic Traveler magazine has selected San Diego/Tijuana as one of 20 "Best of the World" destinations. The December 2015/January 2016 issue and the award-winning website will include the fifth annual list of recipients.
A worldwide network of editors, writers and explorers curated the list after a competitive selection and review process.
Amy Alipio, Features Editor
National Geographic Traveler Magazine

"The Best of the World list reflects the travel expertise and global knowledge of National Geographic," said features editor Amy Alipio. "The destinations represent what's superlative, timely, and richly authentic in the world of travel today."
With more than 8.5 million readers, National Geographic Traveler has the largest audience of any travel magazine in its category. Its readership is comprised of travelers with the highest passport ownership, most international and domestic trips, and most outdoor recreation spending than competitive magazine audiences.
The San Diego/Tijuana multi-national region is home to authentic travel opportunities with diverse cultural offerings and ideal year-round climate for outdoor activities. With the completion of the #CBX Cross Border Express, visitors to San Diego can quickly and conveniently fly in and out of Tijuana, providing more opportunities for international travel.
Joe Terzi, President & CEO
San Diego Tourism Authority

"We've been working closely with our travel industry counterparts in Tijuana to market our bi-national region as a destination for a '2 Nation Vacation'," said Joe Terzi, president and CEO of the San Diego Tourism Authority (SDTA).  "And recognition by a prestigious publication such as National Geographic Traveler shows that our efforts are beginning to pay off."
Join National Geographic Traveler online for an engaging travel chat and show your support for San Diego. Thursday November 19th, 10am PST. Be sure to tag @NatGeoTravel and use hashtag #NatGeoTravelChat.
See National Geographic Travel's List with San Diego/Tijuana here.