Fall officially arrived in San Diego and with it comes sales missions, new digital campaigns, our annual Sales & Marketing Workshop, and gearing up for our largest promotion of the year – October's Kids Free Campaign. Below are some of the sales & marketing highlights from various departments during the month.
CONSUMER MARKETING
Special events in September focused primarily on Restaurant Week and the upcoming Kids Free promotion.
The digital team posted a total of 147 Tweets, 51 Facebook posts, 39 Google+ Posts and 17 Instagram posts through our social channels, 15 blogs, distributed 6 consumer emails.
Web traffic for September included 548,865 user sessions between the desktop and mobile sites.
B2B DIGITAL MARKETING
EMAIL: The September B2B Postcard was delivered to approximately 6,315 meeting planners and highlighted off-site venues with unique meeting spaces for group. Featured Members included Coasterra on Harbor Island, Galazy Taco in La Jolla, Tidal in Mission Bay, The Lot in Liberty Station, The Nolen downtown and Oceana Coastal Kitchen in Pacific Beach. The open rate for the B2B Postcard was 13.6%, which represents over 840 meeting planners.
LINKEDIN: There were eight B2B LinkedIn posts reaching our professional audience. Posts included articles San Diego craft beer in-flight, DMAI re-certification, San Diego Meeting Certified graduation, our workshop recap video, increased air capacity, UCSD accolades, and our new Australian marketing representation. LinkedIn grew by 2.4% from last month to 4,265 followers.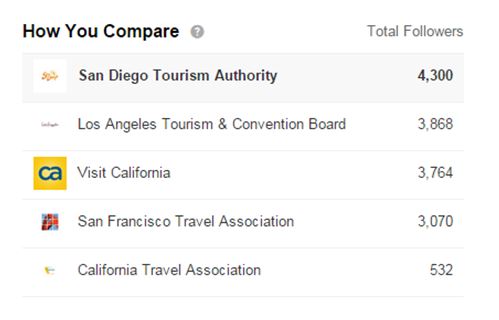 TWITTER: @SDTAConnect Twitter base grew by 4.4% from last month to 1,927 followers. There were 73 tweets during the month.
The tweet with the most exposure (635 impressions) was a photo of Board Chairman Scott Hermes onstage at the annual Sales & Marketing Workshop.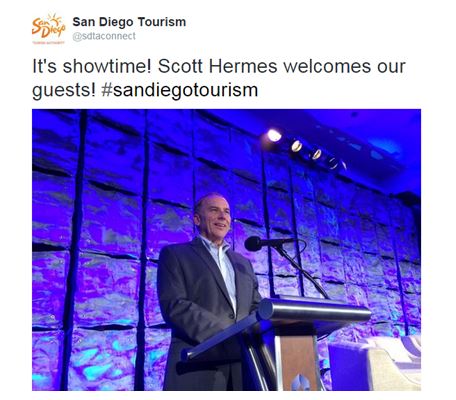 Our interactive, workshop-style breakout session at the Annual Sales & Marketing Workshop received the most amount of engagement on our Twitter feed.  Our social media agency, Casual Fridays, presenting a lecture on live broadcasting received 35 interactions during the presentation.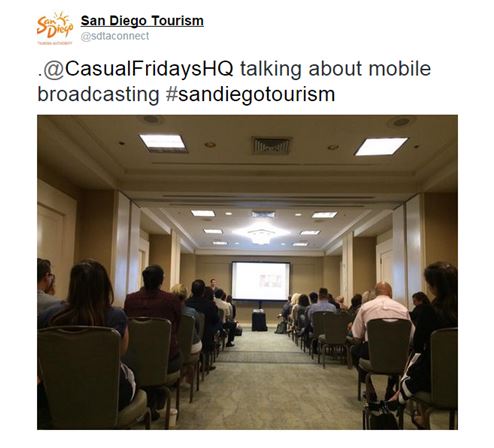 ADVERTISING
LEISURE ADVERTISING

SDTA continued with an advertising program supporting the destination-wide Kids Free October promotion. The campaign, which runs August 24 – October 5 in the Los Angeles and Phoenix markets, includes a television station partnership with NBC and Univision in Los Angeles, CBS, CH3 and Univision in Phoenix; as well as display advertising on Conversant, Viacom, Facebook, and Twitter. Kids Free spend for September totaled $83,333.33 and delivered over 8 million gross impressions.
September also marked the beginning of the fall brand advertising campaign, which will run through the end of December. Brand print ads included Sunset and Bon Appetit magazines. Western region digital video will run with ABC, USA Today, FOX, and Hulu. Digital display will run with About.com, USA Today, Collective, Sojern, Specific Media, TripAdvisor and Yahoo. Native campaigns ran with Buzzfeed and USA Today. Brand advertising spend for September totaled $471,566.98 and delivered more than 49.1 million gross impressions.
ARTS PARTNERSHIP ADVERTISING
The cultural tourism digital campaign began in September, which includes digital video on BrightRoll and YuMe targeting LA, SF and Phoenix; on AZCentral targeting Phoenix; and on LATimes.com targeting LA. Total arts advertising spend for September totaled $164,000 and delivered more than 13.3 million gross impressions.
SUB-REGION AFFLUENT AND VALUE ADVERTISING
September marked the launch of the Sub-region Affluent and Value print campaign with a print ad in Conde Nast Traveler. Total Sub-region spend for September totaled $50,000 and delivered 2,706,000 impressions.
INTERNATIONAL ADVERTISING
San Diego Tourism Authority continued its international campaign supporting Kids Free San Diego in Canada with digital display units running with Nickelodeon and Conversant. Total spend for the month of September was $27,333.31 and total impressions was more than 2.5 million.
MEMBERSHIP
The 2015 Sales & Marketing Workshop was a great success. The team generated $15,000 in event sponsorship. Additionally the team had great in-kind contributions from our craft distillery Members for the reception.
The Marketing Partnerships team booked $44,000 in new advertising sales dollars in September. The team is 20% to goal, and ahead of pace.
We're happy to welcome the following new members in September.
HOTEL SALES
The Hotel Meetings Sales Team converted 57 bookings, generating 28,372 Room Nights in the month of September. The Sales Team had an active month, with Bri Mouton, National Sales Manager, attending the Professional Fraternity Association Conference and Tradeshow in Louisville, Kentucky.  Bri connected with 100 meeting planners and executives, generating 3 business opportunities with a combined 715 Room Nights. In addition, Andrea Cowsar, National Sales Director, attended the Luxury Meeting Summit in Milwaukee, Wisconsin.  Andrea uncovered 4 group leads with 1,195 total room night potential.
CITYWIDE SALES
FY16:
Definite bookings: 8
Attendance:47,000
Total Room Nights: 91,861

PUBLIC RELATIONS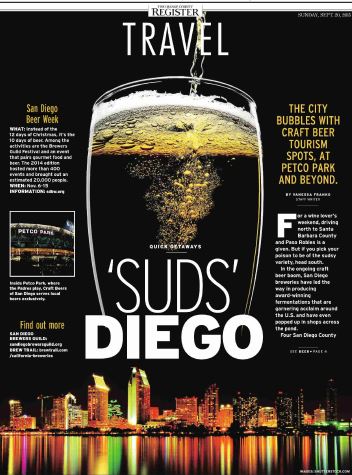 PR traveled to Calgary and Edmonton, Canada, to conduct desk-side meetings with 13 leading media contacts, including Avenue Magazine, Impact Magazine, WestJet Magazine and more.
International PR hosted eight top travel journalists on story assignment for 12 different media outlets in the UK, Germany/Austria, France, Japan and Brazil. Key international coverage received in September included the Syndey Morning Herald, Travel +Leisure (China), Golf Travel Magazine (China), Sunday Times (Australia), Golf Digest Traveler (Japan) and more.
Domestic PR hosted media from Houston Family Magazine, San Francisco Chronicle, Good Morning Arizona, Travel + Leisure and more. Key domestic media coverage in September included USA Today, the Los Angeles Times, Time Out New York, the Orange County Register, San Jose Mercury News, Conde Nast Traveler and more.
Press Clipping Total Value: $ 2,368,237
Impressions: 5,395,792,801
International subtotals
Press Clipping Value: $1,200,106
Impressions: 5,332,894,954
TRAVEL TRADE
Travel Trade Manager, Albert Navarro, attended La Cita de las Americas in Boca Raton, FL in early September where he was able to meet one-on-one with nearly 20 tour operators and media partners from all over Latin America, including Mexico, Brazil and Colombia. San Diego received additional destination exposure as host of the Magic Hour networking event during the show.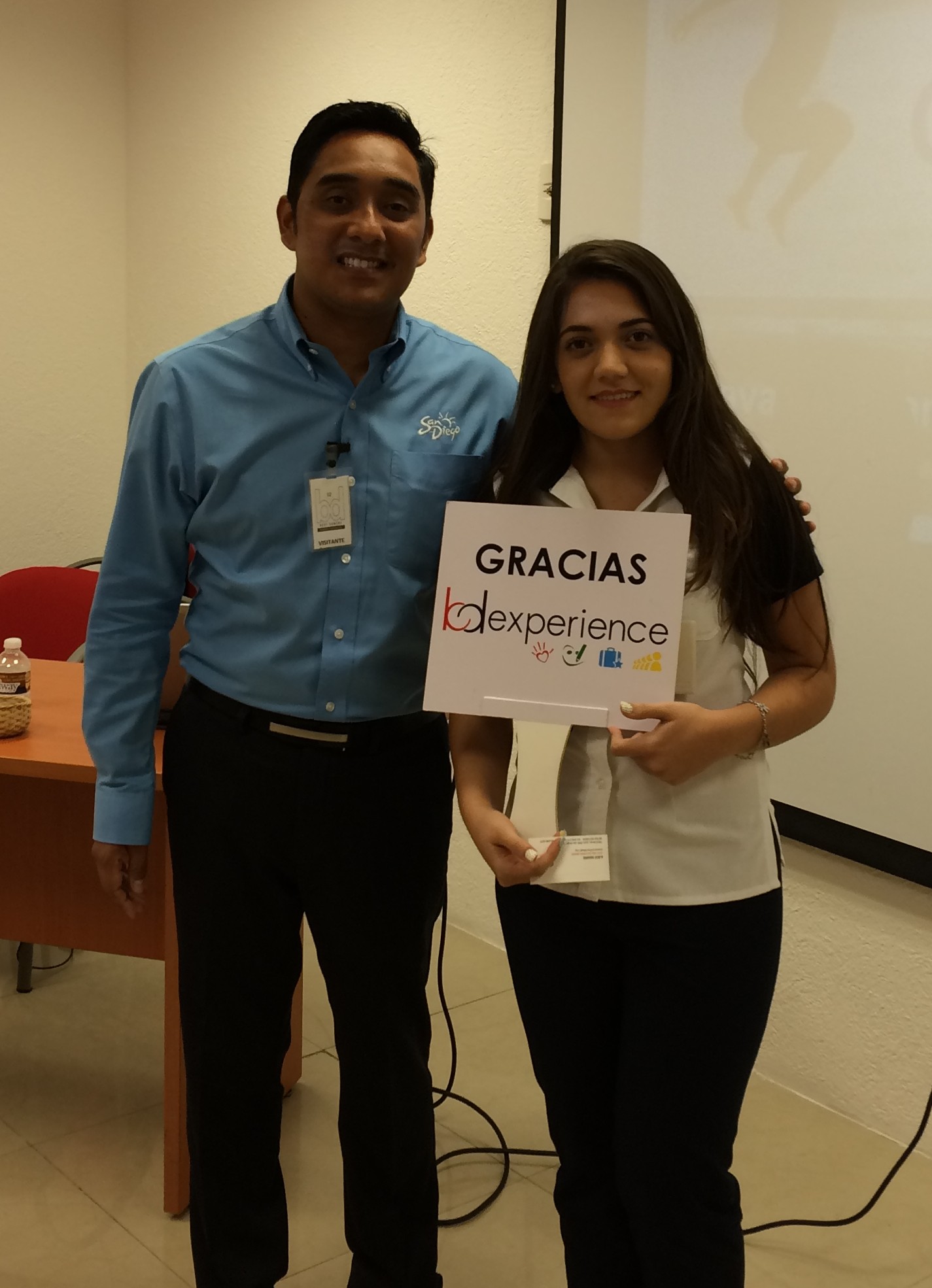 Along with the USS Midway, Albert conducted sales calls in Mexico City and Cancun to visit 10 top tour operators and discuss promotion of San Diego as well as promotional opportunities for the destination. Also, Albert was able to train nearly 200 travel agents in Mexico City and 100 agents in Cancun on selling San Diego.
As part of the SDTA's sponsorship of the US-China Leadership Summit, TTD Director Benjamin Eastman attended the Opening Night Reception at the Getty Center in Los Angeles. At the event, San Diego was showcased to visiting Chinese dignitaries via featured foods & San Diego craft beers, logo inclusion and recognition from the podium by Visit California CEO, Carolina Betteta.
While in Los Angeles for the US-China Leadership Summit, TTD Director Benjamin Eastman took the opportunity to meet with product, group and reservations teams at both New World Travel (NWT) and Americantours International (ATI). NWT is a primarily German Receptive and Tour Operator that is also building its Brazilian business and ATI's biggest markets for San Diego are Germany, UK & China.
TTD Director Benjamin Eastman and PR Director Candice Eley visited the Corporate Headquarters for Visit California as part of their Third Thursday educational program. During the visit, both SDTA team members had the opportunity to educate 40+ staff in a 1+ hour presentation and networking session on "what's new" in San Diego and to highlight how the destination would like to be better involved in VCA programing.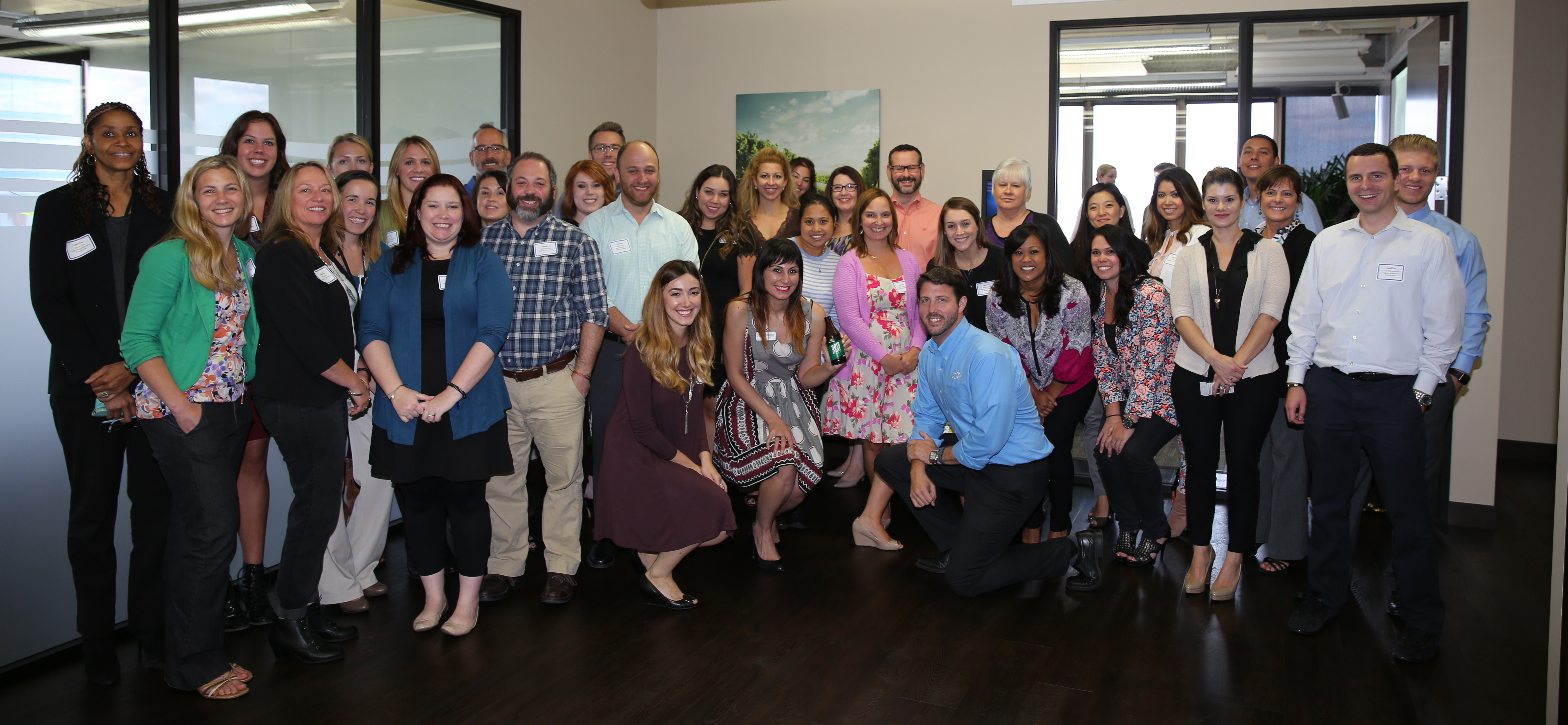 RESEARCH