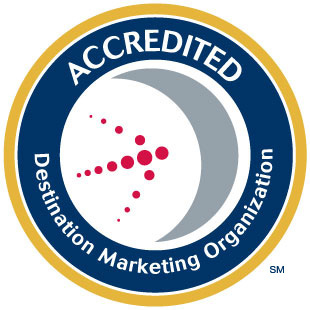 The San Diego Tourism Authority (SDTA) successfully achieved industry accreditation, demonstrating mastery of key principles of destination management and marketing. We were awarded the Destination Marketing Accreditation Program (DMAP) seal by Destination Marketing Association International (DMAI), in recognition of our commitment to industry excellence and meeting the industry standard for performance and accountability of DMOs around the world.
Since its inception in January 2007, the accreditation program requires a DMO to successfully comply with a multitude of mandatory and voluntary standards that span a variety of performance areas to gain this momentous achievement. The standards cover nearly all aspects related to the management and marketing of a DMO's including governance, finance, human resources, sales, communications, destination development and research.
"DMAP accreditation requires DMOs like the San Diego Tourism Authority to truly evaluate and define not only their policies and procedures, but also determine their guiding principles and solidify their importance to their communities in all they do," said Jack Wert, DMAP Board Chair.
The SDTA joins the ranks of over 200 DMOs who have obtained DMAP recognition that demonstrate compliance across 16 disciplines, composed of 53 mandatory standards and is globally recognized by the destination marketing industry as the highest achievement in destination excellence.
Joe Terzi, SDTA Pres. & CEO

"It's an honor to receive this recognition for our team's efforts to provide a world-class experience for visitors to the destination and strengthen our commitment to the community as the third largest industry in the county. We continue to evolve and develop innovative marketing and sales programs at the highest level to set San Diego apart as the premier location for leisure and business travel," says Joe Terzi, President & CEO of San Diego Tourism Authority. "To be recognized by our industry's leading advocacy organization is a testament to the hard work and dedication our entire organization exhibits every day."
"We are pleased to have the San Diego Tourism Authority join our distinguished group. I look forward to their participation and influence as a part of the growing DMAP community," added Valencia Bembry, Senior Vice President of Accreditation and Strategic Initiatives at DMAI.
Destination Marketing Association International (DMAI) protects and advances the success of destination marketing worldwide. DMAI's influential membership includes nearly 600 official destination marketing organizations (DMOs), also known as tourism boards or Convention and Visitor Bureaus, from nearly 20 countries that command $2.5 billion in annual budgets. As the world's largest and most reliable resource for DMOs, it provides more than 3,700 individual members – professionals, industry partners, educators and students – the most innovative and relevant educational resources, networking opportunities and marketing intelligence worldwide.
The DMO is accredited by the Destination Marketing Accreditation Program (DMAP) of the Destination Marketing Association International, 2025 M Street, N.W., Suite 500, Washington, D.C., 20036, USA, Ph. 202-296-7888.