2015 San Diego Tourism Authority Sales & Marketing Workshop Video Recap

We had a wonderful day in La Jolla at the annual Sales and Marketing Workshop. Thank you to our sponsors, panelists, speakers and the Hyatt Regency La Jolla at Aventine for being such a supportive host for this event.
Below you will find the presentations, documents, and photos from the event, plus a tourism advocacy booklet from Nuffer, Smith, Tucker, a short video recap and curated feed of social media engagement throughout the day. If you have any questions, please don't hesitate to contact our team. We look forward to another productive year in promoting San Diego as the go-to destination for visitor and business travel.
#SanDiegoTourism was trending during our event and engagement on social media was fantastic. Check out this curated feed of comments and photos taken from participants during the keynote and breakout sessions.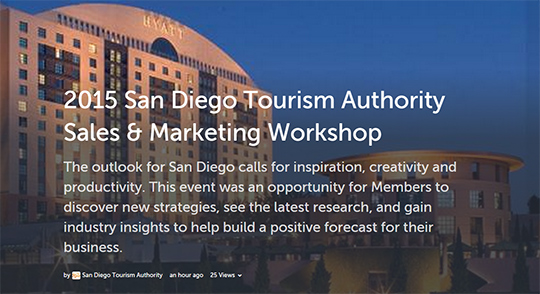 EXHIBITORS
We hope you had some time to visit with our Members who exhibited at the event. Be sure to check them out online too!