We're excited to share some great news with you. San Diego earned a Top 4 spot on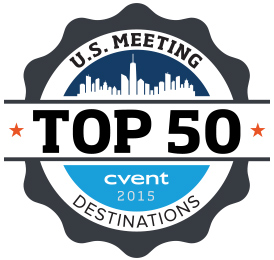 the 2015 Cvent Top US Meeting Destinations List! This industry-specific ranking is based off of many factors including meeting and event booking activity as well as the number of unique venues in the destination. In it's fourth year, the list has become the gold standard for its accurate reflection of the most popular meeting destinations in the US.
Cvent Top US Meeting Destinations List
San Diego has risen one spot in the Top 5 from 2014 a midst new hotel rooms coming online, renovations at several hotels, and future construction of several new meeting hotels in the coming year. Considering San Diego has significantly less meeting space at its primary convention center compared to other top destinations, it's rewarding to see our city rank so highly—in part, due to our diverse offerings of meeting and conference hotels, award-winning convention center, unique regions, and exceptional attractions and third party venues.
With an expanded group and citywide sales team, the SDTA is eager to build on its reputation as a leading destination for meetings of all sizes and budgets. Our group sales marketing campaign "Forecast: Success" and sub-region targeted campaigns launched in fall 2014 and are building on our efforts to increase visitation by booking new groups in the destination.
SAN DIEGO MEETING CERTIFIED
Developed by the San Diego Tourism Authority, and endorsed by the San Diego Tourism Marketing District, the Payne School of Hospitality at SDSU, and the local chapters of HSMAI and MPI, this program reinforces San Diego's position as the No. 1 destination choice for meeting planners! As the only U.S. city to be named a "World Smart City" by National Geographic, San Diego is poised to stand out from its competitors when smart sales teams promote the destination with knowledge, experience, and insight.
View the Cvent 2015 Top 50 U.S. Meeting Destinations list here.