It's been a busy month for the STDA sales and marketing teams. From sales missions to new digital campaigns, the team is in the midst of an active summer season. Below are some of the sales and marketing highlights from various departments during the month.
CONSUMER MARKETING
Top special events in June that were a focus of marketing efforts to visitors included San Diego County Fair, Miramar Air Show, Father's Day and promotions leading up to 4th of July weekend.
Online Travel Agency marketing for June included ads on Expedia and Expedia Mexico, Travelocity, Hotels.com, Orbitz, Cheaptickets and Despegar Mexico (entire campaign).  Campaign spending totaled $124,355, delivering over 6.2 million impressions and 18,159 clicks.  Additionally, spending on a sub region program on Living Social (entire campaign) totaled $30,000 delivered 7.2 million impressions and 14,799 clicks.  The OTA campaign-specific production in June totaled 120,615 incremental room nights for San Diego and generated over $19.6 million in incremental revenue.
In June, our social media team posted a total of 112 Tweets, 52 Facebook posts, 49 Google+ posts, and 14 Instagram posts across various social media channels; in addition to 13 blogs articles and eight consumer emails.
Web traffic included 606,388 visitors between the desktop and mobile sites in June.
The Sub Region Marketing plan featured the Spring to San Diego Sweepstakes, which included 57 dedicated posts across Facebook, Instagram, Twitter and Google) and two dedicated emails. Using an industry-leading sweepstakes collection system (Woobox) we saw 61,369 visit, 15,268 entries and 4,324 shares. Entries also had the option of opting in to our email subscriber database for future communication.
LEISURE ADVERTISING
June concluded the Mr. Positivity brand digital video content program, with spend of $94,354 delivering an additional 3.3 million impressions for the buy. Overall, total spend for the Mr. Positivity program which was in market April – June was $311,000 and included the Chicago in-market activation and paid distribution of video content across premium video partners (Hulu, NBC Universal), video network partners (Brightroll and Trueview) and via social (Facebook and Twitter). In total the program delivered 23.1 million impressions.
ATTRACTIONS CO-OP
The $3.1 million SeaWorld co-op program also concluded in June. The final week of television spots in Los Angeles, Phoenix and San Francisco ran June 1 – 7, delivering an additional 9.9 million impressions. And the digital portion of the program across ABC, About.com, Adara, BrightRoll, CBS, Mom's Media, Fox, Lonely Planet, Nickelodeon, Quantcast, Sojern, Xaxis, and Yahoo also ran for the full month of June, delivering an additional 54.3 million impressions. Overall the SeaWorld co-op program delivered 121.7 million gross impressions across the total buy.
ARTS PARTNERSHIP ADVERTISING
As part of the continued partnership with the San Diego Commission for Arts & Culture a full page print advertorial with arts itinerary messaging ran in the June issues of San Diego Magazine, the Southern California edition of Sunset Magazine and throughout MNI's Luxury Network (Elle Décor, Food & Wine, Oprah, Real Simple, Town & Country, T&L) in Los Angeles, Orange County and San Francisco. Arts & culture spend totaled $80,592 for June and delivered 3.8 million impressions.
SUB-REGION LEISURE
In June, SDTA continued a print plan to support sub-regions of San Diego with a full page print ads Sunset's Summer Road Trips edition, Savuer and Parents magazines. Additionally an advertorial ran in Savuer. Leisure sub-region spend totaled $63,900 for June and delivered 2.2 million gross impressions.
SUB-REGION GROUP SPECIALTY
During the month of June, SDTA continued print and digital programs supporting sub-region group specialty initiative. Print ads ran in Meetings & Conventions, Meetings Focus and Association News. Digital banners also ran across the following group publisher websites: MeetingsNet.com, Successful Meetings, Meetings & Conventions, Meetings Focus and Plan Your Meeting Magazine. Group specialty advertising spend for June totaled $43,414 and delivered 338,846 gross impressions.
B2B DIGITAL MARKETING
The June B2B Postcard was delivered to approximately 6,000 meeting planners and highlighted the unique meeting regions of San Diego including Downtown, Mission Bay and Beaches, La Jolla/University Town Center, Mission Valley and Old Town, Point Loma/Shelter Island/Harbor Island, Coronado Island, North County Villages/Beaches and East County/South Bay. The open rate for the B2B Postcard was 14.3% which represents more than 900 meeting planners.
LinkedIn continues to be a strong presence for us with a 2.67% growth over last month, reaching 3,960 followers.  We continue to take a leading presence in Southern California: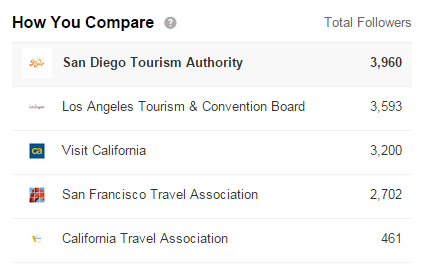 MEMBERSHIP
We're happy to welcome the following new members in June.
GROUP SALES
Melinda Smith, Director of Incentive Sales, partnered with Kristen Hoffman from Destination Concepts, Inc. to represent San Diego at Collaborate Marketplace in Orlando. Melinda's meetings with 40+ clients will ensure many booking opportunities in the future.
Michael Steffen, National Sales Manager, attended Luxury Meetings Summit in Chicago and met 45 clients with potential for future meetings business for San Diego.
In the first year under a new business model, "FINDING NEMO" (New Exciting Meeting Opportunities), the group sales team has achieved 101.6% of goal. This model focuses on finding new business opportunities for the San Diego region.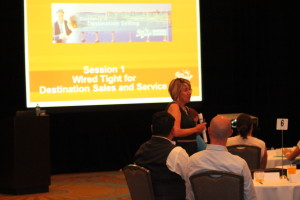 San Diego Meeting Certified Session II was launched on June 18th at the Paradise Point Resort. Nearly 50 members of the San Diego sales community attended the opening course "Wired Tight for Destination Sales and Service" presented by Terri Roberts, DMAI Director of Training and Communications.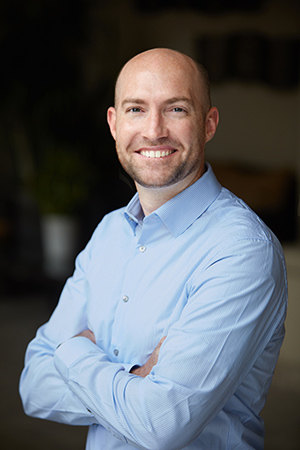 NEW VICE PRESIDENT OF SALES
Jarrod Finley has joined the San Diego Tourism Authority as our new Vice President of Sales.
Jarrod has a long tenure in the tourism and hospitality industry, specifically in the Southern California market. He began in operations at Newport Beach Marriott Hotel and transitioned to sales roles in Anaheim and San Diego. Jarrod was promoted to Area Sales and Marketing leader for Marriott International in Los Angeles, where he was responsible for nine hotel's sales and revenue strategies and a sales team of 25. 
In 2013, Jarrod led the sales efforts for the Long Beach Area CVB, where he oversaw citywide and single-property sales initiatives.
"We look forward to Jarrod's leadership and forward-thinking ideas to help grow our market and build new relationships," says Margie Sitton, Sr. Vice President of Sales and Services.
PUBLIC RELATIONS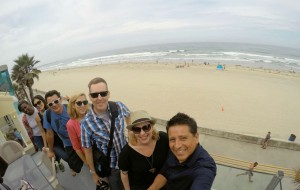 PR Manager Edna Gutierrez joined the Travel Trade team at IPW in Orlando, where they participated in the conference's media marketplace. PR Manager Robert Arends closed out a strong year of sub-region public relations efforts with a media familiarization tour (FAM) highlighting the offerings of Mission Bay. The "Make a Splash on Mission Bay" FAM included five media outlets from across the U.S. and Mexico.
The PR team had a record-setting year for earned media. Press coverage of the destination for FY15 totaled more than $30 million in advertising equivalency, with 50 percent of coverage coming from media outlets outside of the U.S. Impressions generated for the region also reached record levels, with more than 9 billion impressions for FY15.
TRAVEL TRADE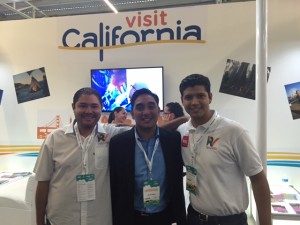 Travel Trade Development Manager, Albert Navarro, conducted sales calls in Mexico City and Guadalajara to visit 12 top tour operators and discuss promotion of San Diego. He also participated with Visit California at the ARLAG tradeshow in Guadalajara which was attended by over 1,000 agents from all over Mexico.
SDTA hosted a luncheon for Japanese Tour Operators Association aka Agent Kai in Torrance CA. Riki Suzuki, Travel Trade Development Manager, had an opportunity to give a presentation to provide new tour ideas and updated information about San Diego to 23 top Japanese tour operators based in LA area.
The Travel Trade Team wrapped up FY15 with 42 International FAMs, 2 Domestic FAMs and 451 FAM participants.