MARCH MADNESS: CBS PARTNERSHIP
The SDTA will be participating in a media partnership with CBS sports for the March Madness NCAA basketball tournament. The program will run from March 19th through April 6th and will include the airing of the new :30 sec Signs TV commercial during the regional, sweet sixteen and elite eight tournament rounds, as well as the National Championship game in our key spot markets: Portland, San Francisco, Sacramento, Salt Lake City, Seattle and Las Vegas. The program also includes a :15 sec promo spot to tune into the action brought to you by San Diego and digital added value that will run on CBS.com.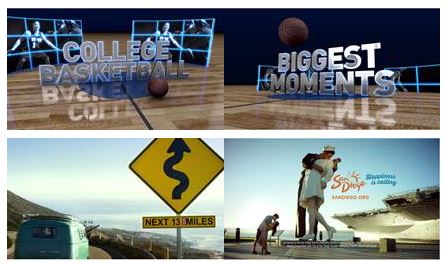 SAN DIEGO INTERNATIONAL AIRPORT OUT-OF-HOME (OOH)
In addition to the OOH we have running throughout our spot markets, the SDTA has been given (at no cost) billboard presence throughout the San Diego International Airport.  The creative will extend our campaign presence in market and speak to both locals and tourists delivering the positive and upbeat Signs campaign message.
There will be a total of six billboards throughout terminal 1 and 2 as well as nine 6×6 boards throughout the airport delivering over $77k of added value.

CHICAGO MARKET "MR. POSITIVITY"
We are doing a guerrilla media publicity stunt in Chicago on April 17 – 18.  We have hired a comedian/singer "Mr. Positivity" who will be singing and performing at street locations in Chicago, including near the Cubs-Padres baseball game on game day!  The street team will be filming this and then using social media to promote how San Diego lifts your spirits and is inviting people to visit San Diego.  The street team will be giving away items such as baseball game tickets, Taylor guitars and win a trip opportunities.