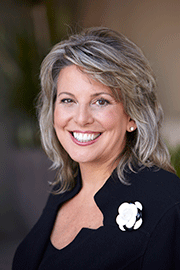 Congratulations to Angie Ranalli, San Diego Tourism Authority Vice President of Sales – Midwest Region, on being elected as a trustee to the PCMA board. PCMA, the Professional Convention Management Association, provides members access to the latest industry trends, winning strategies, and best practices. The Education Foundation Leadership Committee reviewed an extensive list of candidates and upon approval of the board, deemed the new officers and trustees elected as of Jan 15, 2015.
With more than 20 years in the hospitality and tourism industry, including the San Diego Tourism Authority, San Diego Convention Center Corporation, Hilton Hotels Worldwide and Westin Hotels & Resorts, Angie cultivated relationships through alliances on all levels of PCMA membership and solidified her role as a respected industry leader.
In her role with the SDTA, Angie has created a strong Midwest presence for San Diego. She has contributed over 2,000,000 room nights which includes 200-plus citywide conventions and has been successful for both our SDTA Hotel and Citywide Meetings Teams.
Angie has been a vital contributor to PCMA over her career including volunteer roles as PCMA Foundation Dinner CoChair, Convening Leaders Presenter, Medical Meetings Task Force, Industry Issues Committee, and Industry Research committee – to name a few. She joins an accomplished and esteemed list of officers and trustees to the PCMA Education Foundation including:
Carol McGury, Executive Vice President – Events and Education Services
SmithBucklin Corporation
David G. Peckinpaugh, President
Maritz Travel Company
Raymond J. Kopcinski, Senior Director
Million Dollar Round Table
William F. Reed, Senior Director of Meetings
American Society of Hematology
John Patronski, Executive Vice President
Global Experience Specialists (GES)
James Rooney, Executive Director
Massachusetts Convention Center Authority
Gary Schirmacher, Senior VP, Sales & Marketing, Event Management
Experient, A Maritz Travel Company
Congratulations Angie – we're proud to have you on our team as you represent San Diego!