The SDTA has produced a series of nine videos showcasing the unique and vibrant neighborhoods and arts districts around the city. While most visitors expect to see sunshine and sand when visiting, there are also many other great experiences in San Diego that can leave a memorable impression on visitors.
To attract more visitors to the region and inspire residents to participate in San Diego's vibrant community arts scene, the SDTA and the City of San Diego Commission for Arts and Culture co-produced nine video shorts starring the unique arts, culture, shopping and dining in San Diego's diverse neighborhoods.
"San Diego is a city of lively, distinct neighborhoods that allow both visitors and locals to explore new experiences," said SDTA President and CEO Joe Terzi. "It's this broad array of things to see and do, to touch and taste, that leads visitors to extend their stays and even come back again."
The films will be distributed through a wide variety of channels, including Youtube, and to the SDTA's more than 50,000 Twitter followers and more than 320,000 fans on Facebook. They will also run on City TV and the County Television Network, and be posted on the SDTA's website (sandiego.org), which receives more than 7 million visits per year, as well as San Diego Magazine's website (sandiegomagazine.com).
Take a look at some of the districts we've covered in these videos and share them with your friends, guests, and social media followers!
Share on social media using hashtag #NineArtsDistricts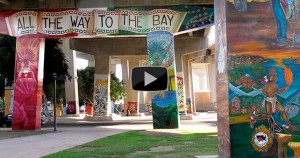 Barrio Logan
Anchored by Chicano Park, home to the largest collection of Chicano art murals in the world, Barrio Logan boasts a variety of art venues, such as Glashaus, where it is not uncommon to find a resident artist working on glass-blowing or welding together a large metal sculpture. The neighborhood is also known for some of the most authentic Mexican food this side of the border.
VIEW VIDEO
City Heights

Spanning several neighborhoods and diverse populations, City Heights features many artistic attractions, including Azalea Community Park, where visitors will find several unique, large pieces by local artists as they stroll through the popular neighborhood spot. The community is also home to Little Saigon and its many Vietnamese restaurants.
VIEW VIDEO
La Jolla

Featuring some of the finest boutiques and high-end restaurants in San Diego, La Jolla is one of San Diego's most vibrant neighborhoods. In addition to shopping and dining, the community offers plenty of active recreation, including parasailing and kayaking. It also brims with cultural sites, including the Museum of Contemporary Art, the Athenaum Music and Arts Library, as well as the La Jolla Playhouse, which has produced some of Broadway's biggest shows, including Jersey Boys and The Who's Tommy.
VIEW VIDEO
Mission Valley

Home to two of the region's largest shopping venues, Mission Valley is also a destination for wilderness and wildlife with the 5,800-acre Mission Trails Regional Park and its popular visitor center. Nearby is the Mission Basilica San Diego de Alcala, the first mission built in California, which each July hosts the Festival of the Bells, a weekend-long celebration filled with live entertainment, food and games.
VIEW VIDEO
Miramar and Clairemont

This area is home to one of America's best-known military bases – MCAS Miramar – where the iconic movie "Top Gun" was based. Visitors can get an up-close look at marine aviation history at the base's Flying Leathernecks Aviation Museum. Just off the base are some of the region's top guns of craft brewing, including the award-winning AleSmith Brewing Company, Mike Hess Brewing Company, and White Labs, where beer aficionados can sample the art of craft beer. The area also boasts a wide array of Asian grocery stores and restaurants.
VIEW VIDEO
Point Loma/NTC at Liberty Station

This former military base has been transformed into a popular arts and culture district, with great art galleries, dance companies and more. It also features the largest under-roof restaurant in San Diego County, the Stone Brewing Company's World Bistro and Gardens, as well as Chi Chocolate, maker of delightful hand-molded chocolate creations.
VIEW VIDEO
North Park and South Park

Two of the hottest and hippest neighborhoods in San Diego, North Park and South Park border the region's cultural icon, Balboa Park. This area features the historic North Park Theatre, as well as a wide assortment of nearby restaurants making it easy to do a dinner and a show. The neighborhood is also home to the Media Arts Center's Digital Gym, an urban cinema space that offers film festivals and screenings by local and national movie-makers, in addition to tons of unique shops offering locally-made goods.
VIEW VIDEO
Northeastern San Diego

This area offers visitors a relaxed sophistication, appealing to history buffs and wine lovers alike. It's here that you'll find the San Diego Archaeological Center, home to 10,000 years of history in the San Diego region, as well as the San Pasqual Battlefield State Historic Park, one of the county's most significant historical sites. The Northeast is also home to a collection of wineries, including the Bernardo Winery, the region's first producer of wine.
VIEW VIDEO
Southeastern San Diego

Just a short trolley ride away from downtown San Diego, this community features a variety of interesting things to see and do. Market Creek Plaza is home to colorful shops and restaurants, as well as an amphitheater and plenty of public art. Near the plaza is Writerz Blok, a park dedicated to graffiti art where visitors can experience contemporary art practices and take a class in muralism, screen printing or even the history of graffiti art.
VIEW VIDEO
Related articles