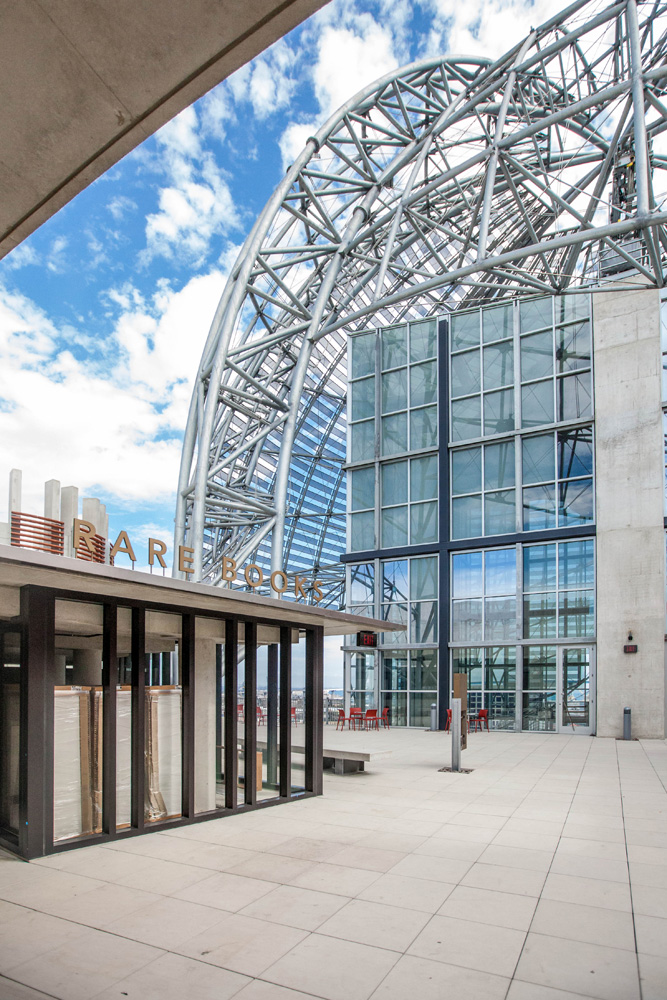 1 million+ books and a whole lot more…

Before you judge this book by its cover, take a look at what's inside. San Diego's new library features stunning architecture, an array of open spaces, and award-winning art collections.  The 4000 sq. ft., 350-seat state-of-the-art theater is perfect for presentations and even has glass walls that open to the courtyard for an indoor/outdoor experience. Events can be broadcast throughout the facility from the robotic cameras positioned in the auditorium.
At 688 sq. ft., the conference center is flexible and divisible into smaller rooms, and also available for evening meetings. The most dramatic space is the three-story grand entrance with soaring gravity arch and waffle ceilings. A grand gala evening in this space is a show-stopper! For a bird's eye view of the mountains and Bay, host an event on the 9th floor terrace, under the iconic dome.
JUMP TO THE FULL PHOTO GALLERY

VIEW THE VIDEO & TOUR THE LIBRARY

There are meeting spaces, conference spaces, spaces for keynotes or awards presentations, indoor and outdoor and indoor/outdoor spaces, and nontraditional venues for every type of gathering. Here's a brief rundown the unique spaces at the central library. Be sure to check with library on access or availability of these rooms during business and evening hours.
The main auditorium
Garden Courtyard
Grand Lobby
5th floor Conference Meeting Room
Diamond Rock Garden
Jaffe Mountain View Reading Room

Price Reading Room
Epstein bay View Terrace
Qualcomm Dome Terrace
Shiley Special Events Suite
Valeiras Sculpture Garden
Woods Sunset View Terrace
Watch this informative documentary on the new central library, narrated by Dennis Morgigno.
PHOTO GALLERY