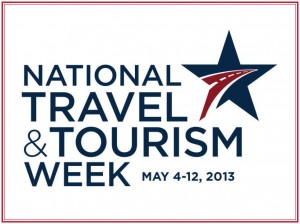 May 4 -12, 2013, is designated by the U.S. Congress as National Travel & Tourism Week, a time to celebrate the important benefits the tourism industry contributes to both our national and local economy.
In San Diego, tourism is our second largest traded economy that contributes $18.3 billion in economic impact and employs 160,000 San Diegans. It also generates millions in local tax revenues that pays for roads, police, fire safety, lifeguards, parks and other essential city services that make San Diego a better place to live, work and play.
We'd like you to meet San Diego's Tourism Works for Me ambassadors, who are helping us celebrate the many facets of tourism and the contributions it brings to San Diego.
Eric Weddle, Defensive Back, San Diego Chargers
Adela Sanchez, Director of Housekeeping, Lodge at Torrey Pines
Rod LaBranche, Director of Travel Industry Sales, Historic Tours of America
Jason Knibb, Executive Chef, Nine-Ten
Coco & Izzy Tihanyi, Co-Owners, Surf Diva Boutique & Surf Diva Surf School
Their profiles can be downloaded at www.sandiego.org/WhyTravelMatters.
You can also enter to win the ultimate San Diego staycation valued at approximately $2,700 that includes:
two-night stay at The Grande Colonial hotel in La Jolla;
surf lessons for four with Surf Diva in La Jolla;
a round of golf for four at Maderas Golf Club;
a Beer Tasters Tour for four with Brew Hop Tours;
four tickets to the San Diego Zoo, including an Inside Look Tour;
four Passports to Balboa Park
Enter the contest at www.sandiego.org/WhyTravelMatters during May 4-13, 2013, and tell us how tourism has made a positive impact on your life. The grand prize winner will be announced on May 14, 2013.
And when you log on to www.sandiego.org/WhyTravelMatters, be sure to download your free "Tourism Works 4 Me" avatar.