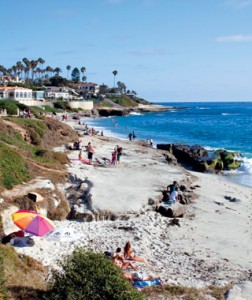 The results of Travel + Leisure's(T&L) annual "America's Favorite Cities" readership survey are in for 2012, and San Diego has made the top 10, coming in at number six on the overall list.  The article states our, "… sunny SoCal city has been a longtime winner in the weather category, but the city offers much more than blue skies."  Besides placing in the top 10 of America's best cities, San Diego took several number one spots and placed in the top 10 in several individual categories as well.  T&L is published monthly and has a circulation of 950,000 including subscribers and newsstand buyers.  According to T&L, their readers are sophisticated, active travelers who look to the publication for planning both pleasure and business trips.
In the individual categories, San Diego took first place for:
• Best spot for an athletic/active vacation
• Best spot for Spring Break
• Best spot for Valentine's Day
San Diego also ranked in the top 10 in these individual categories:
• Best weather
• Best cities for family vacation
• Most attractive people
• Cleanest cities
• Most tech-savvy
• Most gay-friendly getaways
• Most romantic destinations
• Most pet-friendly destinations
• Best cities for pizza, beer, hamburgers, ethnic food
Go here for complete results.