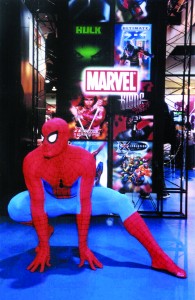 Comic-Con International is working on final details to keep their convention in San Diego through 2016, extending their current contract for an additional year. The mega-convention celebrates  pop-culture and brings upward of 130,000 comic book fans, movie enthusiasts and collectors from around the world to San Diego every summer.  It is San Diego's largest convention and is both an enormous source of civic pride and an enormous source of economic benefits.
To underscore the importance of Comic-Con to San Diego's economy, it should be noted that the event in July generated nearly:
• $180 million in regional economic impact, and
• $3 million in tax revenues for the City of San Diego.
Comic-Con grew up in San Diego hosting its first event here over 40 years ago.  Because of its growth and enormous popularity over the years, the event has outgrown the current exhibit space available at the San Diego Convention Center.  A proposed plan to expand the facility to accommodate Comic-Con, as well as other major conventions, continues to move forward toward a 2016 opening.