The U.S. Travel Association's

"Vote Travel" bus tour

 arrives to San Diego on April 19, and we want you to take part in showing San Diego's support.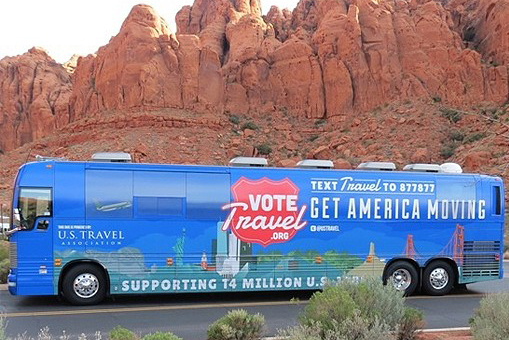 The Vote Travel Bus arrives to San Diego on Thursday, April 19, and we are asking San Diego's tourism and hospitality industry to come and show support. Here are the details:
The bus will be parked on Tony Gwynn Drive in front of Petco Park, from 4:30-7:30.
Councilmember Todd Gloria will be there at 5:00pm to take photos and greet the crowd.
The Padres and ConVis have partnered to build support for this event, and are offering Members discounted tickets of up to 25% for the 7:05pm game against the Phillies.
Tickets can be purchased at www.padres.com/promo. Use promo code: travel for discounts up to 25%
As the third largest industry in San Diego, tourism is a vital part of our local economy. We urge you to take part in this exciting campaign, and come show your support.
WIN PADRES TICKETS THROUGH FACEBOOK & TWITTER
We are also launching a social media contest on San Diego's Facebook & Twitter pages, to ask San Diegans to take photos in front of the bus and submit through our social media channels for a chance to win a 4-pack of tickets to the Padres vs. Angels game on May 18.
ABOUT THE "VOTE TRAVEL" BUS
The U.S. Travel Association launched the 20,000 mile "Vote Travel" bus tour as part of their larger "Get America Moving" campaign, to create more jobs in the U.S. through tourism. The bus has been on the road, originating in Memphis, TN on March 27. The bus is visiting cities to build awareness for the tourism industry, and to urge city elected officials support policies in support of safely and effectively reducing barriers to travel to and within the U.S.