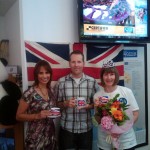 The California  Travel & Tourism Commission conceived the "Royal Summer – Three Days Isn't' Enough" campaign so leisure travelers from across the U.S. and the globe can think about spending additional time in San Diego to experience more than just the iconic gateway cities the royal couple visited.
In response, the California Welcome Center Alpine joined the 20 destinations who participated in the promotion. A day-long "Royal Tea" was hosted to celebrate the arrival of the Duke and Duchess of Cambridge in California and show off our destination. We enjoyed toasting with over 150 visitors that day to commemorate the historic occasion. Many were self-proclaimed "royal watchers" and came out from regions such as Pt. Loma, Escondido and Mission Valley to celebrate with us.
Royal "Tea-Shirts" were given away and a poster of San Diego was signed by our visitors inviting the royal couple to San Diego on their next visit to California. Even though San Diego wasn't on William and Kate's itinerary, we were happy they visited our state because the global publicity will help drive tourism all over the state. 
As a result, we captured TV coverage on six local networks and morning shows, and a nice article in the Union-Tribune: LINK. 
—Jeanette Perez