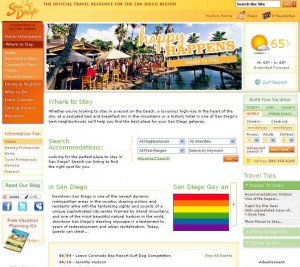 ConVis invests millions of dollars every year to advertise and promote the destination. Visiting our website, sandiego.org, is the call to action we pose to visitors, nearly 5 million to the site each year.
To expand your footprint beyond your Member listings, consider advertising on the #1 Travel website for San Diego. Sandiego.org is a top search engine performer for every San Diego term important to our members. Advertising increases your reach and ownership of our powerful tool.
More than 31 million visitors spend $7 billion per year in San Diego. Sandiego.org plays a formidable role in influencing decision making and steering vacation dollars into San Diego.
ConVis members can take advantage of this success by advertising on sandiego.org.  A graphical display with a strong call to action and booking link provide an opportunity for heightened revenue optimization.  Rates for packages and a la carte impressions will be going up July 1, so now is the perfect time to lock in current rates.
Click here to learn more about advertising with ConVis.
For more information contact your membership representative or Laura Wicks at lwicks@sdcvb.org.