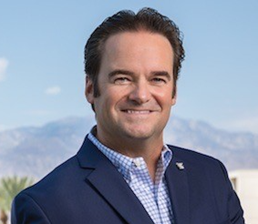 Tom Tabler is the General Manager of the Marriott Marquis San Diego Marina. He began his career 34 years ago as a Front Desk Clerk at the San Diego Marriott Hotel and Marina. He went on to work in Front Office Leadership roles in Anaheim, Fullerton, San Diego and Denver. While in Denver, Tom transitioned into Sales and won numerous awards for being the "top booker" in the country and in 1997 moved to Austin as Director of Group Sales, and later Director of Sales and Marketing at the Marriott at the Capitol and Renaissance Austin.
Tom and family moved to San Antonio in 2000 where he was General Manager at the Residence Inn Alamo Plaza. In 2003 he served as Resident Manager and Hotel Manager at San Antonio Rivercenter and Riverwalk Hotels, winning Hotel of the year for Marriott. In 2005, Tom returned to the Austin Marriott at the Capitol as GM, leading the hotel to its best financial year in its history.
In 2007, Tom was asked to lead the sales effort in Texas and served as Market Director of Sales, overseeing the RSO and Market Sales for the region. In 2009, he took a brief detour and became the opening General Manager at the Westin Austin at the Domain, where they were honored with "Top Ten New Hotels in North America" and won White Lodging's triple Platinum award. But Tom couldn't leave Marriott for long. He rejoined the company in 2011 as Director of Sales and Marketing at JW Marriott Hill Country, where they took top honors as Sales Team of the Year and Hotel of the Year.
Tom's ultimate goal was to lead a team again as General Manager. He served as General Manager at the Renaissance Esmeralda starting in 2013, where they won every meeting planning award possible, as well as being ranked #1 in ESS.
In 2017, he moved to the fabulous JW Marriott Desert Springs Resort and Spa and helped lead the team to its very best revenue and profit results. However, he is most proud of the Resort's improvement in Associate Engagement and Leadership scores through the last 5 years.
Tom's passion for our company's culture is evident by his involvement in Marriott Business Councils, serving as Guidance Team Leader. He was also proud to serve as Chair of the Greater Palm Springs CVB for the past 6 years.