During the pandemic, San Diego kept moving with high-profile hotel renovations as well new and restored flights touching down at the San Diego International Airport.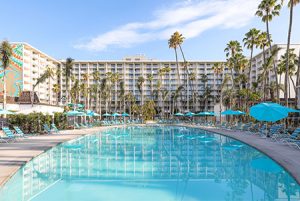 While preserving the mid-century feel, Town & Country Resort's recent $90-million complete redo will leave your attendees in awe. As the sun meets you at every twist and turn, you can guarantee your attendees the perfect amount of energy as they get ready to get down to business. Enjoy the new lobby bar, modern guest rooms, the distinguished ARLO restaurant, sun-welcoming pool deck, a zero-entry family pool, hot tub, children's pool and a layered waterslide.
The practically new property also includes 675 renovated guest rooms and suites as well as 258,100 square feet of renovated meeting space including a 41,000-square-foot exhibit hall and a 24,000-square-foot ballroom. Whether hosting a conference or planning a wedding, the clean lines and fresh interior design of the Town & Country combined with dedicated service staff, will ensure your event's success.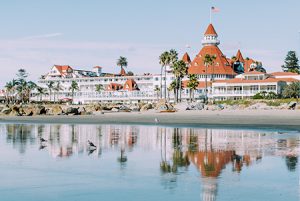 Hotel Del Coronado, known for its Victorian architecture and seaside magnificence, is a beauty that has long offered an elegant and iconic experience for meetings and events. That experience is now being elevated through a $400 million renovation, including an upgrade to the front (and might we add grand) entrance, its conference rooms that can accommodate up to 1,000 guests, grand ballrooms, outdoor venues that offer not only panoramic ocean views but also a safe and unique space for socially distanced events. While these renovations will enhance the luxurious and vibrant atmosphere, you can count on its historical significance to stay intact, preserving the Hotel Del's timeless beauty for a memorable and only-in-San-Diego experience.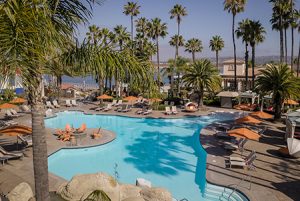 After a $32 million renovation and re-branding, the San Diego Mission Bay Resort offers guests a scenic view that inspires while its indoor and outdoor spaces for both small and large-scale events and meetings provide the perfect spaces to be productive.
In their free time, guests can gather at the poolside lounge, explore the new retail areas, discover the upgraded food and beverage offerings, or get physical at the fitness center or on one of the five tennis courts. No matter the activity, San Diego Mission Bay Resort will have your attendees feeling ready to tackle anything.
The Westin San Diego Gaslamp Quarter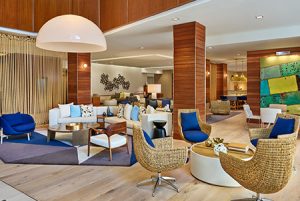 In the heart of Downtown San Diego, the newly remodeled Westin San Diego Gaslamp Quarter will leave your attendees impressed and ready to get to business with its focus on all aspects of wellness. That is because the guest experience is centered on Westin's Six Pillars of Wellness: Sleep Well, Eat Well, Move Well, Play Well, Feel Well and Work Well.
Work is made, well, easier with the Westin's upgraded on-site audiovisual capabilities, attentive event services and 19 multidimensional venues. Along with its breathtaking suites, dynamic meeting and event spaces, remarkable city-view venues, and improved green sustainability efforts, it's clear that Westin has raised bar well beyond good to exceptional.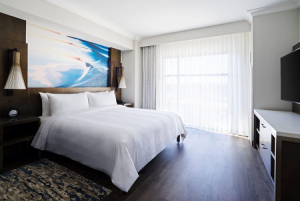 Feel the ocean breeze drift through your room while embracing the elevated experience of the newly renovated Marriott Del Mar. The North County resort has added new fine dining establishments, upgraded all its guest rooms, and redesigned 17 meeting rooms to ensure your next event will be both pleasant and productive.
After its 20-month renovation, San Diego Marriott also received the highest accreditation in the State of California's Green Lodging Program. Marriott Del Mar's sustainable efforts and improved amenities are setting an example of how productivity can ben enhanced with an eye toward innovation and the future.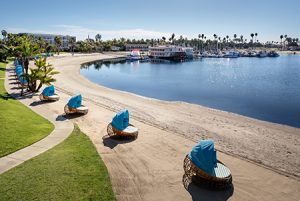 Travel through the eclectic halls of this Morocco-meets-Southern California-themed resort. The breathtaking Bahia Resort on Mission Bay has reinvented its guest rooms so they take advantage of the bright, beachy light. In addition, the renovation includes improvements to Bahia's event spaces and dining areas including its Mission Bay Ballroom's 20,000-square-foot space. The gorgeous renovation, of course, is still just steps away from a secluded beach, which is great for socially distance outdoor events with a decidedly San Diego feel. For a bit of retro fun, the resort also has opened a grab 'n go café inside a repurposed Airstream located just outside the lobby and plans to use the Airstream for outdoor private events as well.
Hyatt Hotel La Jolla at Aventine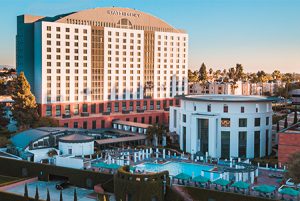 From the open Grand Foyer to the ocean blue details, the Hyatt Regency La Jolla at Aventine's elegant renovation takes its inspiration from the nearby La Jolla Cove at dusk. Guests will relish the updated guestrooms as well as the airy and open Regency Ballroom and other event spaces featuring elegant upgrades. When visiting the Hyatt La Jolla, your attendees will experience one of San Diego's premier properties that have pulled out all the stops to energize attendees and deliver inspiration.
New, Restored and Seasonal Domestic and International Flights Announced
San Diego is scheduled for takeoff with a string of new and restored flights along with its best-in-class safety measures at the San Diego International Airport.
Check out the list below for domestic and international flights from Alaska, Southwest, and Japan Airlines.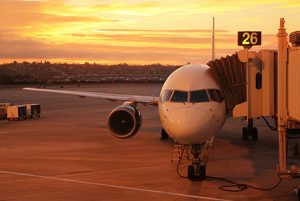 Alaska Airlines
NEW Daily flight to and from Santa Barbara (SBA)
Beginning June 17, 2021
NEW Daily flight to and from New York (JFK)
Beginning April 4,2021
NEW Daily flight to and from Missoula, Montana (MSO)
Beginning March 18, 2021
NEW (seasonal) 4x/week flight to and from Cancun, Mexico (CUN)
Beginning November 20, 2020
Ending April 12, 2021
NEW (seasonal) Daily flight to and from Jackson Hole, Wyoming (JAC)
Beginning December 12, 2020
Ending April 11, 2021
RESTORED Puerto Vallarta, Mexico (PVR)
Beginning August 1, 2020
RESTORED Los Cabos, Mexico (SJD)
Beginning June 1, 2020
Japan Airlines
RESTORED 3x/week flight to and from Tokyo, Japan (NRT)
Beginning March 3, 2021
Southwest Airlines
NEW Daily flight to New Norfolk, Virginia (ORF)
Beginning Jan 5, 2021