Here is how San Diego is prepared to keep you and your attendees safe during your next meeting or event.
Safe Travel Pledge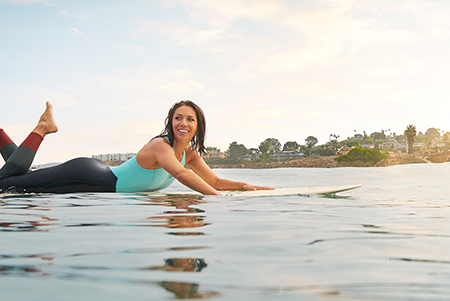 Our Safe Destination Pledge is designed to let you know how our hotels and hospitality businesses are ensuring your attendees health and well-being during every phase of their visit.
Require all employees to wear masks.
Ensure all employees physically distance as appropriate.
Review and improve sanitation and cleaning protocols.
Conduct health screenings/temperature checks for employees before every shift.
Provide proper employee training on safety protocols.
Post COVID-19 signage including a copy of its Safe Reopening Plan
In addition, we ask all visitors to San Diego adhere to our Safe Traveler Pledge.
Watch this video to learn more about San Diego's Safe Travel efforts.
San Diego International Airport – Let's Go Safely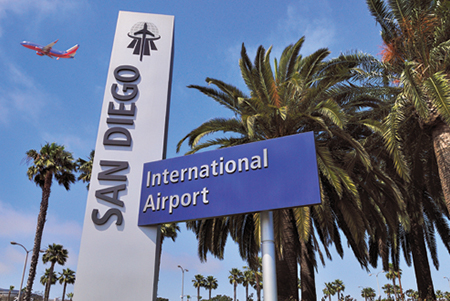 From curb to gate, San Diego International Airport is taking steps to not only keep you safe, but also to add a touch of warmth and friendliness to your journey. The Airport is keeping high touch areas meticulously clean and has added more space in our dining areas and at the gates to maintain social distancing. Of course, they have also placed reminders throughout the airport to wear your masks and wash your hands. The San Diego International Airport knows it's a new kind of journey, one we've never experienced before, and they are here to make sure your trip is both safe and enjoyable. Find out more here: https://www.san.org/GoSafely
Watch a short video about the San Diego International Airports safety efforts.
Hotels
The San Diego hotel community has been tireless in its efforts to ensure the health and safety of their guests. From state-of-art cleaning protocols to social distancing requirements to employee training to mandated mask-wearing, San Diego hotels have been at the forefront of developing and implementing safety protocols that your attendees can count on.
The California Hotel and Lodging Association has detailed those guidelines.
Coronado
The quaint seaside town of Coronado is going big when it comes to keeping guests healthy and happy with comprehensive safety protocols and plenty of open spaces to meet as well as enjoy the great outdoors. From hospital-grade disinfection and new cleaning protocols to contactless check-in to comprehensive meeting guidelines, Coronado and its hotels are working together to offer a safe and seamless experience for your attendees.
Meetings
While meetings are not yet permitted in San Diego, the SDTA has been working with local and state officials to develop a roadmap to responsibly restart meetings and the California Hotel and Lodging Association has developed a comprehensive set of safety guidelines for meetings.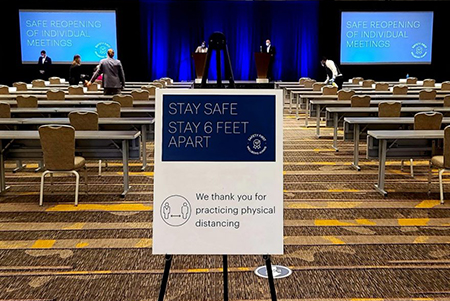 These safety protocols include:
Mask requirements
Increased sanitation and cleaning procedures
Socially distanced seating
Avoidance of communal food and beverage service
Staggered registration and meeting times
Dedicated entries and exits to meeting rooms
Increased pre-event communications to inform and set expectations
Focus on outdoor meetings whenever possible
San Diego Convention Center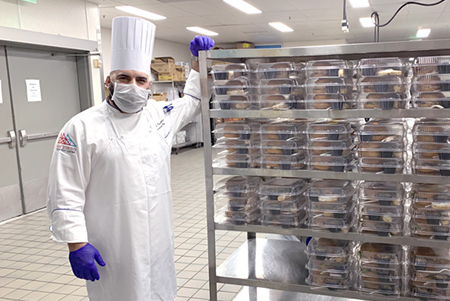 While the San Diego Convention Center looks forward to reopening its doors for conventions, meetings and events, it has been working to ensure a seamless experience for all its customers and their guests with new upgrades and enhanced cleaning and safety guidelines. In fact, the San Diego Convention Center was one of the first convention centers in the country to achieve the prestigious GBAC STAR™ facility accreditation for its stringent protocols for cleaning, disinfection and infectious disease prevention. In addition, its food and beverage partner, Centerplate, earned an additional hygiene verification label, Rise SAFE, which is specifically designed for catering operations. The Convention Center also has a wide range of hybrid event offerings that feature in-person programming along with virtual components from video calls for small meetings to live-streaming sessions for remote viewers to presenting keynotes with multiple live speakers in remote locations who can interact with in-person attendees. 
Find out more about the San Diego Convention Center's safe reopening efforts.
Find out more about how Coronado is clean, safe and ready.