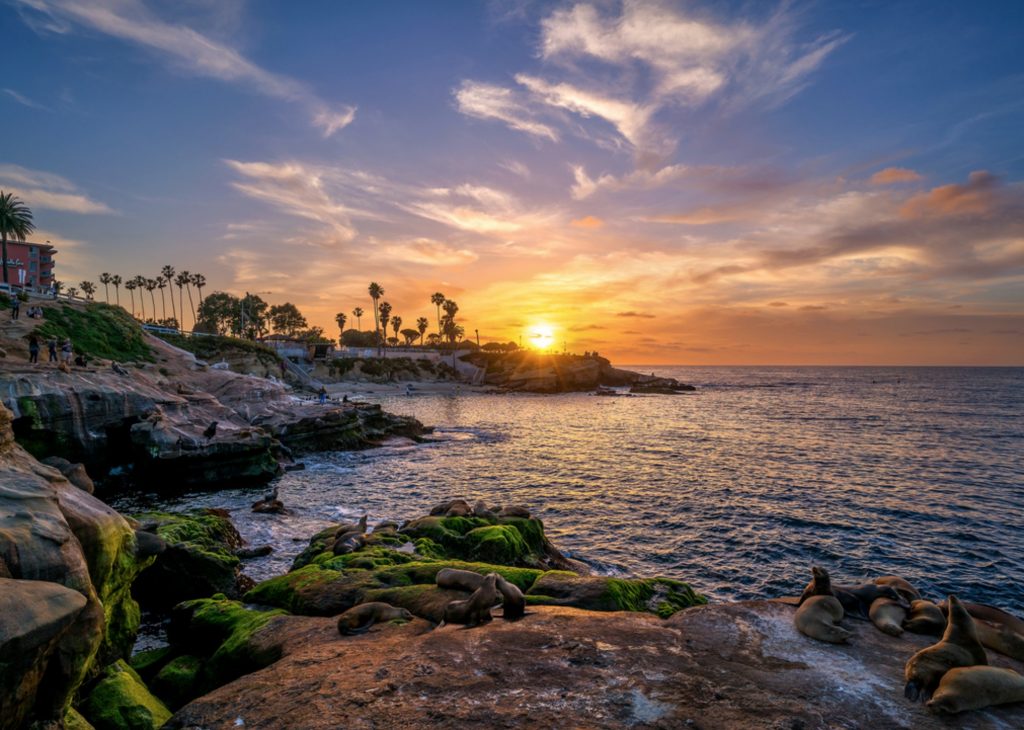 No doubt about it, 2020 has been a tough year leaving most of us grappling for the good in the world. Here in San Diego, we know we have plenty to be thankful for from our beautiful beaches and bays to our near-perfect climate to our diversity to unique cultural offerings. Of course, we continue to be thankful for your ongoing support of San Diego and our team. Although it might be a while before we meet again, we can't wait to welcome you back and share it all with you. Until then, we promise to keep San Diego warm for you.
Beaches and Bays
With 70 miles of scenic SoCal coastline, San Diego is one of the most popular destinations in the nation for water sports and activities. Whether you wish to surf, snorkel, kayak or just lie in the sun, there's a stretch of sand waiting for you. Opportunities to "hang ten" are abundant up and down 33 public beaches. La Jolla Shores is a popular dive and snorkel site, while the La Jolla Submarine Canyon is one of the deepest dive sites in the world. Just off the coast of scenic La Jolla Cove,kayakers routinely glide over clear blue waters, paddling up to tidal caves and small inlets, as curious sea lions swim alongside. Sailing along San Diego Bay and the coastline is another favorite local pastime.

Great Weather All Year-Round
San Diego's nearly perfect temperatures and 270 days of clear skies throughout the year make it the perfect place to meet, greet and enjoy the outdoors. A variety of outstanding outdoor options at area hotels and venues sets San Diego apart when it comes to unique ways to hold meetings and events outside. As one of the nation's top foodie cities, San Diego also offers a myriad of dining venues with charming and spacious open-air settings to satisfy every mood and craving. Some of San Diego's most striking art can also be found outdoors like the Murals of La Jolla and Chicano Park,home of the largest concentration of Chicano murals in the world. Outdoor recreation can be enjoyed on 93 golf courses, 70 miles of beautiful coastline, and scenic mountain and desert settings throughout the year.
Go East
East County's mountain backcountry offers a wonderful mix of recreational outdoor activities and peaceful, romantic settings. The delightful community of Julian, established during the Southern California gold rush of 1869, is as "American as apple pie." Julian's charm and Victorian architecture stretch from one end of town to the other, housing handicraft and antique shops, a general store and country-style restaurants. During the annual Julian Fall Apple Harvest, the aroma of fresh apple and fruit pies fill the air. Cuyamaca Rancho State Park offers 110 miles of hiking trails, campgrounds and picnic sites, while Lake Cuyamaca offers boating and fishing. The pine-studded Laguna Mountains offers outdoor enthusiasts hiking, biking, mountain climbing and more.
Take a Hike
Hiking is a local favorite activity that can be enjoyed throughout the year. The vast Anza-Borrego Desert State Park is an expansive playground for hikers and most popular during the spring when desert wildflowers bloom. Hikers can also enjoy spectacular views of the Pacific and San Diego Bay from the tranquil Bayside Trail at Cabrillo National Monument where Spanish explorers first "discovered" California in 1542. In Mission Trails Regional Park, Cowles Mountain (1,591 ft.) offers an impressive hike to the top and spectacular city views. During winter months at Torrey Pines State Reserve in La Jolla, hikers can see California Gray Whales migrating south to Mexico in the distanced ocean view. Throughout the year, lucky sightings of bottlenose dolphins make these hikes a truly memorable experience.
Balboa Park—San Diego's Cultural Heart
Balboa Park is a cultural oasis that includes 17 museums—soon to be 18 with the addition of the Comic-Con Museum in 2021. It is also home to gardens galore and the world-famous San Diego Zoo. At 1,200 acres, Balboa Park is one of North America's most iconic urban parks and a must-see on any visit to San Diego. Located just blocks from Downtown San Diego hotels, the park has a rich history reflected through its stunning architecture, thought-provoking exhibits installations and cultural events throughout the year. Ethnically diverse, historically rich, culturally abundant, naturally breathtaking, Balboa Park is where you can experience San Diego's past and see its future.
Diversity Abounds
One of the most exciting and sophisticated metropolitan regions in the country, San Diego is a colorful tapestry of rich ethnic and cultural diversity. Set along the Mexican border at the southernmost tip of California, San Diego is home to a multiethnic population, represented by ancestry from Central and South America, Europe, Africa, Asia and Pacific Island nations. San Diego is composed of more than 100 colorful and unique neighborhoods, each with a style and personality of their own. However, it is the ethnic neighborhoods where visitors can discover unique dining, cultural, nightlife and shopping offerings in the city. From Barrio Logan to City Heights to the Convoy District to Little Italy, there is a world of experiences to discover right here in San Diego.
New to You
While the world has seemingly stopped over the last several months, San Diego has not stood still—not by a long shot. Over the last eight months, there have been a slate of renovations and revamps at its hotels, venues, eateries and even the addition of new flights. From the Town and Country San Diego's $90 million complete redo to Mission Bay Resort's Mediterranean-style renovation to the Bahia Resort Hotel's revamp to the La Jolla Hyatt Regency's ocean-inspired upgrade, San Diego hotels have upped their game both in ambiance and in their meeting and event space. Looking for new eating experiences? San Diego restaurant scene has taken it outside with restaurants offering al fresco options that rival European ambiance and added new options with the four restaurants at the long-awaited Portside Pier along the picturesque bayfront. The San Diego International Airport has added flights to a variety of locations from non-stop service to Santa Barbara, Calif. To Jackson Hole, Wyo. to Newark, New Jersey to Honolulu Hawaii. Pandemic or no, the Hotel del Coronado has plowed ahead with its multi-year, $400 million renovation that includes upgrading the 368-room Victorian building, the 214-room ocean tower as well as the addition of an expansive rooftop bar and restaurant overlooking the beach and the newly updated pool area and its 97 cabanas.