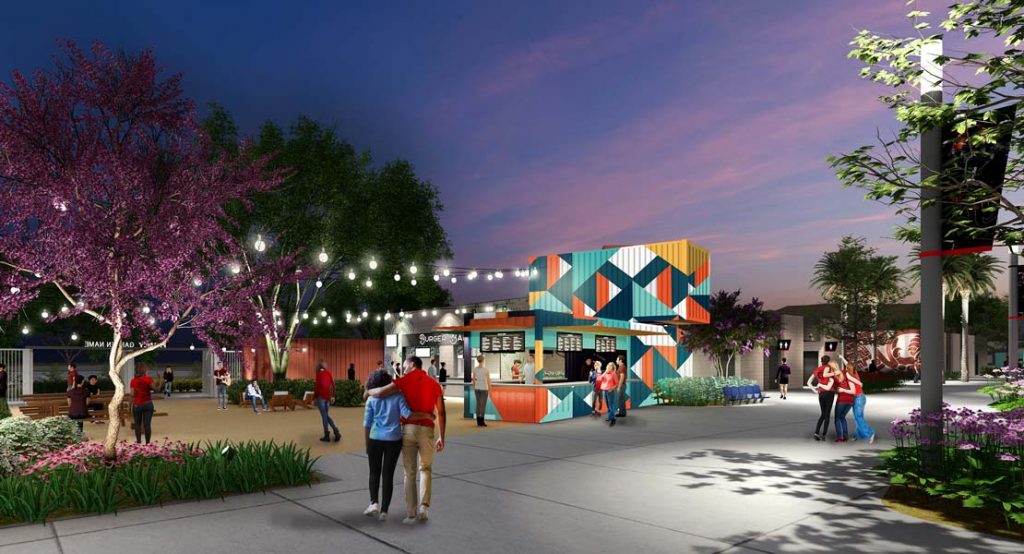 Mission Valley—long considered the heart of San Diego—will soon beat even stronger with the addition of SDSU Mission Valley, an ambitious development that will deliver new event venues and activity into the already-bustling area.
As extension of San Diego State University, SDSU Mission Valley will feature a brand-new stadium, a 34-acre river park, transit, retail and housing developments, a hotel with conference space, and more than 80 acres of community parks and open space.
The development, which is on the site of the former SDCCU Stadium where the Chargers and San Diego State Aztecs long played, will transform the area into a hub for action, innovation, events and more.
As part of the new SDSU Mission Valley campus, the Aztec Stadium will bring top-tier entertainment and events to San Diego. Football fans can also head to the stadium to cheer on the San Diego State University Aztecs. The stadium broke ground in August to kick-off the construction of the SDSU Mission Valley project and is slated to open in September 2022. A multi-use stadium for sporting events and concerts, with local restaurants and food trucks, vibrant garden areas and standing-room "piers" that evoke a coastal vibe.
As San Diego continues to evolve into a leading destination for technology and entrepreneurship, SDSU Mission Valley also is creating a special space that will be dedicated to serving the innovation ecosystem fostered by San Diego's brilliant minds. This Innovation District, which will feature 1.6 million square feet of campus and office space, will bring researchers and entrepreneurs together, building an incubator-like community in the center of the larger development.
SDSU Mission Valley is not just for the university's expansion. Designed with engagement and connection in mind, the mixed-use space was created to serve as a community hub and meeting and conference destination. To support the new space and its many amenities, the plan includes the development of approximately 400 hotel rooms and 40,000 square feet of conference and meeting space.
The addition of SDSU Mission Valley is another highlight of how San Diego is continuing to expand and grow to meet the needs of the ever-evolving region and its visitors. To explore the future site of groundbreaking research, thrilling live events and stunning scenery, visit the SDSU Mission Valley rendering page or check out the Aztec Stadium construction camera.
We can't wait to welcome this new addition to San Diego's diverse and stunning hospitality community. Please reach out to our team if you are interested in hosting a future meeting or event in one of SDSU Mission Valley's many unique spaces.