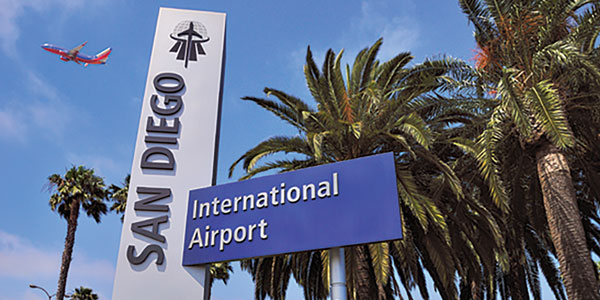 If you're thinking about taking that first plane ride since the pandemic began, you might have some questions about the airport experience. Perhaps you're wondering how to drink a cup of coffee while wearing a mask, if the airport has those sophisticated electrostatic sprayers you've seen in commercials, or how to navigate a TSA line while maintaining a 6-foot perimeter around your body. We get it. And we want you to know no matter where you are in your travel planning, we're ready for you.
Watch this video to learn how the San Diego International is taking steps to not only keep you safe, but also to add a touch of warmth and friendliness to your journey from curb to gate. We're keeping high touch areas meticulously clean, we've added more space in our dining areas and at the gates to maintain social distancing, and we've placed reminders throughout the airport to wear your masks and wash your hands.
Next time you come through SAN, we encourage you to enjoy the extra space, take in some airport art, or take a moment to relax in our yoga room before your flight. We know it's a new kind of journey, one we've never experienced before, and we're here to make sure your trip is both safe and enjoyable.
Here's what we are doing to keep you safe:
At SAN, we are constantly adjusting our operations to better ensure health and safety in light of COVID-19. We've implemented important health and safety measures including:
Plexiglas sneeze guards in certain public spaces.
Floor decals and seat signage to queue the six-foot social distancing consideration.
Increased signage throughout the terminals that serves as a reminder to practice preventive health measures.
Facial coverings are required for all passengers, visitors, tenants, contractors and employees while on airport property, excluding those with a medical or mental health condition, or developmental disability that prevents wearing a face covering.
Continued increased cleaning of high touch points.
Public address announcements throughout the terminals that remind everyone of the facial covering and social distancing requirements.
Hand sanitizer stations throughout the terminals.
Touchless faucets in restrooms.
We are confident San Diego will always be a desirable place to live, visit and do business. When you're ready to fly again, we'll be ready to serve you. Let's go safely.