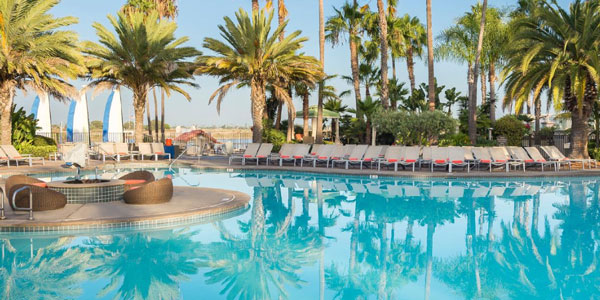 We are keeping San Diego warm—and fresh—for you with reimagined hotels and event spaces. From the newly renovated mid-century modern Town & Country to bayside views at the re-envisioned Mediterranean-styled Mission Bay Resort to the addition of eye-catching waterfront venue named The Shell™—San Diego awaits with one-of-a-kind experiences.
Located on the picturesque waterfront of Mission Bay Park, the largest aquatic preserve in the United States, the lavish 357-room year-round lifestyle destination resort just experienced a $21 million reimagination that provides the ideal basecamp for guests seeking to explore the city's vibrant culture. San Diego Mission Bay Resort offers a 4,000-square-foot outdoor pool area, five tennis courts, spa and fitness center, gift shop, restaurant and a poolside grill. Additionally, the Mediterranean-style hotel provides over 16,000-square-feet of interior meeting and function space and 9,600-square-feet of outdoor meeting space. Mission Bay Resort is located just steps away from the city's top attractions as well as provides easy access to Downtown and other cultural experiences. Whether it's a private meeting or a larger event, the resort also provides the space and style needed to plan the most impactful—and safe—event possible. Find your paradise at the San Diego Mission Bay Resort.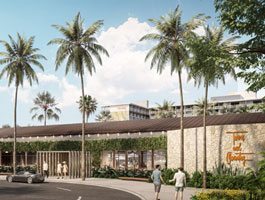 Located in the heart of Mission Valley, the Town and Country San Diego has undergone a $90 million renovation that will incorporate its 50-year history with a fresh mid-century feel. As part of the extensive project, much of the hotel has been torn down and rebuilt with its completion scheduled for August 2020. The practically new property will include 675 renovated guest rooms and suites as well as 258,100 square feet of renovated meeting space including a 41,000-square-foot exhibit hall, 24,000-square-foot and 17,000 sq. ft. Ballrooms. There will also be three new pools, 4 story water slide, 3 new stylish restaurants, lounges, market as well a 7,800 sq. ft. lobby, 3 acre River Park and multiple outdoor venues. See what new experiences this long-celebrated San Diego hotel has to offer guests at the newly-renovated Town & Country.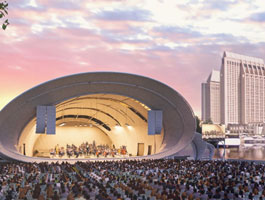 San Diego's Downtown is eagerly awaiting to welcome music lovers and those who just love a good time to the permanent outdoor home of the famous San Diego Symphony, The Shell™. The dramatic architecture and bayside location set the stage not only for incredible performances and concert-going experiences but also for one-of-a-kind outdoor events. The acoustically engineered stage is adjacent to San Diego's Downtown skyline and the San Diego Convention Center. When open, The Shell™ will welcome attendees to a completely brand new concert and venue space, featuring a variety of dining options, public art installments and freshly manicured landscaping. This year's intended lineup—which featured The Beach Boys, Jennifer Hudson, Sergio Mendes and other beloved musicians—will likely return for the 2021 season, as the team is hard at work extending the invitation for artists to return when the time is right. Learn more about this exciting addition to San Diego's music scene.