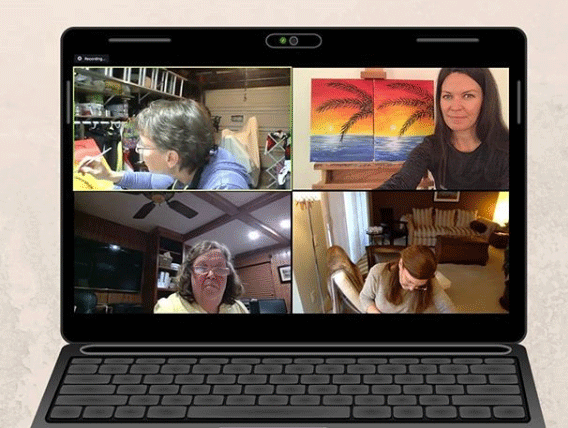 Looking for unique and fun ways to connect and engage with your team members during these challenging times? San Diego companies are getting creative and are providing virtual team building activities to foster collaboration and innovation.
Corporate to Canvas
Unleash your inner artist and create a masterpiece with Corporate to Canvas, a San Diego-based company specializing in corporate team building. Choose a scene for everyone to recreate or work together on a collaborative mural as an artist guides you through the project with demonstrations and expert advice. These colorful classes are a great way to tap into your team's creativity while working together to problem-solve, offer encouragement and create a work of art as a group.
Saffron & Sage
Does your team need a few minutes to relax and unwind? Interested in learning about best practices to enhance your employees' mental clarity and motivation as they adjust to working from home? Saffron & Sage, a San Diego wellness center, is offering online masterclasses on how to optimize wellness as employees navigate the new reality of remote work. These virtual experiences include "retreats," daily best practices, guided meditation, sound healing and more that will help your employees find their center and heal holistically.
Out of the Ordinary
From gameshow-style simulations to creating a custom newscast, Out of the Ordinary Group and Team Building Adventures will challenge your team to think outside the box, while offering uniquely San Diego fun twists. The company has a variety of programs to choose from based on your company's goals and interests. Virtual magic performances, group media coaching and more are also available to help encourage and inspire your team members.