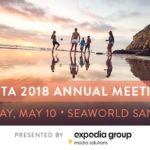 Share these tweets to promote National Travel and Tourism Week and celebrate The Power of Tourism. When creating your own tweets, be sure to use the hashtags #SanDiegoTourism and #NTTW18.  And below, be sure to thank and include sponsors of the annual meeting in your social media posts too!
THE POWER OF TOURISM TWEETS
Click the Twitter bird to tweet immediately.
SEAWORLD SAN DIEGO
Don't forget to tweet them and thank them for hosting the event and reception!
While you're sharing the love, be sure to also thank our sponsors and partners:
Expedia Media Solutions @ExpediaMedia
SDG&E @SDGE
Cox Business @CoxBusiness
University of San Diego Continuing & Professional Education @USanDiegoContEd
aResTravel @aresTravel
San Diego Regional Chamber of Commerce @SDChamber
Scantech Graphics @

ScantechGfx

San Diego Regional Economic Development Corporation 

@SDRegionalEDC

Revolve Commercial Laundry Specialist #RevolveLaundry
Sycuan Casino @SycuanCasino
MeringCarson @MeringCarson
Power Plus Productions @

PPSLinc

San Diego Magazine @SanDiegoMag
Casual Fridays @CasualFridaysHQ
AdGenuity #AdGenuity
Certified Folder Display @CertifiedFolder
San Diego Convention Center @SDConventionCTR
SeaWorld @SeaWorld @ClydeSeaWorldSD
Alliant AV @AlliantEvents
Cravory Cookies @

TheCravory
Click here for social-media optimized info-graphics.
For more research on the why travel matters, visit SanDiego.org/impact.
Find out more about National Travel & Tourism week at USTravel.org.
THANKS AGAIN TO ALL OF OUR SPONSORS!